Mr. Hama­da, Japan's most ded­i­cat­ed Yohji and Comme fan
High Fash­ion Talk (HFT) is what it says – a pri­vate Face­book group sim­i­lar to that of The Base­ment, a huge­ly pop­u­lar (but pri­vate) com­mu­ni­ty for sneak­er­heads and hype­beasts to share their takes on the lat­est streetwear trends. HFT is much more inti­mate and niche in scope. Its mem­bers – around 25k most­ly in their teens and twen­ties – favor brands like Kiko Kostadi­nov, Issey Miyake and Comme des Garçons over Supreme and Stussy, and it's used exclu­sive­ly as a dis­cus­sion forum to offer con­struc­tive crit­i­cism on each other's outfits.
So when an inscrutable 60-year-old Japan­ese man one day appeared out of the dig­i­tal abyss to post his vin­tage Yohji Yamamo­to out­fit on High Fash­ion Talk for some feed­back, it set off a wave of fanat­i­cal respons­es like, ​"That out­fit is the clean­est thing I've ever seen a man put on in my entire life, an absolute liv­ing leg­end"; ​"This guy fucks"; ​"You fit the quin­tes­sen­tial Yohji aes­thet­ic per­fect­ly"; and, my per­son­al favourite, ​"King."
A few months ago, Mr. Hama­da joined HFT at the urg­ing of the group's founder, Iolo Lewis Edwards, and start­ed upload­ing pho­tos of him­self stand­ing in his apart­ment, next to a small couch, dressed in vin­tage Yohji and Comme des Garçons out­fits. The group's mem­bers were simul­ta­ne­ous­ly stunned and fas­ci­nat­ed by this hum­ble old man's effort­less, suave style, in addi­tion to his fash­ion knowl­edge accu­mu­lat­ed over decades. Hama­da rode the wave of his new­found pop­u­lar­i­ty to be crowned HFT's ​"Out­fit of the Month."
Still, the pres­ence of this sex­a­ge­nar­i­an from Kure, Hiroshi­ma is espe­cial­ly con­found­ing. How exact­ly does he fig­ure into this age-spe­cif­ic mil­len­ni­al fash­ion culture?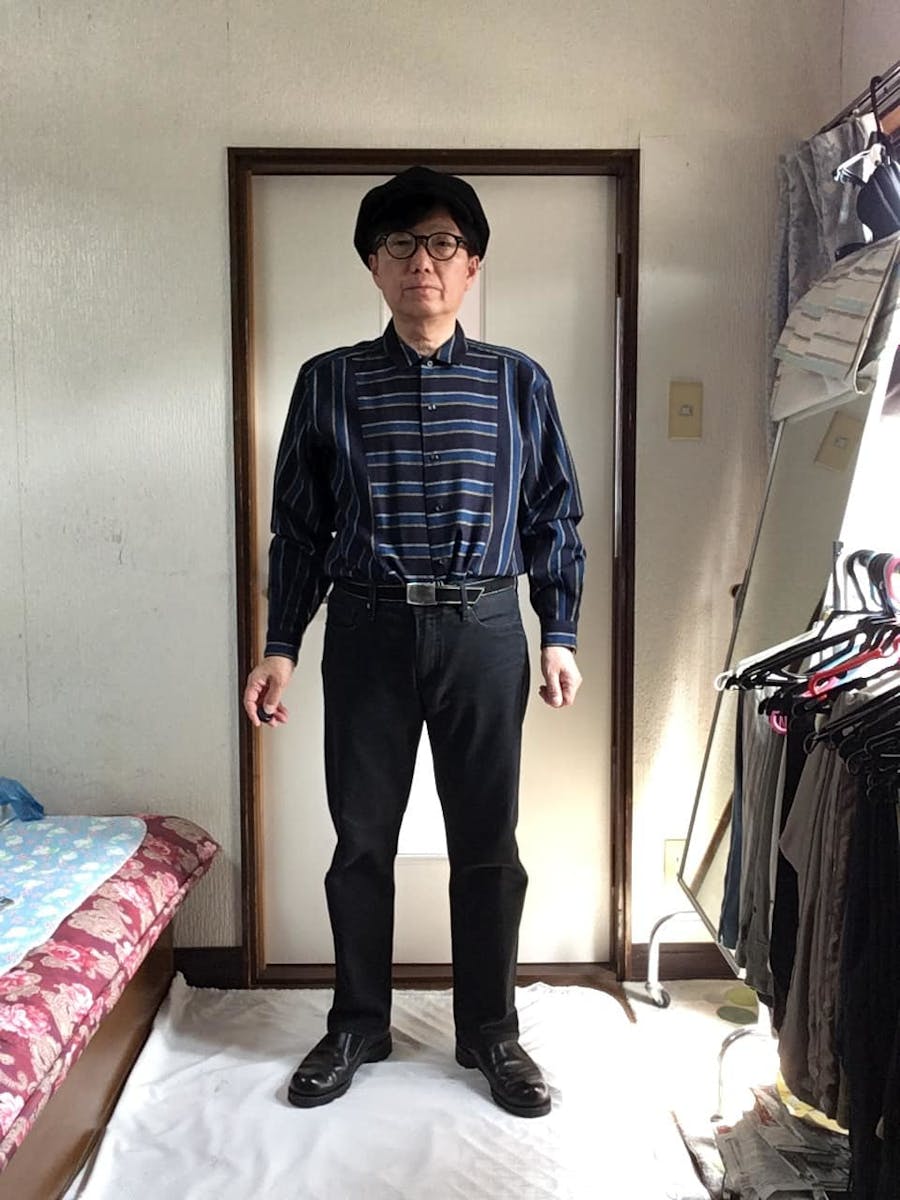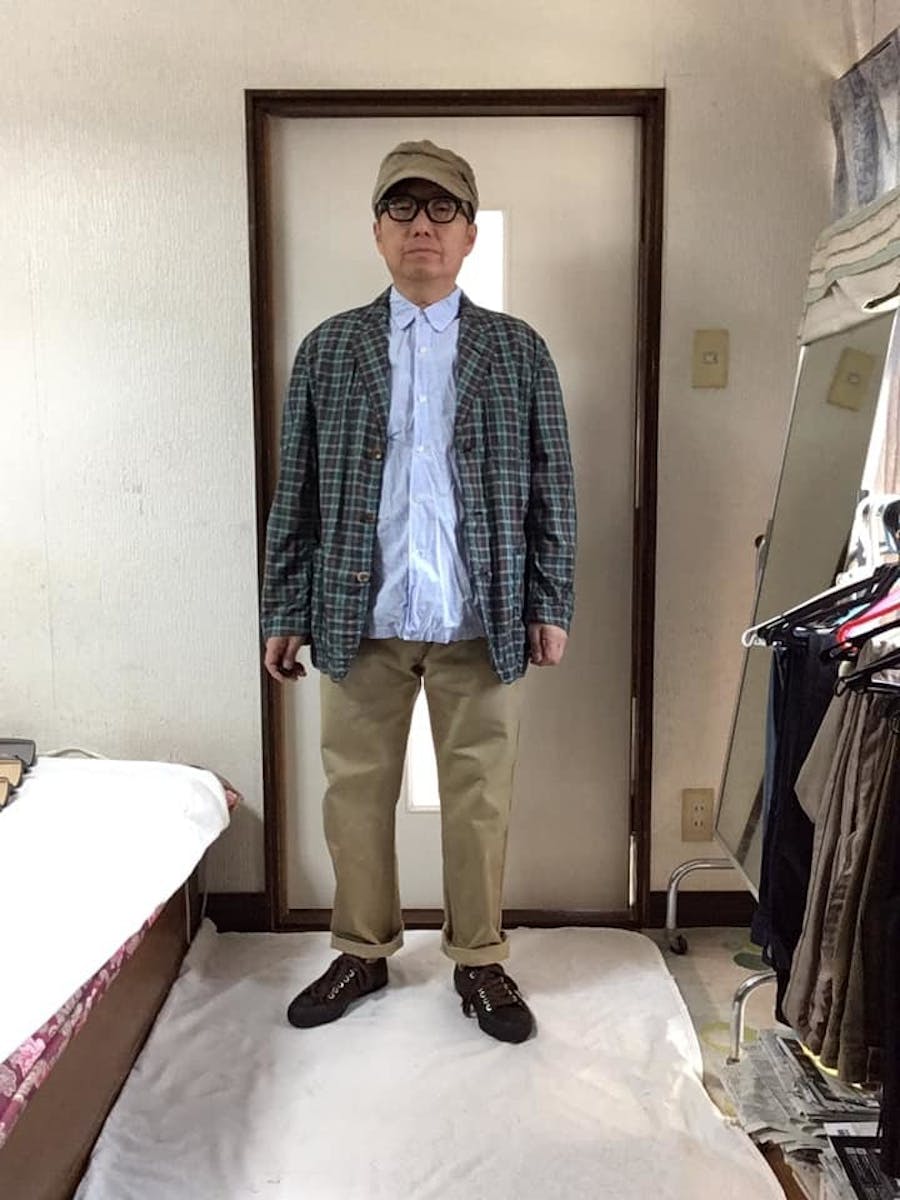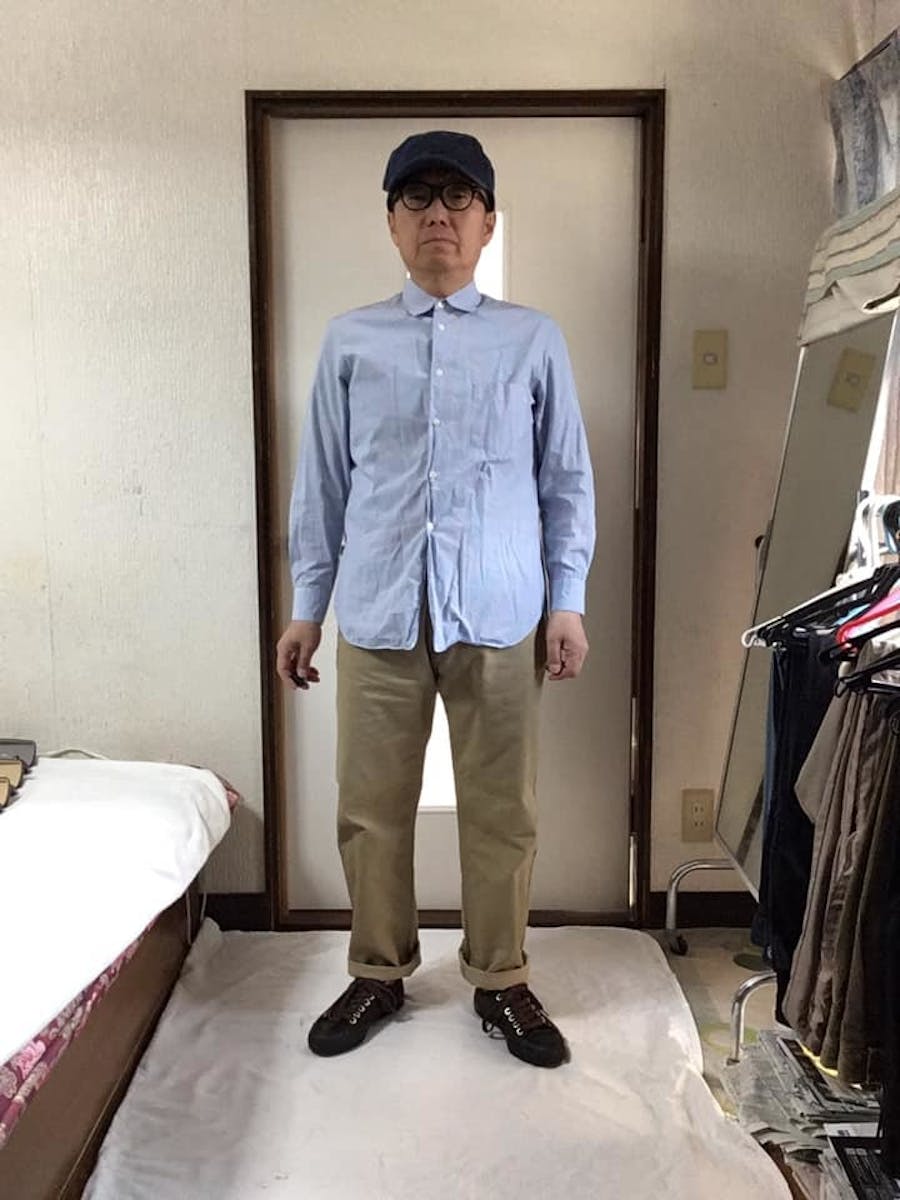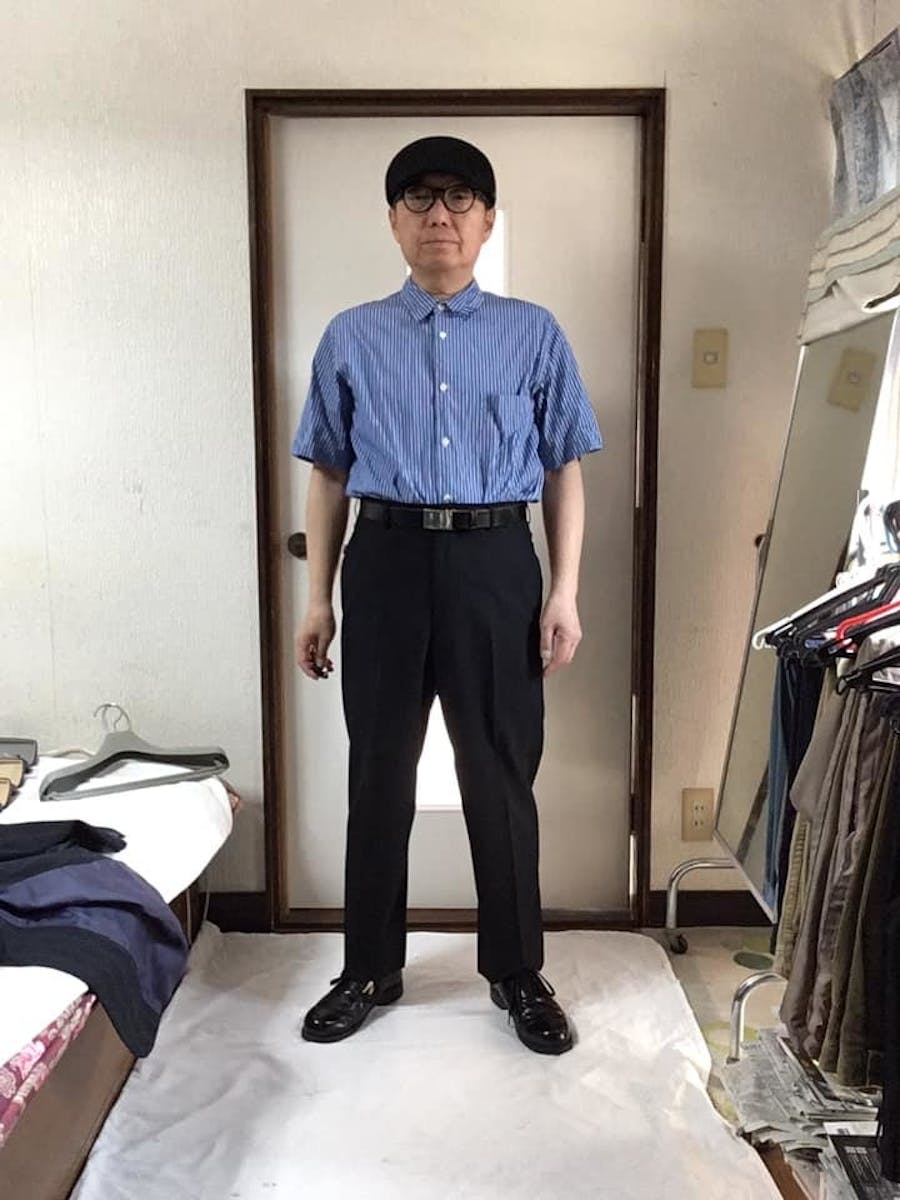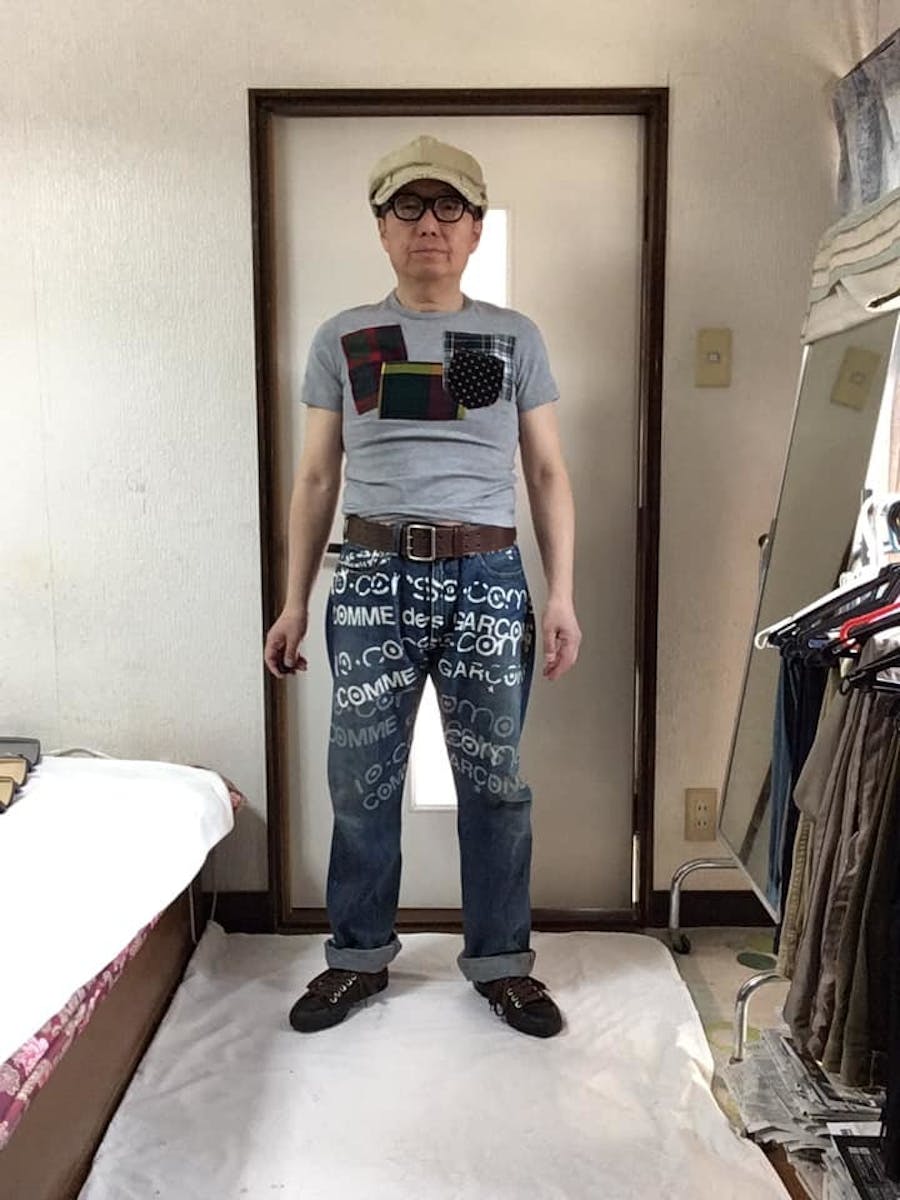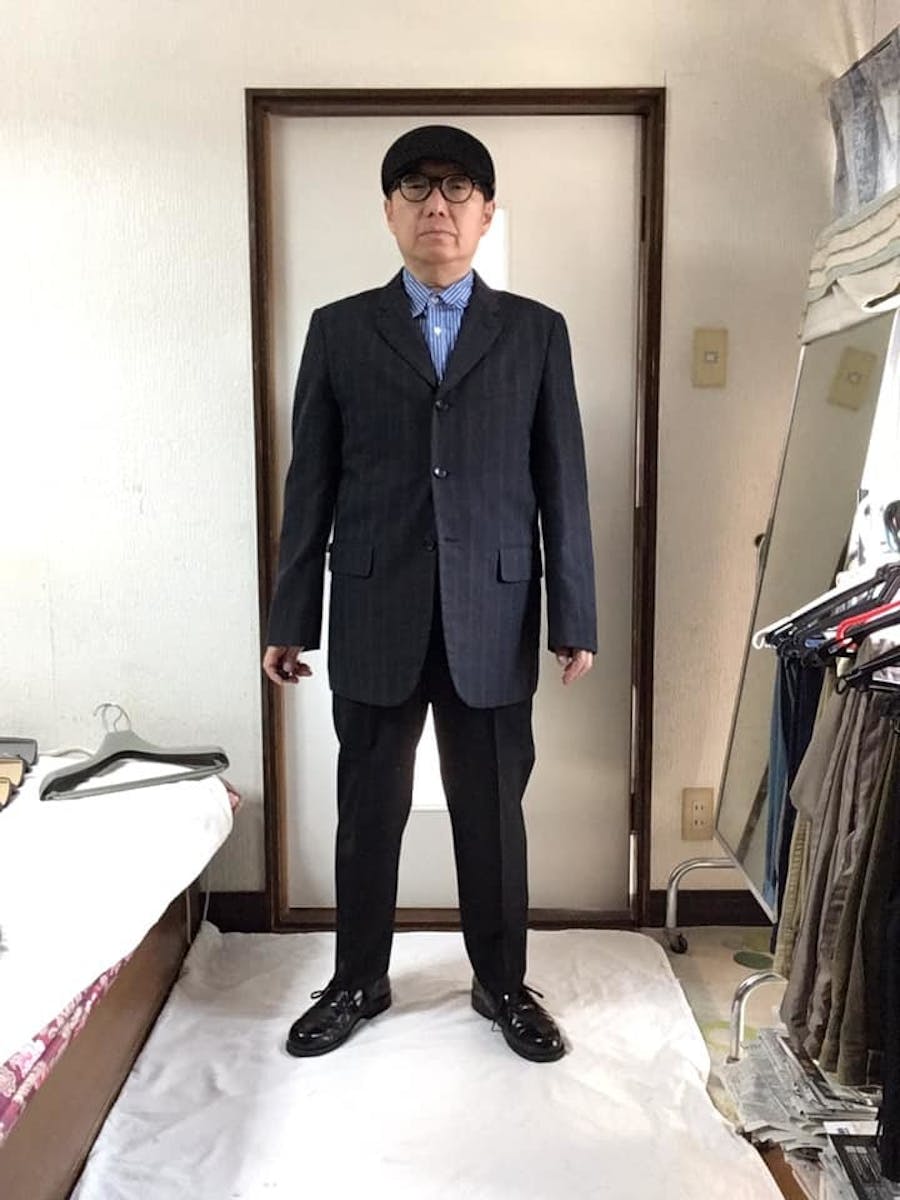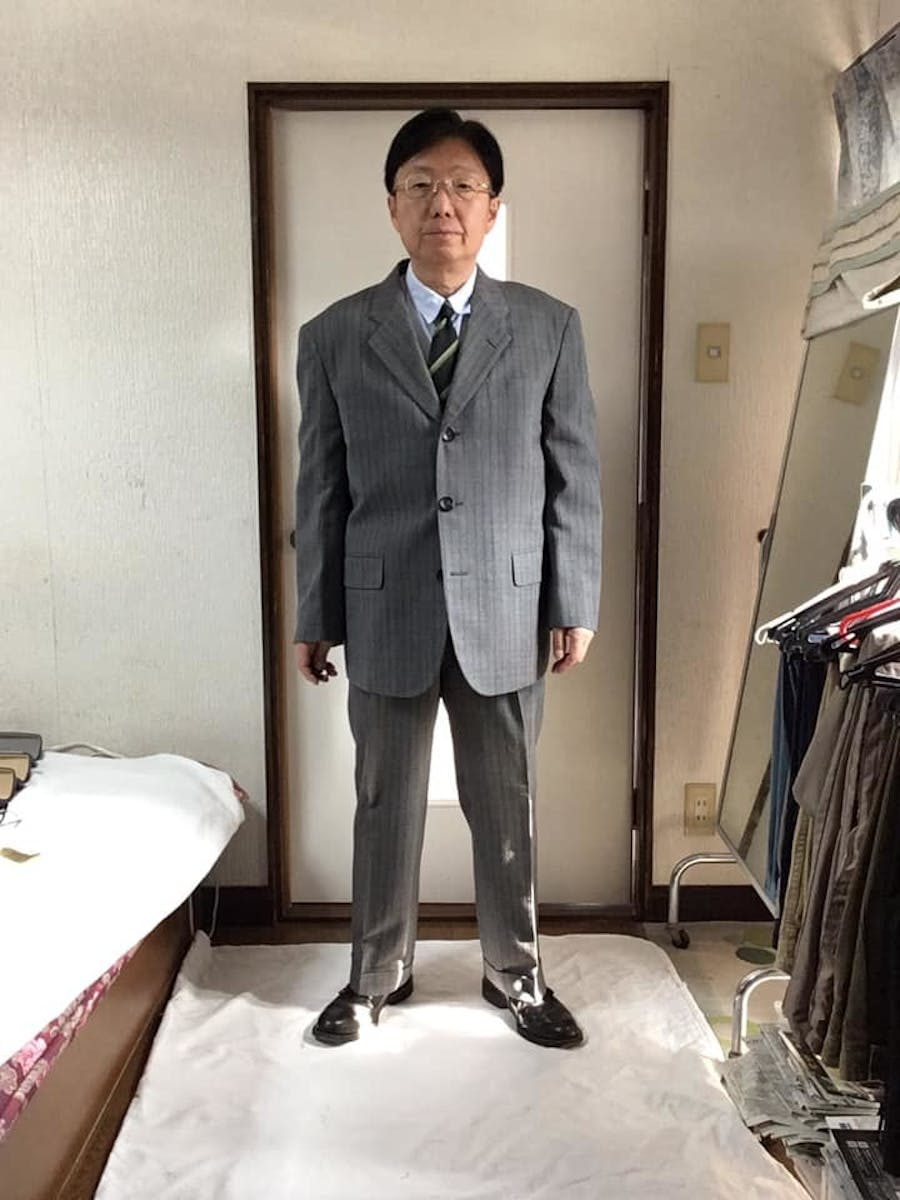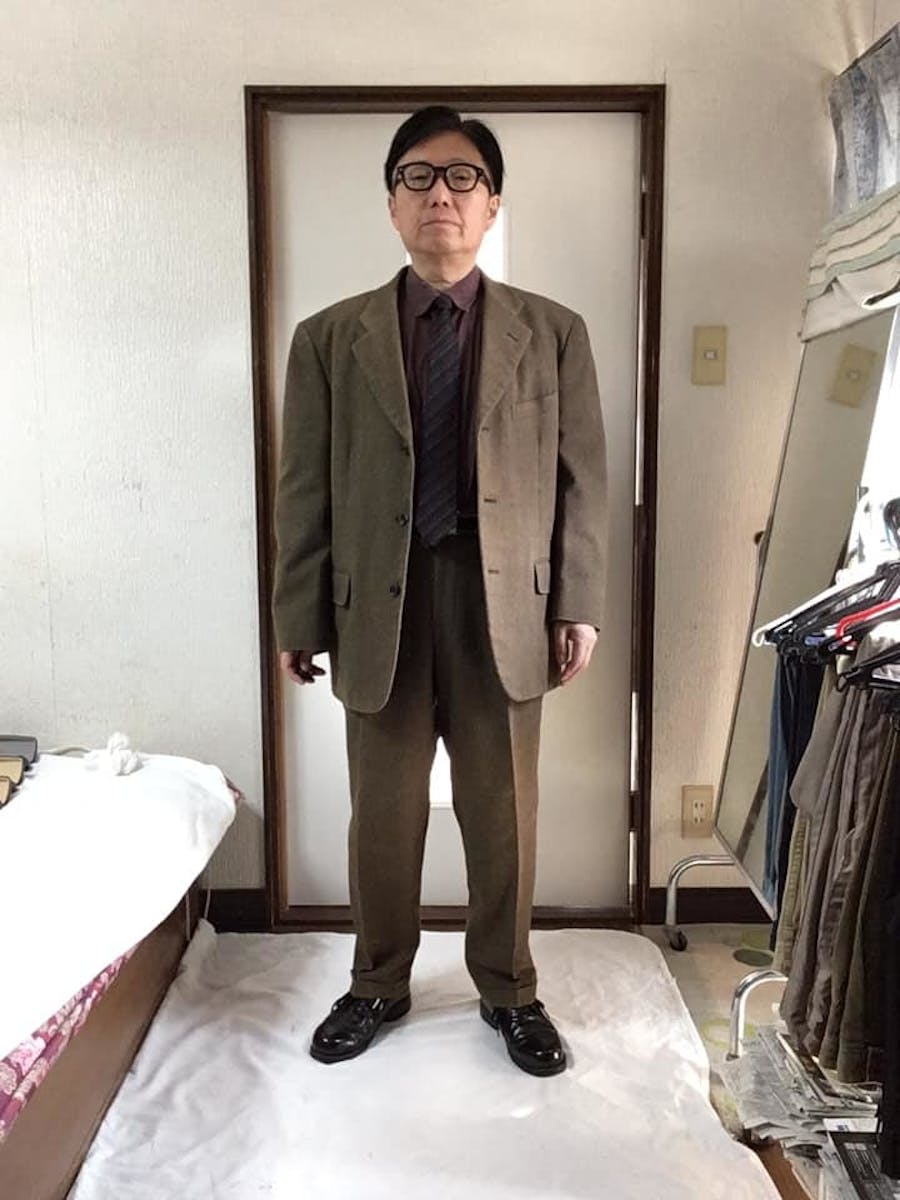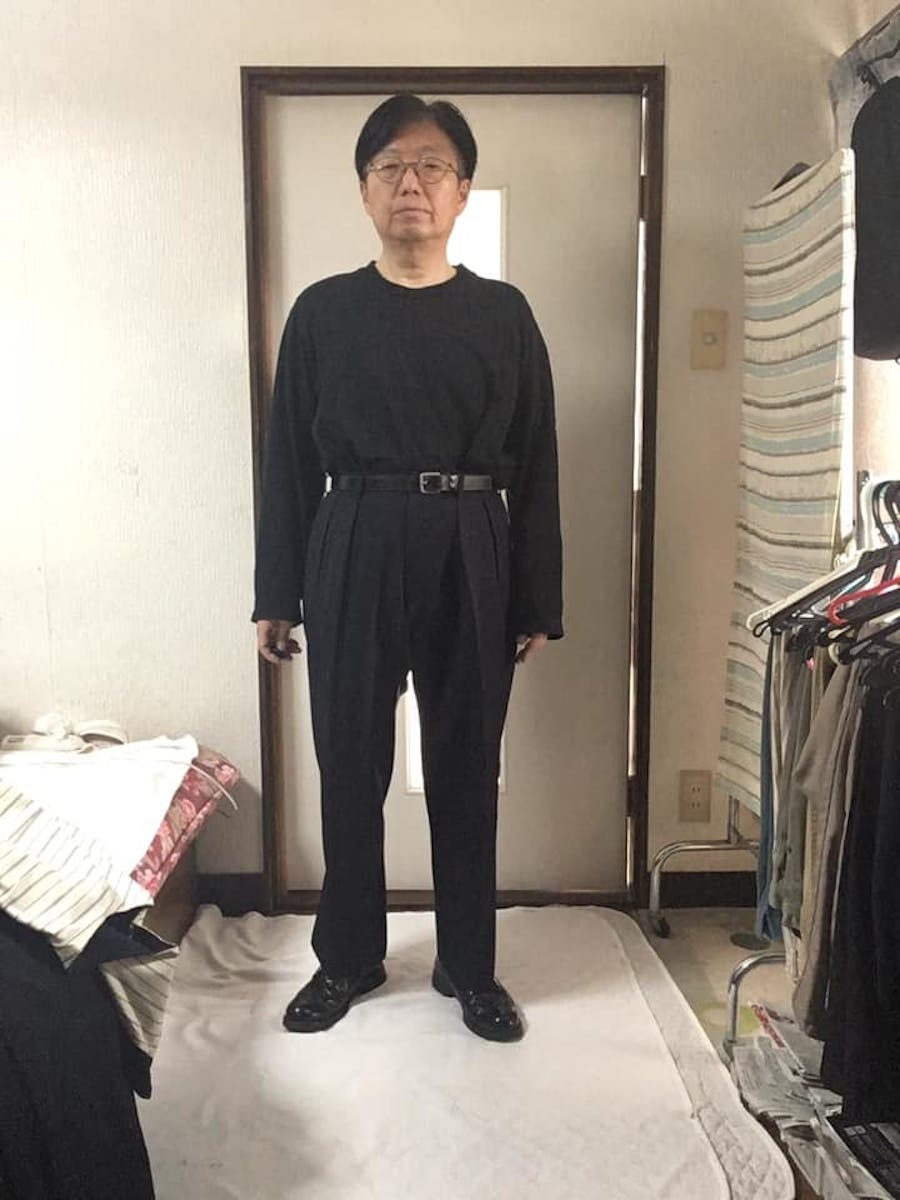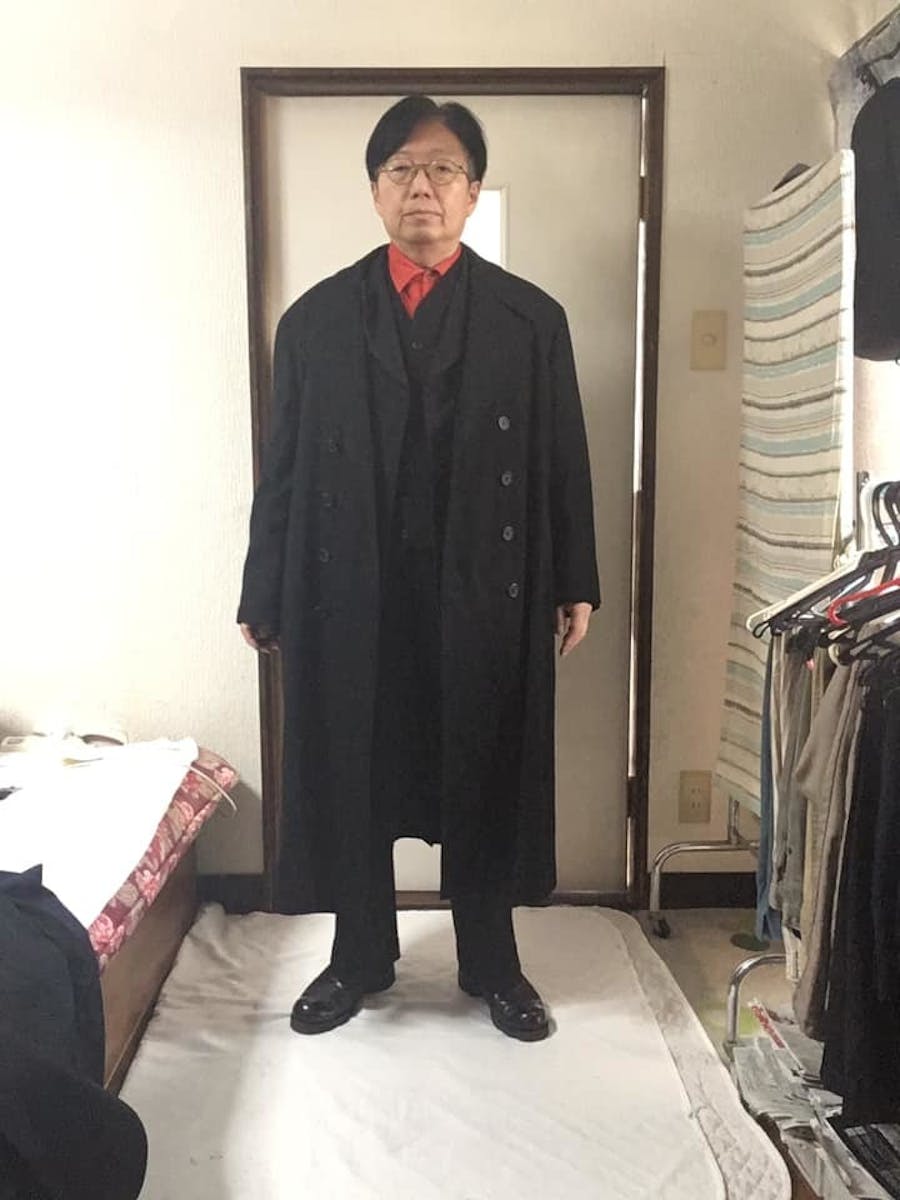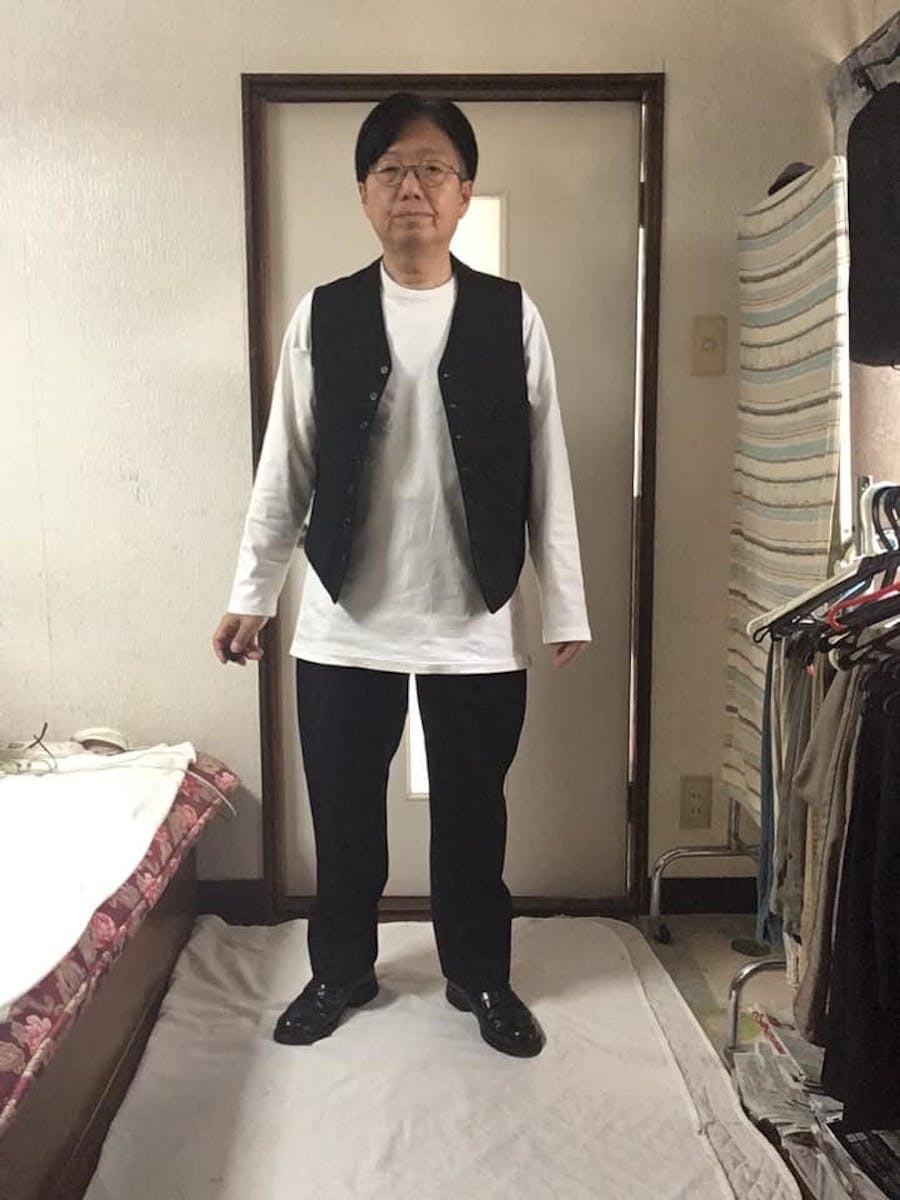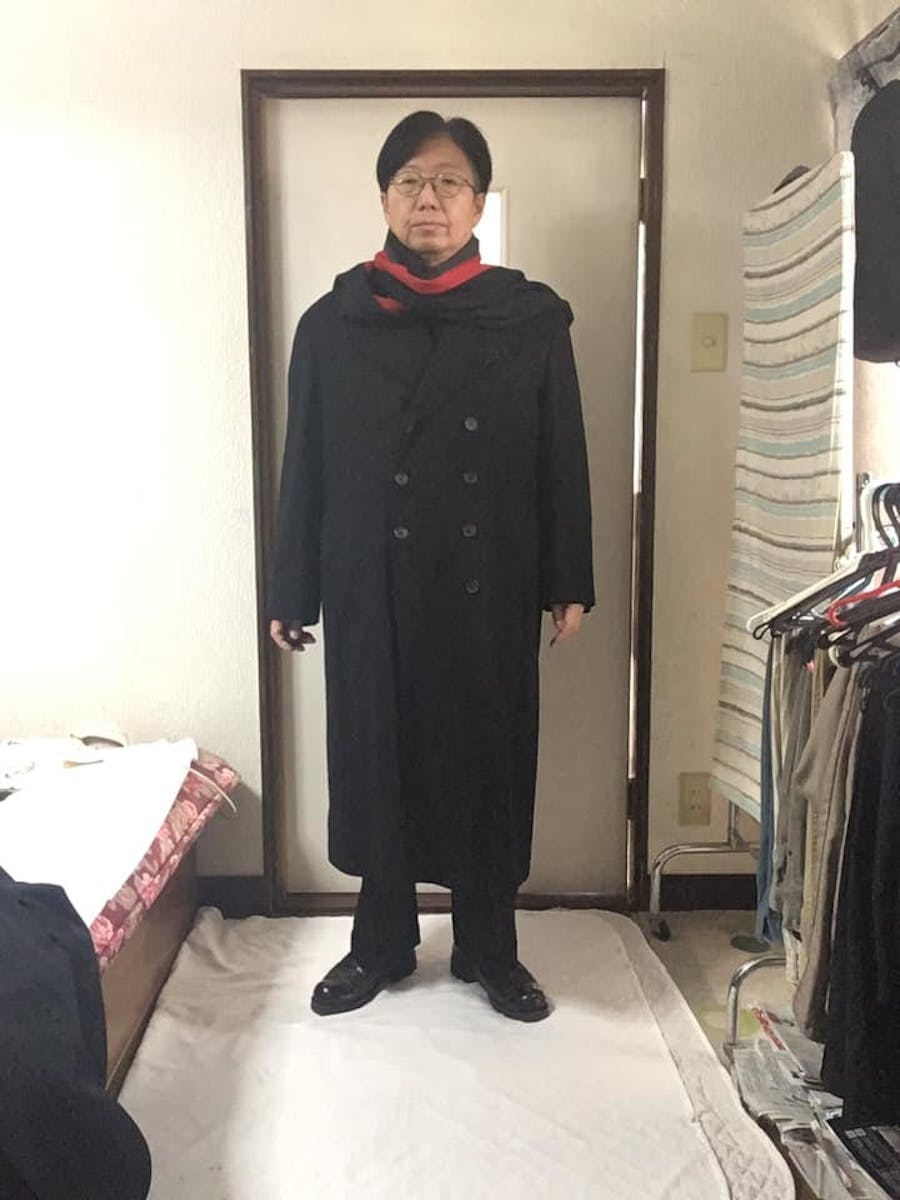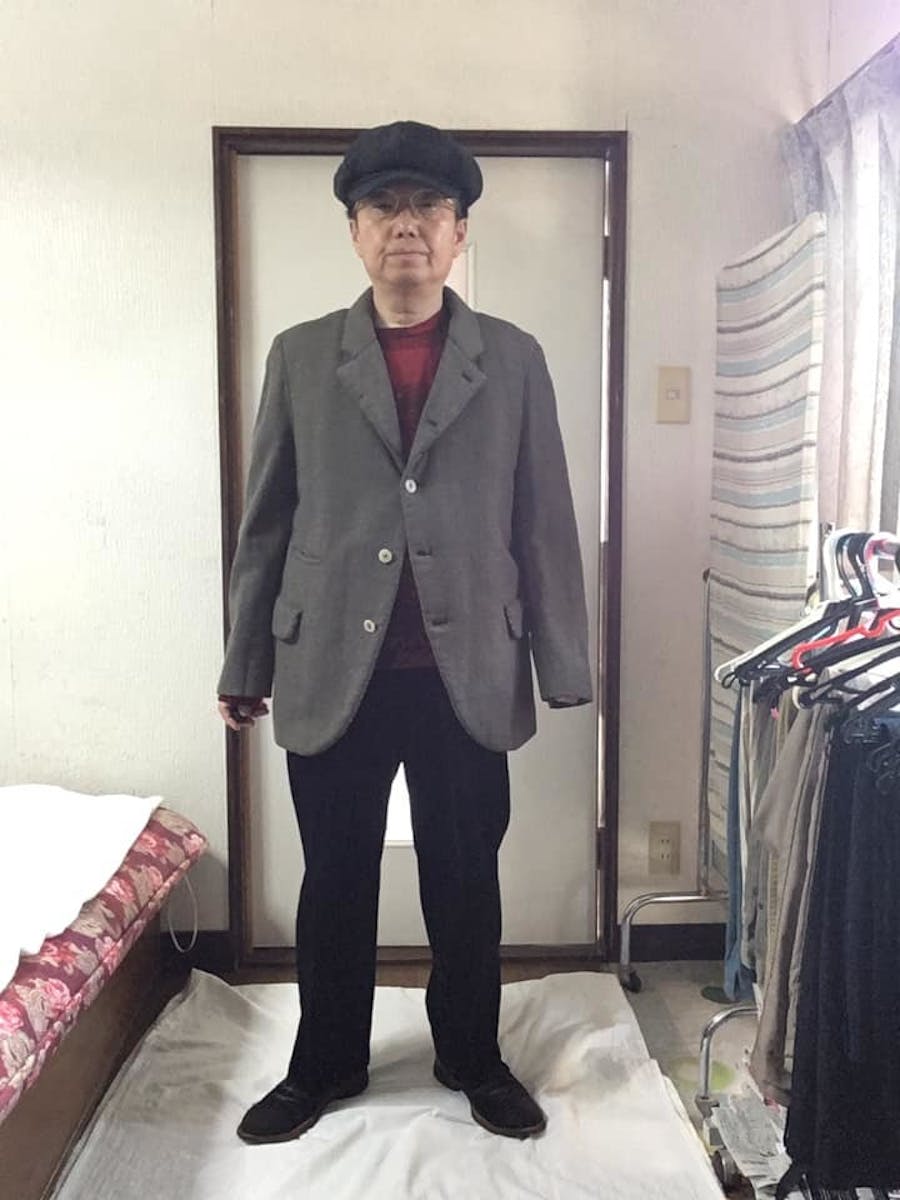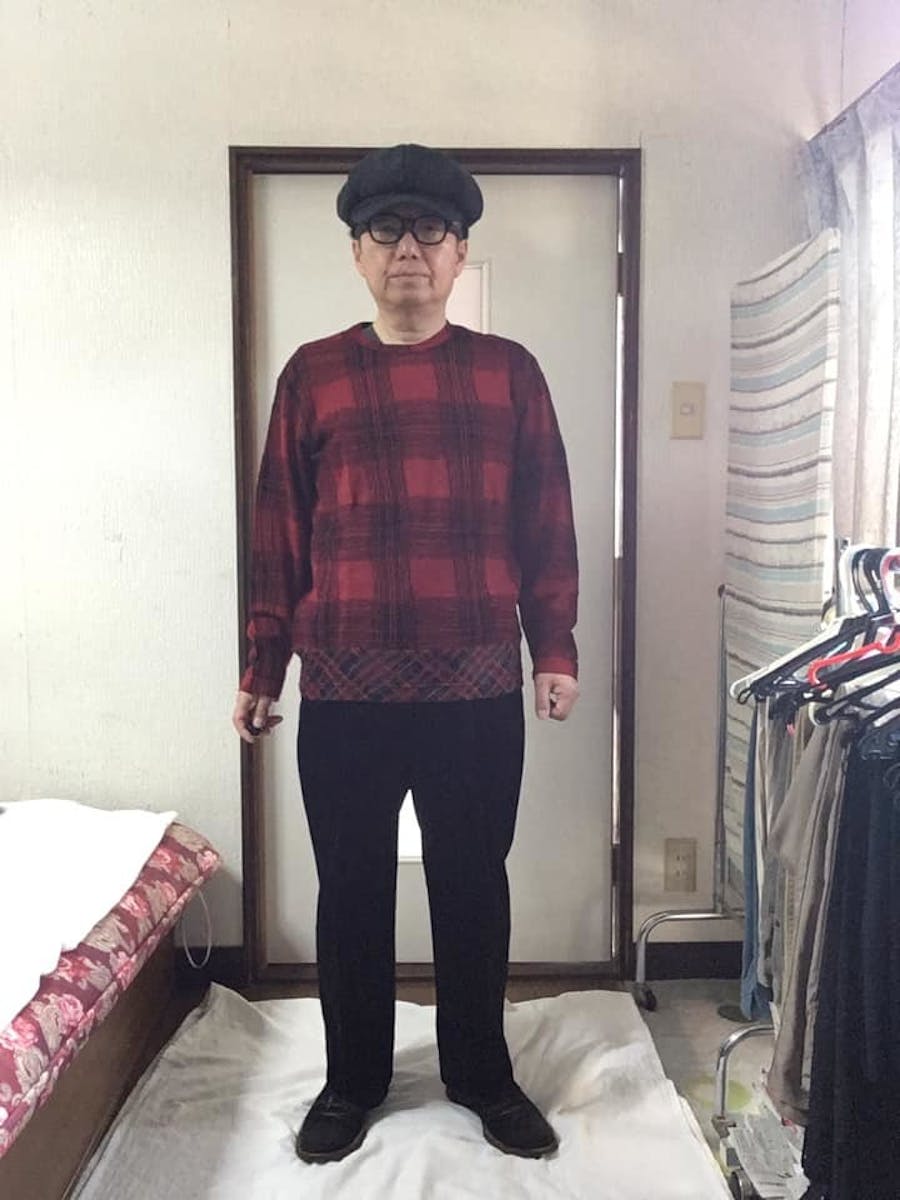 Hama­da turned down the offer to speak at any length about his life­long obses­sion with Comme and Yamamo­to, sim­ply stat­ing that ​"the clothes speak for them­selves." (We agree.) How­ev­er, he did give small insights into his sar­to­r­i­al back cat­a­logue. Hamada's love for fash­ion began back when he was 19. Since then, he has stuck to a diet of one design­er and their ethos at a time: ​"I wore Takeo Kikuchi from the age of 19 to 30. Yohji Yamamo­to from 31 to 35, and I've been wear­ing Rei Kawakubo since I was 35," Hama­da wrote in a Face­book mes­sage. Hama­da sees this method of ​"wear­ing one designer's clothes total­ly" as the most ide­al way to under­stand and embrace their world view, ​"the most impor­tant" aspect about this whole ritual.
Per­haps his life­long ded­i­ca­tion explains his overnight suc­cess in HFT. ​"I actu­al­ly found Mr. Hama­da in oth­er groups post­ing about what he loves but the peo­ple there didn't appre­ci­ate or share that enthu­si­asm," explains Edwards. ​"I knew that HFT mem­bers would love him so I friend request­ed him and added him to the group. And he caught the drift very quickly."
Along­side his Yohji ensem­bles, Hama­da has also been spread­ing his own wis­dom about fash­ion and the icons he fol­lows. For instance, under a post titled ​"Fash­ion­able men over the world," he pre­sent­ed a list of style and musi­cal inspi­ra­tions, includ­ing David Bowie, whose Zig­gy Star­dust Tour Hama­da watched as a 12-year-old and whom he has admired for more than 48 years. He also looks up to a fel­low CDG stan, Japan­ese actor Nao­to Tak­e­na­ka, who has been wear­ing CDG for more than 40 years. In anoth­er post, Hama­da ani­mat­ed­ly wrote about his IRL meet­ing with the actor from a decade back, describ­ing Tak­e­na­ka as a ​"kind and fun­ny man." ​"He wore pink suits. We shook hands and I talked to him and got his auto­graph." Anoth­er post intro­duced Japan­ese brand Van, found­ed by Ken­suke Isizu – aka a pio­neer of the Japan­ese ​"IVY Look" and a God of Japan­ese men's fash­ion. Hama­da shared pho­tos of the Van pieces he got from his moth­er as a young boy.
As brands con­stant­ly release new drops and the econ­o­my is buoyed by peo­ple who cop them soon after, even­tu­al­ly flip­ping their pur­chas­es on Grailed and eBay, it's quite refresh­ing to find some­one like Hama­da, who exists out­side of this ecosys­tem. It's a big part of his appeal to the HFT group: ​"Wear­ing stuff because you like it, you have an obses­sion with it and not because you want to show off your wealth or flex a logo or brand," as Edwards puts it.
Tamia Thomp­son, one of the mod­er­a­tors of HFT, adds to this sen­ti­ment, say­ing, ​"Mr. Hamada's con­tri­bu­tions to the group have almost been like a his­to­ry les­son. Very clear­ly and quick­ly did I notice the dif­fer­ence between his knowl­edge and my very mil­len­ni­al per­spec­tive," Thomp­son says, before adding, ​"It's incred­i­ble how much I learn from him from just being obser­vant and encour­ag­ing this new-found inspi­ra­tion as best as I can."
"It's inter­est­ing to see an old­er man inhab­it this online space main­ly pop­u­lat­ed by dudes in their teens and ear­ly twen­ties," says Jonatan Nils­son, a 21-year-old fash­ion design stu­dent and mem­ber of HFT, ​"I think it's very valu­able to have peo­ple like Mr. Hama­da who actu­al­ly ​'lived' at the same time as these impor­tant design­ers when they were new and cur­rent instead of just young dudes with #archive Insta­gram, repost­ing their old CDG gar­ments they bought on Grailed." Nils­son wants to ​"be like [Hama­da] when he grows up," hop­ing to one day inspire the younger gen­er­a­tion with the clothes he has col­lect­ed and lived in through­out his life, in the same vein as Hamada.
"I was very sur­prised by the big response," Hama­da explained in a pri­vate mes­sage. ​"I just want to con­tribute my 41 years' worth of col­lec­tion to make every­one hap­py." He clear­ly exem­pli­fies the notion that every­one even­tu­al­ly finds their peo­ple, as Edwards tells us. They are out there – you just have to be patient and keep doing your thing in the meantime.
Mr. Hamada's advice to the mil­len­ni­als aspir­ing to cap­ture his vibe is sim­ple: ​"Get good clothes and wear long time."
---