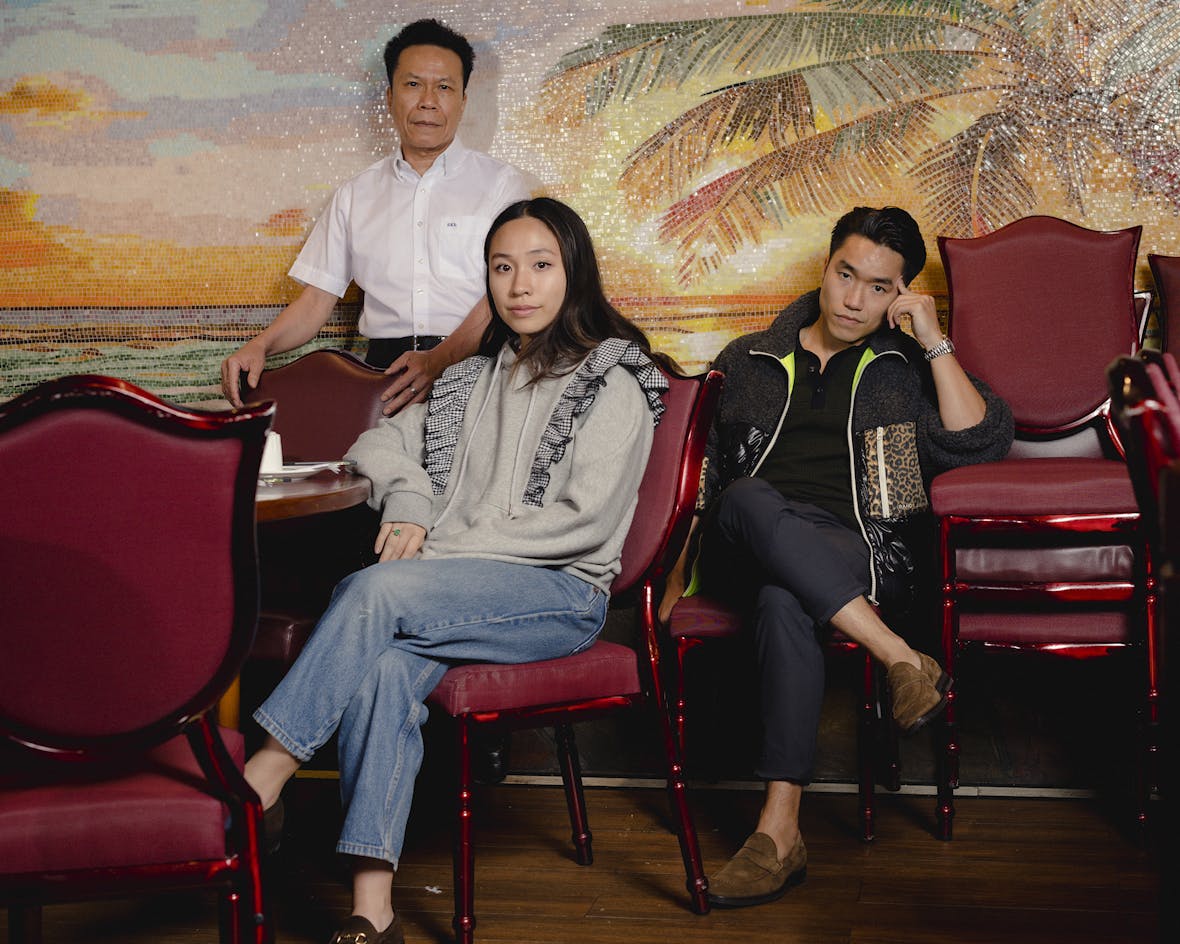 Sandy Liang, Con­gee Vil­lage heiress
When I meet Sandy Liang at Con­gee Vil­lage, the first thing I notice while approach­ing the restau­rant are the neon, blow-up palm trees that sit atop the restaurant's roof. The exte­ri­or of the build­ing is coat­ed in a sauna-like wood pan­elling that con­tin­ues inside into the entrance area, over which the maître d' pre­sides. To Liang this is no ordi­nary restau­rant – it's a sec­ond home. Her father first opened Con­gee Vil­lage at 207 Bow­ery in 1996 and remains in charge of the restau­rant today, hav­ing moved to Allen Street in July of 2017 (he also recent­ly opened a sec­ond loca­tion in Flush­ing, Queens).
Inside, Liang is vis­i­bly at ease – and why wouldn't she be? This restau­rant was her pseu­do-day­care dur­ing her child­hood grow­ing up in Queens. She would often come here to hang out after school, as well as for week­ly Sun­day din­ners with her par­ents and broth­er (a tra­di­tion she still con­tin­ues to this day). The space itself inspires a surge of nos­tal­gia in her. Down­stairs, she tells me, used to be karaoke rooms, where she and her broth­er first took their child­hood pet – a Chi­huahua – after pur­chas­ing it at a pet store on Essex Street.
And indeed there is some­thing of a homey spir­it to the restau­rant. The décor feels like a hap­py acci­dent, each room bear­ing tan­gi­ble proof of the restaurant's 23 years in busi­ness. With­in the patch­work-tiled walls of the bar area where Sandy and I sit, I notice a glass-encased, under-the-sea themed struc­ture over there; a kitschy fig­urine of what appears to be a Chi­nese chef here; and a med­ley of wood­en and neon stools scat­tered through­out. A tow­er­ing orange tree stands aloft in one cor­ner; in anoth­er, banana leaves appear to sprout from the ceil­ing and walls. The bar, which is dis­tinct­ly tiki-like in appear­ance, rests against the back wall, lit by black lights glow­ing from below the counter. And then, smack-dab in the mid­dle of all this, sits an eight-step, curved stair­case lead­ing to the main din­ing area. The over­all effect is warm, lived-in and most of all, authentic.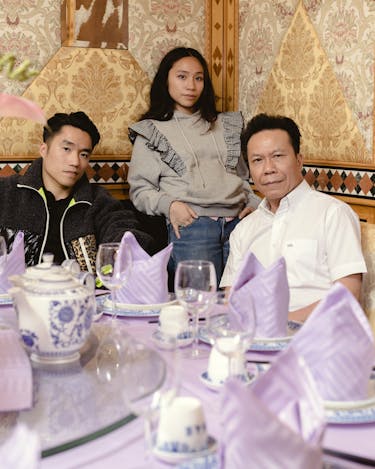 Just as the restau­rant is adorned with the tan­gi­ble amal­ga­ma­tion of its 23 years in busi­ness, Liang's name­sake fash­ion line – which she start­ed in 2014, and is now a main­stay on the offi­cial NYFW cal­en­dar – also bears the traces of her his­to­ry and iden­ti­ty. Liang seems at home not only at the restau­rant but with­in the entire­ty of New York City's Chi­na­town too. When I ask her about her favourite spots in the neigh­bour­hood, she trails off into nos­tal­gic ter­ri­to­ry, rem­i­nisc­ing about the now-shut­tered shops she rel­ished as a kid – the fish store where she would ​"buy pet fish and koi fish," for instance, that's now ​"a cute Ital­ian restau­rant." Even Eliz­a­beth Street Cen­ter, which is still open today and where fuck­boys roam freely, is not what it used to be, accord­ing to Liang.
"It's real­ly dif­fer­ent now," she says. ​"It used to be very Hong Kong… like, San­rio, Hel­lo Kit­ty, gel pens, ear­rings. I would just eff­ing die when I was a kid and my mom would let me go there and buy, like, a cell phone charm."
Unsur­pris­ing­ly, Liang's line shows traces of all of this. The restau­rant, her fam­i­ly, Chi­na­town and Chi­nese cul­ture more gen­er­al­ly. And so it makes sense, then, that her first-ever col­lec­tion, as she told South Chi­na Morn­ing Post, was inspired by ​"Chi­na­town grand­moth­ers," and that most (if not all) of her look-books are shot in the neighbourhood.
Accord­ing to The New York Times, her now-cel­e­brat­ed fleece was inspired by ​"the hand-me-downs of her youth." She's print­ed the Con­gee Vil­lage menu on the backs of t-shirts, and has incor­po­rat­ed ele­ments of aprons into many of her designs – an obses­sion, she tells me, that she attrib­ut­es to ​"being sort of behind the scenes [at the restau­rant]." She's also inspired by ​"the pro­duce sup­pli­ers [who] bring the food in, these Chi­nese guys with sleeve cov­er­ings… Their colour com­bos and their clothes. It's fun and it's not meant to be, like, cool."


Authen­tic­i­ty has gained mount­ing impor­tance over the past cou­ple years, ris­ing in defi­ance of the resound­ing cry of ​"fake news" and oth­er lies that Don­ald Trump con­tin­u­ous­ly spews. It's evi­dent in every­thing from Gucci's unfil­tered beau­ty cam­paign star­ring Dani Miller's crooked teeth, to the TV shows that have cur­rent­ly left every­one rapt – name­ly Eupho­ria and Fleabag, which are both bone-chill­ing­ly raw por­tray­als of life today. In New York's ever-gen­tri­fy­ing streets, this sort of authen­tic­i­ty is increas­ing­ly hard­er to come by. Many con­sid­er the last-remain­ing ​"real" neigh­bour­hood to be Chi­na­town, and the restau­rants that inhab­it it are often proof of that.

Chi­na Chalet is but one case in point. A bare­ly-three-star dim-sum restau­rant by day, Chi­na Chalet by night trans­forms into a smoke-filled par­lour, where today's young 20-some­things can drink vod­ka-crans, dance among influ­encers and thots, rub elbows with fashion's big-wigs, and attend con­certs for King Krule, Slowthai, and Megan Thee Stal­lion between fash­ion after­par­ties and invite-only soirées. Among the Chalet's reg­u­lar par­ties are Glam (host­ed by artist DeSe Esco­bar, styl­ist Kyle Luu and model/​actress Fif­fany Luu) and Ty Sutherland's Heav­en On Earth. And in a way, these par­ties are help­ing to pre­serve Chi­na Chalet in its orig­i­nal form. For now at least, while the Chalet remains in demand, the restau­rant (and the lit­tle pock­et it inhab­its) can bypass gen­tri­fi­ca­tion. The threat, how­ev­er, always lingers.
Put into the wrong hands, Chi­na Chalet could eas­i­ly become an arti­fi­cial breed­ing ground for the 20-some­thing artists-on-a-bud­get who take refuge there today. Such was the fate of Madame Wong's when Travis Bass got his hands on it. A club pro­mot­er and reg­u­lar fix­ture in New York's ear­ly-aughts nightlife, Bass was respon­si­ble for mak­ing over Chi­nese restau­rants Madame Wong's and Red Egg into New York's trendy clubs. Speak­ing about the ini­tial appeal of the for­mer, he told Thril­list in 2017 that ​"it was so real and so cool… it had this ​'found object' vibe."
When I ask Sandy Liang about fashion's appar­ent infat­u­a­tion with Chi­nese restau­rants, she says, ​"It does look cool. And I get that peo­ple get fas­ci­nat­ed with things, espe­cial­ly things that they aren't a part of, but I just feel like every­body can be respect­ful." And while it is pos­si­ble for design­ers and club pro­mot­ers to cap­i­talise on the ​"authen­tic" appeal of Chi­nese restau­rants and Chi­na­town in a respect­ful way, more times than not they don't.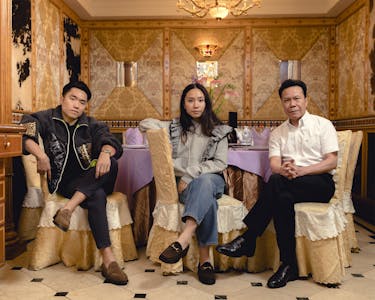 Take Vete­ments' show for their SS16 col­lec­tion. Pri­or to the show, Vete­ments sent out invites in the form of red envelopes – those cus­tom­ar­i­ly sent out to friends and fam­i­ly for the Lunar New Year. The show itself took place in the recess­es of Le Prési­dent, a mul­ti-sto­ry Chi­nese Restau­rant locat­ed in what The New York Times dubbed Paris's ​"scruffy" Chi­na­town Belleville. And appar­ent­ly, it was a rev­o­lu­tion­ary feat. Not the clothes, but rather the venue itself, cou­pled with, as The Times put it, the attend­ing ​"high-rank­ing fash­ion edi­tors" who were forced to sit in ​"cramped rows" – ​"a clear sign," he said, ​"that the high had descend­ed to tour the low." An inge­nious demon­stra­tion of the ​"post-lux­u­ry ethos," accord­ing to SSENSE, the show was laud­ed as one of the high­lights of that fash­ion season.
Nev­er mind the fact that Vete­ments was using the appar­ent authen­tic­i­ty of Paris' Chi­na­town to appear cool, or the fact that Vete­ments in no way gave back to the neigh­bour­hood where they held their show; from the van­tage point of those cramped up edi­tors, the show epit­o­mised all that was real and authen­tic in cul­ture at that moment. It cap­tured the norm­core-tinged idea of ​"anti-fash­ion," which Rob Horn­ing declared in his essay for Vestoj​'s eighth issue, ​"The Co-Con­spir­a­tors: Authen­tic­i­ty And Agency Pan­ic," to be the new cool. He described anti-fash­ion as a ​"sin­cere effort to reject the glam­our and arti­fice of fash­ion in favour of ordi­nar­i­ness, which puta­tive­ly stands in for the ​'real.'"
Horn­ing went on, ​"Anti-fash­ion caters to the fan­ta­sy of hav­ing ​'authen­tic­i­ty,' which com­pris­es a vari­ety of sub­sidiary para­dox­es: con­spic­u­ous incon­spic­u­ous­ness, planned spon­tane­ity, stud­ied indif­fer­ence, stren­u­ous non­cha­lance, osten­ta­tious banal­i­ty." And it was this fan­ta­sy that Vete­ments' show guests were invit­ed to indulge in.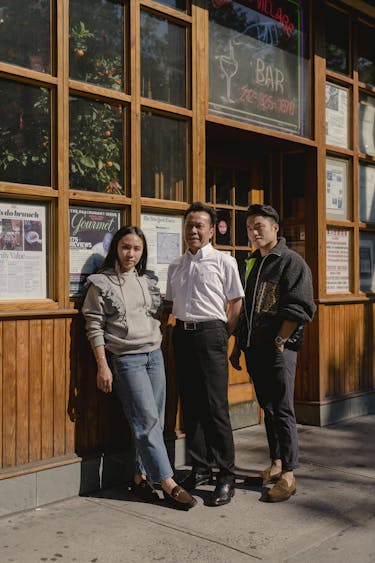 The year before Sandy Liang held her SS15 pre­sen­ta­tion at Con­gee Vil­lage – like the Vete­ments' show a year lat­er – her invite was a red enve­lope, ​"a lucky red Chi­nese enve­lope," she says, ​"like the ones you get mon­ey in." Unlike Vete­ments, though, Liang's show did not spark end­less praise by fashion's elite. It also didn't cater to a fantasy.
Liang admits she was ​"a bit, like, ugh" when she wit­nessed the Vete­ments SS16 show. ​"I [had my pre­sen­ta­tion at a Chi­nese restau­rant] because my dad owns a Chi­nese restau­rant and it makes sense," she says. ​"But when a French Margiela-esque brand does it, all of a sud­den it's to be writ­ten about."
Speak­ing on the osten­si­bly cool appeal of these restau­rants, she said, ​"It makes me sad when [stuff like that] becomes trendy because that means they mat­ter less in a way, or that their cool­ness is ephemer­al. But for me, it's just who I am. Like, it can't go out of trend for me."
Then again, she says, ​"I guess it's the same as any­thing else being trendy. Like if McDonald's was cute all of a sud­den, every­one would do pho­to shoots in front of McDonald's." And right on cue, a cou­ple of weeks after my inter­view with Liang, Vete­ments showed their SS20 men's col­lec­tion at where else but McDonald's.
---