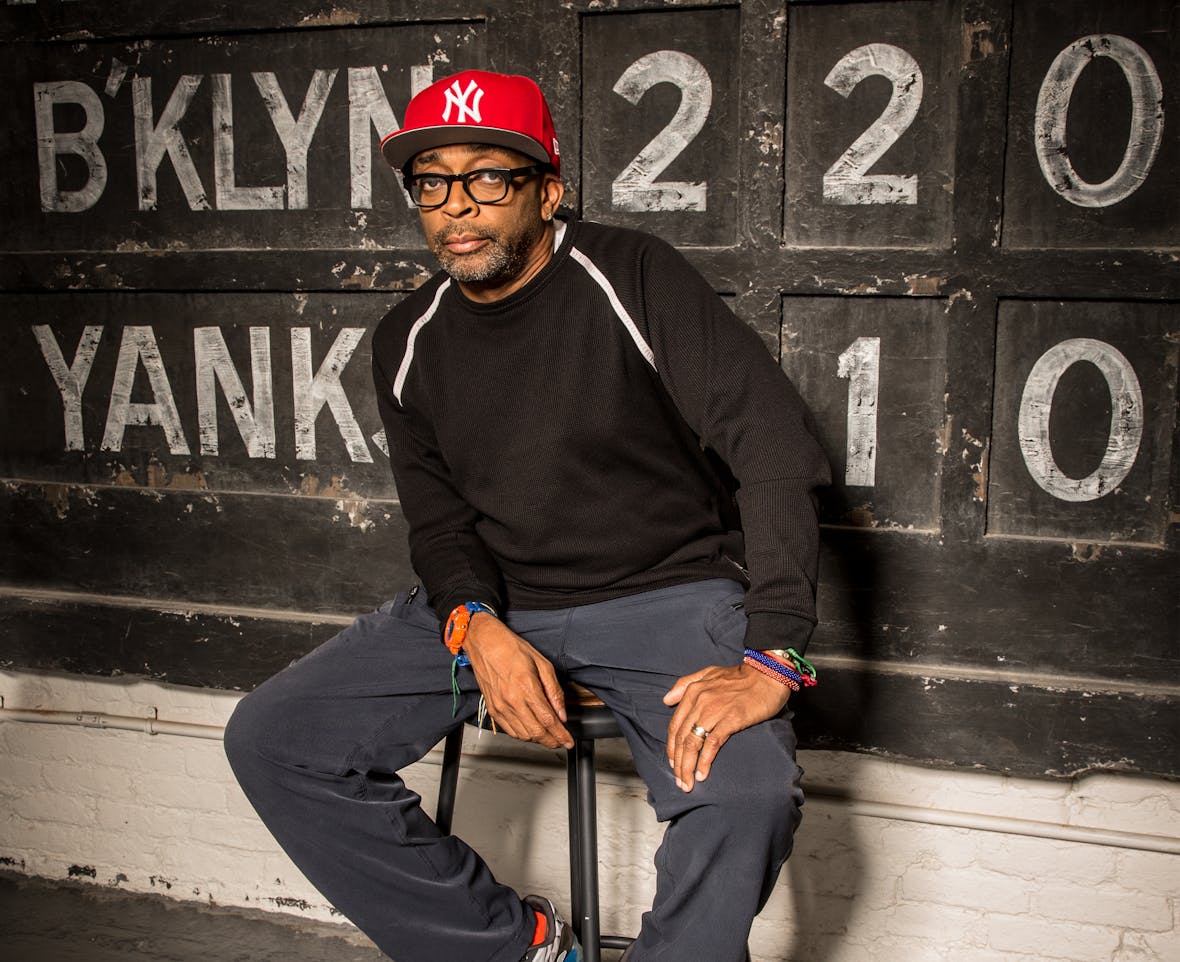 Spike Lee talks base­ball and fresh looks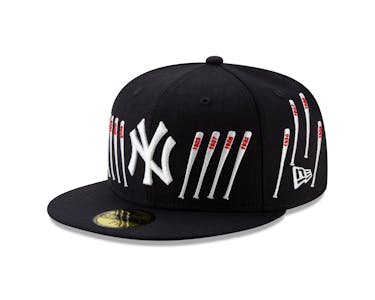 Spike Lee might be bet­ter known for a career span­ning over 30 years, with movies such as Do the Right Thing, Mal­colm X and BlacK­kKlans­man, how­ev­er it was his love of base­ball that pro­vid­ed an inter­est­ing foot­note when he became instru­men­tal in intro­duc­ing the red New York Yan­kees hat in 1996.
"The red Yan­kees hat; that's the one that changed the whole game," he tells us at the launch of the New Era x Spike Lee x New York Yan­kees Cham­pi­onship 59FIFTY cap at New Era Carn­a­by Street (pic­tured above – a sneak peek of one of sev­en styles that will be launch­ing glob­al­ly in Sep­tem­ber). ​"Before that, teams had one colour and that was it. I want­ed a red hat to match my red top, and New Era said they couldn't do any­thing with­out the per­mis­sion of the Yan­kees. So I went to the own­er of the Yan­kees — the now deceased George Stein­bren­ner — and he OK'd it." The rest was base­ball cap history.
In anoth­er his­toric move, West Ham United's foot­ball ground is trans­formed this week­end, when the Yan­kees face their bit­ter­est rivals, the Boston Red Sox, in a pair of match­es that mark the first Major League Base­ball games to be held in Europe. Lee will be in the stands, before mak­ing his way back to New York, for the 30th anniver­sary of Do the Right Thing. ​"We're hav­ing a big cel­e­bra­tion block par­ty," he says.
If one thing's for sure, it's that Lee's out­fit will be on point: the red cap being the tip of a sar­to­r­i­al ice­berg that has seen the direc­tor famous­ly rock every­thing from sports casu­al to zoot suits, all-black-every­thing to that incred­i­ble pur­ple suit cre­at­ed by Ozwald Boateng for this year's Oscars.
Check out some of Spike's great­est looks, from peace sign tees to some, admit­ted­ly dodgy, aquasocks below.

"This is on the set of Do the Right Thing and I can tell by what I'm wear­ing on my feet that this is the scene where the kids wet the late Frank Vince while he was dri­ving in his drop top Cadil­lac. That's why I had those things on my feet."
"At that time, Jesse Jack­son was run­ning for the Pres­i­dent of the Unit­ed States of Amer­i­ca, so we put those posters up against the wall and had Mook­ie [Lee's char­ac­ter in Do the Right Thing] take a pic­ture with the piz­za box­es. That's a Brook­lyn Dodgers jer­sey. The Dodgers were in Brook­lyn before they moved to Los Ange­les and the jer­sey is a Jack­ie Robin­son jer­sey. Jack­ie Robin­son was the first African-Amer­i­can to play base­ball. He wore num­ber 42."
"I for­got where this pic­ture was tak­en, but I like it a lot! This was actu­al­ly made into a postcard."
"This was not tak­en on the set of Do the Right Thing – this is actu­al­ly in a stu­dio. We cre­at­ed a still for the film. This is the actor Dan­ny Aiel­lo who played Sal, and the rest weren't even in the film – they were just extras."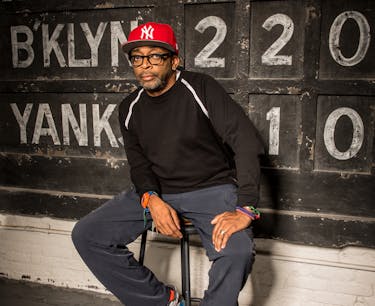 "What you see right there is a piece of art that was from the film ​'Mo Bet­ter Blues and this was in Bleek Gilliam's loft. It's not the real score­board, but a score­board of Brook­lyn Dodgers against the Yankees."
The New Era x Spike Lee x New York Yan­kees Cham­pi­onship 59FIFTY cap at New Era Carn­a­by Street.
---