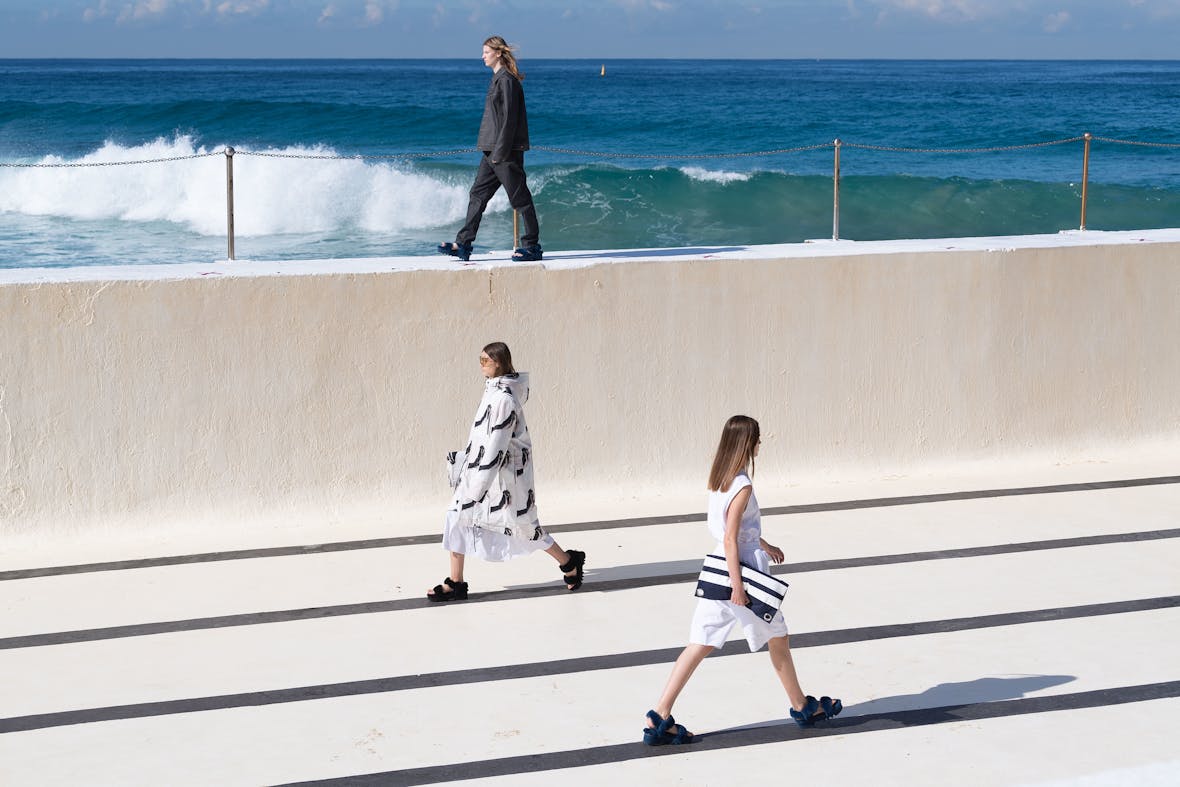 Ten things to know about Ten Pieces
Aus­tralian label Ten Pieces has estab­lished itself as the ulti­mate expres­sion of Syd­ney cool. Where urban style meets the sea, this uni­sex brand is run by cre­ative direc­tor Lucy Hink­fuss and her part­ner Mau­rice Terzi­ni – whose impres­sive career spans food, fash­ion and culture.
At the brand's recent show for Mer­cedes-Benz Fash­ion Week Aus­tralia, the afore­men­tioned influ­ences col­lid­ed, as mod­els walked a beach­side run­way in the emp­tied-out pool at Bon­di Ice­bergs. Inspired by Terzini's youth grow­ing up in Italy dur­ing the Sev­en­ties, the ​'Cos­mic Run­ner' col­lec­tion was set to an Ita­lo-dis­co score by music direc­tor Nicky Night Time.
As Ten Pieces' show pro­duc­er Cat Rose put it, the pre­sen­ta­tion was ​"ten out of ten". So here, we ask the Ten Pieces fam­i­ly what it is that makes the label one-of-a-kind.




1) COM­MU­NI­TY
Less of a label, more of a fam­i­ly, the close-knit Ten Pieces team has worked togeth­er for­ev­er. It's a sen­ti­ment that real­ly shone through in their recent show. ​"This year the Ten Pieces event deliv­ered what we stand for," explains design­er Mau­rice Terzi­ni. ​"It's not just fash­ion, but it's food, drinks, music and, most impor­tant­ly, a com­mu­ni­ty – the Ten Pieces community."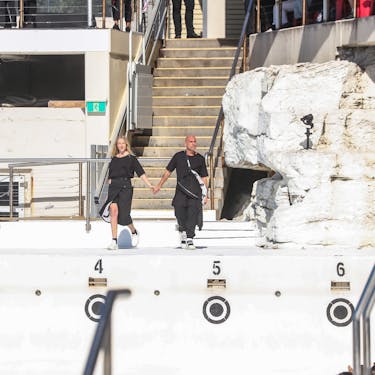 Listen now:

Maurice Terzini
2) THE BON­DI BACKDROP
There is some­thing quin­tes­sen­tial­ly cool about Ten Pieces – which has to do not just with the clothes, but also the Bon­di back­drop. ​"Work­ing on the col­lec­tion from con­cep­tion to pre­sen­ta­tion, it's when the music comes in that it real­ly feels fun and ener­getic," explains cre­ative direc­tor Lucy Hink­fuss. ​"You can actu­al­ly see the clothes come alive in our back­yard of Bondi."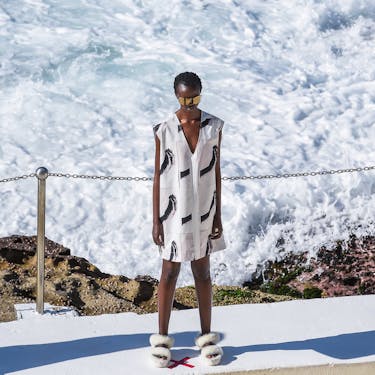 Listen now:

Lucy Hinckfuss
3) THEY PUT ON A PARTY
Known as the show of MBFWA, Ten Pieces always put on a par­ty. As styl­ist Cate­ri­na Scardi­no tells us, ​"work­ing with Ten Pieces is like work­ing with no one else. We get inspi­ra­tion from hang­ing out and lis­ten­ing to music togeth­er or flick­ing through old pho­tos of Mau­rice in his cos­mic dis­co hey­day. What we don't antic­i­pate is what our ener­gy col­lec­tive­ly pro­duces on show day. They end up being super icon­ic, cool shows that every­one wants to be part of."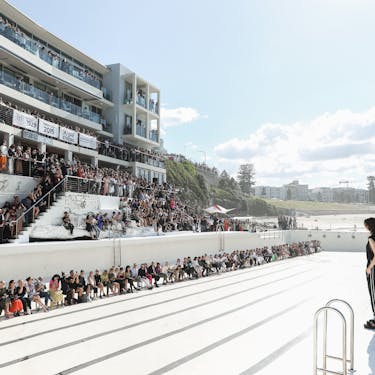 Listen now:

Cat Scardino
4) THE PEOPLE
There's no par­ty with­out the guest list. So, tasked with pulling togeth­er a coterie of media, design­ers, artists, musi­cians and chefs, Elec­tric Col­lec­tive PR founder Ali Smyth says it's always a good time. ​"The vibe from the crowd was utter­ly elec­tric," she says. ​"Peo­ple [were] hang­ing from rocks, the bal­cony and the pri­vate din­ing area at Icebergs."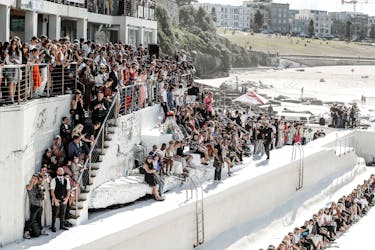 5) THE SOUNDTRACK
It wouldn't be Ten Pieces with­out a killer sound­track, curat­ed by music direc­tor Nicky Night Time. "[For this col­lec­tion], Mau­rice ref­er­enced the DJ sets of Daniele Baldel­li from the Baia Degli Angeli around 1977," explains Nicky. ​"It was a very cos­mic, slowed down Ita­lo dis­co style of pro­duc­tion. It's always amaz­ing doing the music for these guys, because they have such a strong direction."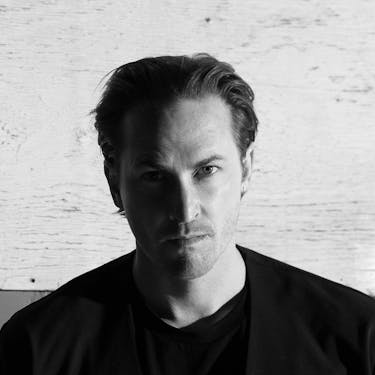 Listen now:

Nicky Night Time
6) BOLD DESIGN

Ten Pieces is iden­ti­fi­able for its pen­chant for bold but high­ly wear­able pieces. ​"It was like the mod­els were going on a stage rather than a run­way," recalls make­up artist Claire Thom­son. ​"The atmos­phere was elec­tric! I don't think any of us realised how good the col­lec­tion was going to look strid­ing the pool – espe­cial­ly Foo Yei in the red tracksuit."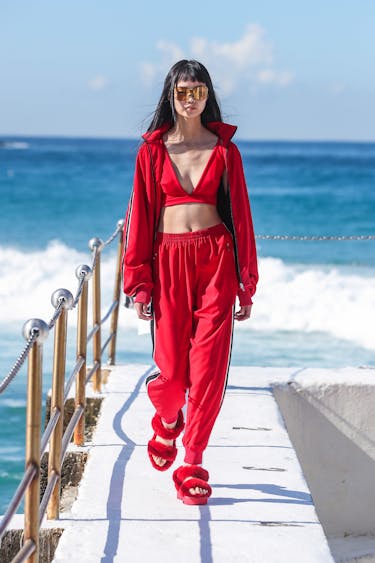 7) THE LIFESTYLE
More than a brand, Ten Pieces is a lifestyle, says direc­tor Allan Mar­shall. "[It brings] togeth­er our col­lec­tive back­grounds in art, music and Maurice's long­stand­ing his­to­ry in food and bev­er­age. ​'Cos­mic Run­ner' is a reflec­tion of the co-op, with the group of cre­atives each bring­ing their own skill set."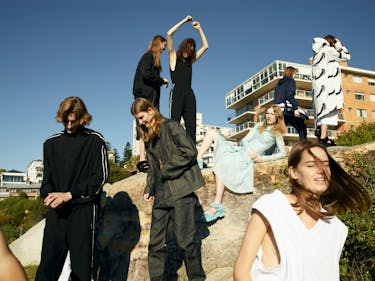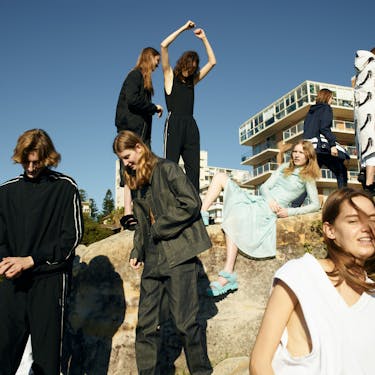 Listen now:

Allan Marshall
8) THE 1970s ITAL­IAN INSPIRATION
"The inspi­ra­tion [for this col­lec­tion] was Maurice's youth in Italy dur­ing the sev­en­ties," recalls pho­tog­ra­ph­er Robert Nils­son, adding that one group image of 20 kids became the show cen­tre­piece. ​"That cap­tured every­thing we want­ed to cre­ate – a Ten Pieces tribe. So we recre­at­ed that image before the show. We took all the mod­els and I shot it behind Icebergs."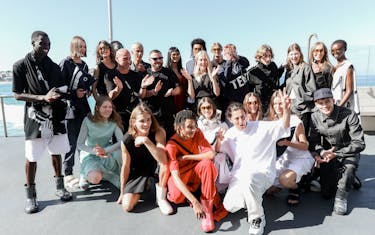 Listen now:

Robert Nilsson
9) THE TEN PIECES BOY & GIRL
There's a real­ly pure vision of the Ten Pieces boy and girl, too – bold faces with strong style. Take mod­el and muse, Prince Del, for exam­ple, whose aes­thet­ic is effort­less­ly cool. ​"Ten Pieces has become one of my favourite brands in the coun­try right now," he says. ​"I'm real­ly picky when it comes to fash­ion, but every­thing is some­thing I would wear."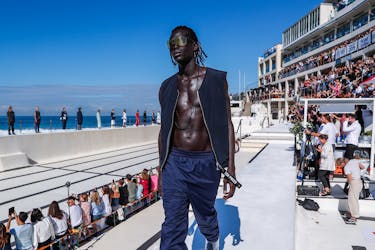 10) THE AFTER-SHOW PARTY
It's all about the after par­ty at Ten Pieces. ​"Giv­en the tone of the brand and the fact that it was basi­cal­ly the last show of the week, a lot of our close friends head­ed upstairs for drinks after [the show]," says Ali Smyth. ​"That car­ried on well into the night, as is the Ten Pieces way."



Lifestyle & show imagery: styl­ist, Cate­ri­na Scardi­no, cast­ing, Cat Rose. Pro­duc­tion: Mar­garet Zhang, Saman­tha Oliver.
---