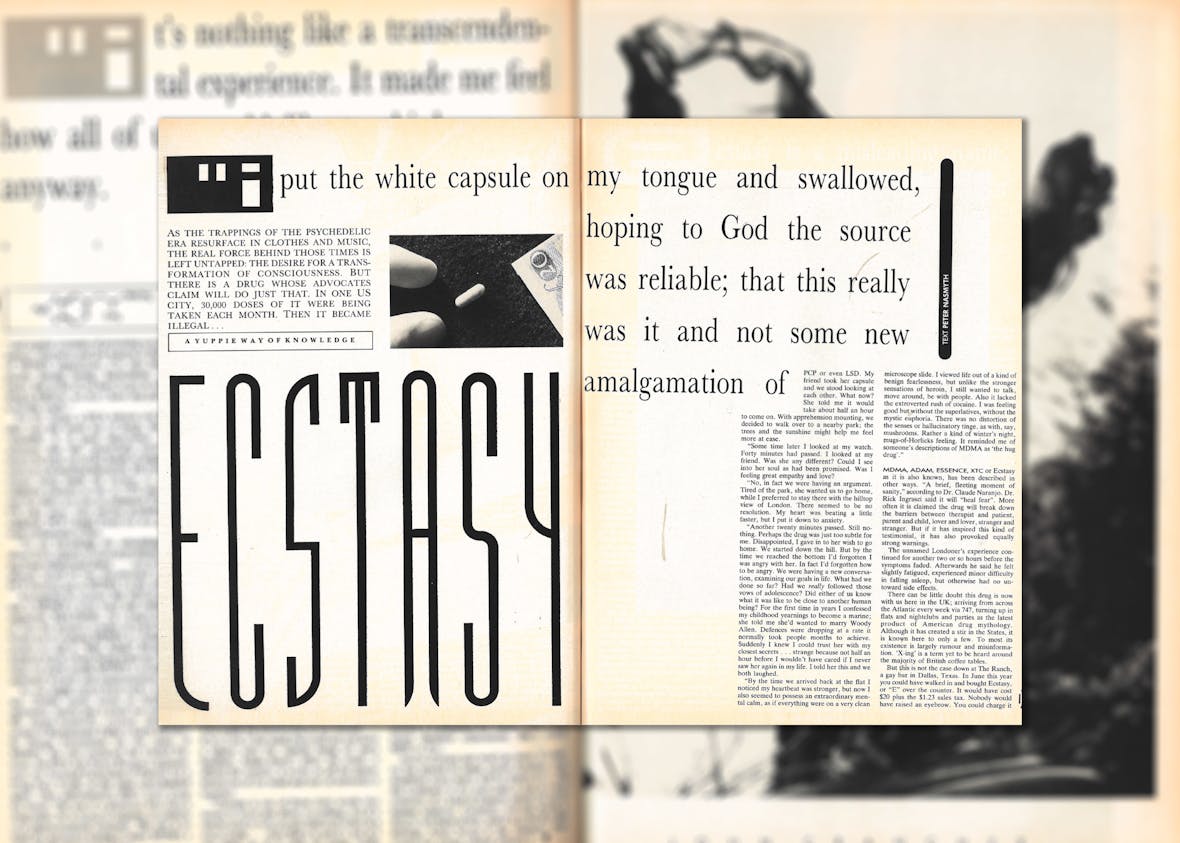 Ecsta­sy: A Yup­pie Way of Knowledge
To cel­e­brate the long-await­ed return of The Face, we have select­ed a stand-out sto­ry from each year of our exten­sive archive, from 1980 to 2004.
Remembered by writer Peter Nasymth
"I was a start-up free­lance jour­nal­ist look­ing for a good sto­ry. I used to live in Cal­i­for­nia, and in Amer­i­ca in the Eight­ies MDMA was legal in some states. I tried it and I thought: ​'Wow, this is an inter­est­ing sto­ry.' I came back to the UK and found that peo­ple were tak­ing and exper­i­ment­ing with it. I just con­tact­ed The Face ask­ing if they were inter­est­ed, and it all flowed from there. We were the first to inves­ti­gate what peo­ple were actu­al­ly tak­ing. The report­ing actu­al­ly wasn't too dif­fi­cult, because it was such a new sub­ject and a lot of peo­ple were very keen to give their opin­ions. I got this amaz­ing inter­view from RD Laing, the psy­chi­a­trist – or, as he was termed, the anti-psy­chi­a­trist – who lived in Hamp­stead. At first, he was a lit­tle bit sus­pi­cious but he quick­ly relaxed. It was Laing who helped me get the Ecsta­sy sam­ples analysed, which was quite an impor­tant thing to be done. In those days peo­ple were just pop­ping these pills into their mouths and no one real­ly knew what they were tak­ing. I had a lot of prob­lems as a result of that arti­cle. Good prob­lems, but they were prob­lems. For instance, the BBC was des­per­ate to find any­one to talk about Ecsta­sy, which was just being dis­cov­ered by the main­stream press and being labelled as the new drug men­ace. They couldn't find any­body who was will­ing to talk about it. But because I had writ­ten about it, I was on air and try­ing to tell the truth about a drug. Which was very dif­fi­cult in a cul­ture that didn't real­ly want to hear it."
Peter Nas­myth is an author, pub­lish­er and char­i­ty direc­tor. He is cur­rent­ly co-chair of The Nation­al Trust of Geor­gia, and the small pub­lish­ing house, Mta Pub­li­ca­tions. His books include Geor­gia, in the Moun­tains of Poet­ry; Walk­ing in the Cau­ca­sus, Geor­gia; Who Am I Today? and Lit­er­a­ture and Land­scape in East Devon. He lives between Lon­don and Tbilisi.
As the trap­pings of the psy­che­del­ic era resur­face in clothes and music, the real force behind those times is left untapped: the desire for a trans­for­ma­tion of con­scious­ness. But there is a drug whose advo­cates claim will do just that. In one US city, 30,000 dos­es of it were being tak­en each month. Then it became illegal…
I put the white cap­sule on my tongue and swal­lowed, hop­ing to God the source was reli­able; that this real­ly was it and not some new amal­ga­ma­tion of PCP or even LSD. My friend took her cap­sule and we stood look­ing at each oth­er. What now? She told me it would take about half an hour to come on. With appre­hen­sion mount­ing, we decid­ed to walk over to a near­by park; the trees and the sun­shine might help me feel more at ease.
Some­time lat­er I looked at my watch. Forty min­utes had passed. I looked at my friend. Was she any dif­fer­ent? Could I see into her soul as had been promised? Was I feel­ing great empa­thy and love?
No, in fact, we were hav­ing an argu­ment. Tired of the park, she want­ed us to go home, while I pre­ferred to stay there with the hill­top view of Lon­don. There seemed to be no res­o­lu­tion. My heart was beat­ing a lit­tle faster, but I put it down to anxiety.
Anoth­er 20 min­utes passed. Still noth­ing. Per­haps the drug was just too sub­tle for me. Dis­ap­point­ed, I gave in to her wish to go home. We start­ed down the hill. But by the time we reached the bot­tom I'd for­got­ten I was angry with her. In fact, I'd for­got­ten how to be angry. We were hav­ing a new con­ver­sa­tion, exam­in­ing our goals in life. What had we done so far? Had we real­ly fol­lowed those vows of ado­les­cence? Did either of us know what it was like to be close to anoth­er human being? For the first time in years, I con­fessed my child­hood yearn­ings to become a marine; she told me she'd want­ed to mar­ry Woody Allen. Defences were drop­ping at a rate it nor­mal­ly took peo­ple months to achieve. Sud­den­ly I knew I could trust her with my clos­est secrets… strange because not half an hour before I wouldn't have cared if I nev­er saw her again in my life. I told her this and we both laughed.
By the time we arrived back at the flat, I noticed my heart­beat was stronger, but now I also seemed to pos­sess an extra­or­di­nary men­tal calm, as if every­thing were on a very clean micro­scope slide. I viewed life out of a kind of benign fear­less­ness, but unlike the stronger sen­sa­tions of hero­in, I still want­ed to talk, move around, be with peo­ple. Also, it lacked the extro­vert­ed rush of cocaine. I was feel­ing good but with­out the superla­tives, with­out the mys­tic eupho­ria. There was no dis­tor­tion of the sens­es or hal­lu­ci­na­to­ry tinge, as with, say, mush­rooms. Rather a kind of winter's night, mugs-of-Hor­licks feel­ing. It remind­ed me of someone's descrip­tions of MDMA as ​'the hug drug'.
MDMA, Adam, Essence, XTC or Ecsta­sy as it is also known, has been described in oth­er ways. ​"A brief, fleet­ing moment of san­i­ty," accord­ing to Dr Claude Naran­jo. Dr Rick Ingras­ci said it will ​"heal fear". More often it is claimed the drug will break down the bar­ri­ers between ther­a­pist and patient, par­ent and child, lover and lover, stranger and stranger. But if it has inspired this kind of tes­ti­mo­ni­al, it has also pro­voked equal­ly strong warnings.
The unnamed Londoner's expe­ri­ence con­tin­ued for anoth­er two or so hours before the symp­toms fad­ed. After­wards he said he felt slight­ly fatigued, expe­ri­enced minor dif­fi­cul­ty in falling asleep, but oth­er­wise had no unto­ward side effects.
There can be lit­tle doubt this drug is now with us here in the UK; arriv­ing from across the Atlantic every week via 747, turn­ing up in flats and night­clubs and par­ties as the lat­est prod­uct of Amer­i­can drug mythol­o­gy. Although it has cre­at­ed a stir in the States, it is known here to only a few. To most, its exis­tence is large­ly rumour and mis­in­for­ma­tion. ​'X-ing' is a term yet to be heard around the major­i­ty of British cof­fee tables.
But this is not the case down at The Ranch, a gay bar in Dal­las, Texas. In June this year, you could have walked in and bought Ecsta­sy, or ​'E' over the counter. It would have cost $20 plus the $1.23 sales tax. Nobody would have raised an eye­brow. You could charge it to all major cred­it cards. If you had a ​'coupo' you could even have got $5 off. It's also just pos­si­ble that out­side, some­one would have approached you with a leaflet pro­claim­ing ​"Ecsta­sy. Every­thing looks won­der­ful when you're young and on drugs". Or if you looked the pop­u­lar type per­haps a dif­fer­ent leaflet: ​"Flight Instruc­tions for a friend using X-T-C."
Ecsta­sy, it seemed, was every­where. The TV net­works, mag­a­zines and news­pa­pers were all run­ning sto­ries on ​"The new drug they call Ecsta­sy", ​"LSD with­out fire­works", ​"The choice of Yup­piedom". Soap operas like NBC's Anoth­er World were start­ing to include it in their scripts. T-shirts and bumper stick­ers began to appear with the warn­ing; ​"Don't get mar­ried for six weeks after XTC!".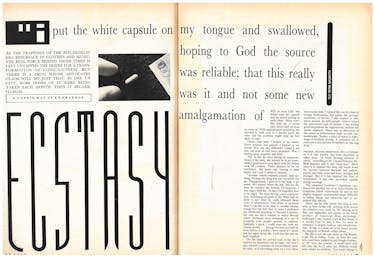 Why? Because it would appear Amer­i­ca has dis­cov­ered its ​'Drug of the Eight­ies', accord­ing to Tim­o­thy Leary, lapsed psy­che­del­ic prophet and Har­vard doc­tor. His drug of the Six­ties, LSD, is now reced­ing into the twi­light in Amer­i­ca, back into the reper­toire of psy­chother­a­pists, and this phrase coined by him in a recent arti­cle has been crop­ping up on tele­vi­sion screens and street cor­ners across the nation. It will be remem­bered that it was Tim­o­thy Leary who in 1965 set in motion a ​'new con­scious­ness' – say­ing ​"Acid is ecsta­sy, ecsta­sy is good for you". Now, over a gen­er­a­tion and quite a few false chem­i­cal hopes lat­er, one can almost hear the strains of long­ing for that inno­cent eupho­ria in the new name of MDMA.
What­ev­er it tells us of the times, its users gen­er­al­ly agree MDMA is not ​"ecsta­sy". It can make you feel very close and empa­thet­ic – you might feel like hug­ging your friends – but the affec­tion it inspires is unlike­ly to send any­one into the fren­zied rap­tures com­mon in the Haight/​Ashbury dis­trict in 1967. Ecsta­sy is a mis­lead­ing name; the drug is so-called more for rea­sons of pro­mo­tion than rev­o­lu­tion. Yet unlike PCP's ear­ly tag as ​'the Peace Pill', it, for­tu­nate­ly, tends to over­state rather than under­state. Like so many brand names, it rep­re­sents what peo­ple want rather than what it is. So what is it? Chem­i­cal­ly speak­ing: Meth­yl­ene­dioxymetham­phet­a­mine. A syn­thet­ic com­pound mod­elled on a sub­stance found in nut­meg and oil of sas­safras, it is relat­ed to both MDA and mesca­line but is not a psy­che­del­ic, and its effects, though sim­i­lar to MDA, are short­er last­ing and rely on a dif­fer­ent activator.
Any descrip­tion of these effects would be best pref­aced with Aldous Huxley's com­ment: ​"We can pool infor­ma­tion about expe­ri­ences, but nev­er the expe­ri­ences them­selves." With this in mind, it can be said that MDA is a mild mood-enhanc­ing drug, seem­ing­ly not phys­i­cal­ly addic­tive. Excess dosage can bring on the symp­toms of speed or LSD. At these lev­els it can also quick­ly become tox­ic; worth bear­ing in mind since tol­er­ance devel­ops rapid­ly to the desir­able effects.
"Per­son­al­ly I find it bor­ing," said an anony­mous mem­ber of Soho's club-land. ​"I used to do it when it first came out a few years ago, but now I find cocaine a bet­ter buzz… and it's cheaper."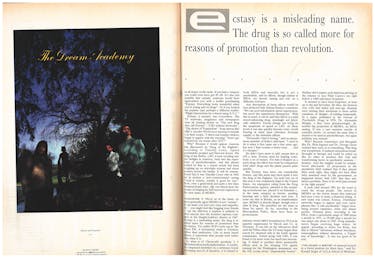 He didn't have more to add, except that at £20 a dose, Ecsta­sy must be mak­ing some­body a lot of mon­ey. For him it flopped as a par­ty drug; the effect was weak by com­par­i­son with oth­er drugs and the phase passed quite quickly.
But Ecsta­sy does have one remark­able fea­ture, and this alone may have made it into the drug of the Eight­ies. Up until July 1st of this year, it was com­plete­ly legal in the Unit­ed States. An emer­gency rul­ing from the Drug Enforce­ment Agency, alarmed at the esca­lat­ing recre­ation­al use, placed it on Sched­ule 1, in the same cat­e­go­ry as hero­in, pend­ing hear­ings and a final deci­sion next year. It turns out that in Britain, as an amphet­a­mine type, MDMA is already ille­gal, though only a class B drug. The penal­ties are the same as those for speed. So far, accord­ing to the Met­ro­pol­i­tan Police, there have been no prosecutions.
MDMA was first for­mu­lat­ed in 1914 as an appetite sup­pres­sant by Mer­ck and Co. in Ger­many. It was left on the lab­o­ra­to­ry shelf until the Fifties when the US army began their search for chem­i­cal aids in the bat­tle against com­mu­nism. Test­ed along with LSD, it was found to be more tox­ic but much less inter­est­ing. It failed to pro­duce those mem­o­rable effects such as the weep­ing CIA agents run­ning for the Wash­ing­ton mon­u­ment, nor the Gls rav­ing about ​"unspeak­able beau­ty". Nei­ther did it inspire such deliri­ous plot­ting as the scheme to lace Fidel Castro's tea right before a 1960 tele­vi­sion broadcast.

It seemed to have been for­got­ten, at least up to the mid-Sev­en­ties. By then, the hys­te­ria over LSD had fad­ed and new-age chemists were turn­ing their atten­tion to more sub­tle vari­a­tions, or ​'designs', of exist­ing com­pounds. In a paper pub­lished in the Jour­nal of Psy­che­del­ic Drugs in 1976, Dr Alexan­der Shulgin, a Bay Area phar­ma­col­o­gist, described the prop­er­ties of MDMA, an MDA ana­logue. It was a rare men­tion out­side of sci­en­tif­ic cir­cles. At around the same time, it start­ed to be used in psy­chother­a­py, but again pub­lic­i­ty was stunted.
Why? Because researchers and ther­a­pists like Dr Rick, Ingras­ci and Dr George Greer realised they were on to some­thing. This drug was excep­tion­al. It induced mirac­u­lous break­throughs in ther­a­py and could be relied on like no oth­er to pro­duce that vital and trans­form­ing fac­tor in psy­chi­atric ses­sions – hon­esty. And the insights would be remem­bered after­wards. Its pro­po­nents in the psy­chi­atric field realised that if they played their cards right, they might not have their baby snatched away by the gov­ern­ment, as hap­pened before with LSD. But they also faced a prob­lem. How to let word pass around to the right people.
It took until around 1981 for the word to reach the wrong peo­ple. The arrival of MDMA on the streets meant that some­one had seen a way to make a finan­cial killing. A new name was coined: Ecsta­sy. Dis­trib­u­tor net­works began to appear and soon catch­phras­es like ​"a safe psy­che­del­ic" began cir­cu­lat­ing around cam­pus­es, clubs and din­ner par­ties. Demand grew, accord­ing to the DEA, from a nation­wide usage of 1,000 dos­es a month in 1975, to 30,000 plus a month for one major city alone in 1985. Drug man­u­fac­tur­ers began receiv­ing huge orders. Its appeal, accord­ing to writer Joe Klein, was that it offered ​"adven­ture with­out weird­ness, tran­scen­dence with­out alien­ation, a Yup­pie way of knowl­edge". It was too good to be true.
"I've heard a report of some­one locked in a foetal posi­tion for three days," said Dr Ronald Siegel of UCLA School of Med­i­cine, ​"and reg­u­lar accounts of poi­son­ing symp­toms, nau­sea, dizzi­ness and jaw ten­sion at the onset of MDMA expe­ri­ences. I've also heard of peo­ple hav­ing lov­ing, har­mo­nious expe­ri­ences. But so far all we have to go on with this drug is folk­lore, we don't have one pub­lished sci­en­tif­ic study."
For Dr Siegel, a DEA wit­ness and researcher into the street use of drugs, the word ​'sci­en­tif­ic' is of great impor­tance. He is adamant that this ​"poten­tial­ly tox­ic" sub­stance be kept out of the hands of unqual­i­fied users or non-med­ical ther­a­pists. He recalls the claims being made for cocaine as a non-addic­tive panacea as late as 1970 and points out that there are now an esti­mat­ed ten mil­lion US coke users, four mil­lion, psy­cho­log­i­cal­ly addict­ed. PCP (Angel Dust) too was greet­ed with enthu­si­asm at first.
"To my knowl­edge, the sched­ul­ing came about from reports of clin­i­cal prob­lems result­ing from wide­spread abuse… and so far I've already heard of two doc­u­ment­ed cas­es of PCP show­ing up as MDMA on the streets."

Attempt­ing to counter this offi­cial pes­simism is MDMA's most vocal and enthu­si­as­tic sup­port­er, Rick Doblin. As a long-time seek­er into the mys­ti­cal reach­es of truth, he feels bet­ter set to eval­u­ate MDMA or ​"Adam" as he prefers to call it. Why Adam? Because the myth of Adam's body being made up of all the races on earth recalls MDMA's sen­sa­tions of uni­ver­sal warmth and communication.
As one might expect from such a cam­paign­er, Doblin comes across as help­ful and opti­mistic, maybe just a shade too opti­mistic. He sin­gle-hand­ed­ly revived alter­na­tive archi­tect Buck­min­ster Fuller's Earth Meta­bol­ic Design Foun­da­tion for the cause of MDMA. He also con­tact­ed the Unit­ed Nations, the FDA and Nan­cy Reagan's organ­i­sa­tion, the Nation­al Fed­er­a­tion of Par­ents for a Drug Free Youth, in the same open-hand­ed spir­it. They, unfor­tu­nate­ly, didn't quite grasp his intent. The son of a physi­cian who runs a drug clin­ic, he is try­ing to organ­ise an entire­ly new phar­ma­ceu­ti­cal com­pa­ny. The aim is to fund the nec­es­sary test­ing to make MDMA a pre­scrib­able drug in the future.
"It's a false dichoto­my the gov­ern­ment is try­ing to make. Recre­ation­al use vs. ther­a­peu­tic. Actu­al­ly, nei­ther are bad, although it should nev­er be used casu­al­ly. They're afraid of the whole con­cept that peo­ple can have a worth­while drug expe­ri­ence and not become addict­ed. Thus they blew up these Uni­ver­si­ty of Chica­go MDA (not MDMA) exper­i­ments way out of pro­por­tion. It's just like the LSD sto­ry real­ly, when they talked about chro­mo­some dam­age. It just hasn't hap­pened. There aren't thou­sands of kids walk­ing around warped just because their par­ents took LSD. There are dozens of peo­ple here with a his­to­ry of using MDMA. We don't see any observ­able effects."
As Ecsta­sy was hit­ting a peak ear­li­er this year as the new par­ty drug, the one every­one had to try, a group of clin­i­cians and researchers gath­ered at the Esalen Insti­tute in Big Sur, Cal­i­for­nia. Among them were sev­er­al vet­er­an researchers into psy­choac­tive drugs and a num­ber of psy­chi­a­trists who had been using MDMA in their prac­tices for many years. On the fourth day of the meet­ing, Dr George Greer direct­ed a ses­sion in which 13 of those present took the drug, each mon­i­tored close­ly by anoth­er doctor.

Among those who read with inter­est the report of this meet­ing was the anthro­pol­o­gist Fran­cis Hux­ley, nephew of Aldous, whose book The Doors Of Per­cep­tion and many exper­i­ments with mescalin helped shape both the psy­che­del­ic era and the Esalen Insti­tute itself. Though he didn't see him­self as a spokesman, Fran­cis Hux­ley felt the meet­ing brought atten­tion back to the essence of the drug."
"Adam is like a slow influx of warm vigour; very sub­tle, but sud­den­ly you dis­cov­er you're feel­ing remark­ably well and nor­mal. You could say func­tion­ing as you should. If you look at the mind you could say you have a sphere with the out­side being all one's fac­ul­ties. Adam doesn't affect the inside, it affects the out­side, it works on all the instru­men­ta­tion of the mind and sort of net­works it together."
"Ther­a­py is one of those dirty words that seems to cov­er just about every­thing, but if it can be used to help peo­ple find each oth­er in a social mode… then that's as good a use as I can think of. If it ends up going total­ly under­ground it will be rather sad because it will breed a para­noia which one doesn't want in any form of social intercourse."
Yet this will prob­a­bly be its fate. Leg­is­la­tion is unlike­ly to dent the exist­ing demand for the drug. Fur­ther­more, Sched­ule 1 declares it to be ​"of no accept­ed med­ical use" thus deny­ing it even to the ther­a­pists who have been work­ing con­sci­en­tious­ly with it for over a decade, and are now lob­by­ing for milder clas­si­fi­ca­tion. By react­ing so strong­ly the DEA have sim­ply pro­mot­ed MDMA's con­nec­tions down­ward into the under­world, where it will be bad­ly made and heav­i­ly peddled.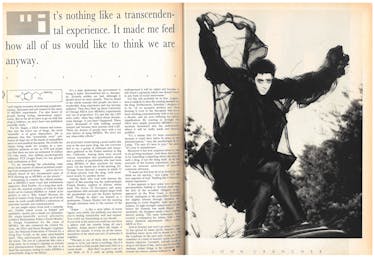 "It's a shame that it's been crim­i­nalised because it could have tak­en its place in the phar­ma­copoeia," says the psy­chol­o­gist RD Laing. ​"I'm sure it's here to stay," he adds. ​"It's easy to manufacture…"
More­over, it has now acquired taboo to add to its grow­ing mys­tique. And there does seem to be some­thing com­pelling about the idea of such a drug, if not the thing itself. In all the accounts of the Ecsta­sy expe­ri­ence, you can hear an unusu­al under­tone of unself­con­scious advocacy.
"It made me feel how all of us would like to think we are any­way," says Laing. ​"It's the very oppo­site of acid. Noth­ing like a tran­scen­den­tal experience."
It also appears to have some very cun­ning mer­chan­dis­ers behind it. Sev­er­al years ago, the first of the so-called ​'design­er drugs' appeared on the West Coast, a ​'syn­thet­ic hero­in' anal­o­gous to the pain-killer Fen­tanyl but slight­ly altered through chem­i­cal engi­neer­ing to avoid ille­gal­i­ty. Sold open­ly to junkies, its high strength caused many deaths before the for­mu­la was made ille­gal. Imme­di­ate­ly, the design­ers made a new, slight­ly altered ana­logue. The same tech­niques have cre­at­ed a com­pan­ion for Adam, with a few minor chem­i­cal adjust­ments. She's called MDE or Eve.
And so Ecsta­sy just won't go away. Curios­i­ty has spread its name across Amer­i­ca, and doubt­less, many more will be drawn to it. As the Lon­don­er at the start said, it can act as a reminder of a kind of hon­esty rarely found in human rela­tions. Cer­tain­ly, nobody needs a drug to tell them of this, and it may be that the mes­sage Adam brings is the reminder that ecsta­sy has always exist­ed with­out it.
---