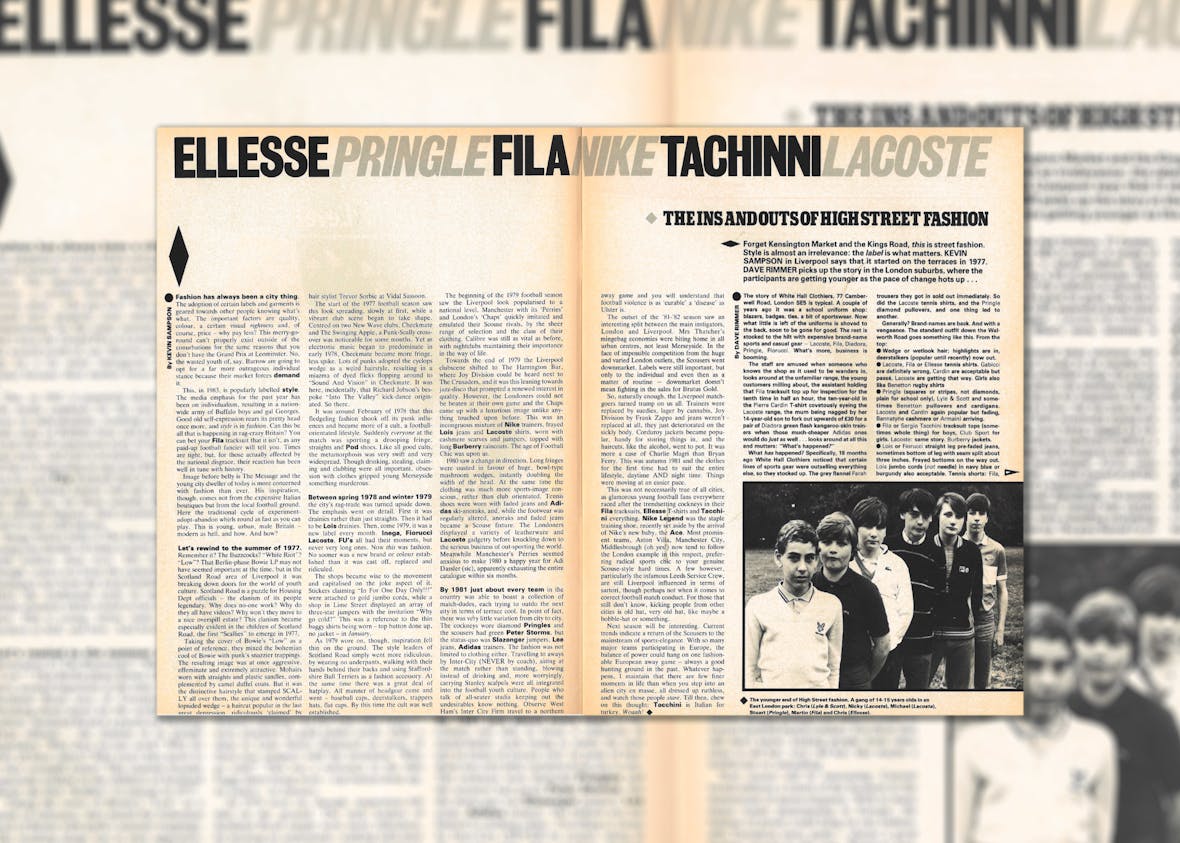 Ellesse, Pringle, Fila, Nike, Tac­chi­ni, Lacoste
To cel­e­brate the long-await­ed return of The Face, we have select­ed a stand-out sto­ry from each year of our exten­sive archive, from 1980 to 2004.
Remembered by writer Kevin Sampson
"I had sent the piece to The Face a cou­ple of years before it even­tu­al­ly ran. I got a nice note back: ​'Sounds cool, but it's a bit niche for us.' Then about May ​'83 Nick Logan asked me to update the fea­ture and resub­mit it. Liv­er­pool street fash­ion that sum­mer of 1983 was two scenes: the younger ones in Tac­chi­ni, Fila Bj, Kap­pa, Lacoste, cor­duroy semi-flares. But the late teens/​early twen­ties crowd wore a street ver­sion of Hard Times: split seam jeans, Benet­ton rug­by shirt, cor­duroy jack­et, Hush Pup­pies or any of the brown/​tan Adi­das range: Fiji, Toba­go, Tobac­co. Diado­ra Ed Moses, too. It was the Sum­mer unem­ploy­ment topped three mil­lion and you want­ed some­thing you could wear to the match but also get into a club lat­er. It was impor­tant because it was com­plete­ly self-gen­er­at­ed, self-per­pet­u­at­ed, gen­uine­ly under­ground. There were no Sven­galis or influ­encers. Just kids decid­ing that Tom Okker train­ers were in, or out. Up until the sum­mer of ​'83 it was a cult with no uni­fy­ing name: Scals in Liv­er­pool, Per­ries in Man­ches­ter, Dressers in Leeds. Every city had its own thing going on. But The Face arti­cle, for the first time, gave the scene a uni­fy­ing ban­ner: Casu­als. Thir­ty-five years on, the scene is still mas­sive. [My nov­el] Away­days cap­tures it all pret­ty well, I think. The book and the film have fans in Argenti­na, Indone­sia, Japan, Rus­sia – every­where. An under­ground scene that went global."
Kevin Samp­son has writ­ten ten nov­els and three works of non-fic­tion. For more about the ear­ly Casu­al scene check his nov­els Away­days and Stars Are Stars. Away­days movie, sound­track albums and cloth­ing range: 80s​ca​su​als​.co​.uk
Fash­ion has always been a city thing. The adop­tion of cer­tain labels and gar­ments is geared towards oth­er peo­ple know­ing what's what. The impor­tant fac­tors are qual­i­ty, colour, a cer­tain visu­al right­ness and, of course, price – why pay less? This mer­ry-go-round can't prop­er­ly exist out­side of the conur­ba­tions for the same rea­sons that you don't have the Grand Prix at Leomin­ster. No, the wast­ed youth of, say, Bar­row are going to opt for a far more out­ra­geous indi­vid­ual stance because their mar­ket forces demand it.
This, in 1983, is pop­u­lar­ly labelled ​'style'. The media empha­sis for the past year has been on indi­vid­u­al­ism, result­ing in a nation­wide army of Buf­fa­lo boys and gal Georges. Good old self-expres­sion rears its pret­ty head once more, and style is in fash­ion. Can this be all that is hap­pen­ing in rag-crazy Britain? You can bet your Fila track­suit that it isn't, as any paid-up foot­ball fanci­er, will tell you. Times are tight, but, for those actu­al­ly affect­ed by the nation­al dis­grace, their reac­tion has been well in tune with history.
Image before bel­ly is The Mes­sage and the young city dweller of today is more con­cerned with fash­ion than ever. His inspi­ra­tion, though, comes not from the expen­sive Ital­ian bou­tiques but from the local foot­ball ground. Here the tra­di­tion­al cycle of exper­i­ment-adopt-aban­don whirls round as fast as you can play. This is young, urban, male Britain – mod­ern as hell, and how. And how?
Let's rewind to the sum­mer of 1977. Remem­ber it? The Buz­zcocks? White Riot? Low? That Berlin-phase Bowie LP may not have seemed impor­tant at the time, but in the Scot­land Road area of Liv­er­pool it was break­ing down doors for the world of youth cul­ture. Scot­land Road is a puz­zle for Hous­ing Dept offi­cials – the clanism of its peo­ple leg­endary. Why does no-one work? Why do they all have videos? Why won't they move to a nice over­spill estate? This clanism became espe­cial­ly evi­dent in the chil­dren of Scot­land Road, the first ​"Scal­lies" to emerge in 1977.
Tak­ing the cov­er of Bowie's Low as a point of ref­er­ence, they mixed the bohemi­an cool of Bowie with punk's snazz­i­er trap­pings. The result­ing image was at once aggres­sive, effem­i­nate and extreme­ly attrac­tive. Mohairs worn with straights and plas­tic san­dals. com­pli­ment­ed by camel duf­fel coats. But it was the dis­tinc­tive hair­style that stamped SCAL­LY all over them, the unique and won­der­ful lop­sided wedge – a hair­cut pop­u­lar in the last great depres­sion, ridicu­lous­ly ​'claimed' by hair styl­ist Trevor Sor­bie at Vidal Sassoon.
The start of the 1977 foot­ball sea­son saw this look spread­ing, slow­ly at first, while a vibrant club scene began to take shape. Cen­tred on two New Wave clubs, Check­mate and The Swing­ing Apple, a Punk-Scal­ly crossover was notice­able for some months. Yet, as elec­tron­ic music began to pre­dom­i­nate in ear­ly 1978, Check­mate became more fringe, less spike. Lots of punks adopt­ed the cyclops wedge as a weird hair­style, result­ing in a mias­ma of dyed flicks flop­ping around to Sound and Vision in Check­mate. It was here, inci­den­tal­ly, that Richard Jobson's bespoke Into The Val­ley kick-dance orig­i­nat­ed. So there.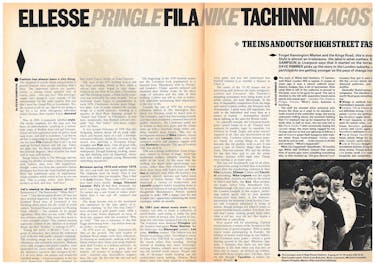 It was around Feb­ru­ary of 1978 that this fledgeling fash­ion shook off its punk influ­ences and became more of a cult, a foot­ball-ori­en­tat­ed lifestyle. Sud­den­ly every­one at the match was sport­ing a droop­ing fringe, straights and Pod shoes. Like all good cults, the meta­mor­pho­sis was very swift and very wide­spread. Though drink­ing, steal­ing, claim­ing and club­bing were all impor­tant, obses­sion with clothes gripped young Mersey­side some­thing murderous.
Between spring 1978 and win­ter 1979 the city's rag-trade was turned upside down. The empha­sis went on detail. First, it was drainies rather than just straights. Then it had to be Lois drainies. Then, come 1979, it was a new label every month. lne­ga, Fioruc­ci, Lacoste, FU's all had their moments, but nev­er very long ones. Now this was fash­ion. No soon­er was a new brand or colour estab­lished than it was cast off, replaced and ridiculed.
The shops became wise to the move­ment and cap­i­talised on the joke aspect of it. Stick­ers claim­ing ​"In For One Day Only!!!" were attached to gold jum­bo cords, while a shop in Lime Street dis­played an array of three-star jumpers with the invi­ta­tion ​"Why go cold?". This was a ref­er­ence to the thin bag­gy shirts being worn – top but­ton done up, no jack­et – in January.
As 1979 wore on, though, inspi­ra­tion fell thin on the ground. The style lead­ers of Scot­land Road sim­ply went more ridicu­lous by wear­ing no under­pants, walk­ing with their hands behind their backs and using Stafford­shire Bull Ter­ri­ers as a fash­ion acces­so­ry. At the same time, there was a great deal of hat play. All man­ner of head­gear came and went – base­ball caps, deer­stalk­ers, trap­pers hats, flat caps. By this time the cult was well established.
The begin­ning of the 1979 foot­ball sea­son saw the Liv­er­pool look pop­u­larised to a nation­al lev­el. Man­ches­ter with its ​'Per­ries' and London's ​'Chaps' quick­ly imi­tat­ed and emu­lat­ed their Scouse rivals by the sheer range of selec­tion and the class of their cloth­ing. Cal­i­bre was still as vital as before with night­clubs main­tain­ing their impor­tance in the way of life.
Towards the end of 1979, the Liv­er­pool club scene shift­ed to The Har­ring­ton Bar, where Joy Divi­sion could be heard next to The Cru­saders, and it was this lean­ing towards jazz-dis­co that prompt­ed a renewed inter­est in qual­i­ty. How­ev­er, the Lon­don­ers could not be beat­en at their own game and the Chaps came up with a lux­u­ri­ous image unlike any­thing touched upon before. This was an incon­gru­ous mix­ture of Nike train­ers, frayed Lois jeans and Lacoste shirts, worn with cash­mere scarves and jumpers, topped with long Burber­ry rain­coats. The age of Foot­ball Chic was upon us.
1980 saw a change in direc­tion. Long fringes were oust­ed in favour of huge, bowl-type mush­room wedges, instant­ly dou­bling the width of the head. At the same time, the cloth­ing was much more sports-image con­scious, rather than club ori­en­tat­ed. Ten­nis shoes were worn with fad­ed jeans and Adi­das ski-anoraks and, while the footwear was reg­u­lar­ly altered, anoraks and fad­ed jeans became a Scouse fix­ture. The Lon­don­ers dis­played a vari­ety of leather­ware and Lacoste gad­getry before knuck­ling down to the seri­ous busi­ness of out-sport­ing the world. Mean­while, Manchester's Per­ries seemed anx­ious to make 1980 a hap­py year for Adi Dassler (sic), appar­ent­ly exhaust­ing the entire cat­a­logue with­in six months.
By 1981 just about every team in the coun­try was able to boast a col­lec­tion of match-dudes, each try­ing to out­do the next city in terms of ter­race cool. In point of fact, there was very lit­tle vari­a­tion from city to city. The Cock­neys wore dia­mond Pringles and the Scousers had green Peter Storms but the sta­tus-quo was Slazenger jumpers, Lee Jeans, Adi­das train­ers. The fash­ion was not lim­it­ed to cloth­ing, either. Trav­el­ling to aways by Inter City (NEV­ER by coach) sit­ting at the match rather than stand­ing, blow­ing instead of drink­ing and, more wor­ry­ing­ly, car­ry­ing Stan­ley scalpels were all inte­grat­ed into the foot­ball youth cul­ture. Peo­ple who talk of all-seater sta­dia keep­ing out the unde­sir­ables know noth­ing. Observe West Ham's Inter City Firm trav­el to a north­ern away game and you will under­stand that foot­ball vio­lence is as ​'cur­able' a ​'dis­ease' as Ulster is.
The out­set of the ​'81-'82 sea­son saw an inter­est­ing split between the main insti­ga­tors, Lon­don and Liv­er­pool. Mrs Thatcher's minge­bag economies were bit­ing home in all urban cen­tres, not least Mersey­side. In the face of impos­si­ble com­pe­ti­tion from the huge and var­ied Lon­don out­lets, the Scousers went down­mar­ket. Labels were still impor­tant, but only to the indi­vid­ual and even then as a mat­ter of rou­tine – down­mar­ket doesn't mean fight­ing in the sales for Bru­tus Gold.
So, nat­u­ral­ly enough, the Liv­er­pool match goers turned tramp on us all. Train­ers were replaced by suedies, lager by cannabis, Joy Divi­sion by Frank Zap­pa and jeans weren't replaced at all, they just dete­ri­o­rat­ed on the sick­ly body. Cor­duroy jack­ets became pop­u­lar, handy for stor­ing things in, and the hair­cuts, like the alco­hol, went to pot. It was more a case of Char­lie Magri than Bryan Fer­ry. This was autumn 1981 and the clothes for the first time had to suit the entire lifestyle, day­time AND night­time. Things were mov­ing at an eas­i­er pace.
This was not nec­es­sar­i­ly true of all cities, as glam­orous young foot­ball fans every­where raced after the trend­set­ting Cock­neys in their Fila track­suits, Ellesse T-shirts and Tac­chi­ni every­thing. Nike Leg­end was the sta­ple train­ing shoe, recent­ly set aside by the arrival of Nike's new baby, the Ace. Most promi­nent teams, Aston Vil­la, Man­ches­ter City, Mid­dles­brough (oh yes!) now tend to fol­low the Lon­don exam­ple in this respect, pre­fer­ring rad­i­cal sports chic to your gen­uine Scouse-style hard times. A few, how­ev­er, par­tic­u­lar­ly the infa­mous Leeds Ser­vice Crew, are still Liv­er­pool influ­enced in terms of Sar­tori, though per­haps not when it comes to cor­rect foot­ball match con­duct. For those that still don't know, kick­ing peo­ple from oth­er cities is old hat, very old hat, like maybe a bob­ble-hat or something.
Next sea­son will be inter­est­ing. Cur­rent trends indi­cate a return of the Scousers to the main­stream of sports-ele­gance. With so many major teams par­tic­i­pat­ing in Europe, the bal­ance of pow­er could hang on one fash­ion­able Euro­pean away game – always a good hunt­ing ground in the past. What­ev­er hap­pens, I main­tain that there are few fin­er moments in life than when you step into an alien city en masse, all dressed up ruth­less, and watch those peo­ple stare. Until then, chew on this thought: Tac­chi­ni is Ital­ian for turkey. Woaah!
---