Ellesse, Pringle, Fila, Nike, Tacchini, Lacoste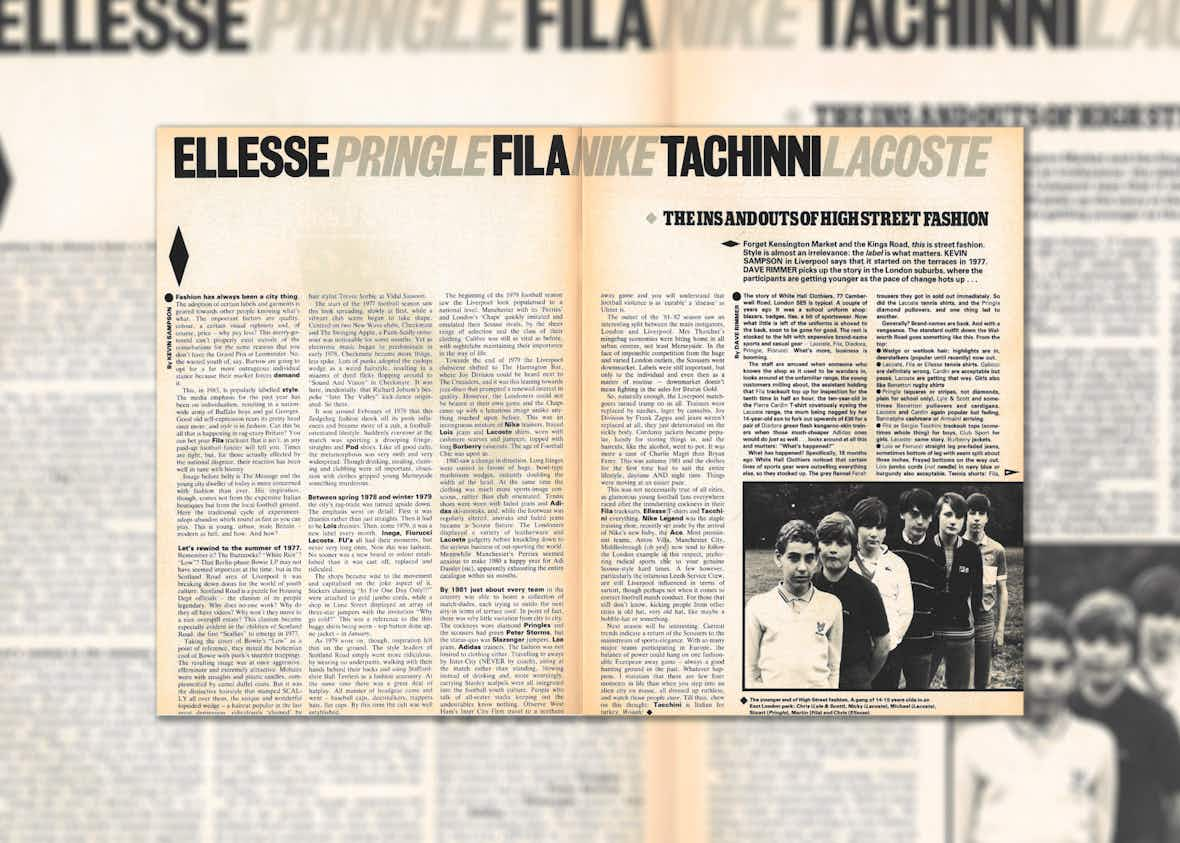 July, 1983: This is young, urban, male Britain – modern as hell, and how?
To celebrate the long-awaited return of The Face, we have selected a stand-out story from each year of our extensive archive, from 1980 to 2004.
Remembered by writer Kevin Sampson
"I had sent the piece to The Face a couple of years before it eventually ran. I got a nice note back: ​'Sounds cool, but it's a bit niche for us.' Then about May ​'83 Nick Logan asked me to update the feature and resubmit it. Liverpool street fashion that summer of 1983 was two scenes: the younger ones in Tacchini, Fila Bj, Kappa, Lacoste, corduroy semi-flares. But the late teens/​early twenties crowd wore a street version of Hard Times: split seam jeans, Benetton rugby shirt, corduroy jacket, Hush Puppies or any of the brown/​tan Adidas range: Fiji, Tobago, Tobacco. Diadora Ed Moses, too. It was the Summer unemployment topped three million and you wanted something you could wear to the match but also get into a club later. It was important because it was completely self-generated, self-perpetuated, genuinely underground. There were no Svengalis or influencers. Just kids deciding that Tom Okker trainers were in, or out. Up until the summer of ​'83 it was a cult with no unifying name: Scals in Liverpool, Perries in Manchester, Dressers in Leeds. Every city had its own thing going on. But The Face article, for the first time, gave the scene a unifying banner: Casuals. Thirty-five years on, the scene is still massive. [My novel] Awaydays captures it all pretty well, I think. The book and the film have fans in Argentina, Indonesia, Japan, Russia – everywhere. An underground scene that went global."
Kevin Sampson has written ten novels and three works of non-fiction. For more about the early Casual scene check his novels Awaydays and Stars Are Stars. Awaydays movie, soundtrack albums and clothing range: 80s​ca​su​als​.co​.uk
Fashion has always been a city thing. The adoption of certain labels and garments is geared towards other people knowing what's what. The important factors are quality, colour, a certain visual rightness and, of course, price – why pay less? This merry-go-round can't properly exist outside of the conurbations for the same reasons that you don't have the Grand Prix at Leominster. No, the wasted youth of, say, Barrow are going to opt for a far more outrageous individual stance because their market forces demand it.
This, in 1983, is popularly labelled ​'style'. The media emphasis for the past year has been on individualism, resulting in a nationwide army of Buffalo boys and gal Georges. Good old self-expression rears its pretty head once more, and style is in fashion. Can this be all that is happening in rag-crazy Britain? You can bet your Fila tracksuit that it isn't, as any paid-up football fancier, will tell you. Times are tight, but, for those actually affected by the national disgrace, their reaction has been well in tune with history.
Image before belly is The Message and the young city dweller of today is more concerned with fashion than ever. His inspiration, though, comes not from the expensive Italian boutiques but from the local football ground. Here the traditional cycle of experiment-adopt-abandon whirls round as fast as you can play. This is young, urban, male Britain – modern as hell, and how. And how?
Let's rewind to the summer of 1977. Remember it? The Buzzcocks? White Riot? Low? That Berlin-phase Bowie LP may not have seemed important at the time, but in the Scotland Road area of Liverpool it was breaking down doors for the world of youth culture. Scotland Road is a puzzle for Housing Dept officials – the clanism of its people legendary. Why does no-one work? Why do they all have videos? Why won't they move to a nice overspill estate? This clanism became especially evident in the children of Scotland Road, the first ​"Scallies" to emerge in 1977.
Taking the cover of Bowie's Low as a point of reference, they mixed the bohemian cool of Bowie with punk's snazzier trappings. The resulting image was at once aggressive, effeminate and extremely attractive. Mohairs worn with straights and plastic sandals. complimented by camel duffel coats. But it was the distinctive hairstyle that stamped SCALLY all over them, the unique and wonderful lopsided wedge – a haircut popular in the last great depression, ridiculously ​'claimed' by hair stylist Trevor Sorbie at Vidal Sassoon.
The start of the 1977 football season saw this look spreading, slowly at first, while a vibrant club scene began to take shape. Centred on two New Wave clubs, Checkmate and The Swinging Apple, a Punk-Scally crossover was noticeable for some months. Yet, as electronic music began to predominate in early 1978, Checkmate became more fringe, less spike. Lots of punks adopted the cyclops wedge as a weird hairstyle, resulting in a miasma of dyed flicks flopping around to Sound and Vision in Checkmate. It was here, incidentally, that Richard Jobson's bespoke Into The Valley kick-dance originated. So there.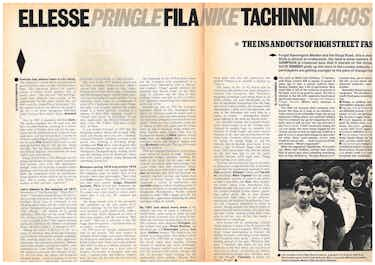 It was around February of 1978 that this fledgeling fashion shook off its punk influences and became more of a cult, a football-orientated lifestyle. Suddenly everyone at the match was sporting a drooping fringe, straights and Pod shoes. Like all good cults, the metamorphosis was very swift and very widespread. Though drinking, stealing, claiming and clubbing were all important, obsession with clothes gripped young Merseyside something murderous.
Between spring 1978 and winter 1979 the city's rag-trade was turned upside down. The emphasis went on detail. First, it was drainies rather than just straights. Then it had to be Lois drainies. Then, come 1979, it was a new label every month. lnega, Fiorucci, Lacoste, FU's all had their moments, but never very long ones. Now this was fashion. No sooner was a new brand or colour established than it was cast off, replaced and ridiculed.
The shops became wise to the movement and capitalised on the joke aspect of it. Stickers claiming ​"In For One Day Only!!!" were attached to gold jumbo cords, while a shop in Lime Street displayed an array of three-star jumpers with the invitation ​"Why go cold?". This was a reference to the thin baggy shirts being worn – top button done up, no jacket – in January.
As 1979 wore on, though, inspiration fell thin on the ground. The style leaders of Scotland Road simply went more ridiculous by wearing no underpants, walking with their hands behind their backs and using Staffordshire Bull Terriers as a fashion accessory. At the same time, there was a great deal of hat play. All manner of headgear came and went – baseball caps, deerstalkers, trappers hats, flat caps. By this time the cult was well established.
The beginning of the 1979 football season saw the Liverpool look popularised to a national level. Manchester with its ​'Perries' and London's ​'Chaps' quickly imitated and emulated their Scouse rivals by the sheer range of selection and the class of their clothing. Calibre was still as vital as before with nightclubs maintaining their importance in the way of life.
Towards the end of 1979, the Liverpool club scene shifted to The Harrington Bar, where Joy Division could be heard next to The Crusaders, and it was this leaning towards jazz-disco that prompted a renewed interest in quality. However, the Londoners could not be beaten at their own game and the Chaps came up with a luxurious image unlike anything touched upon before. This was an incongruous mixture of Nike trainers, frayed Lois jeans and Lacoste shirts, worn with cashmere scarves and jumpers, topped with long Burberry raincoats. The age of Football Chic was upon us.
1980 saw a change in direction. Long fringes were ousted in favour of huge, bowl-type mushroom wedges, instantly doubling the width of the head. At the same time, the clothing was much more sports-image conscious, rather than club orientated. Tennis shoes were worn with faded jeans and Adidas ski-anoraks and, while the footwear was regularly altered, anoraks and faded jeans became a Scouse fixture. The Londoners displayed a variety of leatherware and Lacoste gadgetry before knuckling down to the serious business of out-sporting the world. Meanwhile, Manchester's Perries seemed anxious to make 1980 a happy year for Adi Dassler (sic), apparently exhausting the entire catalogue within six months.
By 1981 just about every team in the country was able to boast a collection of match-dudes, each trying to outdo the next city in terms of terrace cool. In point of fact, there was very little variation from city to city. The Cockneys wore diamond Pringles and the Scousers had green Peter Storms but the status-quo was Slazenger jumpers, Lee Jeans, Adidas trainers. The fashion was not limited to clothing, either. Travelling to aways by Inter City (NEVER by coach) sitting at the match rather than standing, blowing instead of drinking and, more worryingly, carrying Stanley scalpels were all integrated into the football youth culture. People who talk of all-seater stadia keeping out the undesirables know nothing. Observe West Ham's Inter City Firm travel to a northern away game and you will understand that football violence is as ​'curable' a ​'disease' as Ulster is.
The outset of the ​'81-'82 season saw an interesting split between the main instigators, London and Liverpool. Mrs Thatcher's mingebag economies were biting home in all urban centres, not least Merseyside. In the face of impossible competition from the huge and varied London outlets, the Scousers went downmarket. Labels were still important, but only to the individual and even then as a matter of routine – downmarket doesn't mean fighting in the sales for Brutus Gold.
So, naturally enough, the Liverpool match goers turned tramp on us all. Trainers were replaced by suedies, lager by cannabis, Joy Division by Frank Zappa and jeans weren't replaced at all, they just deteriorated on the sickly body. Corduroy jackets became popular, handy for storing things in, and the haircuts, like the alcohol, went to pot. It was more a case of Charlie Magri than Bryan Ferry. This was autumn 1981 and the clothes for the first time had to suit the entire lifestyle, daytime AND nighttime. Things were moving at an easier pace.
This was not necessarily true of all cities, as glamorous young football fans everywhere raced after the trendsetting Cockneys in their Fila tracksuits, Ellesse T‑shirts and Tacchini everything. Nike Legend was the staple training shoe, recently set aside by the arrival of Nike's new baby, the Ace. Most prominent teams, Aston Villa, Manchester City, Middlesbrough (oh yes!) now tend to follow the London example in this respect, preferring radical sports chic to your genuine Scouse-style hard times. A few, however, particularly the infamous Leeds Service Crew, are still Liverpool influenced in terms of Sartori, though perhaps not when it comes to correct football match conduct. For those that still don't know, kicking people from other cities is old hat, very old hat, like maybe a bobble-hat or something.
Next season will be interesting. Current trends indicate a return of the Scousers to the mainstream of sports-elegance. With so many major teams participating in Europe, the balance of power could hang on one fashionable European away game – always a good hunting ground in the past. Whatever happens, I maintain that there are few finer moments in life than when you step into an alien city en masse, all dressed up ruthless, and watch those people stare. Until then, chew on this thought: Tacchini is Italian for turkey. Woaah!

More like this