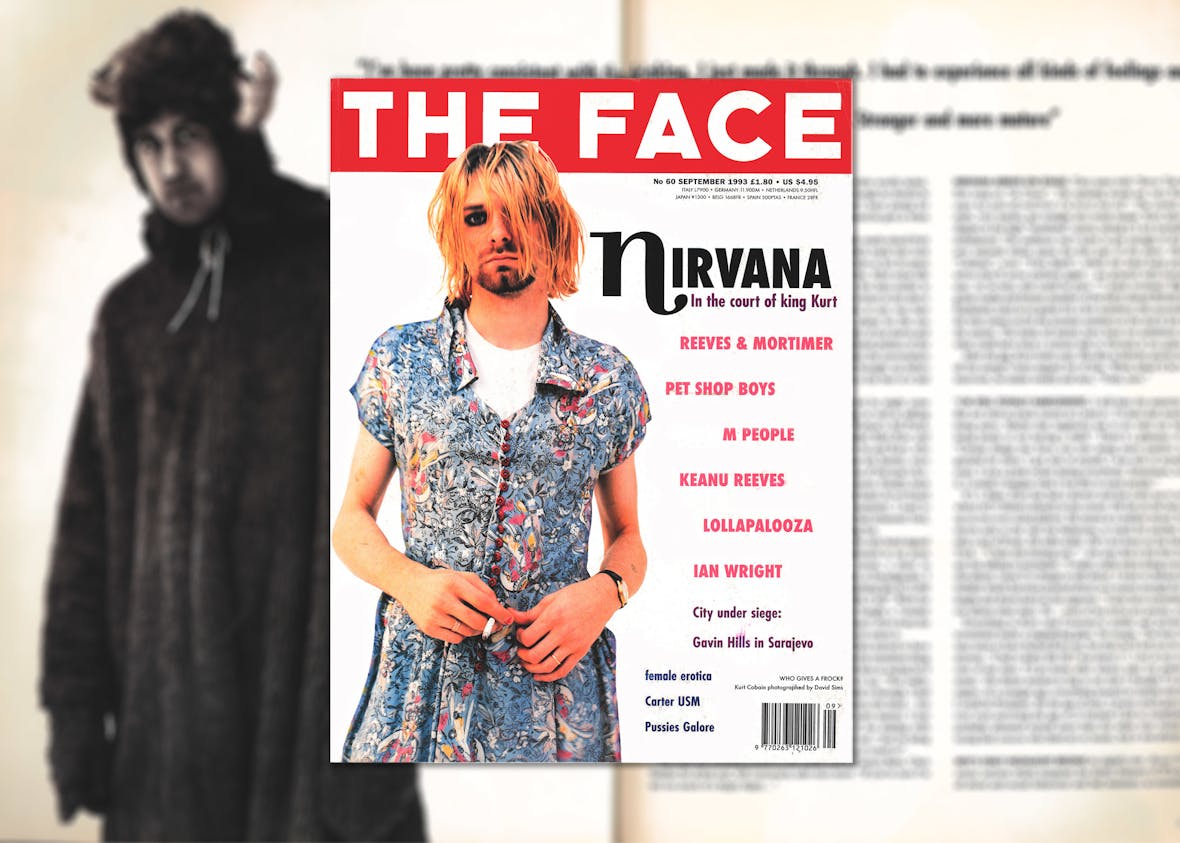 Grrr! Nir­vana
To cel­e­brate the long-await­ed return of The Face, we have select­ed a stand-out sto­ry from each year of our exten­sive archive, from 1980 to 2004.
Remembered by writer Amy Raphael
"I'd seen Nir­vana ear­ly on and I real­ly, real­ly want­ed to inter­view them. But in order to get to Nir­vana, I had to do Hole first. And who wouldn't want to inter­view Court­ney Love back then? So I did a Court­ney Love cov­er sto­ry [Feb­ru­ary 1993], where I'd basi­cal­ly said the Court­ney you've read about isn't the per­son that I found. Kurt famous­ly didn't like doing inter­views any­way, and it was a real­ly weird atmos­phere because there had been an unof­fi­cial [and ulti­mate­ly unpub­lished] Nir­vana biog­ra­phy by Vic­to­ria Clarke and Britt Collins, and an unflat­ter­ing piece about Court­ney by Lynn Hirschberg in Van­i­ty Fair. But I remem­ber when I very first met him with every­one else in the lob­by of his hotel in New York, he plucked this lily out of a vase and said to me: ​'Why are you so sad? You saved my wife's life.' Because I'd writ­ten that cov­er sto­ry for The Face. So that was a major intro­duc­tion. But even so, it still took a real­ly long time to get access to inter­view him. I'd spo­ken to Dave Grohl and Krist Novosel­ic, but still no Kurt. In the end, when it hap­pened I was so jet­lagged out of my head that I was prob­a­bly on a sim­i­lar lev­el to him – what­ev­er he was tak­ing at the time – and he said he'd just come over to my hotel room. I know that sounds deeply inap­pro­pri­ate today in the post-Wein­stein world, but he was so unthreat­en­ing and non-alpha, and so clear­ly besot­ted with Court­ney, that there was some­thing that felt just so safe and even vul­ner­a­ble about him. And he stayed for hours. Because of the piece I'd done with Court­ney I knew that he trust­ed me and that I could ask those dif­fi­cult ques­tions. But he was one of those peo­ple you just knew was clear­ly not going to make it. He was a dad and a hus­band, and a real­ly sweet guy, but at one point he said he believed that if you die you're com­plete­ly hap­py. What a weird way to think. He clear­ly thought it would be eas­i­er not to be alive, despite ador­ing Frances Bean and Courtney."
Amy Raphael was Fea­tures Edi­tor of The Face from 1991 – 93. She also worked at the NME, Esquire and Elle. She is now a free­lance writer for The Guardian, The Observ­er and The Times, and is an author.
The Cobain fam­i­ly are hav­ing a nice day out. It's late after­noon in a pho­to stu­dio in down­town Man­hat­tan. Dad­dy Cobain is career­ing from one end of the room to anoth­er, steer­ing his 11-month-old daugh­ter around in her pushchair, dressed in a suit that sug­gests he could be audi­tion­ing for the role of Tig­ger in Win­nie The Pooh. He looks ridicu­lous. Frances Bean is gur­gling uncon­trol­lably, a big grin on her angel­ic face. Court­ney Love-Cobain is loung­ing bare­foot on a sofa. ​"Where are my babies?" she demands, her arms out­stretched. Kurt changes direc­tion, pre­tends to be out of con­trol and stops the pushchair just short of the sofa. He leans over his wife and kiss­es her. Long and passionately.
This is no ordi­nary fam­i­ly. This is roy­al­ty. Grunge roy­al­ty. This is as inti­mate as most peo­ple will ever get with Kurt Cobain, Nir­vana front­man, so-called king of grunge, the X Generation's rock star. He excels at not let­ting any­one inside his head. He has opin­ions, sure, and he's vocal about many of them, but when it comes to bar­ing his soul, well, he'll take you so far and then dump you. Lis­ten to his lyrics which hint and tease but nev­er quite come clean ("Have to have poi­son skin, give an inch take a smile / Nev­er met a wise man, if so it's a woman, got­ta find a way to find a way" – Smells Like Teen Spir­it). For some­one so insu­lar, Kurt Cobain has mes­merised thou­sands – mil­lions – of (young) people.
It seems like a long time ago now since Nir­vana first arrived. In autumn ​'91 they released their sec­ond album and their first Gef­fen prod­uct, Nev­er­mind. It was fol­lowed close­ly by Smells Like Teen Spir­it. The sin­gle became an anthem for a pissed-off gen­er­a­tion who'd known lit­tle else oth­er than the oppres­sive, right-wing admin­is­tra­tions of Rea­gan and Bush. It was on the radio in the US con­stant­ly; MTV rotat­ed the video relent­less­ly. Nev­er­mind hit the top of the Amer­i­can charts in Jan­u­ary ​'92. And then the rumours start­ed. And they've nev­er real­ly stopped.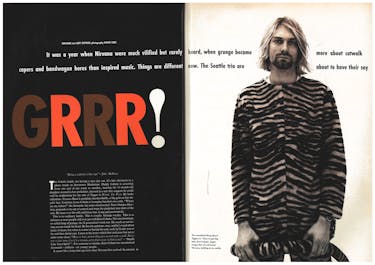 Kurt Cobain is dead. He's hooked on hero­in. He's addict­ed to cough med­i­cine. Kurt mar­ries Court­ney Love in Hawaii (true) and rumours abound that she wasn't keen on invit­ing the oth­er two mem­bers of Nir­vana and their part­ners. The cou­ple vis­it detox clin­ics. They announce they're hav­ing a child (true) and the drug talk esca­lates; Kurt has a tum­my ache and dis­cov­ers stom­ach ulcers brought on by a bad diet and man­ic tour­ing (could be). Court­ney is rushed to hos­pi­tal a month before the baby's due with womb prob­lems while on the road with Nir­vana in Spain. The now oft-quot­ed Van­i­ty Fair arti­cle on Court­ney Love goes on the stands: the Nineties Sid and Nan­cy are scru­ti­nised at length. Court­ney is report­ed as talk­ing frankly about tak­ing hero­in in the ear­ly months of preg­nan­cy. Despite every­thing, Frances Bean is born in August: does she have one head or two? Is she feath­erlight or aver­age weight?
While Nir­vana and Guns N' Ros­es con­tin­ue a war of words (the for­mer dis­gust­ed by Axl's pen­chant for dodgy lyrics and com­ments) and trou­ble brews with Vic­to­ria Clarke and Britt Collins' unof­fi­cial biog­ra­phy, talk of the fol­low-up to Nev­er­mind starts. ​"It'll be crap," some­one com­ments. ​"I want it to be crap," some­one quotes Kurt as respond­ing. Opin­ions from all quar­ters on the state of the new album appear every­where; the sto­ry of Gef­fen find­ing it ​"unre­leasable" even makes it to Amer­i­can cur­rent affairs mag­a­zine Newsweek. In direct response to Jeff Giles' report, the band take out a full-page ad in Bill­board to tell their side of things.
More hor­ror sto­ries: Kurt buys some guns, tries to choke Court­ney in their Seat­tle home and ends up in jail for a few hours
Oh, and in that two-year peri­od, Nir­vana, world famous rock band, released a few sin­gles (Come As You Are, Lithi­um, In Bloom) and made a few clas­sic, humor­ous videos. They also record­ed In Utero, their third album. It should con­found many crit­ics. It may not (hap­pi­ly) be Nev­er­mind Part II, it may not cap­ture a moment as that album did, but it has the same sparks of genius. The rough and raw feel­ing from their first album, Bleach, is cap­tured but tem­pered by melody. Kurt Cobain's pri­mal scream is as ungra­cious and rasp­ing as ever but there are also some beau­ti­ful goose-pim­ple songs. And a hand­ful of peo­ple-friend­ly singles.
As some­one once observed, a celebri­ty is some­one who works hard all their lives to become well-known, then wears dark glass­es to avoid being recog­nised. The suc­cess of Teen Spir­it and the media explo­sion of the grunge phe­nom­e­non, both in music and on the cat­walk, brought instant fame to Nir­vana, who were giv­en the grunge crown. Teen Spir­it tran­scend­ed any one genre of music even though it was essen­tial­ly a rock record; Jere­my Healy played it along­side house and garage records in Lon­don clubs, and now most peo­ple in their teens or twen­ties have an anec­dote to tell about when they first heard it. ​"Maybe it's the same as Kennedy being assas­si­nat­ed," drum­mer Dave Grohl sug­gests dri­ly at one point.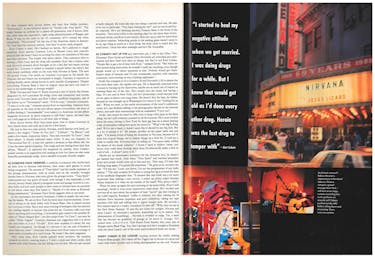 As the charis­mat­ic but elu­sive front­man, Cobain is usu­al­ly the one wear­ing the shades. We are in New York for three days of press may­hem. Court­ney is sit­ting in the hotel lob­by with Frances Bean, who is passed around for every­one to hold. She is way more trust­ing of strangers than her par­ents are, smil­ing hap­pi­ly at any­one who picks her up. Court­ney talks non-stop about any­thing and every­thing. Con­ver­sa­tion gets round to the pos­si­ble B-sides of Heart-Shaped Box, the first sin­gle from In Utero; one may be called Moist Vagi­na. Court­ney dis­miss­es any sug­ges­tion that it is about her and refers to it as a ​"D-side". Kurt lat­er explains it's about the way bod­ies are com­pared, ​"as though it's rel­e­vant to say one pair of breasts is nicer than any oth­er". Court­ney jokes about how Kurt wants to arrange to meet some jour­nal­ists at a crack house. He doesn't like their magazine.
After some time, Kurt Cobain appears from nowhere. He wan­ders towards us slow­ly, wear­ing jeans, a T-shirt, a pink and white cardie, dark shades with white frames, his hair falling over his face. His red nail var­nish is bad­ly chipped. He looks like that rare thing: a nat­ur­al rock star. He asks of no one in par­tic­u­lar: ​"You been wait­ing for me?" and no one in par­tic­u­lar responds. He's not lis­ten­ing any­way; Frances Bean is the focus of his atten­tion. Their hotel lob­by is the meet­ing place for the three days of pro­mo­tion­al duties, and Kurt is not mere­ly often but always late for inter­views and pho­to ses­sions. Sub­ject­ing peo­ple to his wait­ing game doesn't seem to be an ego thing as much as a time thing: his body clock is tuned into the small hours. Catch him after mid­night and he's Mr Accessible.
As Cobain's not up for any inter­views yet, I talk to the Oth­er Two. Drum­mer Dave Grohl and bassist Chris Novosel­ic are artic­u­late and opin­ion­at­ed and have their own slant on things, but they're not Kurt Cobain. ​"Peo­ple like to get a lot of time with Kurt," explains Grohl. ​"But when we first start­ed doing inter­views, he wouldn't real­ly say any­thing, even though peo­ple would try to direct ques­tions at him. Nobody would get Chris' bizarre sense of humour and I'd just occa­sion­al­ly inter­ject with smar­tass com­ments. Inter­view­ing us was a fuck­ing nightmare."
Grohl (the youngest at 24 to Cobain's 26 and Novoselic's 28) is almost the boy-next-door type, the reg­u­lar nice guy. He is fanat­i­cal­ly punc­tu­al when it comes to turn­ing up for inter­views, maybe not as much out of respect as want­i­ng them out of the way. He's sim­ply into the music and hav­ing a blast. It's not cool in New York, but he's pro­mot­ing a mul­ti-lay­ered look of two pairs of shorts over long johns. He doesn't feel the heat, he claims, because he was brought up in Wash­ing­ton DC where it was ​"fuck­ing hot as shit". When we meet, in the ster­ile envi­ron­ment of the hotel's con­fer­ence room, he's just fin­ished talk­ing to his pho­tog­ra­ph­er fiancée on the inter­nal phone, and ends their mur­mur­ings with an unabashed ​"I love you".
Grohl, who joined the band in 1990, tries to keep a firm grip on the fame thing, but he's still evi­dent­ly puz­zled by all the hys­te­ria. He's more excit­ed about his mum com­ing to New York for their gig than he is about hear­ing a line of jour­nal­ists telling him how great his record is. ​"What's the big fuck­ing deal? We're just a band, it doesn't seem like it should be any big deal. But to a lot of peo­ple, it is." He paus­es, doo­dles on the paper table mat and sighs. ​"I'm kin­da proud of being the drum­mer in Nir­vana, because we've done lots of good things, we've shak­en things up a lit­tle bit. It took me a while to realise that. Every­one kept on telling us: ​'You guys real­ly ruf­fled the sheets of the music indus­try.' I found it hard to believe ​'cause, you know, how could three fuck­ing losers from Nowheresville make a dent in rock ​'n' roll… it doesn't seem to fit."
Shades are an unnec­es­sary acces­so­ry for the drum­mer boy; he doesn't get has­sled that much. Only when Teen Spir­it had reached sat­u­ra­tion point and peo­ple would come up to and say: ​"Hey man, if I hear that fuck­ing song again, I'm gonna kill some­body." He grins as he recounts the tale. ​"I'd just say: ​'Look, you know, I'm not the pro­gram­mer of any radio sta­tion.'" The only occa­sion he'll admit to los­ing his rag is around the time of the unof­fi­cial biog­ra­phy fuss. ​"It seemed like that book was a lot more impor­tant than mak­ing a new record. I end­ed up pret­ty angry because whose busi­ness is it what we do out­side of the band? Who gives a shit?"
When we meet up again the next morn­ing in the hotel lob­by (Kurt's still snooz­ing) Grohl is even more hyper­ac­tive than usu­al. He's excit­ed and ner­vous all at once about the prospect of their secret gig that evening at the 4,000-capacity Rose­land. Cof­fee is ordered, but after wait­ing for 20 min­utes Dave becomes impa­tient and goes walk­a­bout, tak­ing my tape machine with him and talk­ing into it Agent Coop­er style. He records a five-minute spiel in a croaky, stone­head DJ take-off. ​"Well, here we are at Jesus Lizard. An alter­na­tive spec­ta­cle, some­thing not to be missed. The phe­nom­e­non of [stum­bling]… Nir­vana is revealed on stage. Yes, a band that has become the god­fa­ther of grunge as we know it. Grunge: ​'92's coined term. G-R-U-N-G-E. That Sound From Seat­tle, that crazy mix of Stooges meets Black Flag. Yes, that's grunge and that's tonight at Rose­land with the Jesus Lizard, one of the most unprece­dent­ed freak-out bands…"
Dad­dy Cobain is no longer run­ning around the stu­dio mak­ing Frances Bean gur­gle. He's tak­en off the Tig­ger suit in favour of a dress and some bold black eye­lin­er and is being pho­tographed on the roof. Frances Bean is also there in her pushchair, wrapped in a big white wool­ly jack­et. She's with her 21-year-old nan­ny, Cali, who looks as though he should be in the band rather than look­ing after the baby. Kurt's been pos­ing for var­i­ous pho­tog­ra­phers all after­noon and the most ani­mat­ed he gets is when he stands on a piece of glass with­out his sneak­ers on.
Chris Novosel­ic comes up onto the roof with a fresh­ly-made mixed fruit drink and sits down. He's tak­en off the bear suit which made him look even more tow­er­ing­ly tall than usu­al and which made him so hot he spent much of the pho­to ses­sion lying hor­i­zon­tal in front of a fan. After some idle chat, he starts talk­ing about the inter­view we'd done a few days ear­li­er in the hotel con­fer­ence room. Cobain might have angri­ly writ­ten in the sleeve notes of the Insec­ti­cide com­pi­la­tion: ​"If any of you in any way hate homo­sex­u­als, peo­ple of dif­fer­ent colour, or women, please do this one favour for us – leave us the fuck alone! Don't come to any of our shows and don't buy our records." But Novosel­ic is the self-appoint­ed politi­co of the band as much as he is an off-kil­ter wag. He'd tried to steer the con­ver­sa­tion away from Croa­t­ia, where his par­ents were born and brought up before mov­ing to Cal­i­for­nia, or Clin­ton, who he still believes is the best of a bad bunch, but the top­ics came up time and again.
As we sit watch­ing the sun­set, he says he's wor­ried he might come across as being ​"too heavy" in print. I remind him that as well as talk­ing about his involve­ment in projects such as the Balkan Women's Aid Fund, he also described the ear­ly days of Nir­vana, then called Skid Row and influ­enced by Black Sab­bath and Black Flag. And how he and Kurt, who both grew up in Aberdeen, a red­neck back­wa­ter near-ish Seat­tle, were always in dif­fer­ent bands. ​"One of The Melvins [still one of Nirvana's favourite bands] would join for a while, but it was nev­er seri­ous. Final­ly, back in ​'87, Kurt and I got togeth­er and decid­ed to start a real band. So we found this drum­mer, scrounged equip­ment and rehearsed con­stant­ly. I used to take things so seri­ous­ly, I'd get all pissed off if we had a bad rehearsal: God, it's got­ta be good, it's got­ta be rock, it's got­ta be fuck­ing fun."
"And we were lucky ​'cause we had a van – we were the only band signed to Sub Pop at that time with a van. It was even men­tioned in our press release. There was always some­thing around the com­er, a show in Olympia, in Seat­tle, an open­ing for the But­t­hole Surfers or Soundgar­den. I can remem­ber Soundgar­den sign­ing to a major for some­thing like $175,000 and I was incred­u­lous. What were they going to do with it all?" With the mon­ey Chris lat­er earned from being in Nir­vana, he bought a ​"mod­est house" in Seat­tle and a run-down 40-acre farm, three hours' dri­ve from the city. There are no phones out there and that's just how he wants it.
At around the same time mon­ey began com­ing in, Chris start­ed to have recur­ring dreams about being naked in pub­lic. ​"I guess the tran­si­tion thing hap­pened so fast." Var­i­ous inter­views last year quot­ed him as say­ing he'd got into drink too heav­i­ly and had con­se­quent­ly giv­en it up. ​"Not real­ly, I've been pret­ty con­sis­tent with the drink­ing. I just made it through. I had to expe­ri­ence all kinds of feel­ings and stuff. Being famous, the band… but I came out of it a bet­ter per­son. Much stronger and more mature. I just worked things out, accept­ed things. I have a way of not deal­ing with things. I've got to work on that." His wife helped him out, ​"just by being there to turn to, to be on your side – you need some­one to crawl to".
The only one crawl­ing around on the stu­dio roof is Frances Bean. Chris fin­ish­es his drink and, still con­cerned, asks once more: ​"If you're sure I'm not too much of a hip­py dippy…"
Nir­vana arrive on stage. They open with Serve The Ser­vants, the first song on In Utero. The open­ing words are very Kurt – ​"Teenage angst has paid off well / Now I'm bored and old." The crowd, which is very male, very macho, get straight into mosh mania. Kurt lat­er express­es his dis­gust at the high ​"meat­head" quo­ta, say­ing it's not nor­mal­ly that gen­der imbal­anced. The audi­ence can't seem to get enough of the suc­ces­sion of new mate­r­i­al which opens the first part of the show. Famil­iar songs – Lithi­um, even Teen Spir­it, which the band keep promis­ing them­selves they'll nev­er per­form again – are greet­ed with increas­ing enthu­si­asm. At its best, this could be pure ​'77 punk revis­it­ed. Big John, Kurt's gui­tar road­ie and for­mer mem­ber of the fair­ly dis­mal British punk band the Exploit­ed, joins in on gui­tar for a few num­bers; this suc­ceeds, but the cel­list who comes on for the acoustic num­bers at the end is lost some­where in the sys­tem. The band, all seat­ed, have been too ambi­tious with this idea; what could have been a curi­ous side to Nir­vana is too qui­et to even hear.
After the gig, Kurt looks crap. His skin is blotchy and he looks as though all the energy's been sapped out of him. When asked if he's ready for the inter­view, he smiles weak­ly and says, ​"Yeah, sure."
"I'm still total­ly nar­cis­sis­tic, I still hate the major­i­ty of the world. But not with as much ven­om as I used to. To hate that much is a mat­ter of being naive. Maybe that neg­a­tiv­i­ty has to do with not being in love or being lone­ly or not hav­ing a child." There's a glim­mer of a smile here. ​"Cer­tain things just force you into being more pos­i­tive and I'm real­ly grate­ful for them. I got sick of myself, I was sick of myself for so many years. I was a punk rock­er hat­ing every­body. Some­times, look­ing back on it, I couldn't imag­ine what I was like to some people."
It's 1.30am. Kurt has had a show­er and has come up to my hotel room, where MTV flick­ers silent­ly in the com­er. He lies on the bed, head propped up on two over­sized pil­lows. He seems in a mel­low mood. In two hours he moves only to vis­it the bath­room, to reach for anoth­er cig­a­rette or to take a sip of Evian. He talks soft­ly. He's not keen on the back­drop of New York – ​"I hate this fuck­ing city" – but says this is the first time he has had any fun talk­ing to jour­nal­ists. ​"I real­ly, real­ly enjoy doing every inter­view for this album ​'cause I've things to talk about. I want to defend myself. All this bull­shit which has been print­ed about us is rea­son enough for dia­logue." He laughs and draws hard on his cig­a­rette. ​"I also have some­thing to say about our album oth­er than: ​'Er… most of my lyrics are poems, you know."'
Every­thing in Kurt (and Courtney's) pub­lic and pri­vate life has been scru­ti­nised under a mag­ni­fy­ing glass. No escape. The heat of the spot­light may seem to have fucked Kurt up, but then he'll tell you he was fucked up any­way. ​"I had a shit­ty life ​'til I was about 17. I sat in my room for 90 per cent of the time. I'd go home after school, play my gui­tar and lis­ten to music. The States seemed so big to me that I thought I'd nev­er leave the region. At a younger age, every­thing seemed so sim­ple and easy, I thought I could be Pres­i­dent. By the age of nine, I pret­ty much gave up any idea of ever even sur­viv­ing to the age of 21 because I felt so com­plete­ly alien­at­ed. I prob­a­bly alien­at­ed myself more than the oth­er way round. I was always try­ing to find some­one who liked art or music, but it was always sport."
MTV's only high­light begins its night­ly slot. Beav­is & Butthead is a colour car­toon which sur­pass­es the dorky humour of Wayne's World. It's all about anti-social behav­iour and bad man­ners, as exem­pli­fied by taste­less met­al­head ado­les­cents Beav­is (in the Metal­li­ca T-shirt) and his bosom bud­dy Butthead (who favours AC/DC). Every­thing is ​"cool, dude",' they shop at Babes R Us, strum air gui­tars, talk over rock videos (includ­ing Nirvana's) and mas­sacre them. They're super ugly and they don't give a shit. The major cringe fac­tor comes with their sick Mut­t­ley laughs. Kurt, who ear­li­er dis­missed MTV as ​"an adver­tise­ment sta­tion", turns the vol­ume up. ​"I have to admit, I like this. I think I've seen every episode."
"I know so many peo­ple like that," Kurt says, laugh­ing at the cartoon's inane humour. ​"I grew up with peo­ple like that. Lit­er­al­ly. To the tee. I mean, car­bon copies. I've sat on couch­es with peo­ple like that and smoked pot with them while they cri­tiqued tele­vi­sion shows for hours and hours." If it was so unbear­able, why sub­ject your­self to it? ​"A lot of times, I put myself in those sit­u­a­tions when I was buy­ing mar­i­jua­na. I had to be around peo­ple like that every once in a while while I was wait­ing for the mar­i­jua­na to show. Peo­ple like that are a major­i­ty in Aberdeen."
Kurt felt as though he had some­thing spe­cial to offer the world. Encour­aged by his moth­er to paint – he spent his child­hood trav­el­ling between his mum and dad's after they got divorced – he decid­ed to become a com­mer­cial artist, and won var­i­ous awards before win­ning a schol­ar­ship to go to art school. ​"I knew I was bet­ter than any­one in my school but then I realised there were big­ger schools, larg­er cities and peo­ple who were going to be a lot bet­ter than me. I lost inter­est. I quit school in the last month. I also didn't want to go to col­lege in Texas or New York, it was too fright­en­ing for me. And I realised I liked music a lot more."
He dropped his abstract draw­ings, his ​"dream­land, ston­er art" and soon after moved to near­by Olympia. The town had a few more things going for it than Aberdeen: a lib­er­al col­lege, a music scene cen­tred around Calvin Johnson's K Records label and reg­u­lar punk gigs. ​"Liv­ing there taught me a lot. It was great, a real­ly nice place to live. Then, after about four years, I had grown tired of it. I became just as depressed as I was in Aberdeen. I'd used up every­thing it had to offer."
As he says ear­li­er, Kurt Cobain's wife and child keep him from tee­ter­ing over the edge. But the self-destruct mech­a­nism, the noto­ri­ous hero­in indul­gences – how much has Kurt real­ly changed in the year since Frances Bean was born? ​"It has com­plete­ly changed my whole out­look on every­thing. I don't know…" He drifts off. His eyes well up. ​"It's nice to know that we can have the lux­u­ry of a nan­ny. It's great that she's nev­er ignored. And she's learn­ing to have rela­tion­ships with peo­ple." I point out that she's the antithe­sis of her par­ents, she's so trust­ing. Kurt laughs. ​"When we were young, Court­ney and I were both very trust­ing and naive. But we learned." Would you have lost it some­where along the way if you hadn't had a child? ​"No, because I start­ed to heal my neg­a­tive atti­tude when we got mar­ried. Just find­ing a mar­riage part­ner, a soul­mate, I nev­er expect­ed it to hap­pen. I wasn't near­ly as self-destruc­tive as has been some­times report­ed. I was doing drugs for a while. But I knew that would get old as I'd done every oth­er drug. Hero­in was the last drug to tam­per with."
Kurt read­i­ly admits that he's had prob­lems with hero­in; he even refers to him­self as a junkie. ​"It's a part of my life that I'm not too proud of. It's been going on for years. Then I slow­ly decid­ed not to self-destruct. I wasn't famil­iar with what hero­in does to peo­ple. I did it first in ​'85/'86 in Aberdeen. I'd want­ed to try it for­ev­er. I want­ed to be a junkie for a few months after Nev­er­mind and the tour. It was a real­ly stu­pid idea. I didn't under­stand how evil it is, how hard it is to get off it. It's the most addic­tive thing I've ever tried. It's an ongo­ing dilem­ma. I still have prob­lems with it. This year I've fucked up a few times. But I'm not addict­ed any­more. I haven't had any drug deal­ings for a long time. I couldn't fool myself or any­one else that I won't do it again; I'll always be a junkie. I've had to excom­mu­ni­cate my drug-tak­ing friends and focus on my fam­i­ly and my music."
Has exper­i­ment­ing with hero­in made him feel more mor­tal? ​"That's a weird ques­tion. I don't know. I've nev­er thought of that. I'm still not any more eas­i­ly amused. I don't know. There are cer­tain priv­i­leges that I can use and I'm grate­ful for that." Mon­ey or not, at the end of the day, do you still feel you can live for­ev­er? A long pause. Does he want a dif­fer­ent ques­tion? ​"No. No, I like this ques­tion. But I don't know the answer." What about life after death? ​"Sure. I believe if you die you're com­plete­ly hap­py and your soul some­how lives on and there's this pos­i­tive ener­gy. I'm not in any way afraid of death." When did you start to think like that? ​"Oh, for­ev­er. For as long as I can remem­ber." He clears his throat. ​"I'm afraid of dying now, I don't want to leave behind my wife and child, so I don't do things that would jeop­ar­dise my life. I try and do as lit­tle things as I can to jeop­ar­dise it. I don't want to die. I've been sui­ci­dal most of my life, I didn't real­ly care if I lived or died, and there were plen­ty of times when I want­ed to die, but I nev­er had the nerve to actu­al­ly try it." Why did you want to die? ​"Because every­thing was hope­less and I thought I knew every­thing when I was young."
You can't help feel­ing that no mat­ter how rich or suc­cess­ful he is, no mat­ter how much he loves and is loved by Court­ney and Frances Bean, that Kurt Cobain will nev­er find inner peace. Espe­cial­ly while he's a rock star. He will always be lean­ing on the self-destruct but­ton in a way that's become almost masochis­tic. Like he's been on the edge for so long that he's addict­ed to hatred, mis­ery and frus­tra­tion. But then if he woke up hap­py and in con­trol one day, he'd lose his touch of genius.
Kurt Cobain likes play­ing the flip­pant rock star. He calls Nev­er­mind a fluke and doubts In Utero will sell as well unless Gef­fen gives it the same push. He claims that he nev­er want­ed to be famous in the first place. ​"I don't give a fuck. So to put out music now is even eas­i­er ​'cause I'm not wor­ried about it. I don't think I was ever wor­ried about reviews, except for in [indie rock ​'zine] Flip­per. I'm so glad to put out this album now – it's total­ly, exact­ly what we want­ed to do. At least a hand­ful of peo­ple will accept it and we'll still be able to tour, even if we have to go back to clubs."
Why so defen­sive? Being signed to a major label is at odds with his ​"Fuck you, I won't do what you tell me" punk eth­ic. He likes sell­ing records and mak­ing mon­ey, but he won't con­form. And all the pre-release spec­u­la­tion about In Utero didn't help. When their Gef­fen A&R heard the Steve Albi­ni mix­es, Kurt says, he thought it sound­ed ter­ri­ble, he couldn't lis­ten to it, he didn't like the song­writ­ing. In short, he didn't think there was much going for it. Kurt want­ed to work with Albi­ni because of his work with The Pix­ies and The Breed­ers but now has few good words for him. They remixed two songs with REM. pro­duc­er Scott Litt and man­aged to ​"cure" the oth­er tracks. The bad vibes may not have stopped the band from believ­ing in the prod­uct, but they have been made to won­der if their impor­tance in the music world will con­tin­ue to be reflect­ed by record sales.
Sub Pop co-founder Jonathan Pone­man told Jeff Giles in the Newsweek arti­cle: ​"Nir­vana ush­ered in a cul­tur­al rev­o­lu­tion and made the Gef­fen com­pa­ny mil­lions. If they want to make an album of hand claps, they have earned the right." But Kurt, for all his defi­ance, admits that he's beyond spit­ing every­one for mak­ing him famous. ​"I'm real­ly glad we didn't put out a pur­pose­ful­ly bad record. I would've done it for sure a year ago, but now I've learned to ignore every­thing, all that celebri­ty thing."
I tell Kurt that I was wan­der­ing around his hotel lob­by for the past few days singing one of the tracks on In Utero before real­ly real­is­ing what I was doing. Rape Me opens with the same chords as Teen Spir­it and could be tak­en as a response to the imme­di­ate fame which the sin­gle brought. Kurt says it's not. ​"I was so tired of talk­ing about sex­ism in inter­views. I realised that I'm not mak­ing a big enough impact. There are still macho meat­heads in our audi­ence. I dun­no… if you want to say some­thing, it has to be so direct and obvi­ous that in a way it's a mock­ery. That's why I wrote an anti-rape song called Rape Me. It's not pok­ing fun at rape in any way, it's pok­ing fun at the way those issues have to be so obvi­ous; to real­ly suc­ceed, you have to have sim­ple facts on pieces of paper, you have to hand them out to each per­son who walks into your show."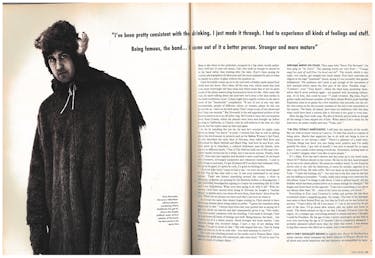 Although they per­formed the song on last year's MTV Video Awards (it didn't go down too well), Kurt says they're not putting it out as a sin­gle. But even as an album track, who says peo­ple will see the mock­ery, espe­cial­ly if peo­ple are as stu­pid as he thinks they are? ​"It would've been hard­er if we put it out on Nev­er­mind, but I think there have been enough arti­cles for us to have got our mes­sage across… I can't help feel­ing that every­one knows we're anti-rape. I total­ly agree that it's weird for you to be singing it. I have a prob­lem with that too. You're not the first to point it out… but it was out of des­per­a­tion, that's the only excuse I can come up with."
He looks crushed, so we move on. He is men­tal­ly plan­ning the video for Heart-Shaped Box. He wants William S Bur­roughs to do a cameo in it. They recent­ly put out a record togeth­er, Kurt using the pseu­do­nym (sort of) of ​"Kur­tis Cob­haine", but they didn't meet up, or even speak on the phone. ​"I heard he real­ly liked my lyrics, but I doubt he likes the music. It's a real com­pli­ment, fuck yeah. It's a total bless­ing. I don't want him in our video just because of who he is. He's also this real­ly inter­est­ing-look­ing old man. I want to meet him too; I'd be ner­vous, but I've met oth­er idols. I've met Iggy Pop. I'm sup­posed to be doing a record with him." He stops short. ​"My God! Lis­ten to me namedrop."
The media have become so fix­at­ed with Kurt and Court­ney – not only a Nineties Sid and Nan­cy, they observed, but a Lennon and Ono too – that the band now issue a state­ment to tell their side of things every cou­ple of months. Last year Kurt did a cov­er sto­ry with The Advo­cate, America's high­est-pro­file gay mag­a­zine. In the Q&A he talked about hang­ing out with gay guys at high school, some­times pre­tend­ing to be gay him­self to wind up the Beav­is and Butthead types and how, had he not met Court­ney, he would have con­tin­ued a ​"bisex­u­al lifestyle". He got a great response from those who read the inter­view. But? ​"But the AP Wire report­ed it and twist­ed the words, say­ing I was a prac­tis­ing bisex­u­al, that Court­ney didn't mind ​'cause we have an open rela­tion­ship. Every­one gets their news from AP Wire – even MTV, so we had to release a statement."
More recent­ly the Eng­lish music press quot­ed from a new, autho­rised biog­ra­phy by Rolling Stone jour­nal­ist Michael Azzer­ad: ​"I have no respect for the Eng­lish peo­ple." Kurt denies hav­ing been that gen­er­al: ​"I meant I hat­ed Eng­lish jour­nal­ists." In this, he doubtless­ly includes Vic­to­ria Clarke and Britt Collins, who want­ed to call their unof­fi­cial biog­ra­phy after the Nir­vana T-shirt which said: ​"Flower-snif­fin'; kit­ty-pet­tin'; baby-kissin' cor­po­rate rock whores". The couple's inves­ti­ga­tions into Nir­vana got too detailed, too inquis­i­tive, thought Kurt and Court­ney, who final­ly lost their cool. Last Octo­ber, Clarke played a mes­sage of her answer­ing machine to pub­li­ca­tions from Select to The Inde­pen­dent. It was Kurt Cobain, say­ing he could have her ​"snuffed out" but would ​"try the legal way first".
Since then, no one has been quite sure if the book's actu­al­ly com­ing out. ​"Their pub­lish­ers are so afraid we're gonna sue them that we received a copy of the book yes­ter­day to proof­read. We get to edit any­thing we want." Kurt laughs at the absur­di­ty of this, but his face is weary rather than glee­ful. ​"I guess we've done a pret­ty good job of scar­ing them." At the time of going to press, the book had no pub­lish­ers. ​"It's not been final­ly decid­ed yet," said Clarke and Collins' agent. Will it def­i­nite­ly go ahead? ​"We hope so." A proof of the book shows they've kept the work­ing title, even though Nir­vana insist it is their copyright.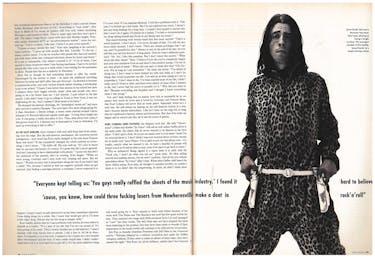 The con­clud­ing word in the epi­logue is ded­i­cat­ed to any­one con­sid­er­ing a career as a rock biog­ra­ph­er – ​"Don't". The biog­ra­phy is as you might expect it to be: a detailed look at Nir­vana, their rise to suc­cess, their foibles, lots of quotes from inter­views and a whole sec­tion on Court­ney Love. The most bizarre part is the chap­ter enti­tled Load Up On And Kill Your Friends, which attempts to side­step pos­si­ble legal pro­ceed­ings by tak­ing the form of a ​"Pin­teresque com­e­dy in three acts, on the dra­ma, the dilem­ma and absur­di­ty of being a rock star." A jum­ble of dis­parate quotes stitched togeth­er, it is both inten­tion­al­ly and unin­ten­tion­al­ly comical.
A few months ago every­one was talk­ing about Kurt's spell in jail. ​"Obvi­ous­ly Court­ney and I have had lots of times to fig­ure our sto­ry out­right. We were play­ing loud music, the neigh­bours called the cops. The cops were total­ly friend­ly and treat­ed me with a lot of respect – they didn't even fig­ure out who I was ​'til they took me to the police sta­tion. They said one of us had to go to jail, some new Seat­tle law about domes­tic violence."
"Court­ney and I start­ed argu­ing about who was gonna go to jail. I have to admit I was rather drunk – I get drunk eas­i­ly – and I don't remem­ber the whole chain of events. We got into a scuf­fle, Court­ney was wear­ing a chok­er and I ripped it off because she threw juice in my face. She did that ​'cause we were yelling at each oth­er. It turned into a domes­tic fight in front of the cops. They asked out of the blue if there were any guns in the house. I said no, but Court­ney thought she'd co-oper­ate and said: ​'Yeah, they're upstairs in the clos­et put away safe­ly, with no bul­lets in them.' So they con­fis­cat­ed my three fuckin' guns. The police report came out as us fight­ing over guns, me assault­ing her with a gun and try­ing to choke her. The last thing I want to be thought of as is a wife chok­er. It's just anoth­er per­fect exam­ple of how cursed we are."
---