Whose Smiley Now?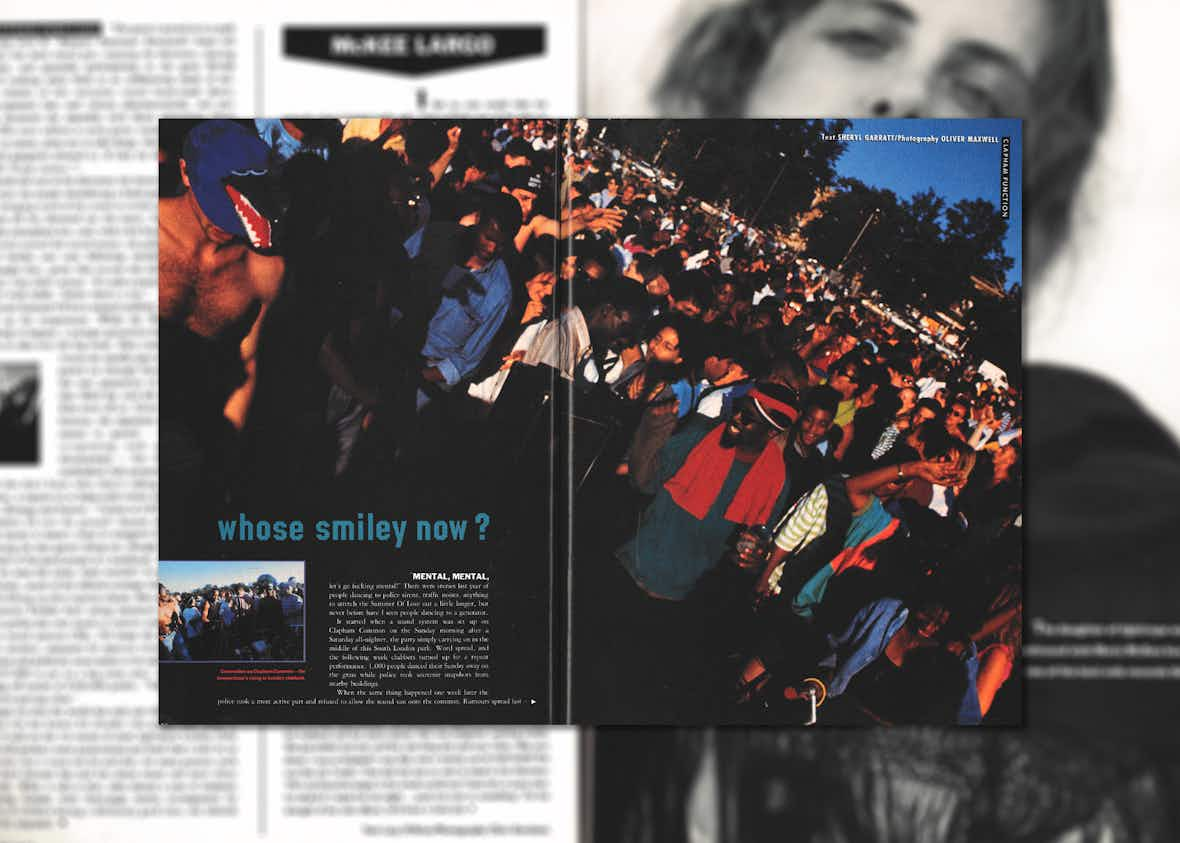 August, 1989: There were stories of people dancing to police sirens, traffic noises, anything to stretch the Summer Of Love out a little longer, but never before have they danced to a generator.

To celebrate the long-awaited return of The Face, we have selected a stand-out story from each year of our extensive archive, from 1980 to 2004.
Remembered by Editor and writer Sheryl Garratt
"Acid house was starting to happen, and suddenly there was this new vitality to British youth culture. Suddenly it felt that The Face was needed more than ever – at that time there was only really us and i‑D writing about clubs, but I felt really strongly that we should be the magazine of this new movement. Decades never begin and end neatly, so it felt like the Nineties was really starting. For me, the Eighties had been quite monochrome – all very pouty and posy, with people in the clubs in their flat tops, DMs and white shirts. But now everything had burst into colour. It just felt to me that there was this life and movement, there were all these kids excited about this stuff, and I thought that's what the magazine should be the voice of. With the piece on acid house, there was an old guard being replaced and a lot of new energy coming through. Because The Face was a monthly we had to be reactive. We had to reflect and ask: ​'OK this is happening now, but in six months' time, what will we think of it? How can we make it still relevant? How did this happen? Who are the people behind it? What are they going to do next?' It was always trying to go a bit deeper, and I'd always drive writers mad by asking them a million other questions, trying to dig for the story that was underneath, getting them to step back."
Sheryl Garratt was Editor of The Face from 1989 – 95, and later editor of The Observer's magazine. She writes on subjects from art and architecture to fashion, music, film, food and sport, and also acts as a coach and mentor.
"Mental, mental, let's go fucking mental!" There were stories last year of people dancing to police sirens, traffic noises, anything to stretch the Summer Of Love out a little longer, but never before have I seen people dancing to a generator.
It started when a sound system was set up on Clapham Common on the Sunday morning after a Saturday all-nighter, the party simply carrying on in the middle of this South London park. Word spread, and the following week clubbers turned up for a repeat performance. A thousand people danced their Sunday away on the grass while police took souvenir snapshots from nearby buildings.
When the same thing happened one week later the police took a more active part and refused to allow the sound van onto the common. Rumours spread fast – ​"The party's moved on to a park beginning with B." Brixton? Battersea? Brockwell? Some left to check, but most stayed put, enjoying the afternoon, dancing to radios, and generally participating in the great British sport of cooking white flesh to an unflattering shade of red. Model citizens of free enterprise touted home-made shorts, battery-operated fans and various pharmaceuticals, and promoters showered the assembly with flyers advertising future raves. (The exact address is rarely given; contact numbers, ticket prices, DJ names, pleas not to take drugs, obscure warnings: ​"No East End gangsters allowed in. If they try they'll be prosecuted. No Troop trainers.")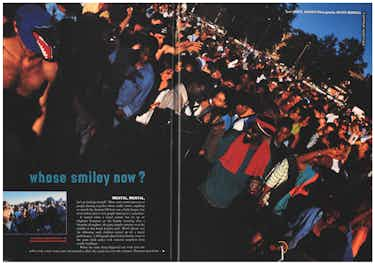 Towards the end of the afternoon the heroes of the day arrived. These were the people shouldering a hired generator and a home stereo, bringing much of the crowd to its feet in anticipation. The generator all but drowned out the music, but the chants were loud, the atmosphere hot and, with a few hundred people packed protectively around the sound source, the police retreated, with a hail of bottles and cans following amiably in their wake. Surprisingly (but, given that no-one was doing any real harm, sensibly), they didn't return. ​"It's only a matter of time," said one observer with relish, ​"before there's a riot."
A second Summer Of Love seemed unlikely, until the heatwave turned up the temperature. While the West End waits for something to happen, a younger generation has crept in from the suburbs to take over the big event. They come in their thousands, the venues are usually open air, with the details passed on through flyers, phone calls and the new generation of house/​acid pirates that filled the void left when stations like Kiss went off air. Given the current media hysteria, the organisers are reluctant to be named or quoted – though some are co-operating with an upcoming TV documentary – but few are previously established club promoters.
"The Sun don't know what they're talking about," says Paul Anderson, a regular DJ at large-scale events such as Back To The Future, Biology and Sunrise. ​"Tickets at £40? They're £10-£15. Foil packets all over the ground? Anyone who's ever seen any Ecstasy knows it doesn't come in wrappers! It's sad. We had all this during the rare groove thing too, though it was smaller then – a couple of thousand people at a warehouse. The people want it, and if we were left alone, there wouldn't be any trouble."
Certainly, much of the tabloid coverage echoes with the sound of hacks hiking up their expense claims. Beer at £5 a can? Milk at £2 a carton? Freddie Starr eating hamsters? Please! Reports of massive profits also owe much to creative journalism: the cost of massive sound systems (30k, 25k boast the flyers for opposing events), security, marquees for open-air events, staging, lights, DJs, venue and publicity never seems to be taken into account. ​"It costs £35,000 to put on a big event now," says one promoter, laughing off stories of £500,000 profits. ​"Take off two noughts and you're getting close."
Strange too that the media has only just discovered something everyone else has known for decades: that people take drugs in clubs. A raid on the VIP rooms of most legitimate London clubs would still produce more prosecutions per head than a raid on an illegal rave, but it must also be said that, for many punters, such events have become less and less about music and more about chemicals. What is odd is that, after almost a year of tirelessly promoting Ecstasy with front-page stories accompanied by pictures of clubbers having a deliriously good time, the tabloids should be surprised.

More like this