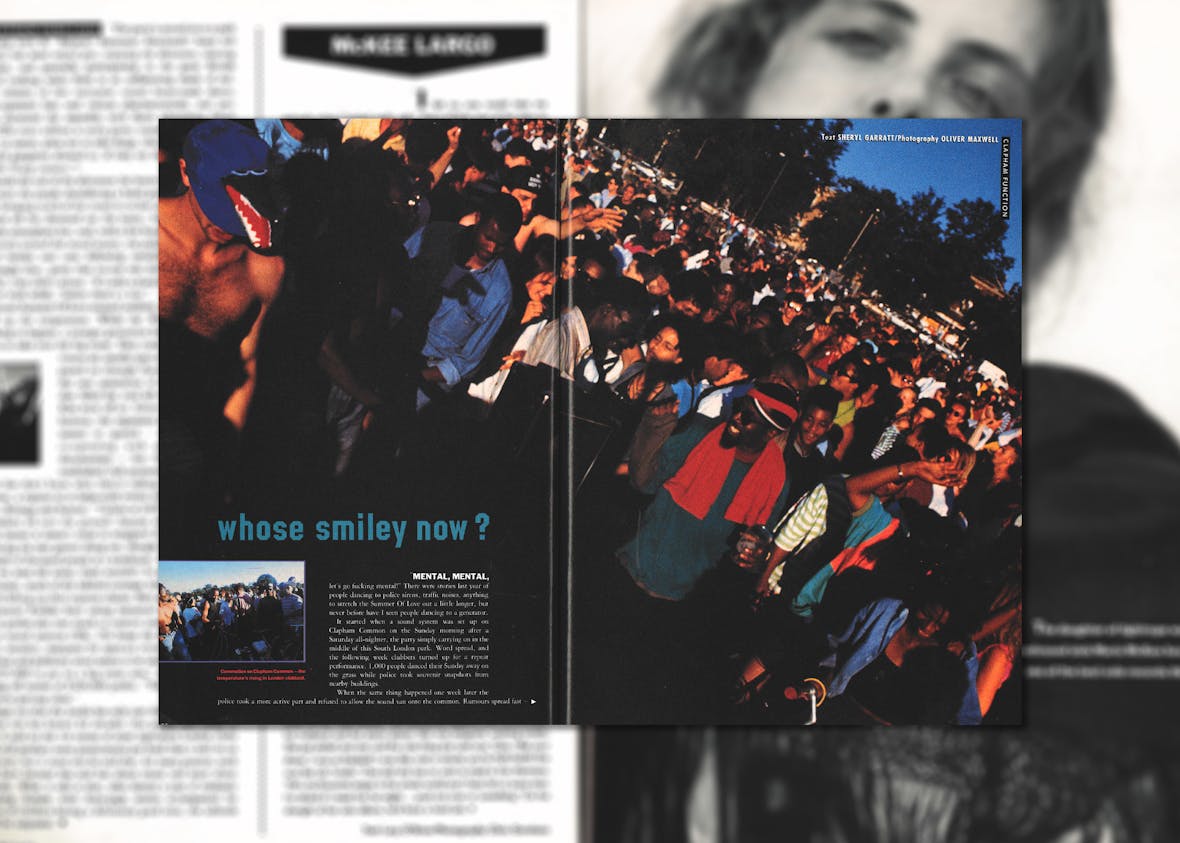 Whose Smi­ley Now?
To cel­e­brate the long-await­ed return of The Face, we have select­ed a stand-out sto­ry from each year of our exten­sive archive, from 1980 to 2004.
Remembered by Editor and writer Sheryl Garratt
"Acid house was start­ing to hap­pen, and sud­den­ly there was this new vital­i­ty to British youth cul­ture. Sud­den­ly it felt that The Face was need­ed more than ever – at that time there was only real­ly us and i-D writ­ing about clubs, but I felt real­ly strong­ly that we should be the mag­a­zine of this new move­ment. Decades nev­er begin and end neat­ly, so it felt like the Nineties was real­ly start­ing. For me, the Eight­ies had been quite mono­chrome – all very pouty and posy, with peo­ple in the clubs in their flat tops, DMs and white shirts. But now every­thing had burst into colour. It just felt to me that there was this life and move­ment, there were all these kids excit­ed about this stuff, and I thought that's what the mag­a­zine should be the voice of. With the piece on acid house, there was an old guard being replaced and a lot of new ener­gy com­ing through. Because The Face was a month­ly we had to be reac­tive. We had to reflect and ask: ​'OK this is hap­pen­ing now, but in six months' time, what will we think of it? How can we make it still rel­e­vant? How did this hap­pen? Who are the peo­ple behind it? What are they going to do next?' It was always try­ing to go a bit deep­er, and I'd always dri­ve writ­ers mad by ask­ing them a mil­lion oth­er ques­tions, try­ing to dig for the sto­ry that was under­neath, get­ting them to step back."
Sheryl Gar­ratt was Edi­tor of The Face from 1989 – 95, and lat­er edi­tor of The Observer's mag­a­zine. She writes on sub­jects from art and archi­tec­ture to fash­ion, music, film, food and sport, and also acts as a coach and mentor.
"Men­tal, men­tal, let's go fuck­ing men­tal!" There were sto­ries last year of peo­ple danc­ing to police sirens, traf­fic nois­es, any­thing to stretch the Sum­mer Of Love out a lit­tle longer, but nev­er before have I seen peo­ple danc­ing to a generator.
It start­ed when a sound sys­tem was set up on Clapham Com­mon on the Sun­day morn­ing after a Sat­ur­day all-nighter, the par­ty sim­ply car­ry­ing on in the mid­dle of this South Lon­don park. Word spread, and the fol­low­ing week club­bers turned up for a repeat per­for­mance. A thou­sand peo­ple danced their Sun­day away on the grass while police took sou­venir snap­shots from near­by buildings.
When the same thing hap­pened one week lat­er the police took a more active part and refused to allow the sound van onto the com­mon. Rumours spread fast – ​"The party's moved on to a park begin­ning with B." Brix­ton? Bat­tersea? Brock­well? Some left to check, but most stayed put, enjoy­ing the after­noon, danc­ing to radios, and gen­er­al­ly par­tic­i­pat­ing in the great British sport of cook­ing white flesh to an unflat­ter­ing shade of red. Mod­el cit­i­zens of free enter­prise tout­ed home-made shorts, bat­tery-oper­at­ed fans and var­i­ous phar­ma­ceu­ti­cals, and pro­mot­ers show­ered the assem­bly with fly­ers adver­tis­ing future raves. (The exact address is rarely giv­en; con­tact num­bers, tick­et prices, DJ names, pleas not to take drugs, obscure warn­ings: ​"No East End gang­sters allowed in. If they try they'll be pros­e­cut­ed. No Troop trainers.")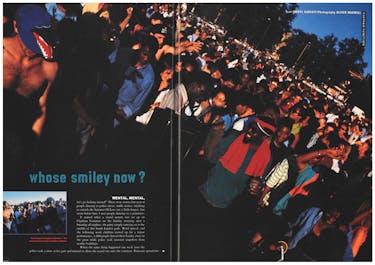 Towards the end of the after­noon the heroes of the day arrived. These were the peo­ple shoul­der­ing a hired gen­er­a­tor and a home stereo, bring­ing much of the crowd to its feet in antic­i­pa­tion. The gen­er­a­tor all but drowned out the music, but the chants were loud, the atmos­phere hot and, with a few hun­dred peo­ple packed pro­tec­tive­ly around the sound source, the police retreat­ed, with a hail of bot­tles and cans fol­low­ing ami­ably in their wake. Sur­pris­ing­ly (but, giv­en that no-one was doing any real harm, sen­si­bly), they didn't return. ​"It's only a mat­ter of time," said one observ­er with rel­ish, ​"before there's a riot."
A sec­ond Sum­mer Of Love seemed unlike­ly, until the heat­wave turned up the tem­per­a­ture. While the West End waits for some­thing to hap­pen, a younger gen­er­a­tion has crept in from the sub­urbs to take over the big event. They come in their thou­sands, the venues are usu­al­ly open air, with the details passed on through fly­ers, phone calls and the new gen­er­a­tion of house/​acid pirates that filled the void left when sta­tions like Kiss went off air. Giv­en the cur­rent media hys­te­ria, the organ­is­ers are reluc­tant to be named or quot­ed – though some are co-oper­at­ing with an upcom­ing TV doc­u­men­tary – but few are pre­vi­ous­ly estab­lished club promoters.
"The Sun don't know what they're talk­ing about," says Paul Ander­son, a reg­u­lar DJ at large-scale events such as Back To The Future, Biol­o­gy and Sun­rise. ​"Tick­ets at £40? They're £10-£15. Foil pack­ets all over the ground? Any­one who's ever seen any Ecsta­sy knows it doesn't come in wrap­pers! It's sad. We had all this dur­ing the rare groove thing too, though it was small­er then – a cou­ple of thou­sand peo­ple at a ware­house. The peo­ple want it, and if we were left alone, there wouldn't be any trouble."
Cer­tain­ly, much of the tabloid cov­er­age echoes with the sound of hacks hik­ing up their expense claims. Beer at £5 a can? Milk at £2 a car­ton? Fred­die Starr eat­ing ham­sters? Please! Reports of mas­sive prof­its also owe much to cre­ative jour­nal­ism: the cost of mas­sive sound sys­tems (30k, 25k boast the fly­ers for oppos­ing events), secu­ri­ty, mar­quees for open-air events, stag­ing, lights, DJs, venue and pub­lic­i­ty nev­er seems to be tak­en into account. ​"It costs £35,000 to put on a big event now," says one pro­mot­er, laugh­ing off sto­ries of £500,000 prof­its. ​"Take off two noughts and you're get­ting close."
Strange too that the media has only just dis­cov­ered some­thing every­one else has known for decades: that peo­ple take drugs in clubs. A raid on the VIP rooms of most legit­i­mate Lon­don clubs would still pro­duce more pros­e­cu­tions per head than a raid on an ille­gal rave, but it must also be said that, for many pun­ters, such events have become less and less about music and more about chem­i­cals. What is odd is that, after almost a year of tire­less­ly pro­mot­ing Ecsta­sy with front-page sto­ries accom­pa­nied by pic­tures of club­bers hav­ing a deliri­ous­ly good time, the tabloids should be surprised.
---