How Black hair salons keep community alive

Since London's first Black hair salon opened in 1955, stylists have played a central role in creating safe spaces where punters can gossip, relax and get a new 'do. We visit three salons that are keeping that spirit alive, moving with the times to compete with Insta stylists while forging lifelong relationships.
The greasy mist of oil sheen drifting around your face, as the hairdresser insists on extra shine; the sting of hot ears pinned to your head under the hooded dryer, which you withstand to ensure your hair is as flat as possible. These are all vivid moments imprinted in Black women's memories worldwide. Trusting someone with textured hair is complicated. So when you find your person, it often creates a bond that lasts for life.

Nana Bonsu knows this more than most. She opened Salon De Cleo's 25 years ago and, since then, it's become a cornerstone of the Black community in Tottenham, London. The tiny hair salon houses three stylists, but Bonsu is the only all-rounder. ​"I've been a hairdresser for as long as I've known myself," she says, wiping shampoo suds off her hands. ​"The people I've met have become my family. I have people who have been my clients since the first day I opened my salon."

Afro-Caribbean hair salons have long represented a form of intimacy for Black women. In 1955, Caribbean immigrant Carmen Maingot founded the first Afro-Caribbean salon in the UK in North Kensington, offering hair-straightening services for those with textured hair. A year later, renowned Trinidad pianist Winifred Atwell set up her immensely popular namesake salon in Brixton. These women understood the importance of assimilating into a new environment. But their salons created safe spaces for women like them, building a community that alleviated the disorientating struggle of being an immigrant in a new country.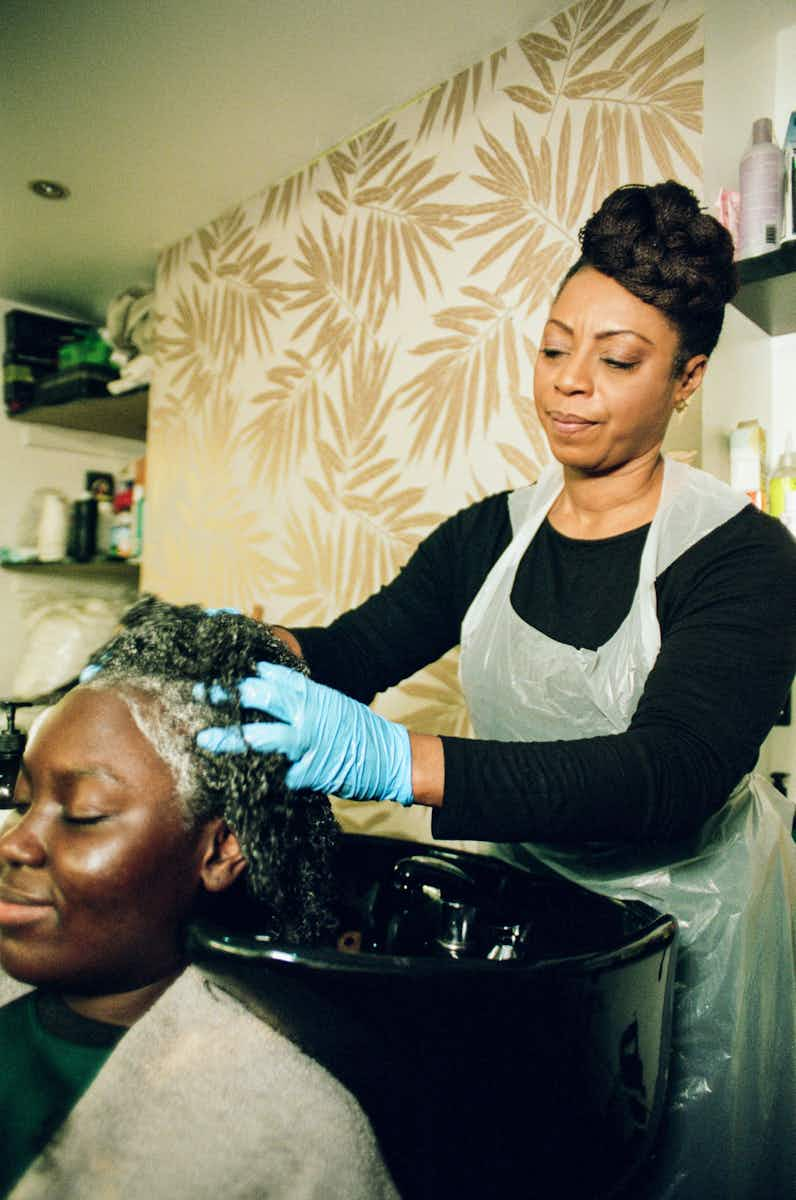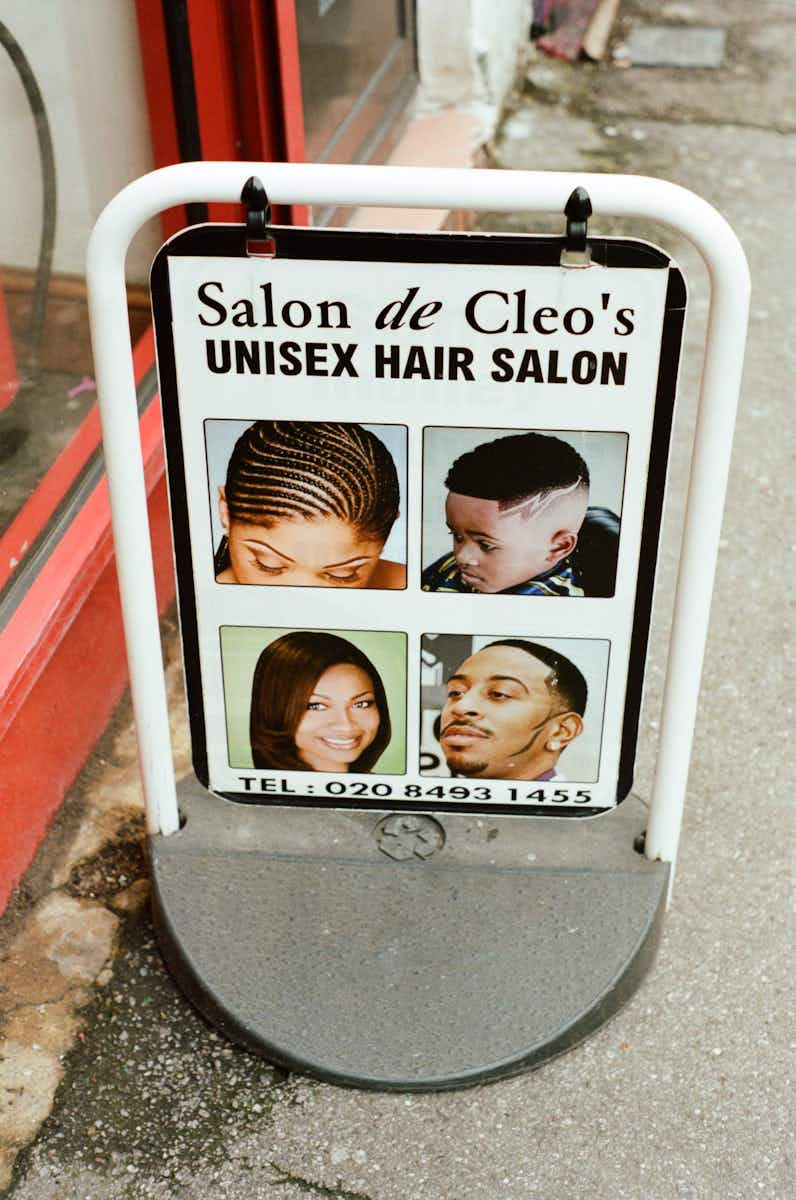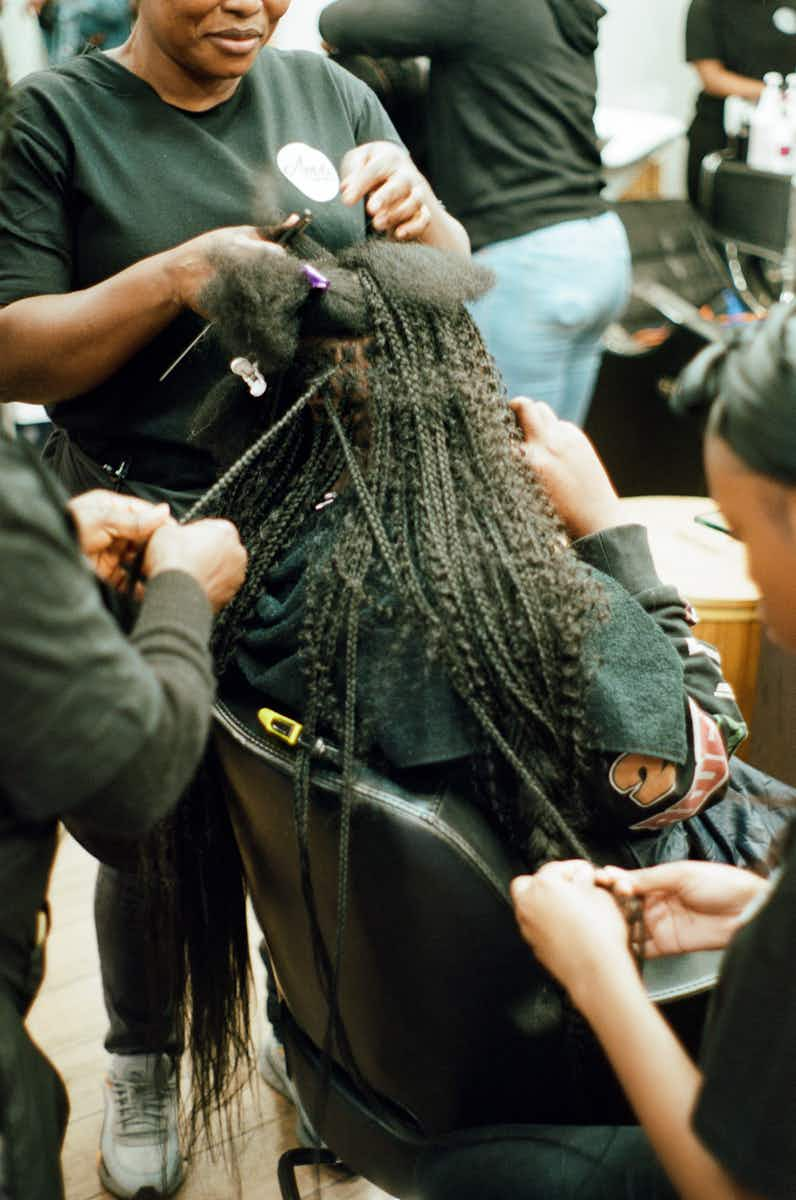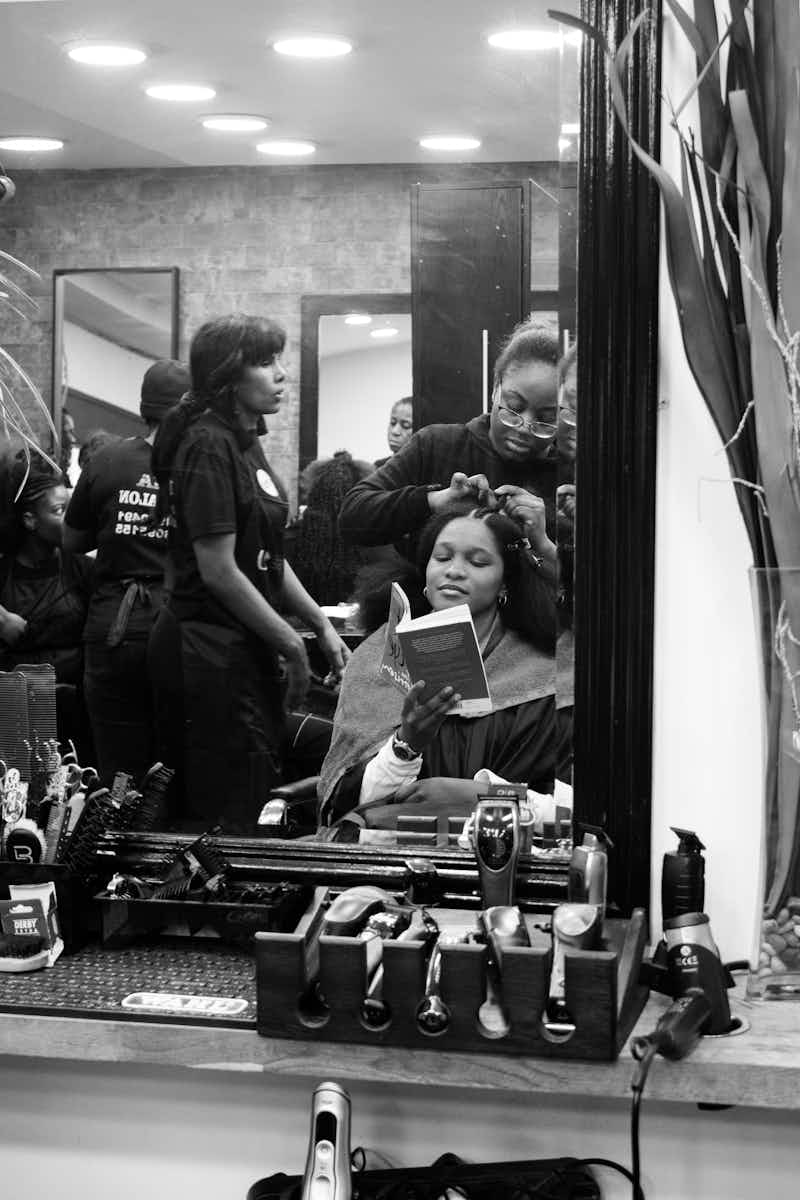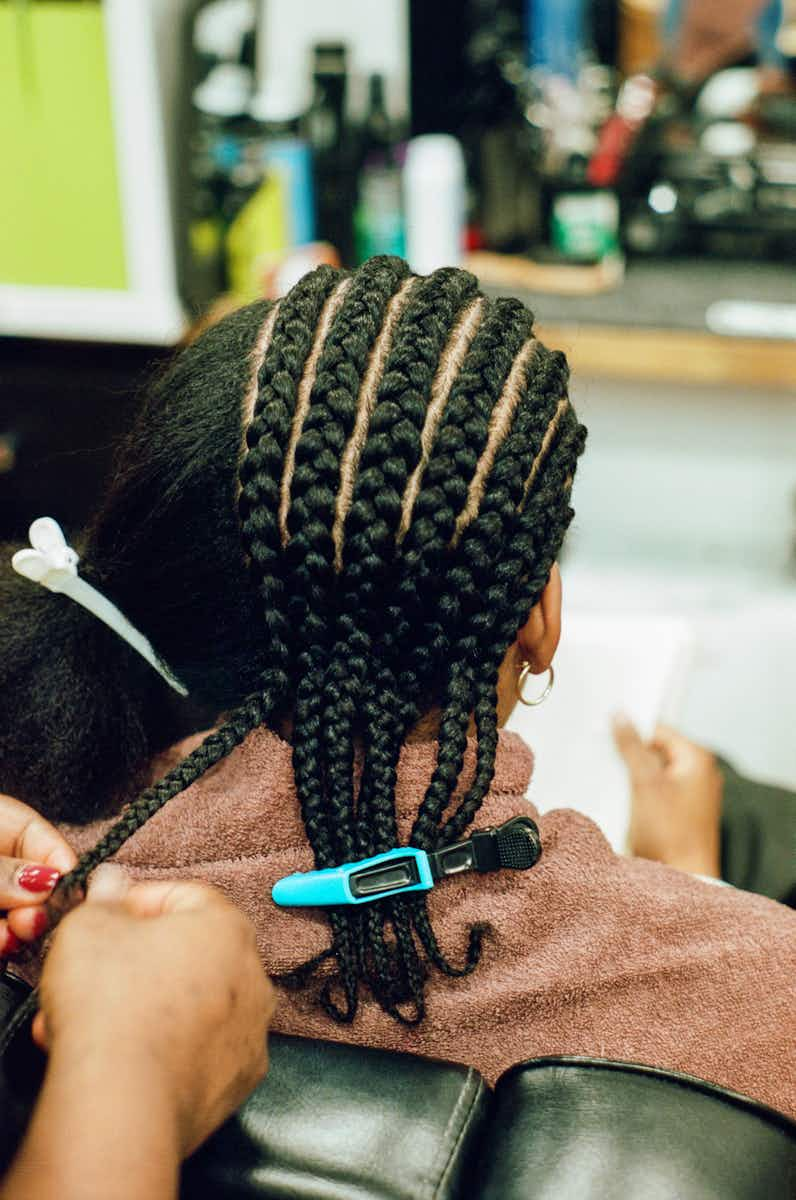 And for many Black women, entering the beauty industry was one of the only routes to economic freedom. Down the road from Salon De Cleo's is Ama's Hair Salon, helmed by Ama Safo, who immigrated from Ghana 22 years ago. ​"I came to the UK and couldn't find a job because of racism, so I decided to get my hairdressing certificate" she says. When she first opened Ama's Hair Salon in 2001, demand was so high that she soon had to relocate to a bigger venue in Tottenham.

But despite their close proximity, Ama's Hair Salon and Salon De Cleo's are not competitors – in fact, Safo was the person who encouraged Bonsu to become a trained hairdresser in the first place. ​"I always make friends wherever I have a salon because I talk to everybody," says Safo, beaming as she plays with her long grey locs. At the other side of the salon, a customer tucks into a plate of jollof rice and chicken, while three stylists stand around her working on hip-length braids.
The service in salons like Safo's speaks for itself, but these businesses have faced tough competition from the rise of ​"Instagram hairstylists" over the past few years. Many young stylists entering the game have eschewed the traditional salon business structure, instead advertising their perfectly laid lace wigs and braids on social media. It's the same entrepreneurial spirit as their predecessors, updated for the digital age.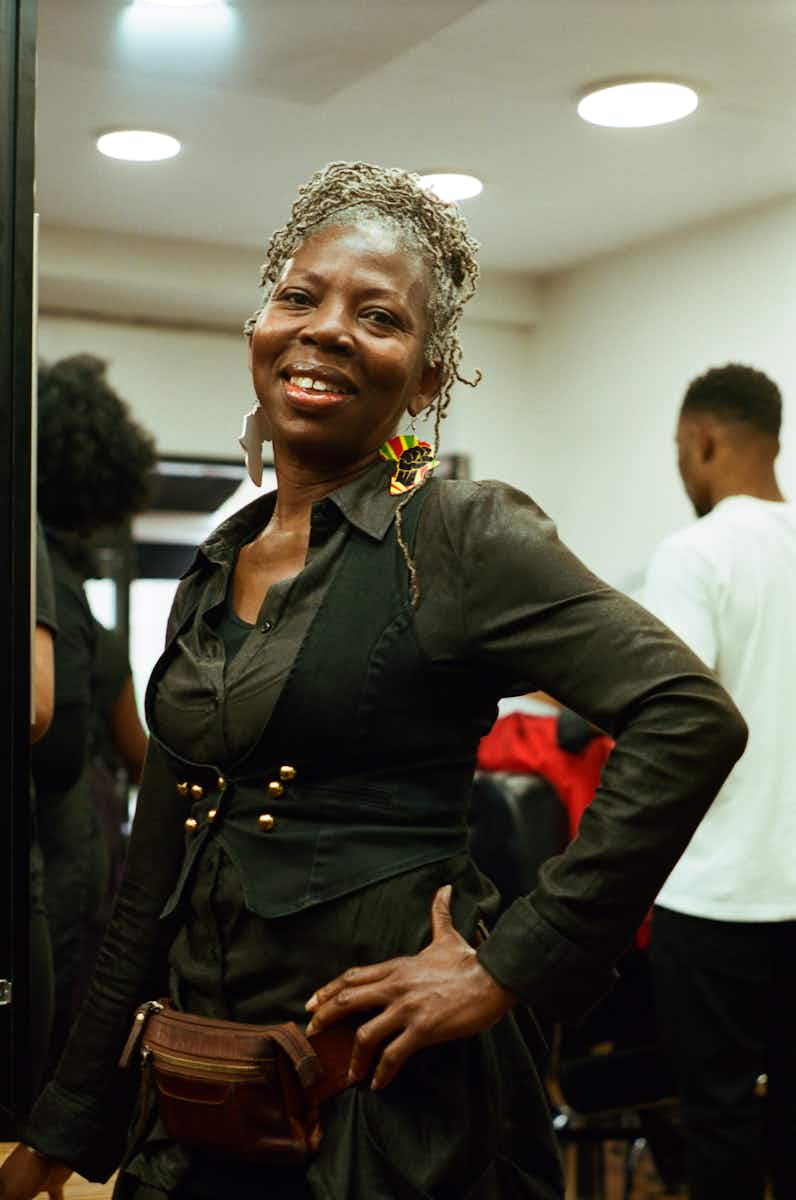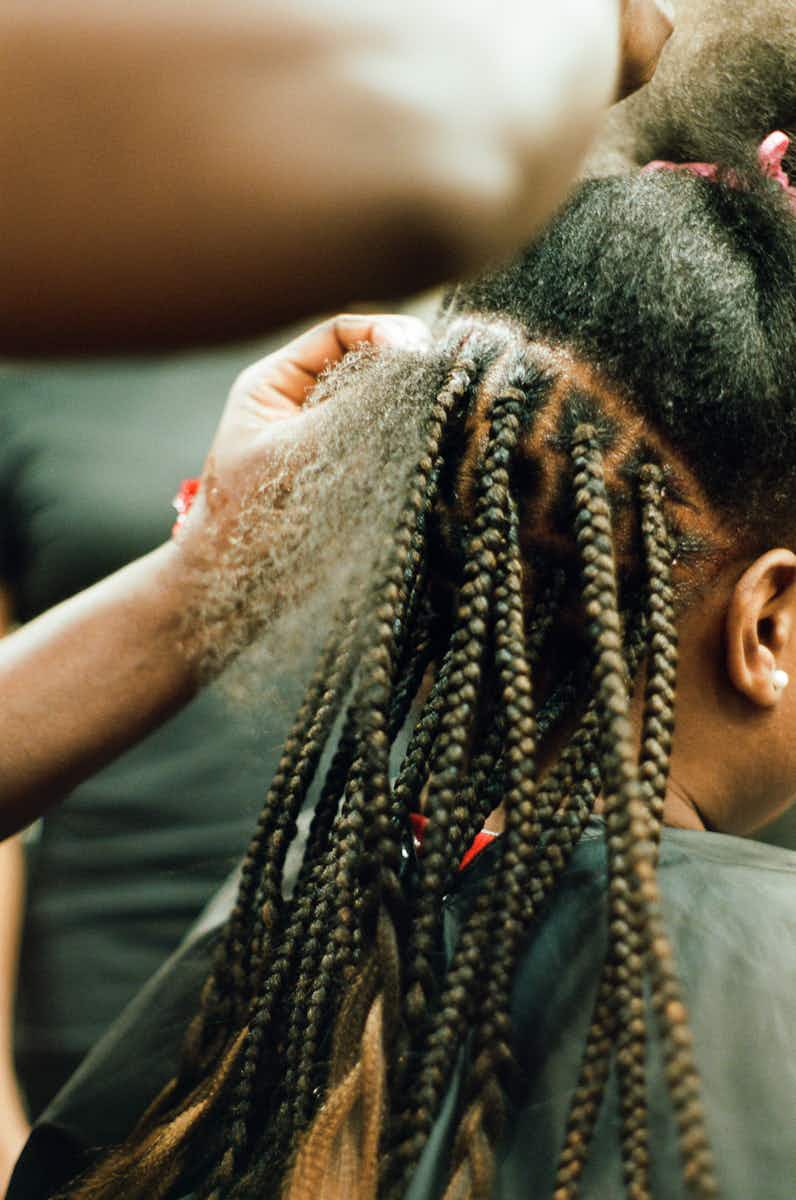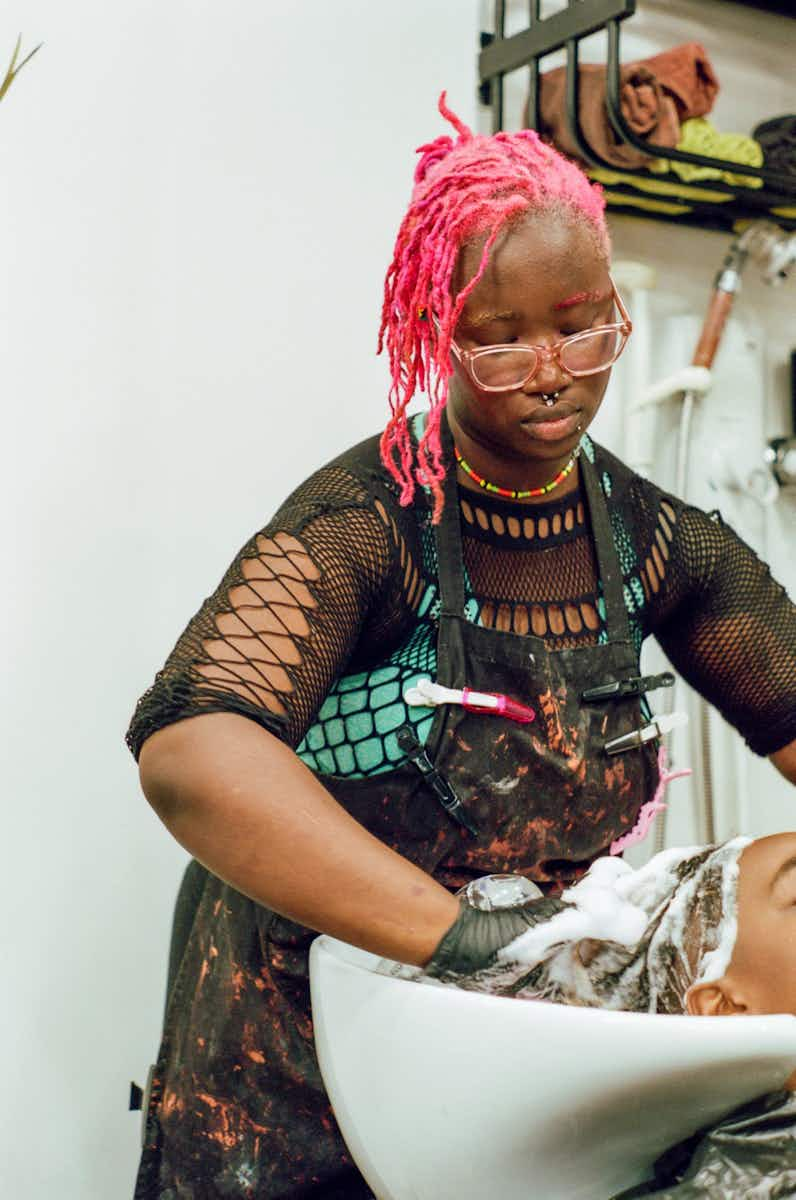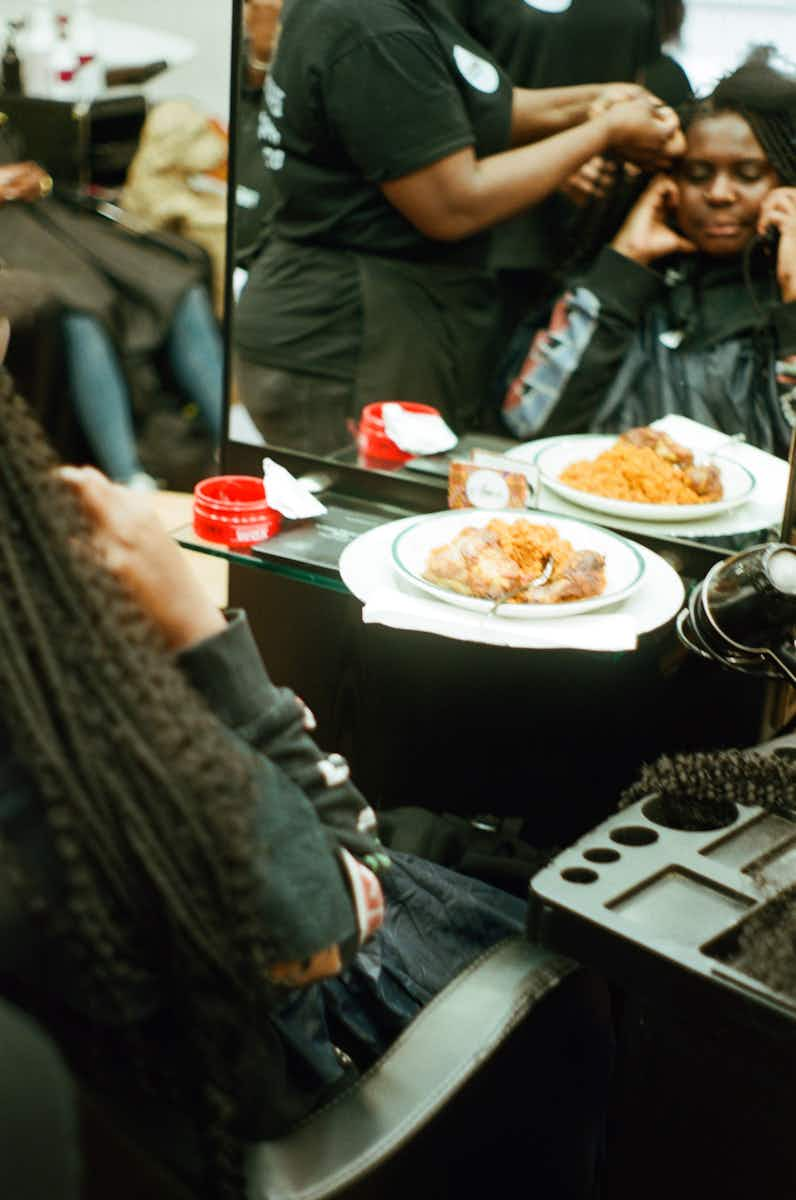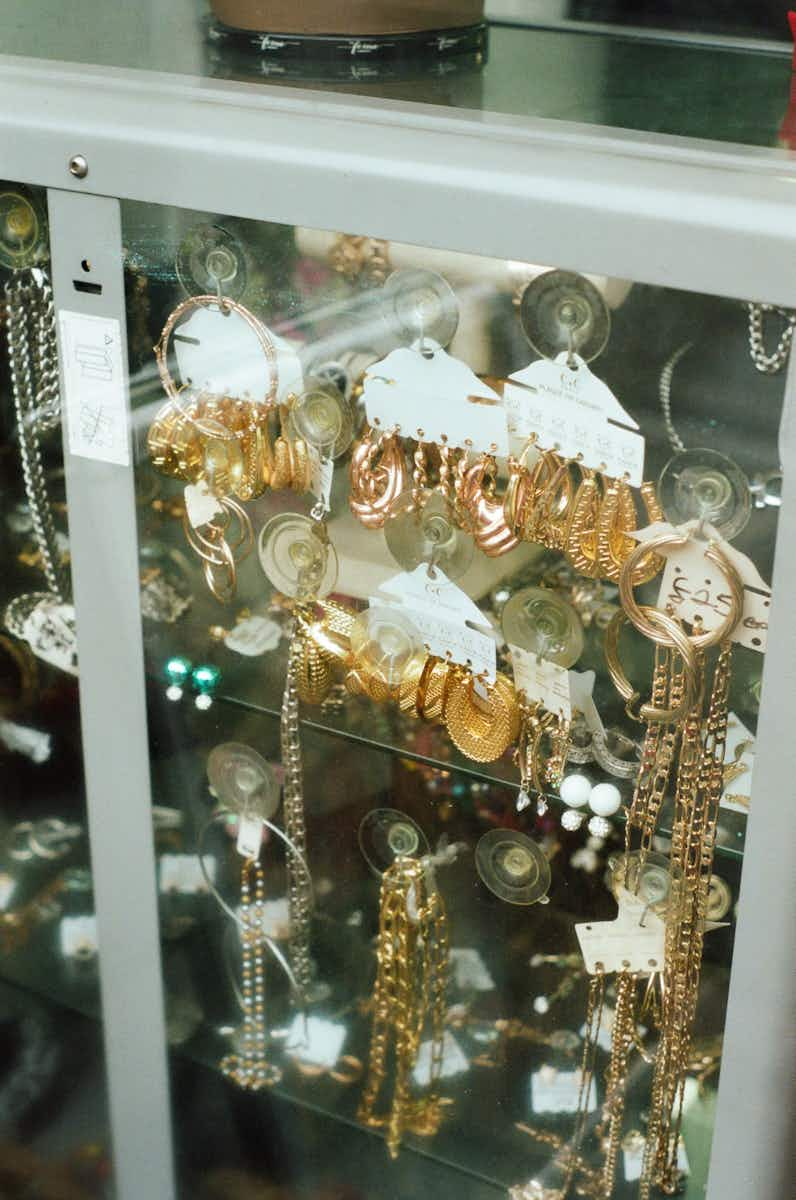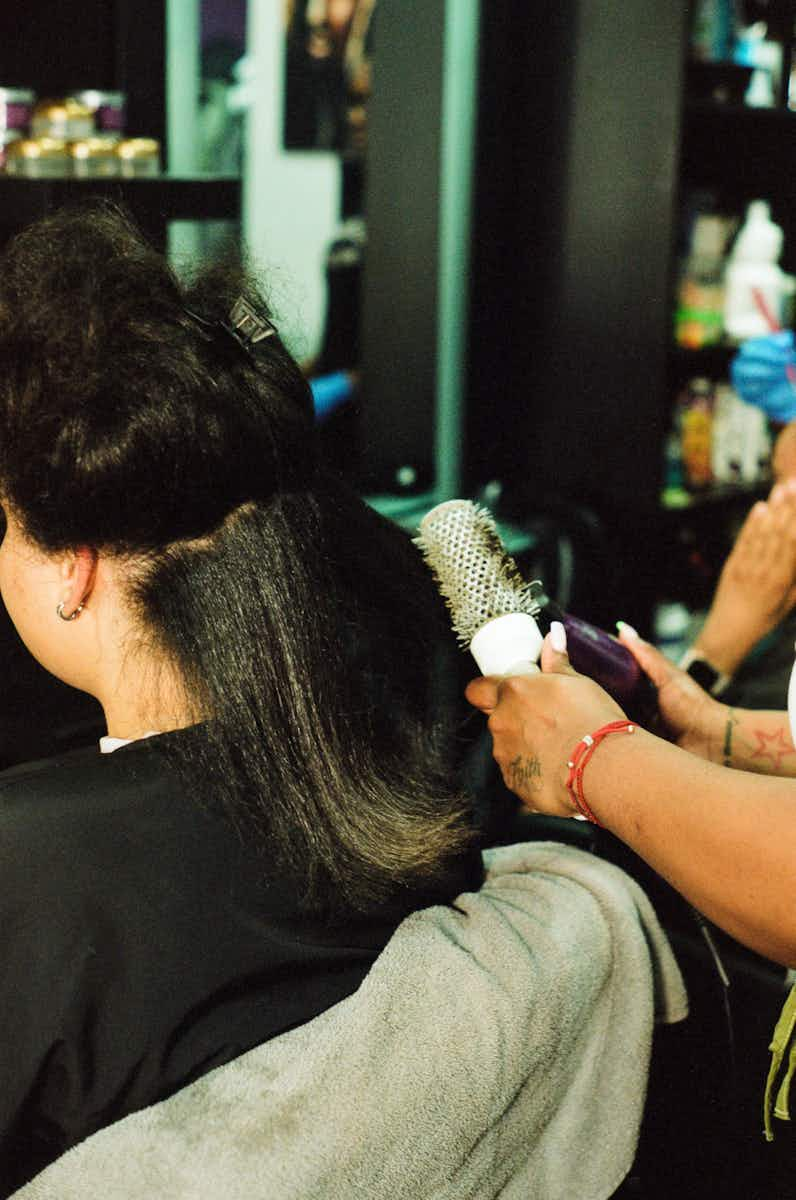 "I love that these girls are taking the initiative," says Charly Spencer, owner of Spencers/​Mabels in Bow. Is she worried about her online competition? ​"I know that the landscape is changing, but I trust my skills. I know I'm good." Spencer specialises in silk press, a technique that's recently gained popularity as women with natural hair seek temporary straightening without the dreaded after-effects of heat damage – as we speak, she's in the middle of a blow dry, carefully stretching kinky curly hair as prep for the silkiest press. The technique is more prevalent in the US, so Spencer's skillset makes her stand out from the crowd, regardless of how many Instagram followers she has. ​"We get new clients visiting from all areas of London," she says, ​"even some from abroad."

Still, there's pressure to move with the times. ​"Business was good until hairstylists online became popular," says Bonsu. Many of her friends' salons have closed down in recent years, ​"because they did not respond more to changing trends." Learning from their mistakes, she taught herself how to make lace frontal and closure wigs on YouTube. ​"I've started following the crowd," she says. ​"You must get a website and make an Instagram account. The industry has changed, but you have to change as well."

Safo has fully embraced Bonsu's advice with the help of her son Silas, who became the salon's general manager six years ago. In that time, he's managed to bag the salon close to 10,000 followers across social media platforms. ​"Ama was known locally for having a great hair salon, but since I joined, we've tried to create an Instagram and a Facebook page to attract new customers," he says. ​"There's a real element of things being bigger than a physical store. We've had so many new opportunities from engaging with our community." The team's biggest triumph: working with Ncuti Gatwa on the sets of Sex Education and the upcoming series of Doctor Who.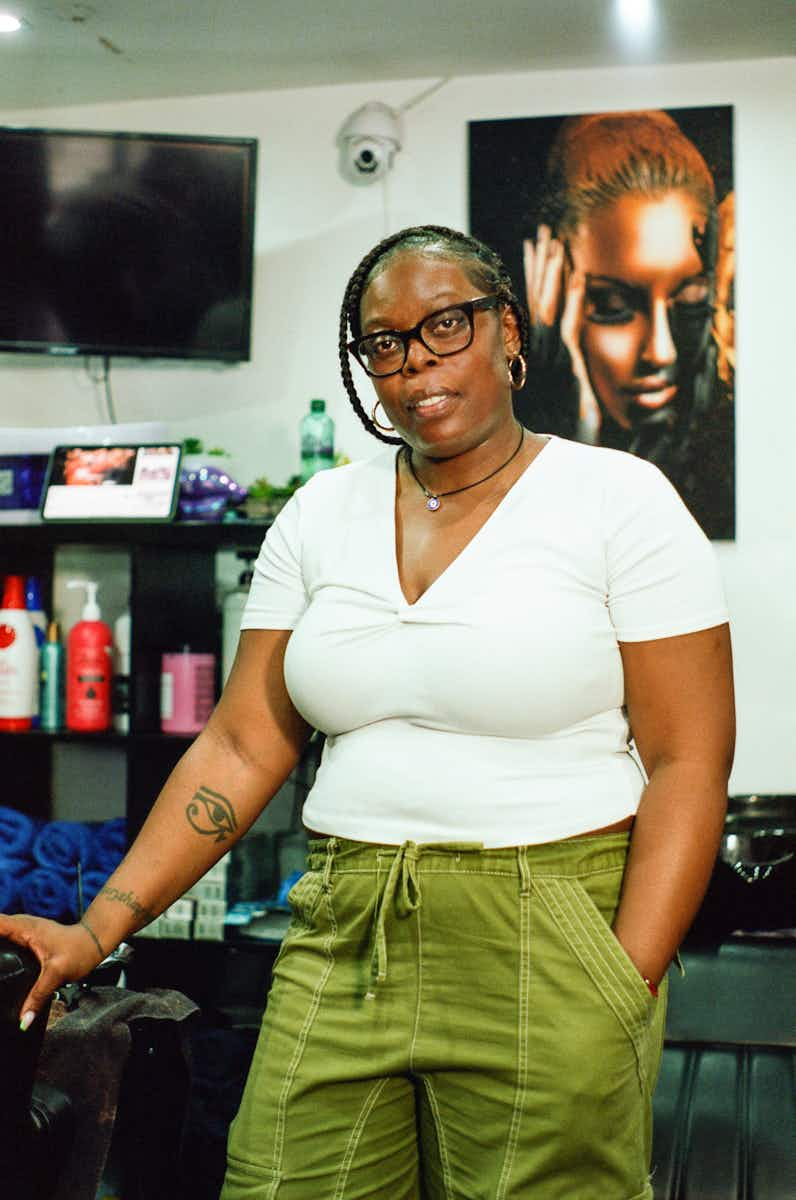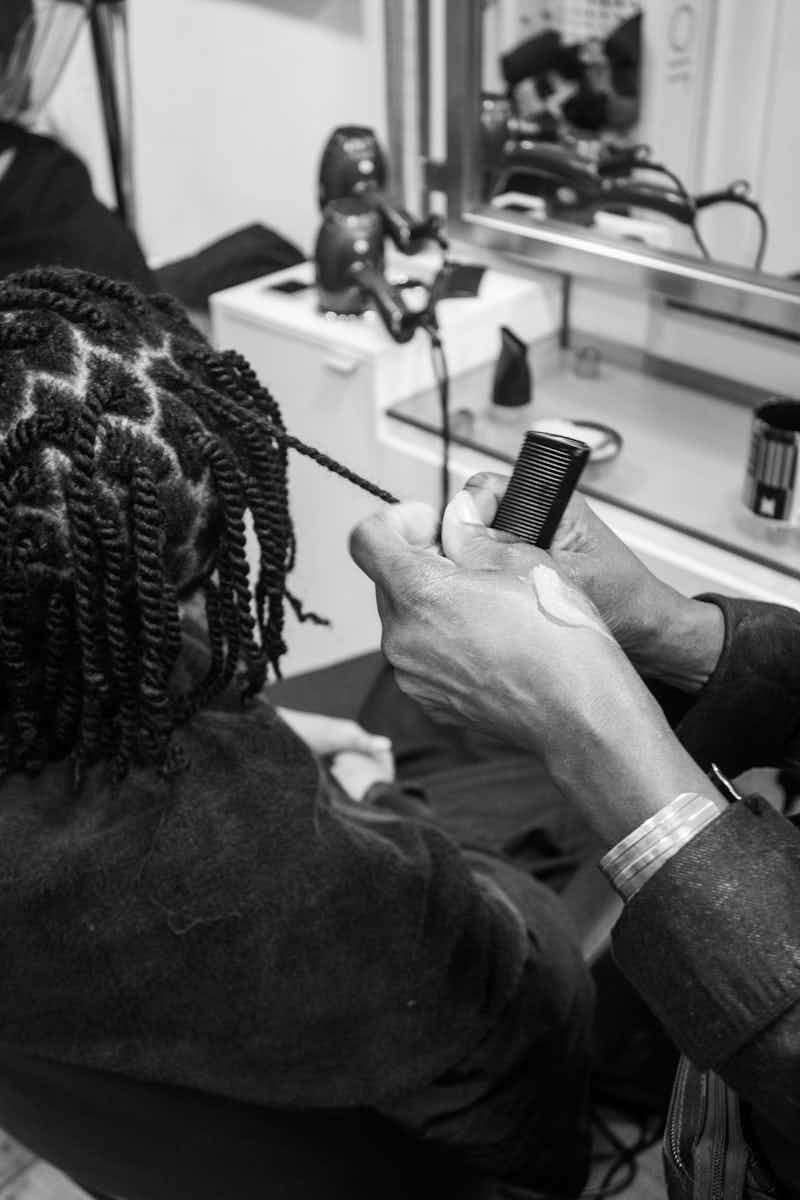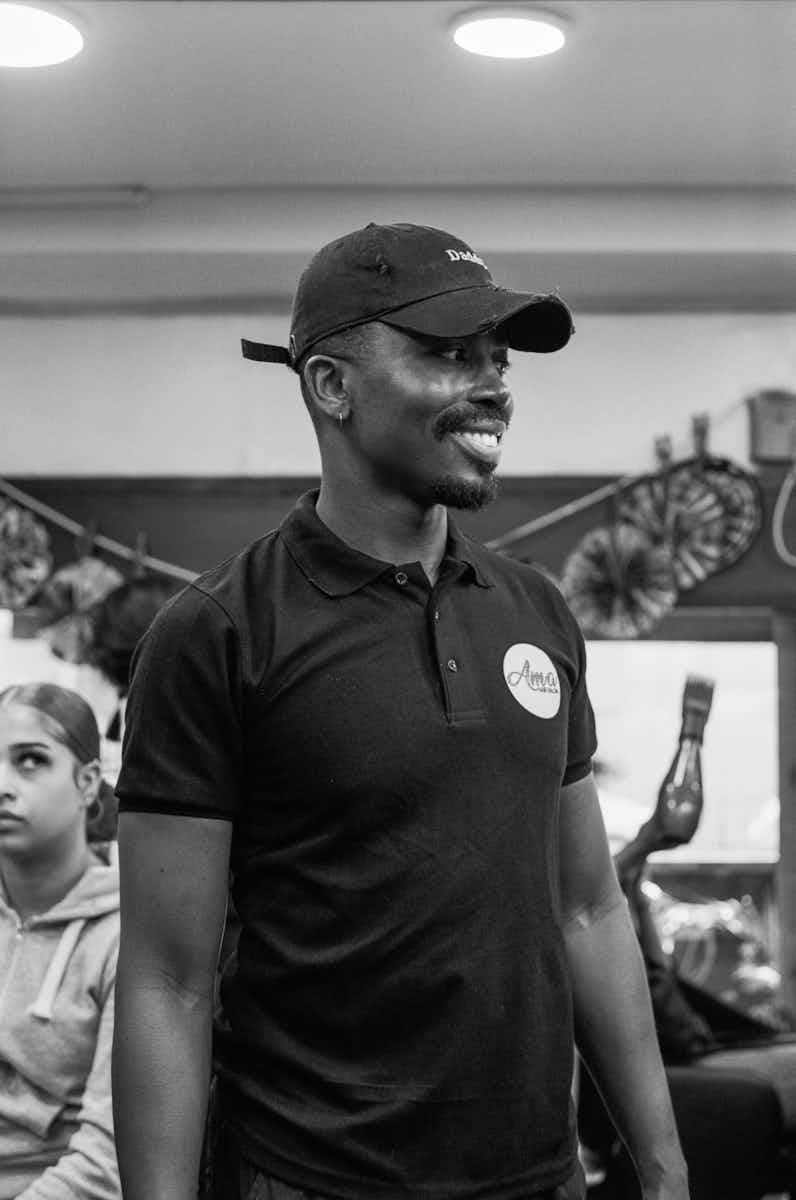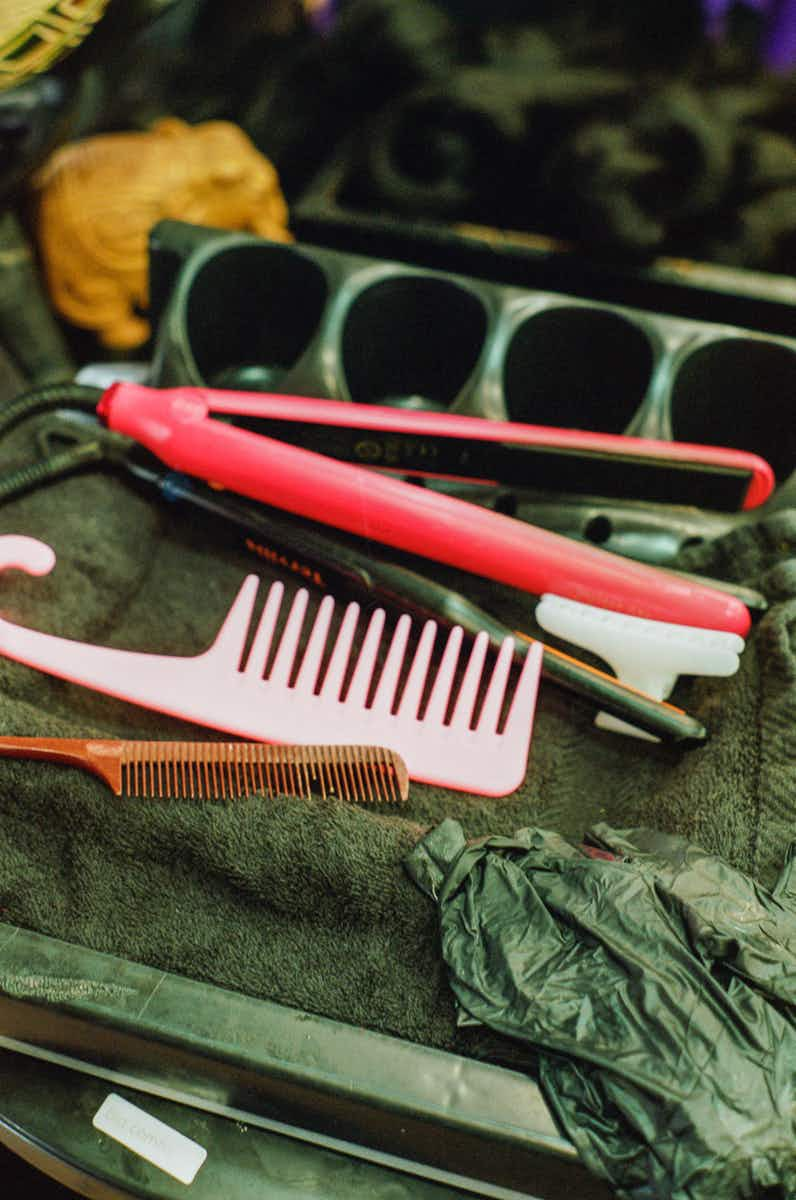 But the salon's community is growing beyond celebrities and TV gigs. Their colourist, Lois Bonsu, emphasises that Ama has made a safe space for her as a queer person of colour, and her mission is to nurture that environment for others. ​"I'm queer and a lot of the work I do is influenced by that part of my identity," she says. ​"I am passionate about creating a safe space for Black queer people because we don't usually have our own spaces. Being here at Ama's allows me to do that."

Because that's what these salons are all about: making space. ​"I had a [hair dressing] Saturday job at 13 years old. I would be in the hair salon every Saturday, rain or shine," says Spencer, who works alongside her mother at Spencers/​Mabels. ​"Mum was the one who convinced me to start doing hair." Her journey mirrors the accounts of Bonsu and Safo, wherein maternal figures spotted their talent at a young age and encouraged them to learn. It's this communal spirit that keeps these salons running: teenagers working their first jobs, mothers bringing their children to appointments, young women getting fresh box braids ready for Saturday night.

And these are the women who shaped the careers of the younger, internet-savvy stylists who flaunt their skills online. They were our teachers, who taught us that good braids don't need a tonne of hair gel and showed us how to scrub our scalps properly during a shampoo. They touch the lives of every client that enters their salon, whether they've been there since day one or are visiting for the first time.

"I see new people every day, new faces, every day and that feels so rewarding," says Nana. ​"Through all the years of hairdressing, I've made some really good friends. They've become like family to me."

Visit Salon De Cleo's at 55 Broad Lane, London, N15 4DJ; Ama's Hair Salon at 26 St Ann's Rd, London, N15 6DT; Spencers/​Mabels at 481 Roman Road E3 5LX

More like this