Bobby Brazier: ​

"

Kat Slater has great hair"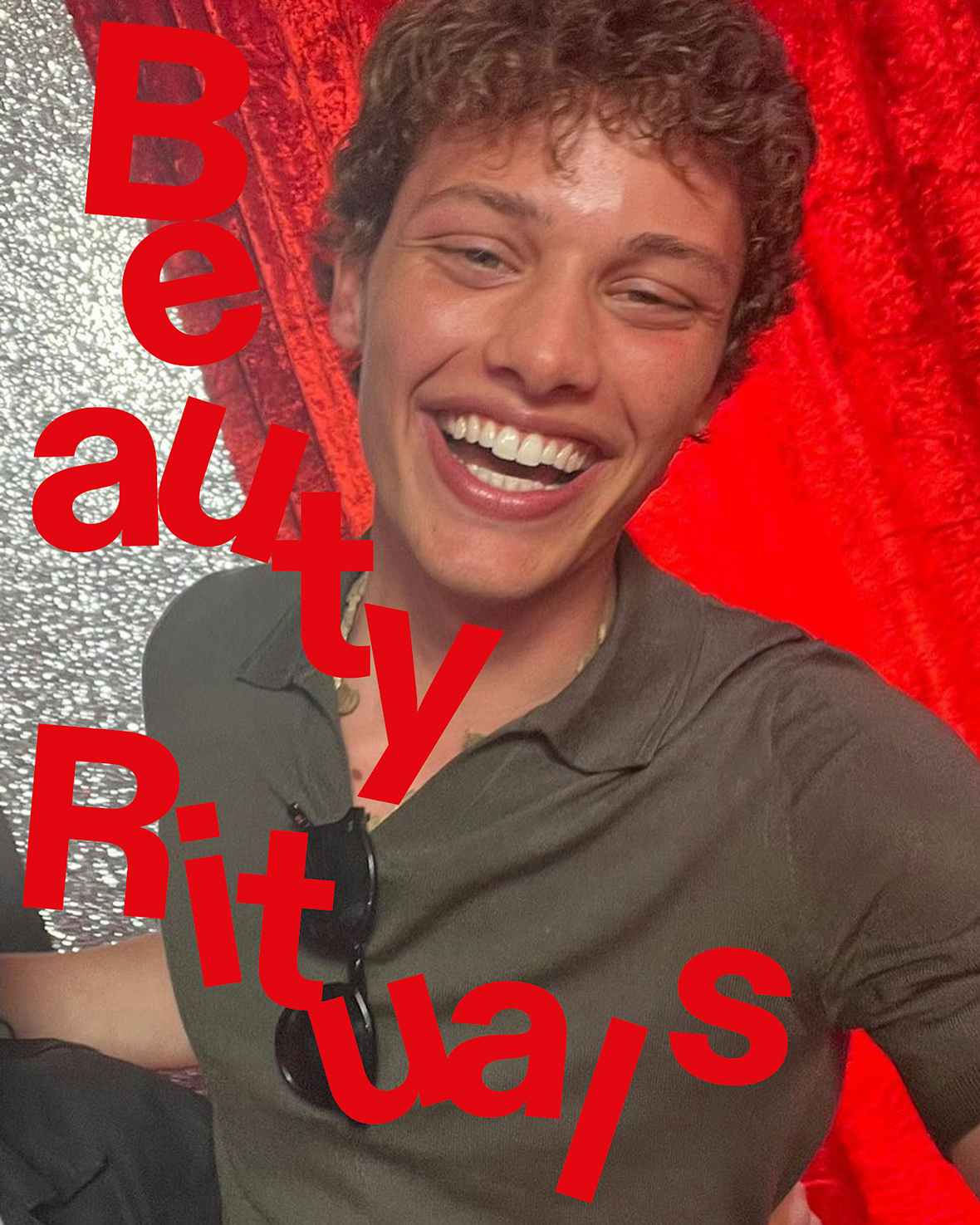 Daily Beauty Rituals: The model-slash-Eastenders-actor wakes up at 4:30am (or tries to), dances while getting ready and dreams of being a monk.
If, at times, you need a break from the streaming services and fancy watching a soap on the box, you'll have probably seen Bobby Brazier's floppy mass of hair and ear-to-ear grin chat up half of Albert Square on Eastenders. Freddie Slater, son of Little Mo and cousin of Kat and Stacey, has been on the small-screen since late 2022, when he appeared as a runaway kid who ended up crashing at Slater HQ for what they thought would be a few nights. He's been embedded in the tight-knit chaos ever since.

Much-loved for his jolly optimism, naughty chat up lines and storyline that involves selling pictures of his feet online (all in the name of helping out with household bills, mind), Brazier's become Gen‑Z's answer to ​'90s heartthrob Jamie Mitchell (cousin of Phil). He's got the wheeler-dealer gift of the fab like Alfie Moon and the sweet, doe-eyed soul of a man who could get away with murder – a good trait to have, living in London's deadliest square.

Before he made it to Eastenders, though, the son of presenter Jeff Brazier and late reality TV legend Jade Goody was getting glammed up for various appearances on the fashion circuit, posing for a Bianca Saunders and strutting the runway for Tommy Hilfiger, Dolce & Gabbana and GCDS. And off-screen, you can catch Brazier posting words of wisdom, toothy smiles and snippets from his jam-packed adventures on social media. Sounds fun, eh?

Last year, THE FACE sat down with the 20-year-old Essex boy for an interview in which, amongst talks of fame, wealth and the UK's class system, Brazier filled us in on a mind-boggling routine that starts with a 5am alarm, followed by breathing exercises, 100 press ups and an ice-cold shower. Naturally, we had to follow up to see if he's managed to keep up with all those press ups. Turns out, that wake up call has only gotten earlier – kind of.

My alarm goes off at…

It's different every morning. But I've recently had the intention of setting it at 4:30am every morning. Today I woke up and stopped it, fell back asleep and ended up oversleeping. So maybe I need to do 4:30am with another alarm at 7am, just in case. It also depends on my call time at work.

The first thing I do once I'm out of bed is…
Say an affirmation out loud to start my day positively.

My favourite brand of toothpaste is…
The pink one with no fluoride in it.

My getting ready routine looks like…
It depends on how much time I've given myself before I need to rush out the door. I'll have a shower, brush my teeth and get changed. I'll splash my face and do a little face wash, moisturiser, brush or maybe style my hair. Check myself out a little bit, then leave and get on the train.

As for my hair…

It depends on the style I go for and what I'm wearing. My hair's versatile, you see – I don't like to stick to a particular style. Slick back, comb over, side parting, big curls, little curls. It really depends. But either way, it doesn't take very long. My hair dries quite well, I'm lucky. So there's maybe eight to ten minutes of sorting it out.

At school, my hair looked like…

I had a lot of different hair styles in school. I had a big, poofy mushroom for a while.

The Eastenders cast member with the best hair is…
I think my Nanny G, Gillian [Wright]. She just looks so cool, you know? I'd like to have hair like my Nanny G. On a good day my hair is pretty sick. Oh, you know who has great hair? Kat Slater [Jessie Wallace] – brilliant hair. She's just had it cut, she looks like a rock star.

Never have I ever had a piercing…
No! Although I'd really like one. I've been saying recently that I'd really like a single gold hoop in my ear. I don't know whether it would be left or right either – just a little gold hoop. I think that would look really good when my hair is down and curly.

And my secret tattoos are…
None of them are secrets. I have five.

The first aftershave I owned was…
I don't know the first one I owned, but I've been through a few of my dad's. I remember there was Victor & Rolf's Spice Bomb, and there was another with a star on the front and that was really nice, too. The first one I bought myself was Tom Ford's Ombre Leather – I think.

These days, I use…
To be fair, I don't use one every day. But when I do, my Auntie Leslie, she works in Stansted, so she gets all the duty free. She bought me back a Jean Paul Gaultier – it's great!

My workout routine looks like…
At the minute, it doesn't look like much. It looks more like a spa and relaxing. However, I have been doing a lot of yoga recently. I'm loving that at the minute.

I get my five-a-day by…
I eat quite healthily, but I don't have a set nutritional target. Providing I'm eating well and staying active, then I'm happy. I definitely get my three-a-day.

How long does it take me to get ready for a night out?

That's an embarrassing question. Getting ready takes so long because I procrastinate. Well, not procrastinate – I dance and do stuff like that. So maybe an hour, maybe longer. It depends on the day, doesn't it?

In the evening, I relax by…
Meditating, reading affirmations and reading in general. I have a bath and listen to music. I like to be still and quiet.

I'm tucked up in bed by…
Ideally, I'd love to be in bed by 9:30pm. It's always different though, depending on what my evenings look like and what time I've wrapped at work. But I'd love to be in bed at 9:30pm and up at 4:30am like a superhuman. I've done it before and it was brilliant. I had so much energy all the time.

I sleep like…
A log. I've been dreaming of being a monk, waking up at 4:30am and chanting all day and moving into my heart space. I've been dreaming of love.


More like this