From boy to man: Bobby Brazier on health, wealth and his famous mum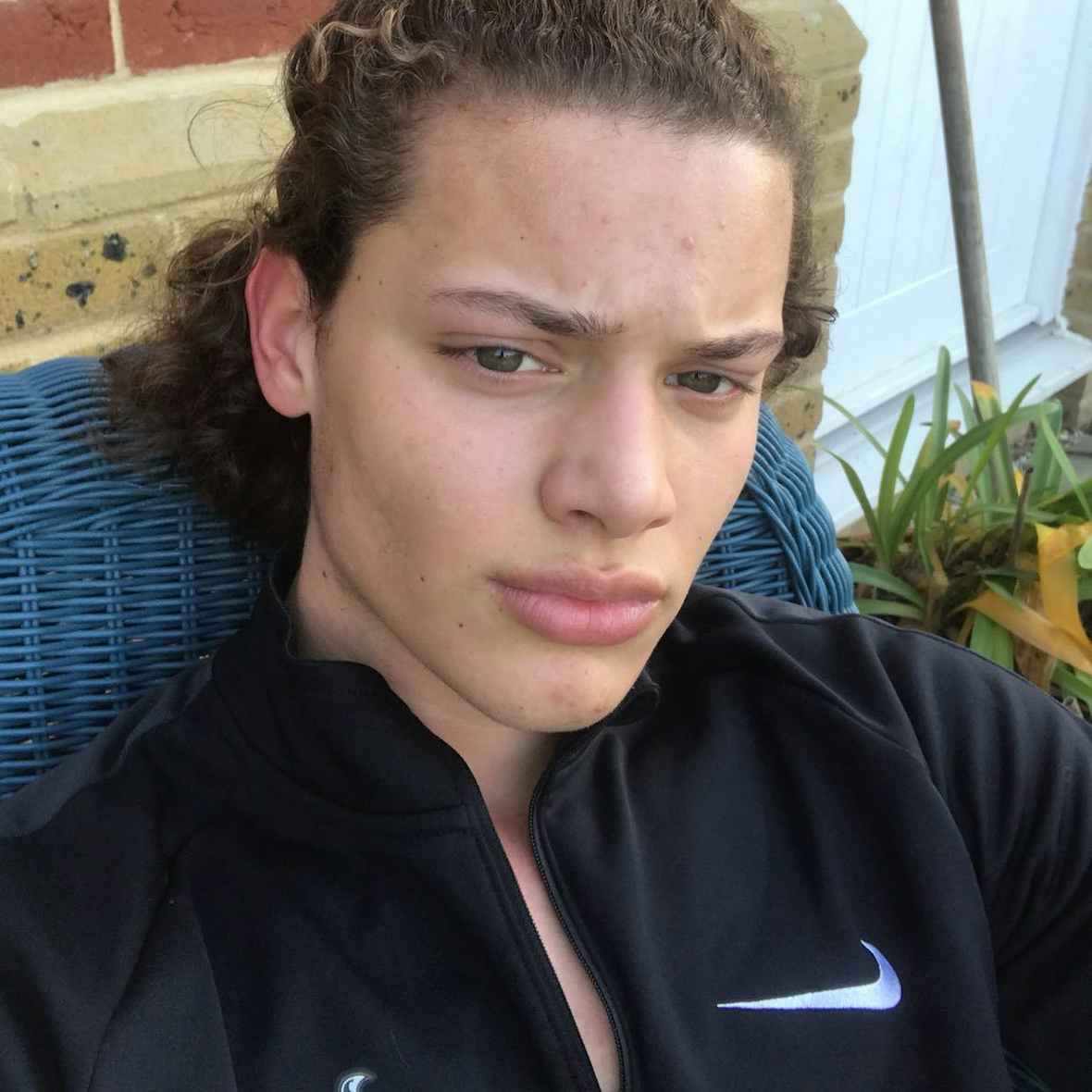 He was the doe-eyed child of Britain's biggest reality TV star, then grief – and his own consciousness – changed him. At just 18-years old, what's next for Bobby Brazier?

It was the summer of 2003, and two reality television stars were in a private hospital in central London, expecting the birth of their first child. Barely a year before, the mother, Jade Goody, was a dental nurse in nearby Upshire, Essex; a winning stint on Big Brother had changed things. Jeff Brazier, the father, was perhaps a little more used to this life now. Two years earlier, he had pivoted from a career in amateur football to appear on Shipwrecked, another Channel 4 reality series, and was making his segue into presenting. They were, at this moment, darlings of British tabloid media.
After nine hours of natural labour, a baby boy was delivered (albeit four weeks premature) weighing 5lbs 7oz. They called him Bobby Brazier. ​"I'm absolutely delighted," Jade told the press in a statement after his birth. ​"Bobby's a beautiful boy and we're both doing well."
Bobby Brazier, now 18, could trace back much of his family life by dredging the pages of The Sun and the Daily Mail if he wanted to – everything from family holidays and trips to supermarkets was documented almost daily. Many who steer clear of tabloid and social media may have not seen him since he was a doe-eyed kid, pictured hand-in-hand with his late mother at movie premieres or on the street, captured by paparazzi. But he is a man about town, albeit one reckoning with the idea of celebrity, and whether or not such a status matters to him.
Sandwiched somewhere between North London and Stansted Airport is the quiet town where Bobby Brazier lives. He's agreed to meet me at the Brazier family home where he lives with his younger brother Freddie, his dad Jeff and his stepmother Kate Dwyer. Heavy rain has fallen on an otherwise sunny Tuesday morning, but as you roll out of the city and into the countryside, it settles into a low, stunning mist over the fields. Bobby and the Braziers live a 10 minute drive from the nearest station through a winding road festooned by trees. I arrive at the end of a gravel path, 30 minutes earlier than planned, texting Bobby's manager – who refers to him as Bobs – to tell him I'll wait. But as I do, a boy's head juts out the upstairs window of a house a hundred feet away.
"Oi!" the boy shouts. ​"Are you here to do an interview?"
Bobby answers the door in a black second skin gym top, sliders and shorts, his mousey hair is slicked back with water. I assume he's gotten up early for this, but he corrects me: nope, the mornings are ​"when I'm super Bobby!" he grins. ​"At five in the morning my alarm goes off, I reach to the side of my bed and get my book with the secret daily teachings. I'll open it on a random page to take whatever I learn into my morning," He'll make his bed, tidy his room, and ​"then I do breathing exercises to oxygenate my whole body. Then I meditate for 10 or 20 minutes." It's followed by time spent in the back garden to ​"ground my feet in the grass" (from here said grass looks like flawless astroturf) before he does 100 press-ups and takes a cold shower. It seems like a mammoth morning undertaking most of us couldn't be arsed with, I say. ​"Well, I ain't done it for a while so I'm a bit rusty," he says, laughing. It was his 18th birthday a couple of weeks back – a messy one – and it's thrown him off course.

You can see why this town, a slight stretch out of London with quainter surroundings, suits Bobby. While most 18-year-old boys seem hyper-focused on getting on the lash and forgoing responsibilities, Bobby approaches self-healing with all the dedication of a door-to-door salesman. Speaking to him, sprightly and un-jaded, makes you want to buy crystals, quit caffeine and start doing yoga.
At this point, he finds himself at a crossroads of opportunity. The chance to work in television, following in the footsteps of his parents, would be an easy route to take: there's surely a producer at ITVBe with their eye on him. But for now, it seems like a several-year stint as a fashion model is working out well. His boyish, cherubic looks made him catnip for Italian luxury brands (he's walked for Dolce & Gabbana, donned Moschino for suave editorials and featured in Bianca Saunders campaigns). But he is, at heart and in spirit, just a softer slant on the archetypal Essex boy.
It's an interesting coalescence, partly because the British reality television to runway pipeline is so underdeveloped when compared to its American counterpart. It might lead to conversations surrounding nepotism, and Bobby's well aware of that. A leg-up in life? Sure. But a leg up into the fashion world? Well, not so much. ​"Who does Dolce & Gabbana care about?" he laughs when I press him on it. ​"Not Jeff Brazier and Jade Goody, that's for sure!"
Fashion also makes sense to him, for now. School wasn't the easiest experience, he says. He found himself in a strange in-between space wherever he went. He attended private school up until year seven, and found himself – with his thick Essex accent, raised by two state school-educated parents, feeling slightly out of place. At private school, ​"everyone comes from the same generationally rich families, [but] my parents didn't," he says. ​"I've got insight from both ends of the spectrum, so I felt like I was a bit of a black sheep."
When the family moved to Brighton in year eight, he went to state school, and found himself being ​"ripped to shit, every day" by the lads in his class. ​"It was like they envied me and they wanted to pick on every single thing I did," he says. ​"As soon as I joined, the whole school knew who I was." He didn't clock it as jealousy until he left a year later. At the time, he would just ask himself, ​"why don't I fit in?"
His dad moved the family back to the area they live in now and sent Bobby back to the private school. But by that point, he'd realised that an academic life would have led him towards something average ("and I can't settle for average"). He misbehaved, getting suspended three times within a fortnight. A pep talk with his dad in a coffee shop before meeting his headmaster would serendipitously lead to him being scouted by a modelling agency. ​"On the way out of Costa, [the casting agent] ran up behind me and gave me his card. Then I went into this meeting with my headmaster with a big smile on my face!" It was, in some ways, his get out of jail free card. He finished his GCSEs and started going to castings soon after.

Bobby's family history feels important when it comes to his teenage misbehaviours, particularly through the framing of grief. In the summer of 2008, when Bobby was five years old, his mother Jade Goody was diagnosed with cervical cancer – a near unbelievable moment for the British public who, just 18 months prior, had watched her position as one of the country's most beloved and relatable figures crumble in a racism scandal following a stint on Celebrity Big Brother.
The comments made against Bollywood actress Shilpa Shetty by Jade, former S Club 7 star Jo O'Meara and socialite Danielle Lloyd shocked viewers. Jade only learned of the backlash, which had travelled globally, after she left the house. She apologised and – in an effort to make amends – appeared on the Indian version of the show, Bigg Boss. There, in a moment broadcast on television, she learned of her diagnosis. She returned to the UK to start her treatment immediately, documenting her battle, as well as her wedding to then-boyfriend Jack Tweed, in an effort to make enough money to support her kids once her diagnosis turned terminal. She died on 22nd March 2009.
There are few memories he has of a woman much of the country had been able to spend more time with than he had. His earliest, one of his only memories of Jade, was when they were on holiday together in Tobago. He remembers photographers documenting it. ​"I was on a balcony, I think with my brother," he recalls. ​"There was a big fire and my mum was filling up water to try and put it out." You know, he says, ​"it was so long ago that it's practically a memory of a memory of a memory. I haven't thought about that in years."
Most of what Bobby knows about Jade has been told to him by other people: what she was like, her career, what she did for her children. He's aware of her impact on other people. ​"I'm always being told that she's a hero and that she was funny and that people see me in her on a daily basis, which is nice," he says. ​"I'm lucky that [her life was] kind of public, because it means that I can watch videos when I'm feeling strong enough to watch videos. But sometimes I can't. I will cry if I do." Women in his life – like his stepmother – have stepped in to support him, Jeff and his brother, too. ​"So in a way, I don't feel like I've missed out on a mum. It's normal life to me. I've kind of spent more life without her than I did with her."
I ask her if he misses her. ​"I don't," he replies. ​"Because I don't feel like I was with her long enough to miss her."
For a moment, the mood of the conversation turns solemn. ​"I feel like it's unfair," he says. ​"I miss what could've been. I hear all the time she was such a presence, that she was one of a kind. What hurts most is that it wasn't just losing anyone, it was losing Jade." He pauses for a second; shrugs. ​"I just would've loved to have seen what other people had seen."
It's interesting, I say, that she made history as British reality television's first millionaire, and yet never seemed to become – Bobby cuts off my sentence: ​"A millionaire? Yeah, nah, exactly, exactly. I don't think the parents of the people I went to school with would know what to do around my mum." He lets out a large laugh: ​"I don't think many people would, to be fair…"

After we chat about the pandemic and what he did once the clubs reopened a while back – and his days of borrowing friend's IDs were over – we start talking about the Tory government and what that has meant for young people like him. He seems caught halfway between mildly privileged ignorance and a genuine want for change. " I don't really get too involved in it," he says. ​"I just know that… They have power because we give them power."
This internal process of enlightenment seems to shield him from the consequences of what that government has planned for his generation. It returns to consciousness: ​"Once we realise our own power and that we can do whatever we want and just tune in to ourselves and be whoever we want to be, doing whatever we want to do, they become powerless."
I point out there's a whole cohort of working-class people in this country, like his parents once were, who can't afford apathy. He figures out what he wants to say. ​"I want a bigger variety of people in government," he says assertedly, ​"people that have grown up in council houses, for example, because they're the people that have a better understanding of life. We need people from all different types of backgrounds working together, coming together rather than just one type of person making decisions for all different types of people because how does that work?" He gets it. ​"That doesn't work, it can't work."
Months pass. Bobby and I cross paths on social media on occasion. He appears on Instagram Live every so often, late on Sunday nights or sending out messages of motivation in the morning. We chat back and forth via voice notes on Instagram to catch up. What's new? His future plan was uncertain the last time we spoke.
Well, his face has been plastered on posters in boutiques. He's shot with Mariano Vivanco twice. He's taken up swimming. ​"And I think I came close to falling in love, if I'm being honest." He laughs. ​"Didn't happen." Growth is never linear, he says. ​"It definitely plateaued, but now, it's back."
Recently, he's been considering moving into acting at the advice of those around him. A Will Smith documentary series on YouTube, titled The Best Shape of My Life, convinced him: ​"I've got a theory that all really successful people understand the laws of the universe, because he does." But at this point, it's a pristine focus on his ego and consciousness that will help Bobby Brazier look forward. ​"If I live like the person I want to be in the future in this present moment," he says, ​"then the future will be a nice one!"

More like this