Enya Umanzor on her obsession with Blistex and life-changing mascara

Daily Beauty Rituals: the internet It Girl and Emergency Intercom podcast host reveals the secret to super-smooth skin and her best budget makeup finds.

If you're chronically online, you've probably come across Enya Umanzor. For those who are more restrained, the 23-year-old made her start on Vine before transitioning to YouTube in 2014, and is best known for posting absurdly funny, sometimes dead serious videos that range from makeup tutorials and brow bleaching sessions, to storytimes about accidentally joining a cult in San Francisco. Her one million followers (and counting) can't get enough.
Originally from Miami, Florida, Umanzor moved to Los Angeles six years ago, having since worked with the likes of Miu Miu and Kiko Kostadinov, while appearing in campaigns for Bimba Y Lola. Her latest career break (remember, she's 23) comes courtesy of the wildly successful comedy podcast Emergency Intercom. Hosted by Umanzor and her best pal Drew Phillips, it blends satire with smooth-talking chat, as the pair delve into all manner of wacky stuff, including but not limited to Fortnite's alleged renaissance, scary dreams, how AI spells the end of the word and the all-important concept of love. It's IYKYK craic at its finest.
How does Umanzor squeeze all this in with a rigorous beauty and skincare routine? Let's find out.


The first thing I eat or drink when I wake up is…
Usually water – I always sleep with a huge cup next to my bed. I'm a monstrous mouth breather and snorer. Most times, when I wake up it feels like someone's shrunk down to tic-tac size and slid down my throat with a makeshift sandpaper sled.
My morning skincare regimen looks like…
I splash cold water on my face in an attempt to bring myself into the reality I have woken up to. Then I use a super sexy antifungal cream all over my face, followed by an AHA and BHA serum. Then, I slather so much moisturiser on my face that it feels like someone quadruple my size hocked a fat phlegm ball onto my face. Of course, I top it all off with sunscreen because I have self-respect.


My go-to beauty hack for when I've pulled an all-nighter is…
CREAM! Cream team all the way. I will admit, it has been years since I stayed up past 2am doing something that would actually call for recovery, but I'm a dry, eczema ridden girl, so…
The product I'll reach for when I've got a pimple is…
Nothing. I no longer tend to solo pimples. I just do my best to not poke at them and allow them to leave when they are done terrorising me.
My favourite brand of sunscreen is…
My holy grail skincare product is…
Youth To The People Dream Mask.
Because…
It makes my face feel like it was sanded down to pearl-like smoothness.
My best kept beauty secret is…
I never do my makeup or skincare without washing my hands and I keep anything that will interact with my face relatively clean. Whether that be pillow cases, brushes or even the hands of a lover, they must be clean before touching my face. Some people find this obnoxious and not very sexy, but I don't care.
My favourite feature is my…
Eyes.
Because…

They are the windows to my hole.
My first beauty-related memory is…
Before I had access to a plethora of tutorials, I used to pack stark white metallic glimmer eyeshadow into the inner corners of my eye because I was told it would make you look more ​"alive" and ​"vivacious". Exactly what I needed at 12 years old. One morning, my dad looked at me and asked, ​"What's in the corner of your eyes? It's so white, like chalk. Did you wash your face when you woke up?" I discreetly toned down the look with my dirty fingers in the backseat of the car. Lucky I didn't give myself pink eye.
The last life-changing product I discovered was…

Heroine Make mascara. I have always had chronically straight eyelashes and for a second I was getting lash lifts, but I felt I was damaging my lash hairs. It does take the strength of 23 men to remove this mascara, but it's worth it.

I keep my lips moisturised with…
Blistex. Specifically the Lip Medex one in the small blue containers, which you can find littered all around my room.
The bougiest beauty product I own is…

La Mer moisturiser.
My favourite budget find is…
Blistex!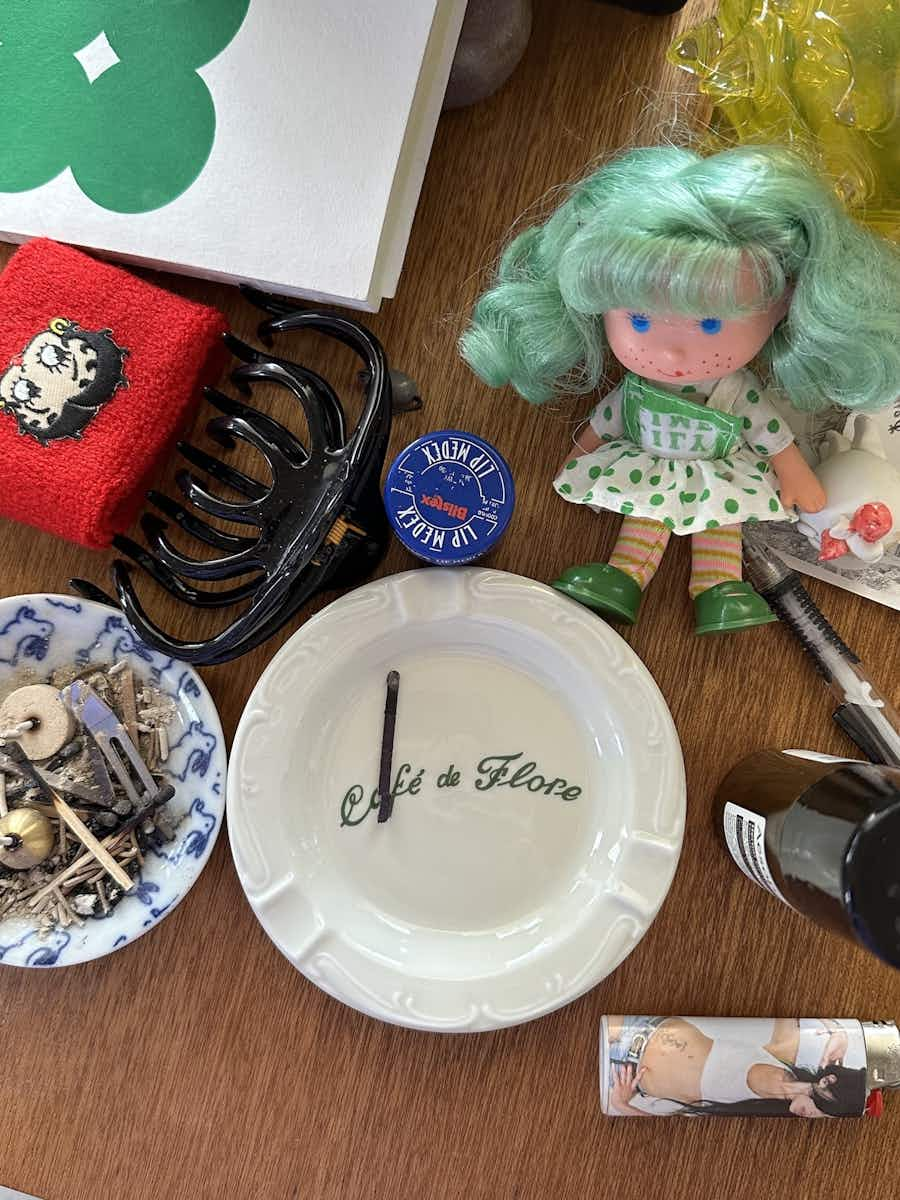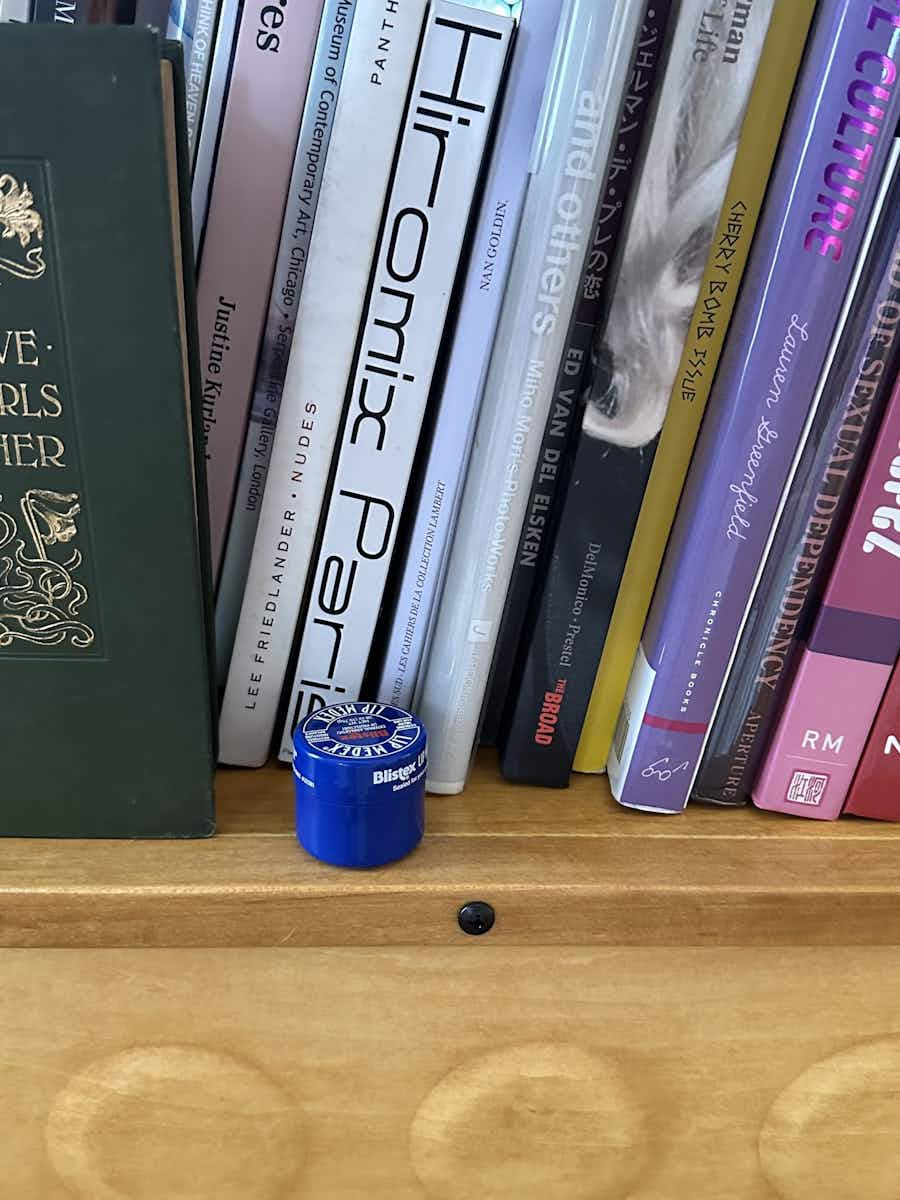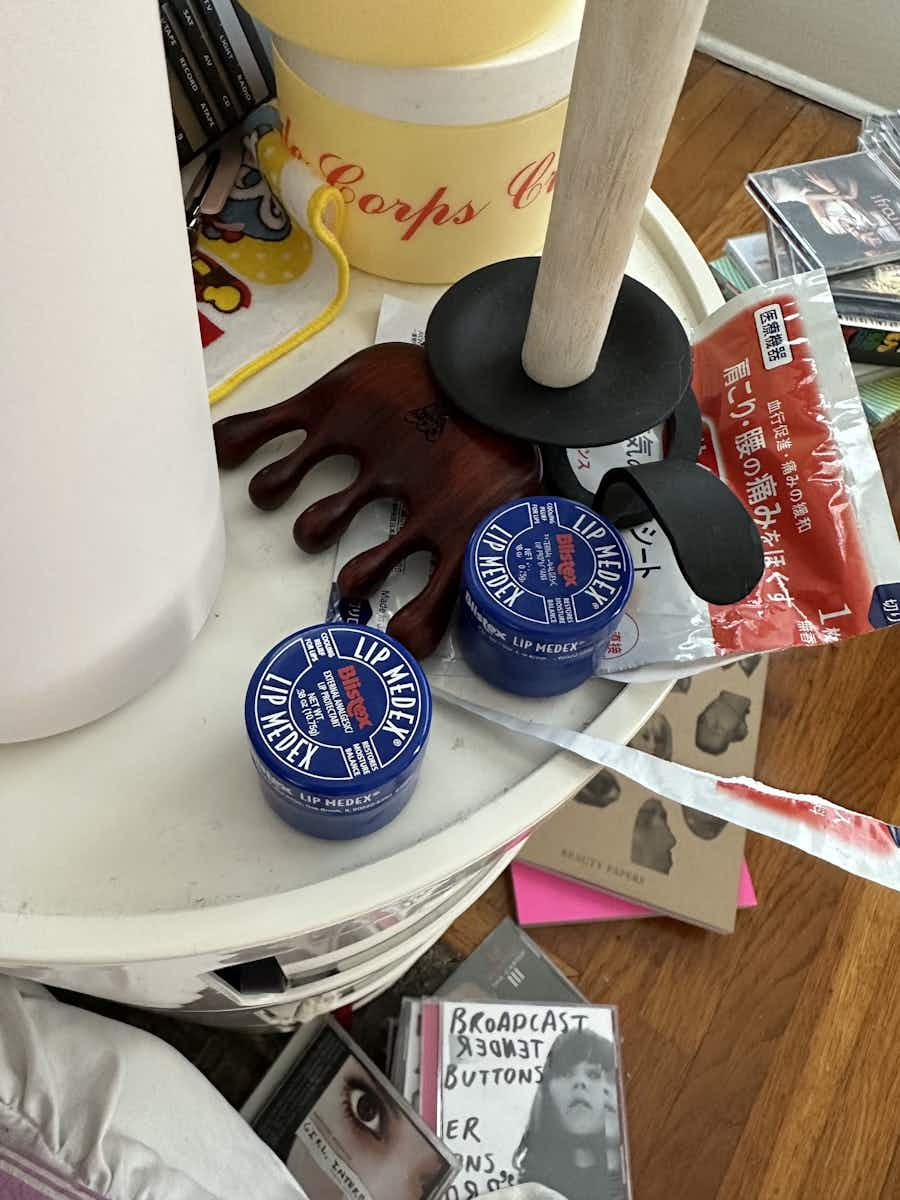 My signature scent is…
I cannot give this away, but I can say what it used to be for a long time before I found my current one. I used to religiously wear Le Labo's New York City scent. It still reminds me of such intense moments of my life. I decided to switch because I wanted it to maintain those memories. My recent scent is a mix of two perfumes, but I'm insane and want to be the only person who smells like it. So I plead the fifth.

My evening skincare routine looks like…
If I'm wearing makeup, I remove it with the Drunk Elephant balm and then wash my face with an Aesop parsley face wash. Then I use a tiny bit of tretinoin on my cheeks and forehead. Do not read this and jump to buy tretinoin! It's really harsh and you have to work up to it. I then put some Youth To The People Dream Mask on my dry areas. Last touch is slathering the fattest layer of Blistex onto my lips. I like to feel like I'm covered in goo, which includes slathering my body with Kiehl's Creme De Corps body butter because I want to be glued to my sheets before I go to sleep.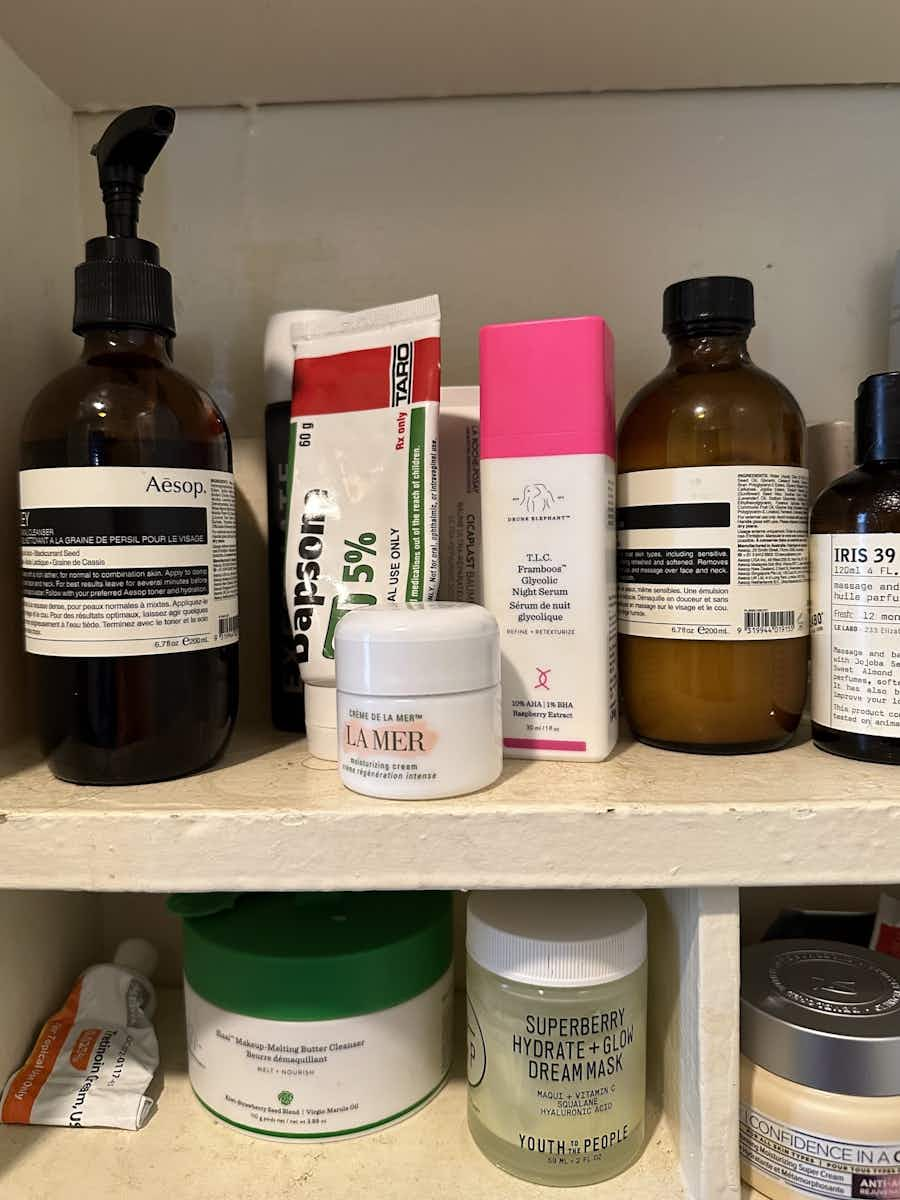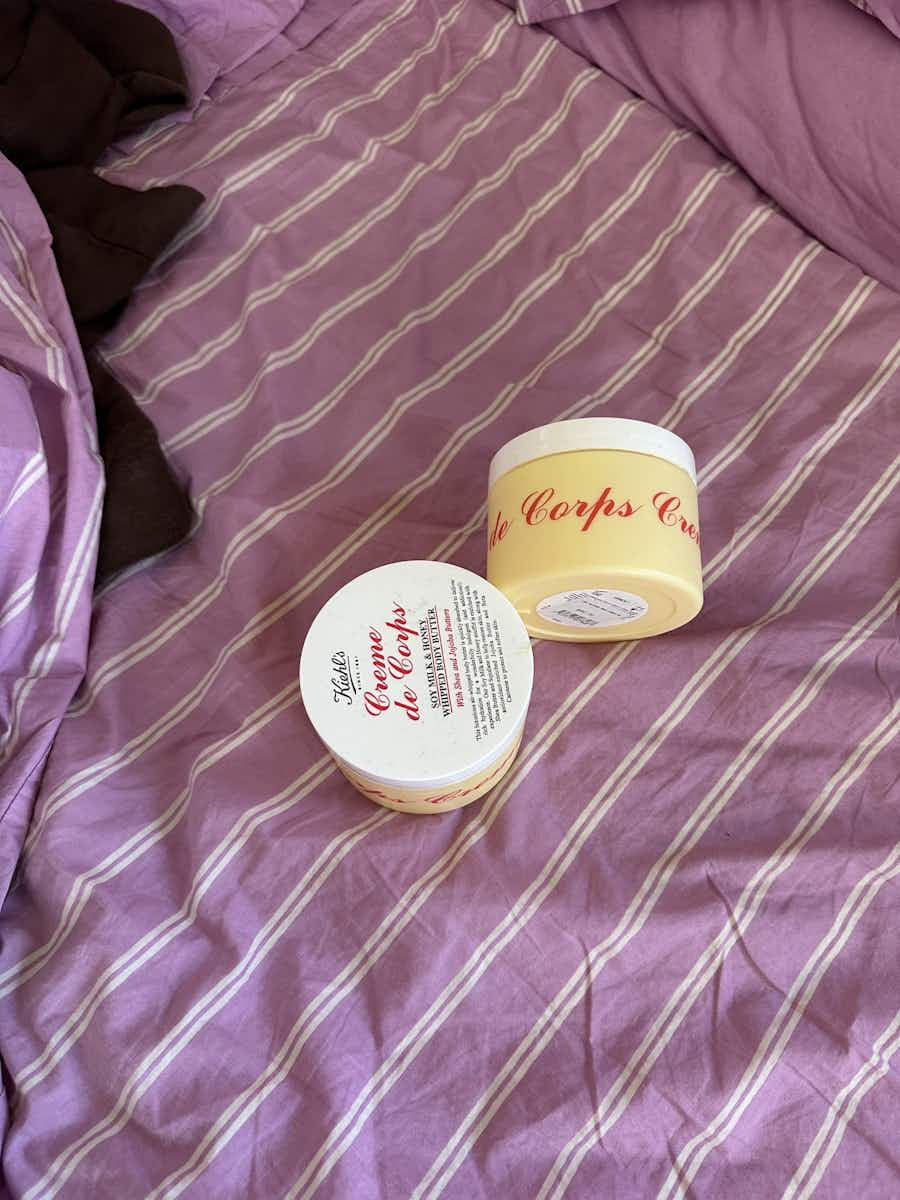 More like this