Victoria Monét is still using toothpaste on her spots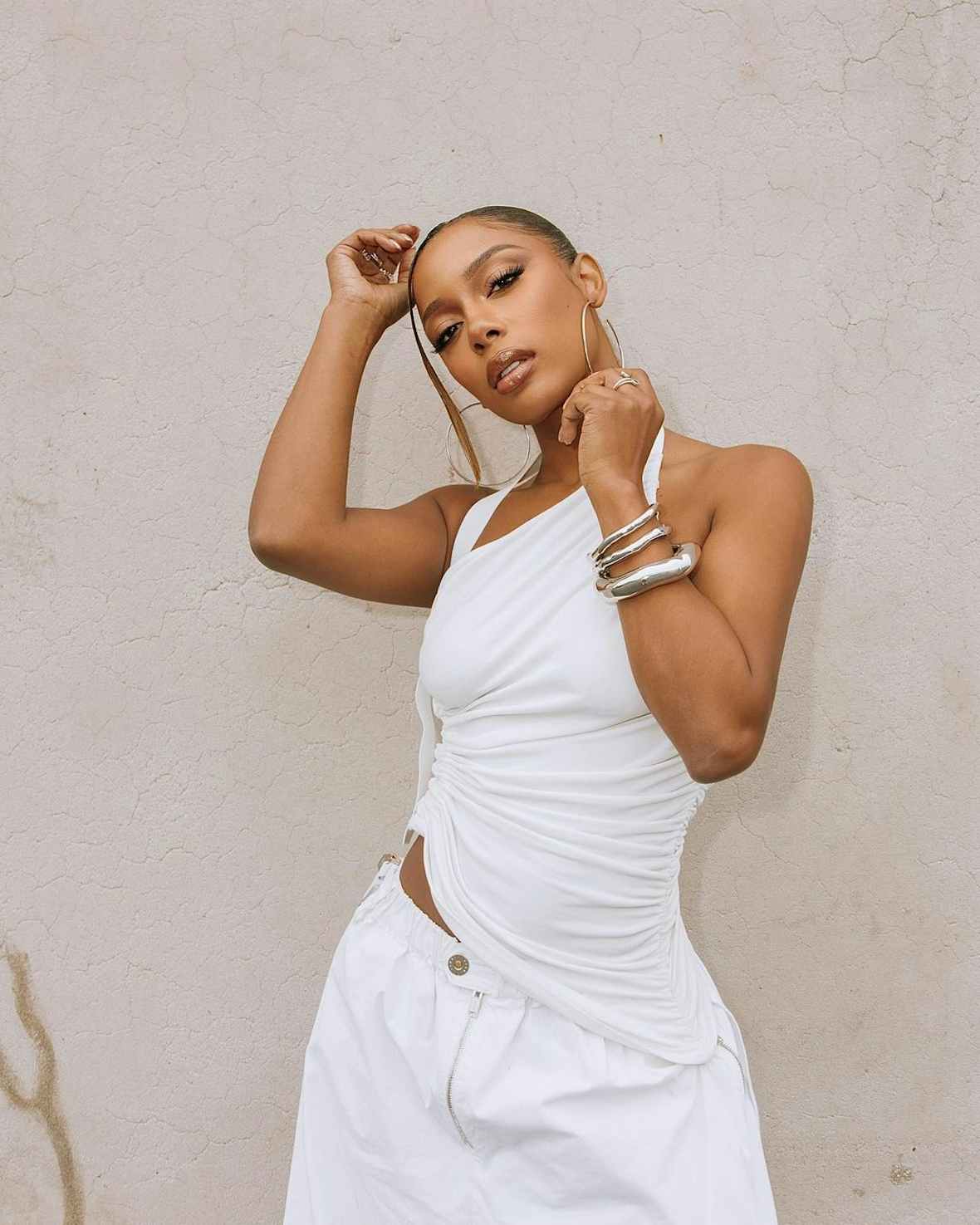 Daily Beauty Rituals: The certified hitmaker gives us a peek inside her makeup bag. Clean teeth, clean skin!
Victoria Monét is on a mission to soundtrack summer. Just listen to On My Mama. With squidgy, fudgy bass and psychedelic guitar, the songwriter turned pop star's new single feels as though you're wading through crystal waters as the sun beats down. As she puts it in the lyrics, it's enough to make anyone feel ​"heaven-sent".

Not that we'd expect anything less. A certified hitmaker, who's received three Grammy nominations for her work on Ariana Grande​'s Thank U, Next and Chloe x Halle​'s Do It, the 34-year-old's solo output has always been imbued in summertime sensuality. Her debut album, Jaguar (2020), is a case in point. Rich in grooves, harmonies and raunchy innuendos, it's an R&B record that brings the poolside party, before directing you straight to the bedroom.

Although Monét took a break from the public eye to have a baby in 2021, she's been busy working on new music. ​"Jaguar II is on the way," she says. ​"Even on the delivery bed, I was group texting with my team because I had just released [single] f.u.c.k. and we had work to do. I'm really happy to finally be showing people what I've been working on between releases."

After years of grinding in the industry, Monet is finally enjoying the fruits of her labour. ​"I think this new chapter in my career is the ​'good part,'" she says. ​"I view it as the part where things pay off, and I see more and more of the dreams and goals I've written come to life."
See, dreams really do come true. And Victoria Monét makes success look especially good. How does she juggle writing bangers and being a mother, all while keeping that skin glowing and, again, as she puts it, that ​"body rude"? She got it from her mama, yes, but Monét's got a few more tricks up her sleeve, too…
The first thing I eat or drink when I wake up is…
I start my day off with key lime water. Sometimes I make an elixir of key lime, spring water, sea moss, apple cider vinegar, agave and probiotics. The first thing I eat are my vitamins.

My morning skincare regimen looks like…
In the mornings I like to wash my face with cold water; filtered clean water is important, so get a good water filter. If I'm in a rush, the bare minimum is an SPF face moisturiser, given I do a complete deep wash the night before. If I have time, I'm polishing with an exfoliant, cleansing, using a Watermelon Glow toner, then an SPF moisturiser. Sometimes I'll add a zinc spray for some dazzle.

The soundtrack to my morning routine is…
My daughter's voice is my soundtrack! It starts with a ​"Good morning, mummy!" Or ​"I want some milk", to which I remind her to say good morning first!

My go-to beauty hack for when I've pulled an all-nighter is…
Alkaline spring water and frozen water. Ice cubes under the eyes will help depuff, and hydration will help your skin remain supple and soft.

The product I'll reach for when I've got a pimple is…
Toothpaste. I haven't tried any of the new zit stickers yet, so I use an old school trick of the trade. The toothpaste dries the pimple out a bit. Then it's important to treat the pimple from within with lots of water.

My favourite brand of sunscreen is…
I'm loving the Vacation brand of sunscreen right now. They have a sunscreen for the face that doesn't leave any white cast. They have it in spray form too, so you can easily reapply. They also have a sunscreen oil, which is my favourite for my body because I love dewy, oily skin.

My holy grail skincare product is…
My best kept beauty secret is…
Probably food. A lot of the way my skin looks comes from what I've eaten and had to drink days or weeks before. Clean food = clean skin. Alkaline spring water is also key.

My favourite feature is my…
Lips.

Because…
I think they are really cute.

My first beauty-related memory is…
Probably my mum using pink roller sets in her hair.

The last life-changing product I discovered was…
It's not really a product, but drinking celery juice first thing in the morning really does some thangs!

The best tactic for getting rid of stubborn waterproof mascara is…
I think the best hack is oil and make up wipes.

I keep my lips moisturised with…
Lancer lip gloss, Tatcha lip mask, Fenty Gloss Bomb and coconut oil overnight.

The bougiest beauty product I own is…
Some kind of facial laser that a friend gifted to me! It looks like a Jabbawockeez mask.

My favourite budget find is…
Wispy lashes from a beauty supply store.

The face mask that never lets me down is…
I don't use them much, but I do like the charcoal nose mask that pulls out those blackheads so well.

My signature scent is…
Armani's Acqua di Gio for women.

My ultimate party girl makeup look is..
I love a clear winged liner, wispy lashes, glowing dewy skin and a brown outer-lined lip with a luscious gloss.

TikTok made me buy it…
TikTok has made me buy many, many things – most recently, the coconut body butter from Trader Joe's that is repeatedly sold out and the Jolie shower water filter.

My top tips for having a good hair day are…
I think deep conditioner is my hair's favourite treat.

A hair product I can't go without is…
There are a couple: Mielle Organics rosemary deep conditioner, edge control and a two sided brush.

My evening skincare routine looks like…
I use a makeup wipe first, then the Lancer polish and cleanser. Then I use a Droplette mister, Paula's Choice toner, Tatcha brightening serum, Watermelon Glow, a deep moisturiser and Tatcha's Kissu overnight lip mask. I'll spritz with Mario Badescu's facial aloe spray if I'm feeling fancy.

The very last product I apply before going to sleep is…
A moisturiser.

The secret to a good night's kip is…
I love setting the tone. I do that with a relaxing shower, lavender sprays on pillows, lighting palos santo wood or candles, playing soft music or 528Hz sleep and good energy frequencies, and practising gratitude for the day.


More like this