Time to stan the tan: how to fake tan properly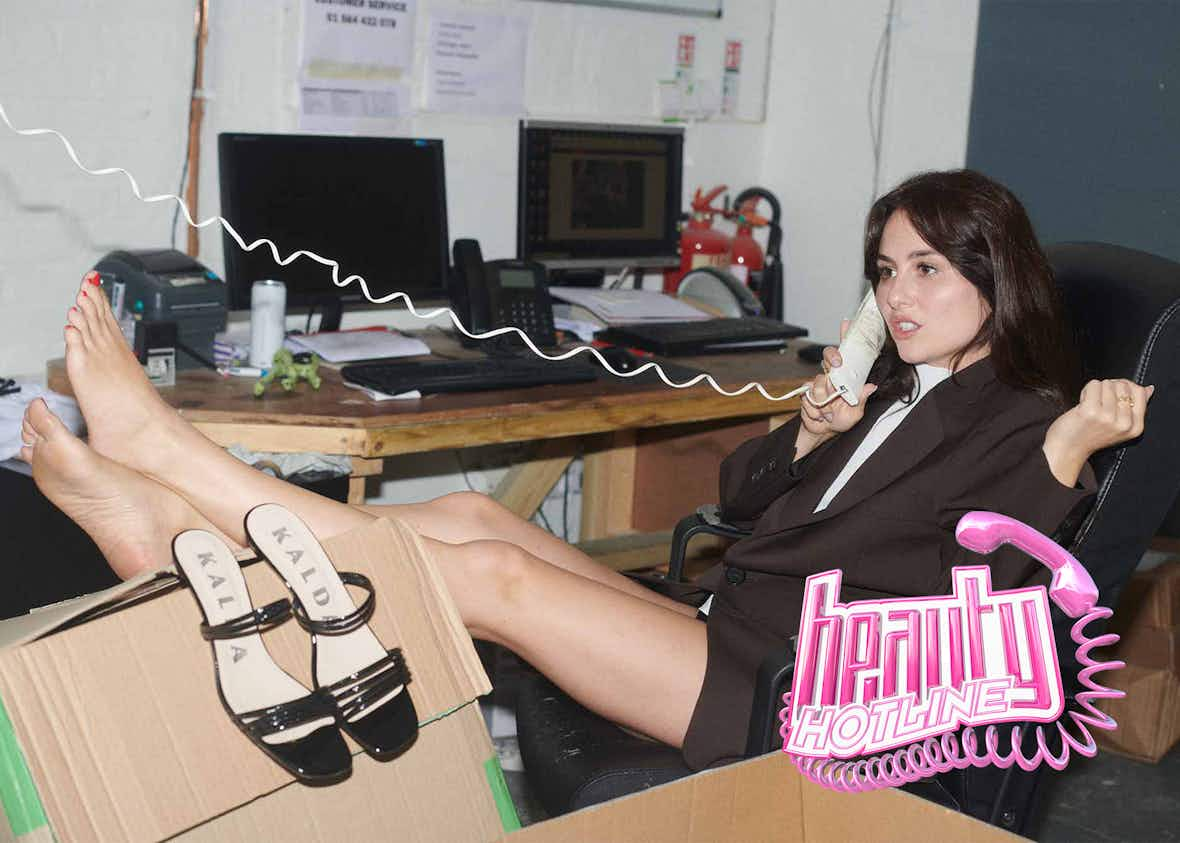 0-800-Beauty-Hotline: Got a beauty dilemma? We're here to help you in your hour of need.

Fake tan has come a long way. Gone are the halcyon days of wash-off tan, glitter-based bronzers, and Johnson's Holiday Skin Body Lotion – the biscuit scented bronzers that dominated our teenage years have been laid to rest.
One look at the SS22 catwalks (hello, Blumarine!) and it's safe to say the 2000s are back with a vengeance, and we're very much predicting the same for our washbags. This time, though, the products are faster, better, stronger and less streaky. As we head into party season, and given the lack of holidaying this year, the dusty bottle of self-tan at the back of the bathroom cabinet is looking alarmingly tempting.
But before you strap on your tan mittens, we've assembled a much necessary guide to nailing fake tan from the sunshine-in-a-bottle king himself, Isle of Paradise​'s founder, Jules Von Hep.
Jules suggests sticking to some hard line ground rules before embarking on at-home-tan. Prep your skin with a body exfoliator ​"prior to tan application to ensure the tan is even once it's developed and not patchy" Jules advises. I love cult body exfoliator Ameliorate's Soothing Body Exfoliant that makes your skin feel like it's been polished.
"Immediately before you're about to apply the tan, moisturise any dry areas (hands, elbows, knees and feet) and add a light touch of moisturiser to any areas where you might have eczema or psoriasis, too." For anyone with very fair skin tones and red hair, ​"add a small amount of moisturiser to eyebrows and hairline."
Fake tan should always be applied with a mit, and Jules suggests ​"sweeping your tan in lengthways motions on the body – never circular motions as the pressure is uneven on the skin and will result in an uneven tan."

When tackling your face, Jules' tactics are as follows: ​"only ever apply one light layer of tan to your face – trust me, it will be enough. A face too tanned will give the game away." Once you've applied tan to your face, ​"take a clean kabuki makeup brush and tease the tan up onto the ears, underneath the nose and lightly over the eyelids. Then, take a clean face cloth and fold into quarters, roll up and sweep over the hairline to buff any excess tan. Remember to do this around the back of your neck, too."
Finally, lest we forget the treacherous canvas that is the hands and palms. ​"For the hands, lightly sweep a tiny amount of tan over at the end of your routine. Wipe your palms and nails and re-moisturise your hands to blend the tan" to ensure a light even coverage. Jules' favourite hack for a grand finale is to ​"place a towel on the back of a door and rub your wrists on the towel to blend and stop the appearance of a self tan sleeve."
Self tan is, of course, not just for caucasian skin types anymore. Those with darker skin tones looking to add warmth should embrace the fake bake, too. Our favourite cosmetic doctor, Dr Ewoma Ukeleghe, likes to mix and match by wearing Tan Luxe on her body and ByTerry on her face. TikTok influencer Awa Sanneh's tutorial on tan for darker skin types has almost one million views and she recommends b.tan's Self Tan Mousse in Tanned AF.
For fair skin types or those anxious about applying a self-tanner for the first time or in a long time, don't fret – there's a whole new gen of shimmers, oils and sheens that will pop the dullest of complexions. From Tom Ford's high-end bottled glow-up to Isle of Paradise's affordable tan drops, there's something out there for everyone. Just keep it even, controlled and glitter-free – it's not actually the ​'00s, you know.
Our streak-free tanning recommendations:

More like this