Meet Me @ The Altar's Edith Victoria on gua sha splurges and technicolour braids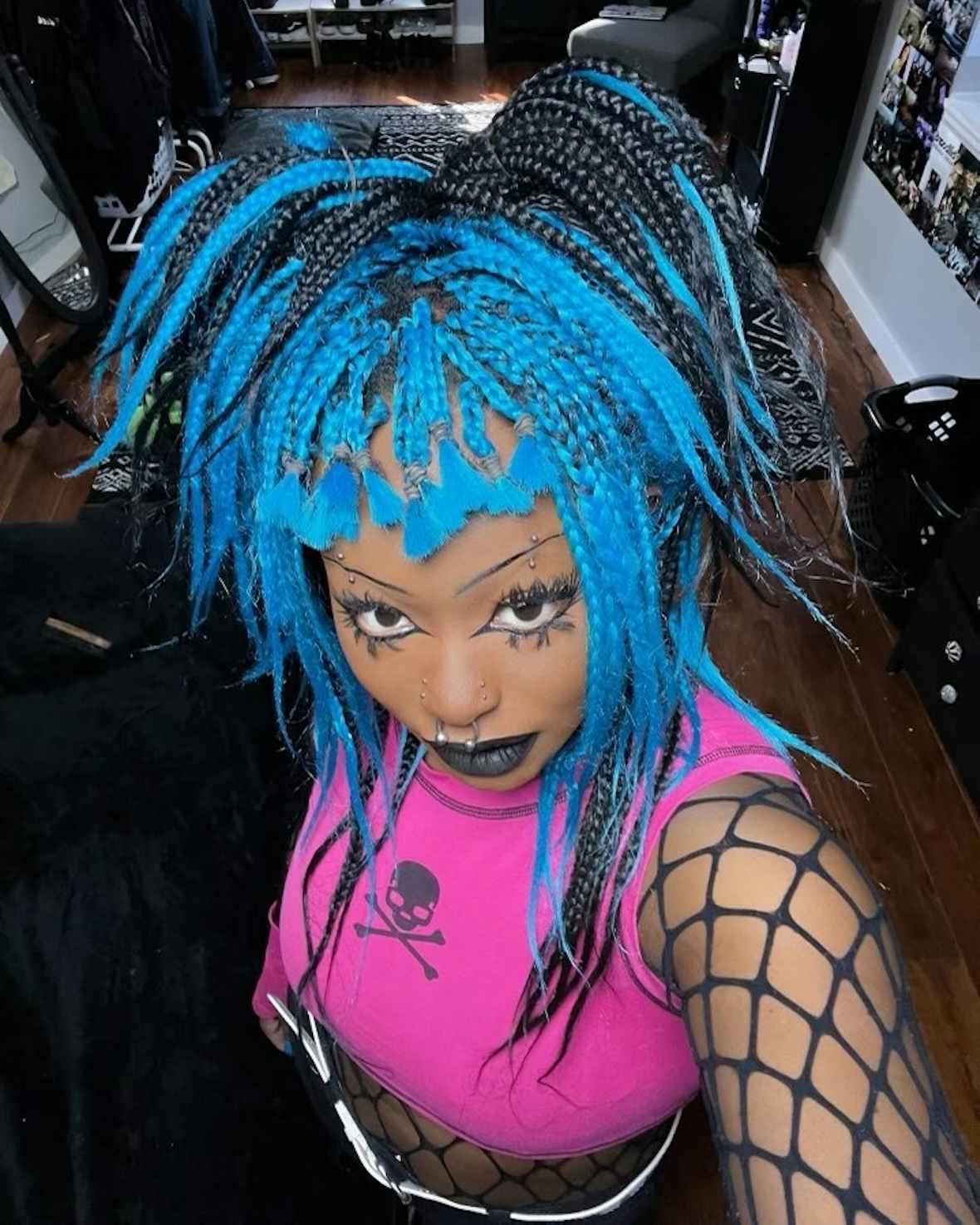 The pop punk prinny shares top tips for removing all that eyeliner.
Rock stars have always loved a bit of slap. From Bowie's Ziggy Stardust lightning bolt to Siouxsie Sioux's geometric eyeshadow, flamboyant makeup is just as important to the frontperson persona as the swaggering stage presence and belting vocals. The music is also important, of course, but having a distinctive look that will be remembered for decades is what turns stars into legends.

Edith Victoria from Meet Me @ The Altar is on the right track, then. The lead singer of the American-trio that's saving pop punk from its white-male-dominated legacy, her typical glam follows the tradition of goth makeup while upping the ante with Twiggy-esque falsies and braids in retina-searing colours. It's a high-octane signature look, guaranteed to keep all eyes on Edith.

But the 22-year-old's most powerful look to date didn't involve any intricate eyeliner or fiddling with lash glue. In the band's latest video, for T.M.I, Edith instead takes it all off, armed with a mountain of makeup wipes and the resolve to prove her self-worth beyond appearances. ​"I look in the mirror and start to cry /​Super self-sabotage every time," she sings, as she smears away black lipstick and lays herself bare. It might not seem as rock'n'roll as smashing up guitars with a full face on, but Meet Me @ The Altar are rewriting the rule book.

With that in mind, it's particularly serendipitous that Edith has let us in on a few beauty secrets, from her cleansing routine to her holy grail products. Fancy that, eh? It's almost like we planned it.

The first thing I eat or drink when I wake up is…
Water! I try to eat breakfast, but usually I don't…

My morning skincare regimen looks like…
Literally I just wash my face with Dove soap and put Vaseline on.

The soundtrack to my morning routine is…
Sorry Not Sorry by Demi Lovato.

My go-to beauty hack for when I've pulled an all-nighter is…
Wash your face! After a night out, never, never go to sleep with your makeup on. No matter what condition you're in, no matter how lit you are, do not do it.

The product I'll reach for when I've got a pimple is…
Toothpaste. It'll be gone by morning, I promise.

My holy grail skincare product is…
Witch hazel.
My best kept beauty secret is…
Don't drink!

My first beauty-related memory is…
Learning how to put on makeup and sneaking into my mum's bathroom only to absolutely cake my face with her Mary Kay foundation.

The best tactic for getting rid of stubborn waterproof mascara is…
Liquid makeup remover – even then, it's not all the way off. Gotta go two times over.

I keep my lips moisturised with…
Vaseline.

The boujiest beauty product I own is…
A gua sha.

My favourite budget find is…
$5 full coverage Rimmel foundation from Walgreens.

My signature scent is…
A big secret!

A hair product I can't go without is…
Color Assure shampoo and conditioner. It keeps my braids very vibrant in colour.

My evening skincare routine looks like…
Before bed, I use Neutrogena makeup wipes to take my makeup off, and then I wash my face.

The very last product I apply before going to sleep is…
Vaseline all over my face.


More like this