How Alex Cooper became the world's biggest female podcaster
With the raunchy humour of Call Her Daddy, 28-year-old Alex Cooper is changing the world of podcasting. Here's how the relationship sexpert and celebrity confidante created a business that's worth £52 million (!) to Spotify.
Alex Cooper is grateful to be doing this right now – an interview, that is. It's offering her some respite from tirelessly editing Call Her Daddy, which is currently the number one most listened to podcast by women on Spotify and the third most popular pod in the US overall.

Her show's second season debut, in September, saw Cooper, 28, have a heart-to-heart on video with Hailey Bieber, where the model discussed her highly-publicised relationship with husband Justin, her mental health and her alleged feud with Selena Gomez.
That one episode alone shot Call Her Daddy to number one in English-speaking countries across the world – even knocking off toxic bro and top spot-hogger Joe Rogan in the process (unfortunately only briefly). It looks like the three-year, £52 million deal Cooper signed last year with the streamer was a great one for all parties.

A self-professed workaholic and chaser of ​"chaotic energy", Cooper is Zooming in from her Los Angeles home. She's in the process of moving out since relocating from New York last year, but has no plans to leave LA anytime soon. ​"Something about living [here] has allowed me to take pause and be present in my life, not just work," she says. Her bleached blonde hair cascades down her shoulders and she is dressed all in white, save for a few flashes of gold jewellery. A difficult but necessary transition, it turns out, for the biggest female podcaster in the world.
To the naked eye, it seems to make sense for Cooper – who created Call Her Daddy four years ago with a mission to offer comedic sex advice to women – to have been anointed the patron saint of podcasts (she's known as Father Cooper to her fans). She's engaging and charismatic, assertive without ever being overbearing, and to put it plainly, hot. No wonder she's built an empire from dishing out raunchy relationship advice and has A‑list celebrities lining up at her door to be interviewed, right? But things haven't necessarily been plain sailing up until this point.
Growing up in conservative Newtown, Pennsylvania, Cooper went to Catholic school and ​"did the whole plaid skirt thing, but not in a cute, sexy way. I was fortunate to have a loving household. My parents are still together and very much in love to this day. I always joke that they fucked me up because I'll never find what the two of them have. If your parents are divorced, they fucked you up. If your parents are together, they still fucked you up. You can't win!"
This was a far cry from what Cooper experienced at school, which she says contrasted sharply with her home life. To escape relentless bullying for being too thin and having severe acne, she played football. ​"I was very insecure and hated the way I looked," she says of a sporting enthusiasm that helped her build confidence – she was good enough to play the game competitively at uni.
Her dad, a sports television producer, always kept cameras in the house. When Cooper wasn't kicking a ball around, she was busy setting up shop in her basement, making videos and creating content ​"because there was no one there judging me or commenting on how I looked".
At this point in her life, Cooper was hell-bent on getting boys to like her. By the time she reached university – and after ​"like, four rounds" of Accutane – she had ​"a glow
up, as we like to say". Suddenly, instead of making fun of her, men were chasing Cooper only because of her looks. ​"It was like, wow, I've been disregarded by guys my whole upbringing and now they're interested in me… But I'm the same person and have the same personality. So I realised it was all really just a game – and that I could play it."
This is where Cooper reckons she got her knack for giving advice: having perspective from both sides. ​"It was a beautiful concoction," she says, Given that her mum's a psychologist, Cooper considers herself ​"quite an introspective person. For most of my childhood I was watching my friends get all the guys while I was on the sidelines eating my hair. But I absorbed all the information and watched them. Then, it was my turn." The seed for Call Her Daddy was sown.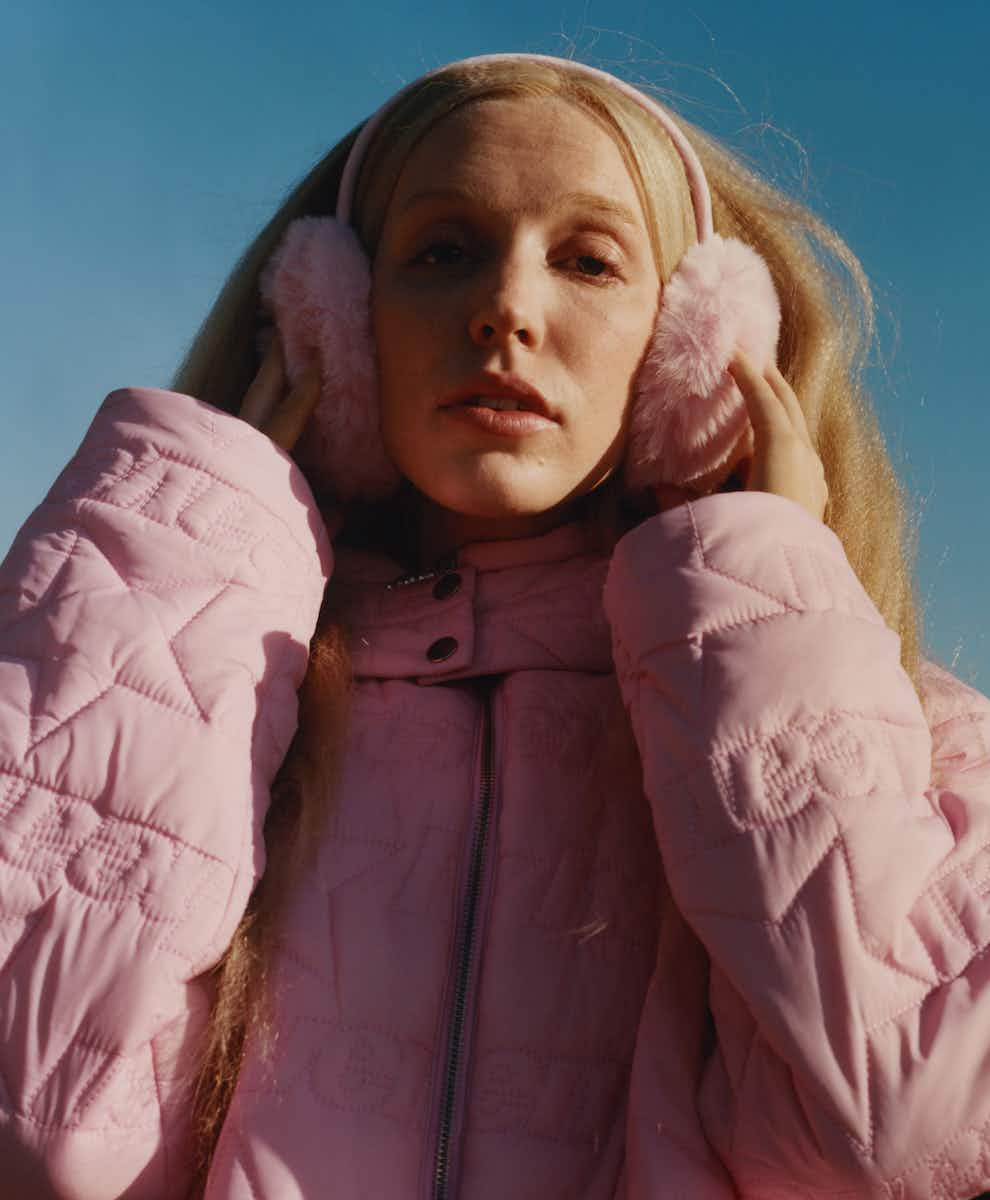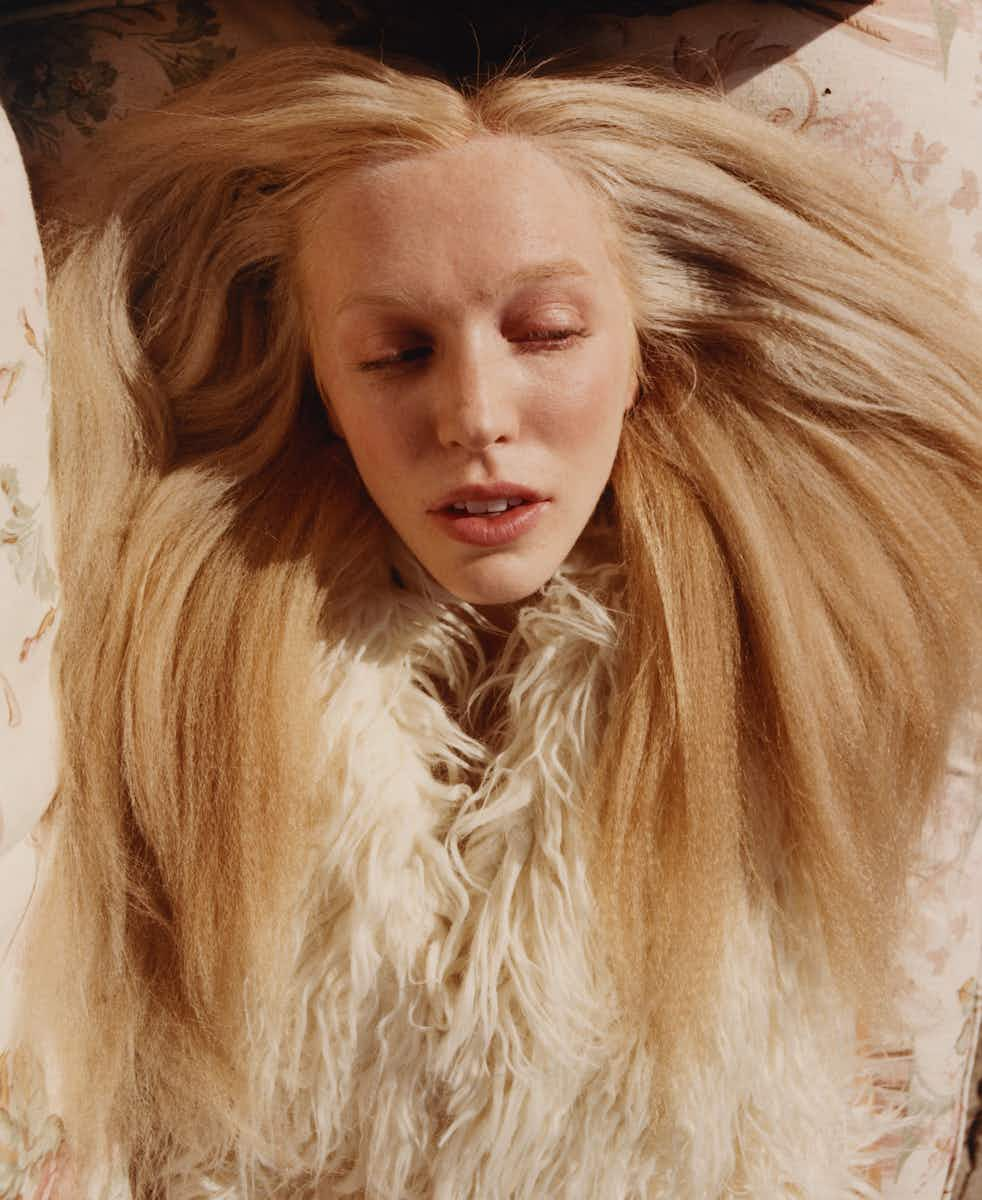 After graduating with a degree in film and television from Boston University, Cooper Moved to New York. She took a job she didn't particularly enjoy, selling ads for a magazine. Most of her time there was spent cooking up ideas of how to become a YouTube star, and after Cooper was laid off when the mag folded, it felt like the right time to take a leap of faith.
Call Her Daddy launched in October 2018 as a joint project with her then-best friend and roommate Sofia Franklyn. It was initially intended as a sex and relationships advice podcast – a medium more cost effective and less saturated than YouTube videos – where the pair would take part in no-holds-barred discussions about how to give the best blow job, Seeking Arrangement dates gone awry and proper ghosting etiquette.
"The intention was to try and create a format that felt like you were listening to girls talking in their bedroom together about topics that really shouldn't be taboo," Cooper says. ​"When men have talked about this stuff historically, it's praised, it's funny, it's just part of life. Why couldn't we do the same thing?" Having played football for years, Cooper was accustomed to locker-room talk – ​"being raunchy and having fun", as she puts it – but no one was physically embodying that for millennial women at the time.
Within two months, Call Her Daddy was reaching more than two million listeners. Before the year was out, Cooper and Franklyn signed a three-year contract with digital media company Barstool Sports.
Over the next 16 months, the duo released episodes with titles like Stop Nutting Early Please and Post D*ck Appointment Flashbacks, building up their brand as an uninhibited, sex-positive duo. But in spring 2020 an explosive dispute erupted between Barstool and the pair, then between Cooper and Franklyn over pay and contract terms. This led to the pair falling out and Franklyn exiting the show, leaving Cooper as Call Her Daddy​'s sole host.

That's when things went stratospheric. After Miley Cyrus appeared, the first proper celebrity to guest-star, Cooper's ambition kicked in. With the Barstool relationship at an end – the company had not been without controversy, with founder Dave Portnoy accused of sexual misconduct last year (he claims the allegations are ​"false and defamatory") – Cooper decided to pitch herself to as many audio streaming companies as possible.
"Mind you, a lot of them didn't know me as anything other than the sex girl because I hadn't transitioned my content yet," she acknowledges matter-of-factly, wielding internet jargon with practiced ease. ​"I was just a loner doing this in my apartment during the pandemic. When I started talking to all these men on Zoom about business rather than blow jobs, their mouths were hanging wide open. They were like: ​'She has a brain? She can think?'" Thankfully, Spotify saw the financial potential in backing someone with enough star power to straddle being a talk-show host and agony aunt rolled into one.
Today, Alex Cooper's content runs the gamut from how to handle a psycho ex to coping with difficult familial dynamics, peppered with explosive conversations with some of pop culture's most in-demand, sometimes inflammatory, celebrities. At the time of writing, she's had the likes of Demi Lovato, Spencer Pratt, Jamie Lynn Spears, Keke Palmer and Emily Ratajkowski on her show.
And the reason Cooper's guests feel so comfortable pouring their hearts out probably has something to do with the podcaster's set-up for her interviews, some of which she films: a couple of plush sherpa armchairs facing one another, with enough space to sit on cross-legged or with your knees pressed up to your chest. It's a hybrid therapy-session-slash-sleepover-chinwag, designed to mimic familiarity, though it will be seen or heard by an average of three million listeners and doesn't shy away from tough talk.
"Spencer Pratt: you will obviously never be as relevant as you were. How does that make you feel?" she asked The Hills reality star during a filmed interview in June, to which he promptly responded, ​"Fuck you and fuck this podcast" before walking out. This, though, turned out to be a pre-planned stunt to show how easily video and soundbites could be used to villainise someone online. Nonetheless, by this point Cooper had started to position herself as an interviewer who was willing to ask her subjects probing questions, outside the realm of dishing out sex advice from the comfort of a secluded recording studio.
The visual aspect of certain episodes of Call Her Daddy, a vestige of her teenage basement dreams of becoming a YouTuber, is part of what makes the show so compelling. ​"I have always been obsessed with video content," Cooper says – and although there are no armchairs in sight, her green eyes light up.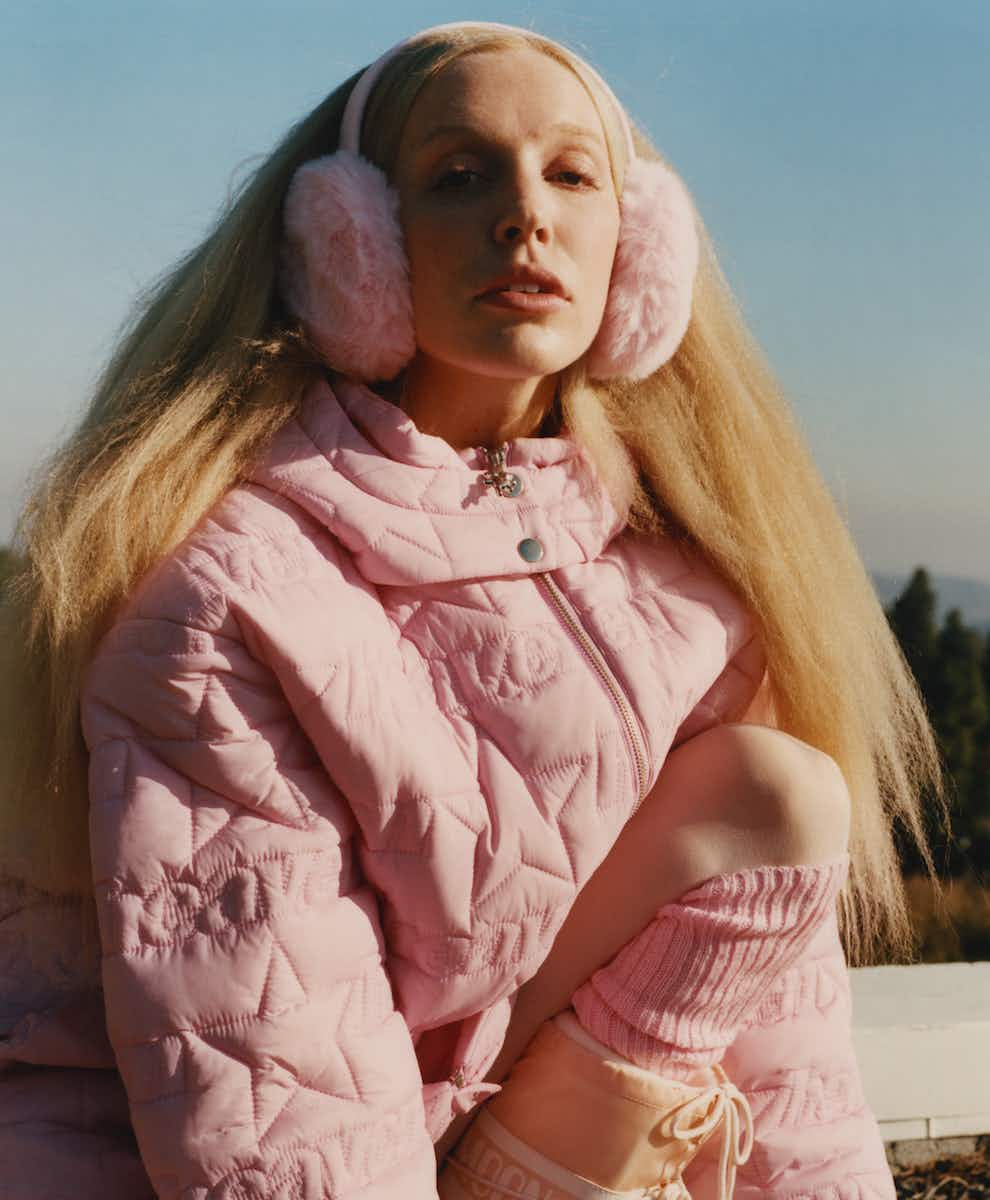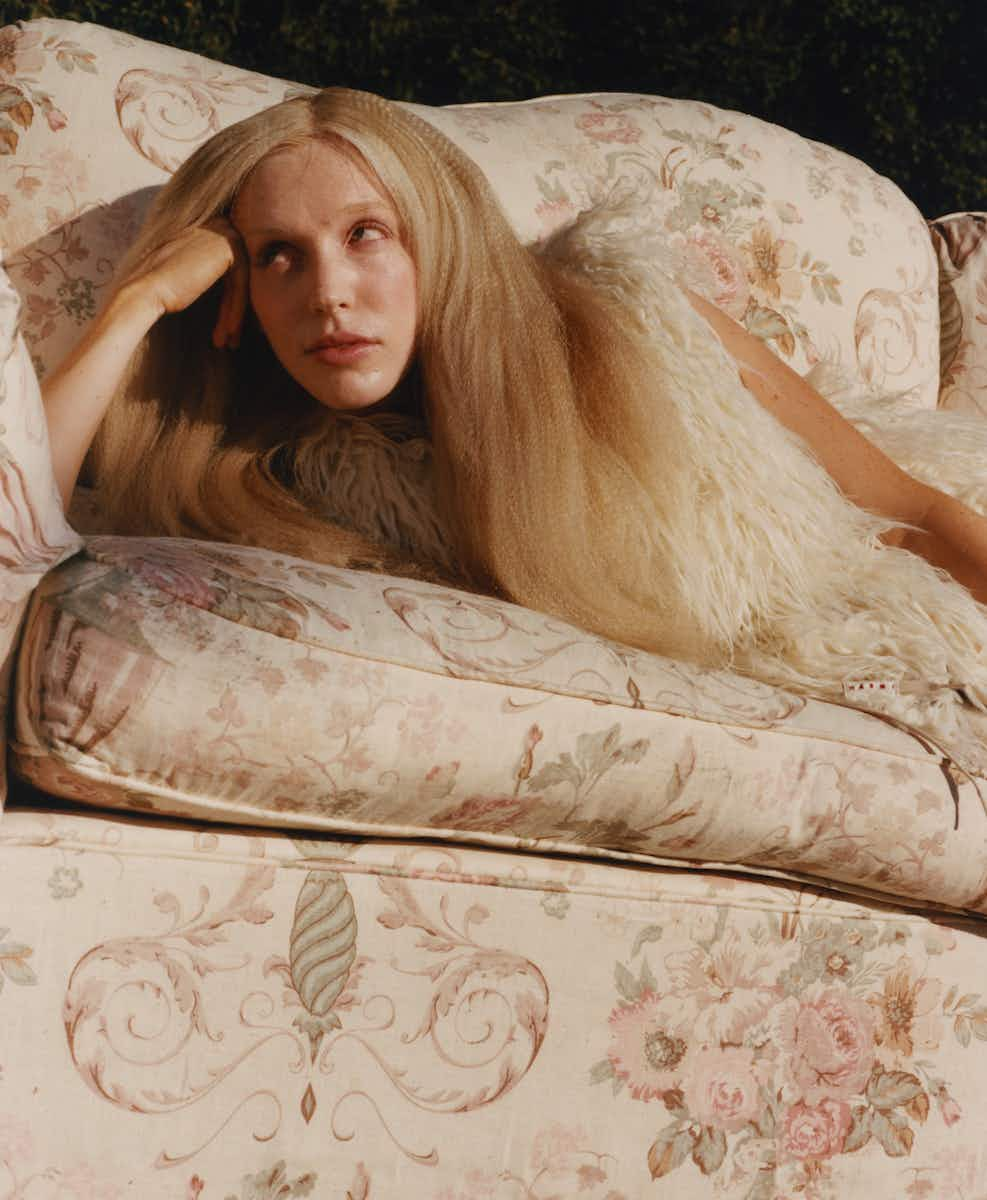 "Some episodes should just be audio, there to be listened to and ingested that way. But what I recognised was that there was an opportunity to maintain the intimacy of podcasting while also elevating it, so you can see the person crying, pondering the question, getting emotional or being excited and laughing."
Over the course of our interview, Cooper doesn't display any of these dynamics. Rather, she talks with her hands, maintaining the steady gaze and level demeanour of someone who's spent years both selling herself and honing the craft of talking to (and for) an audience.
Cooper asked Spotify to ​"figure things out, tech-wise" to facilitate filmed episodes, and they obliged. It's proven to be an attractive option for celebrities wary of how the print press, or written interviews, can be presented or edited. Increasingly, as A‑listers seek to control their own narratives through media (social or otherwise), a podcast like Call Her Daddy hits the sweet spot, where listeners are entertained and guests get to set the record straight, without fear of being taken out of context . As she puts it: ​"The audience is always getting something and the guest is always being respected in what they want to talk about."
"Through the calibre of interviews I've produced, I think the work speaks for itself," she says, ​"where a lot of celebrities are now reaching out because they recognise it's a safe space. That's the secret sauce to Call Her Daddy: the human aspect behind the production. I'm not trying to exploit people."
With a combined following of four million on both her personal and Call Her Daddy Instagram accounts, it's reasonable to say Cooper's just as much of a celebrity as those she interviews. But she insists she doesn't see it that way. Instead, Cooper more-so identifies with her listeners, the ​"Daddy Gang", as she lovingly refers to them. ​"It's important for me to maintain that level of relatability as a consumer, because the minute I lose that, I can't do my job. I think the show is a goddamn celebrity," she says passionately. ​"I'm just the person in the chair asking questions."
Cooper's ardent commitment to her brand and refusal to take part in the spoils of celebrity – exclusive parties, jet-setting and shoulder-rubbing with LA's cool crowd – have allowed her to evolve in directions she never imagined taking. While in previous interviews she has been reluctant to share her political beliefs or even align herself with feminism, that stance has changed over the last year.
"When I graduated college, I was like: ​'Boys, drinking, sex, dating and me.' Self-centred and wild, as it often should be," she says. ​"But now I've grown and had more experiences in my life. I don't want to be the same person I was at 21. As a creator, I need to feel stimulated and I know my audience has been growing up with me. Of course we can still talk about relationships, but I think an elevation needs to happen because I'm inquisitive about what's happening in the world.
In October, Cooper released An Abortion Story, a video-led podcast about the fight that American women face to preserve their bodily autonomy following the Supreme Court's overturning of Roe v. Wade. In the 30-minute episode, effectively a documentary, Cooper visits a health clinic in Charlotte, North Carolina, and interviews both women seeking safe healthcare and pro-life protesters. If this feels like an almighty departure from her previous work, no one's more aware of it than Cooper herself.
I recognise how much weight my words carry and the influence Call Her Daddy has on women. What I didn't want to do was speak on something I'm not educated on. We've created a culture on social media where, when something happens, people throw up an Instagram Story or repost something that they don't understand."
She recognises that ​"I have a responsibility to my audience. When Call Her Daddy went to number one, I decided to re-evaluate [my content]. When Roe v. Wade was overturned, everyone was posting. I wanted to wait until things died down, when no one else was talking about it. I wanted to reignite the conversation after having done my due diligence.
Watching An Abortion Story, you can tell that Cooper has been galvanised by the issue, her voice crescendoing at the prospect of helping women feel empowered and less alone in their struggle. At the outset, she looks into the camera and says: ​"If you watch or listen to any episode of Call Her Daddy, let it be this one. On the Call Her Daddy website, one of the buttons is marked ​"Free Nudes". When you click it, you're shown a list of abortion care resources.
As for where she's headed next, podcast-wise, Cooper gives little clue. ​"I would love for you to tell me!" she says, animatedly. ​"I don't even know who I'm having on in a month. That's why Call Her Daddy is the zeitgeist: it's about staying present with what's happening in the world, in pop culture, politics and social issues. I get tripped up if I think too far ahead."
If Alex Cooper doesn't know what topic her next episode will cover, one thing, at least, has taken shape: she's well on her way to completing the cycle from teenaged pursuits of male validation towards challenging the patriarchal norms we all suffer under. In the process, Cooper's own relationship with feminism has come a long way, and that's a worthy payoff for Call Her Daddy's success.
"I love men and I love my boyfriend – I just want us and everyone in the LGBTQ+ community to be respected the same," she concludes with something like a rallying cry for her future.
"I want to be able to lean into my femininity, embrace that I can be strong and sexy, and be a businesswoman who enjoys her time in the bedroom. You should be able to enjoy every aspect of life without any type of shame. Don't get me wrong, I'm losing sleep these days," she says with a smile, a rare hint of the pressure of being the world's favourite female podcaster. ​"But it's all worth it."

HAIR Lauren Palmer-Smith MAKE-UP John Mckay PRODUCTION Cat Lewis PRODUCTION ASSISTANT Grace Warren

More like this