Alexander Skarsgård: ​

"

I think I'm due for another drag night!"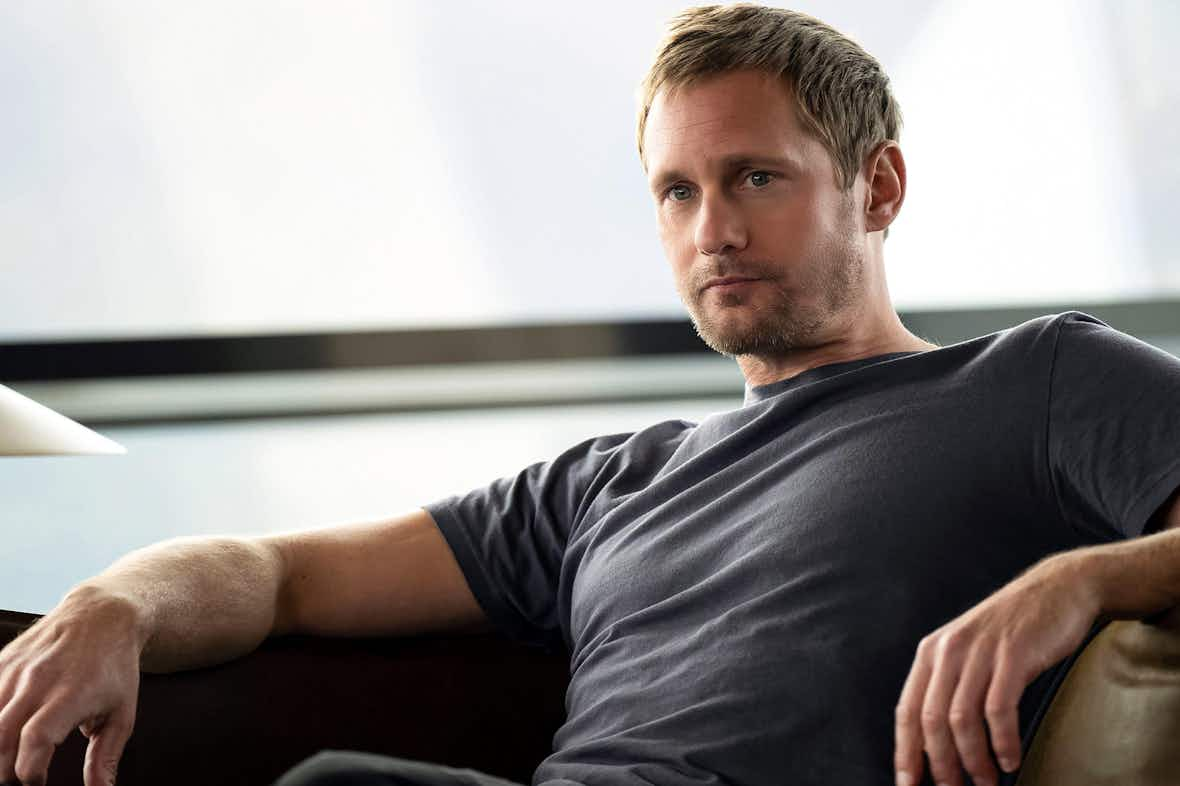 The Succession "winner" tells us all about Leeds United, red carpet drag and Lukas Matsson's fashion choices.
Taken from the new print issue of THE FACE. Get your copy here.

Congratulations, Alexander, on a mega final series of Succession – and on, ultimately, being Logan Roy's successor. Lukas Matsson, the jerk-off coder from Gothenburg, wins! But going back to episode seven, Tailgate Party, we particularly enjoyed your character's gold bomber jacket at Tom and Shiv's election-eve soirée.
Thanks! The visual inspiration I had was to throw a golden hand grenade into a room of grey suits. I was excited about leaning in that direction, of going with a casual-slash-peacocking idea. It's a super-comfortable, sweatpants and tank tops vibe. But with a golden, limited-edition $40,000 Japanese designer jacket. The key word was ​"caszh-cocking": Matsson's casual-peacocking.

Over this climactic season, you had some great two-hander scenes with Jeremy Strong. How was he to work with?
Basically, I'm not very Method‑y when it comes to my approach. But whatever toolbox you need in order to get to where you want to get, I have a tremendous amount of respect for that. And when Jeremy does the job, it's fucking next-level. It's phenomenal. It's a real joy to be acting with him, because he's so generous, and you get so much and you just play off of it. I love working with Jeremy. I hope I get the chance to do it again.

How much of Daniel Ek, the Spotify founder, also Swedish, is there in Mattson?

Maybe six per cent. Matsson is definitely not Daniel Ek, and he's definitely not Elon Musk. He's not an amalgamation of the two, either. I definitely got some inspiration from the most prominent figures in the tech industry, obviously Ek being one of them and Musk being another, and there's plenty of them. So I would say that there's a sprinkling of that.

What were your feelings on this being the final season of Succession?
Selfishly, sad. It's been one of the greatest experiences of my career. I've loved playing Matsson. And I've loved working with the cast and crew. I would want to do 130 seasons more. But I also think what makes [show creator] Jesse Armstrong unique, and such an exceptional talent, is the fact that when the show is at the height of its success, he decides to pull the ripcord. Also, the way he does it is unique. To have the courage to kill off your protagonist 10 minutes into the third episode! And you don't even get to see it!

What did you think of the death of Logan?
I thought it was exceptional, that episode. I hope I can say that without sounding like a douchebag, because I'm on the show! But I'm not in that episode! So I'm definitely not tooting my own horn.

In 1996, aged 20, you studied in Leeds for six months because, among other reasons, you loved Leeds United. How do you feel about their, er, rocky seasons?
Haha! Yeah, it's concerning, for sure. It looked like, after many years of being down in the Championship, we were on a good roll there for a couple of years, and doing really well with a very strong squad.

You've rocked some exceptional red carpet looks over the years: the blonde bombshell drag queen. The man who forgot to wear his trousers. The man led around on a dog lead by Mia Goth. Where do you get your ideas?
I went to the Met Ball in Thom Browne, in a comparatively classic look. Not over-the-top at all. At the Met Ball, there are so many crazy costumes that I thought: in that scenario, I prefer to go in a different direction. It's more fun to come in something ostentatious or crazy to a premiere on a Monday night, grey, in November, in a small town. I prefer to save the big guns for when it's unexpected.

Do you have a dream costume you've yet to wear on the red carpet?

Well, you mentioned the drag outfit. That was a lot of fun, because the afterparty for that premiere was at a drag club, hosted by the San Francisco drag queen gang. That was one of the greatest nights of my life. But it's been almost 10 years. So I think I'm due for another drag night.

Finally, maybe a difficult question to answer for you but: of your seven siblings, who is the best Skarsgård?

Haha! As a human being, or an actor?

Both!

The best Skarsgård is obviously Sam, because he's an emergency room doctor in Stockholm. The rest of us [actor] clowns can't compare to that. Not even close.

More like this