Amarah-Jae St. Aubyn: Small Axe's dancing star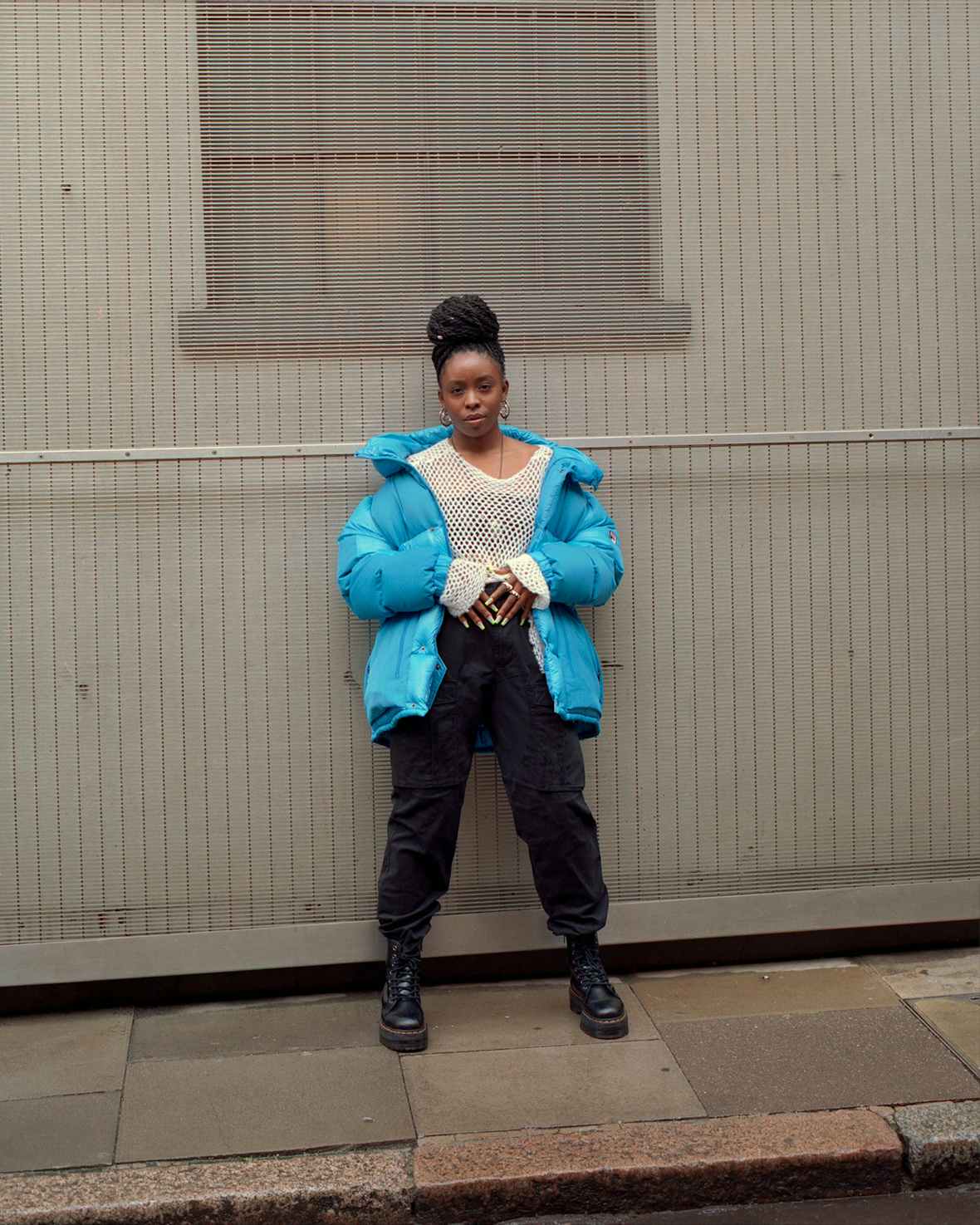 The 26-year-old actress on her captivating TV debut in Lovers Rock and how working with Steve McQueen and Micheal Ward brought her back to her roots.
If you're gagging for a celebration, watch Lovers Rock. There's nothing better than flat-ironed afros, a hot-boxed dancefloor and seductive moves to perfectly capture the party spirit of the Caribbean community.
The film is the second instalment, after Mangrove, of Small Axe. The stellar five-part anthology co-written, produced and directed by Steve McQueen documents the fractured history of Black Britain between the ​'60s and ​'80s.
Whereas the other four films are based on fact, Lovers Rock is an original story. Set in west London in 1980, the 70-minute feature focuses on ballsy British-Jamaican teen Martha, played by newcomer Amarah-Jae St. Aubyn. After escaping her strict Christian parents' home through her bedroom window, Martha ends up at a packed-out houseparty. There she flirts with smooth talker Franklyn, played by Micheal Ward (Top Boy, Blue Story), and grinds rhythmically to Janet Kay's anthem Silly Games.
"Coral the choreographer taught us The Figure of 8," says St. Aubyn on perfecting her dance moves. ​"How your hips move at these parties signifies the unity of life. And after these nights people go off, and get married, and have babies – and [many of them] are still together now."
Most importantly, Lovers Rock highlights an era where Black groups, denied entry to nightclubs on racist grounds, would make their own fun in private homes. ​"It's a chance for people to see our culture, see us laugh," continues St. Aubyn. ​"It's a film you can dance to. In comparison to other chapters in the series, this shows the celebration of life."
Small Axe launched on the BBC with a bang in mid-November. Part one transported viewers back to the ​'70s with its powerful dramatisation of the story of Mangrove Nine. This was a trial, on trumped up charges, of Black British activists which highlighted the racial prejudice inherent within elements of the Metropolitan Police at the time.
Headed up by top Brit acting talent Letitia Wright and Malachi Kirby, the two-hour drama set the tone for McQueen's series of untold Black stories, ones often missed from mainstream TV narrative.
For St. Aubyn, making her screen debut in Lovers Rock, the film brought her back to her roots. Growing up in southeast London, the 26-year-old graduated from the BRIT performing arts school in Croydon, before learning the ropes at the National Youth Theatre and scoring a gig in 2018 as one of the West End cast of Harry Potter and the Cursed Child.
"That was my first big job outside of training and it was very physically demanding. I've spent a lot of time learning about Stanislavsky, Shakespeare and Chekhov and fitting a certain type of mould for others. But with Lovers Rock, it brought me back to myself and what my mum and dad experienced growing up."

The child of Jamaican-Cuban and Guyanese parents, and her dad a well-known reggae musician, St. Aubyn grew up influenced by her culture and often attended the parties hosted in her own home.
To get into the mindset of Martha, she asked her parents for their memories, little realising that their ties to the storyline were personal as well as cultural.
"In rehearsals, there was a massive mood board. I remember looking and saying: ​'That's my dad!' They had a picture of him from back in the day by the sound systems."
This connection allowed St. Aubyn to feel empowered, an emotion McQueen was always keen to encourage.

"Steve said: ​'Play, let's see what happens,'" she says of her time on set. ​"With each scene he wanted us to trust our instincts."
As for her next professional moves, this brand new star is still getting her head around the fact that she's been cast as the lead in a love story. More importantly, St. Aubyn wants her experience to motivate other young Black girls to dream big.
"I was told I was maybe going to be a butler or typecast as the funny friend. But I want young girls who are at BRIT now to be inspired by seeing me and Letitia in Mangrove and realise it is possible. That's what I'm doing it for."

More like this