Armen Nahapetian on Joaquin, Ari and A24's Beau is Afraid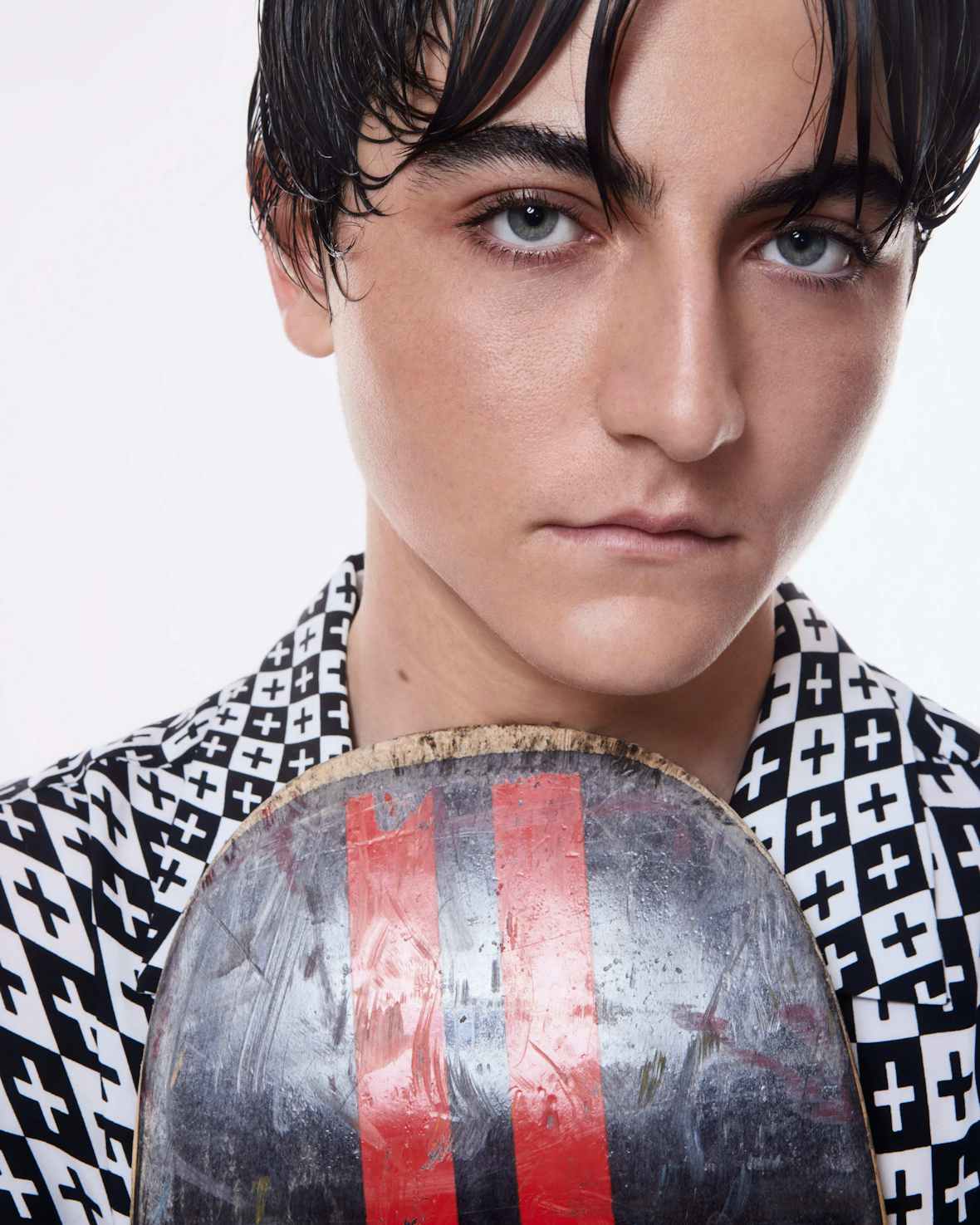 Call Sheet: The 16-year-old gives us the lowdown on dodgy auditions, hilarious onset moments and landing the biggest role of his career in the year's weirdest film.

Armen Nahapetian has seen Beau is Afraid four times so far. That's 12 hours of surrealist madness for a mid-teenage newcomer.
In horror maestro Ari Aster's new A24 drama, a 180-minute assault on the senses, the long-suffering, oddly meek title character (played by Joaquin Phoenix) runs into one extraordinary obstacle after another, each conspiring to prevent his attendance at his mother's funeral. This three-hour griefathon is told in four parts, each stranger than the next, in a mind-boggling blend of The Truman Show and The Wizard of Oz, if both movies' directors had dropped a tab of acid before filming.
Without wanting to spoil too much, Beau is Afraid is a dystopian tale of stunted self-discovery and, really, mummy issues, as told through Aster's idiosyncratic lens. A far cry from the bare-faced horrors of his previous hits Hereditary (2018) and Midsommar (2019), Beau is Afraid is a bizarre ride through a damaged man's psyche from cradle to grave, including but not limited to an entirely animated sequence, a giant talking penis and near-death experiences galore.
Quite the material for a then-14-year-old Nahapetian, who plays the younger version of Phoenix's Beau, to sink his teeth into.

"Yeah, I've sat through 12 hours of Beau is Afraid mania!" Nahapetian says with a knowing laugh, Zooming in from his bedroom in Huntington Beach, California, where he's based with his family. That means he's better placed than most to deliver perhaps the definitive early verdict on this arthouse epic: ​"It's absolutely bonkers."

In Aster's pitch-black comedy, where the medley of saturated colours belie the terrifying dangers hiding behind every corner, young Beau is a sheltered child suffocated by his mother's love – if you can call it that. This hardly helps him cope with his all-consuming crush on the self-assured Elaine (played by Julia Antonelli as a teen and Parker Posey as a grown-up). What follows is quite the hormonal and emotional odyssey.
Perhaps unsurprisingly, Nahapetian really went for it in his audition. ​"It was a self-tape and I had to act out a kissing scene with Elaine, which is a really important moment in the story," the 16-year-old explains. ​"I wanted to include the kiss, but I knew it'd be weird to do that – I didn't want to kiss the camera. So I picked up a mirror, held it out in front of me and kissed it. I assume that worked!"
Over the course of our interview, Nahapetian self-assuredly cracks jokes, reflecting candidly on landing the biggest role of his career while still an adolescent. Things weren't always that way, though. His entry-point into the industry was pretty straightforward: he was a massive fan of Roald Dahl and religiously attended stage adaptations of his books. From there it was a short step to acting which, as a self-described ​"very quiet, nervous and anxious" kid, allowed Nahapetian to express himself in ways he wouldn't normally.
Eventually, by the time Beau is Afraid came along, he saw plenty of parallels between himself and Beau.
"I was a germaphobe, I overthought, I was super scared of everything," he admits. ​"I learned a lot about facing my fears through this role. There's a scene where Julia sticks her finger into chocolate pudding and then into my mouth. I was so nervous. But looking back, filming that scene felt great. The whole experience was awesome."
The casting process for Beau is Afraid looked like…
After my self-tape, I had a few Zoom sessions with Ari. He's a really nice guy. I felt supported by him, which doesn't always happen. It meant a lot. I had a few chemistry reads with actresses trying out for Elaine, then one day I got a call telling me I got the part. My mum was screaming, picking me up and throwing me around. My brother was dancing and doing this Joker laugh. It was like a dream.
The person that got me into acting was…
My brother. He wanted to act and, me being a younger brother, I wanted to copy him in everything that he did. Without that, I don't know that I would have started acting in the first place, which is when I was about four or five. I don't think I'd be where I am right now without him and I'm so grateful for that.
My most embarrassing audition moment was…
One time, me and my older brother went into a commercial audition together and they asked us if we played basketball. We were like: ​"Yeah, of course!" Even though we'd never played basketball before. They threw us a ball and said, ​"show us your moves", which obviously meant actual basketball moves. But me and my brother took the ball and started dancing. I was doing the worm, my brother was basically twerking. Then the casting director was like: ​"Um, no, we mean like dribbling a basketball." We didn't get the part.

The most memorable moment from shooting Beau is Afraid was…
We were filming in Montreal and my mom was with me the whole time. One time, I was on this really high scaffolding filming a scene – it was maybe 10 or 12 feet high. There was a huge green screen curtain surrounding us and my mom was sitting on a foldable chair, watching the monitor. We were in the middle of filming when, all of a sudden, we heard this loud bang, like something had just slammed on the ground. Turns out the chair my mum was sitting on just gave out and she fell flat on her ass! I was trying so hard not to but I just burst out laughing because it was so hilarious! Joaquin was actually right there watching us, so he got to see that whole little experience.

Something I always have to have in my trailer is…
My AirPods. I'm always listening to music, whether I'm at school, skateboarding, at the beach, literally everywhere. I listen to Playboi Carti, Tyler, the Creator. I also love Destroy Lonely – he's dropping an album tonight which I'm super-excited about. Imma be up until 12 or 1am listening to that.
The best piece of advice I've received in the industry is…
That in order to get the best performance, you just need to let go. You can't care what people think of you. In acting, there are a lot of points where you're probably going to embarrass yourself, because you're very vulnerable and putting yourself out there. The only opinions that matter are those of the people you're working with.
My dream role is…
I would really love to be in a Wes Anderson film. I love The French Dispatch and The Grand Budapest Hotel. I'm really looking forward to Asteroid City. To be a part of something like that would be amazing.

GROOMER Elie Maalouf STYLIST Benjamin Holtrop

More like this