Myha'la Herrold: ​

"

My mom and I get tattoos every time we're together"
Talking complex characters and her new slasher flick with Industry's breakout star.
Taken from the new print issue of THE FACE. Get your copy here.
Talking tattoos with Myha'la Herrold over Zoom in her Brooklyn apartment, it's quickly apparent that she lives her life on her skin.
"I should have reached Peak Tattoo," the actor says, smiling, as one of two sister Siamese cats (Natalia and BANG BANG, whose name is all caps ​"because it's just a vibe. She's a lot") slinks over her desk. ​"And then I got four more, so I don't know!" the 26-year-old adds, laughing.
Inspiration, this transplanted Californian explains, comes when it comes. ​"Some [tattoos] are connected to life events. Or to a feeling. I have seven that have to do with my mom because I love my mom. One is the name of another cat I had. Random stuff."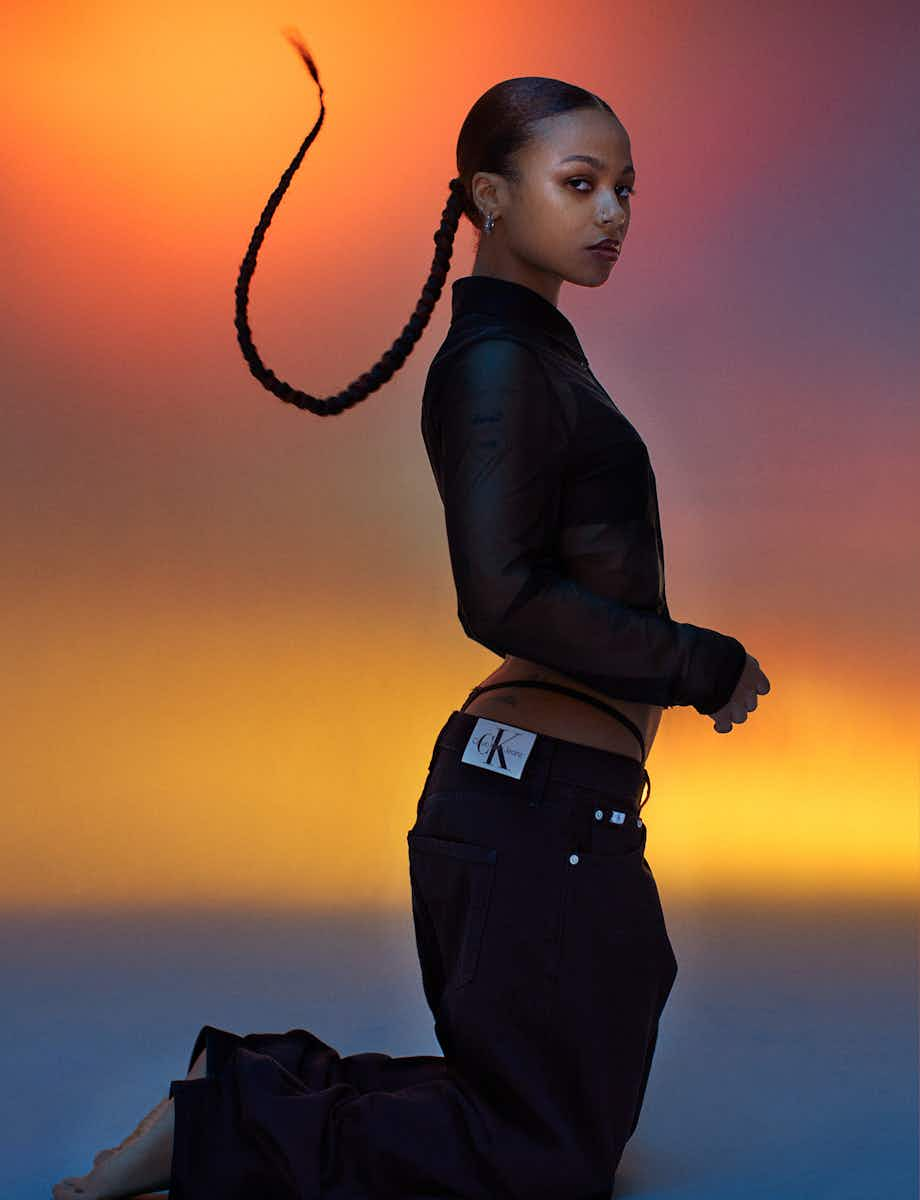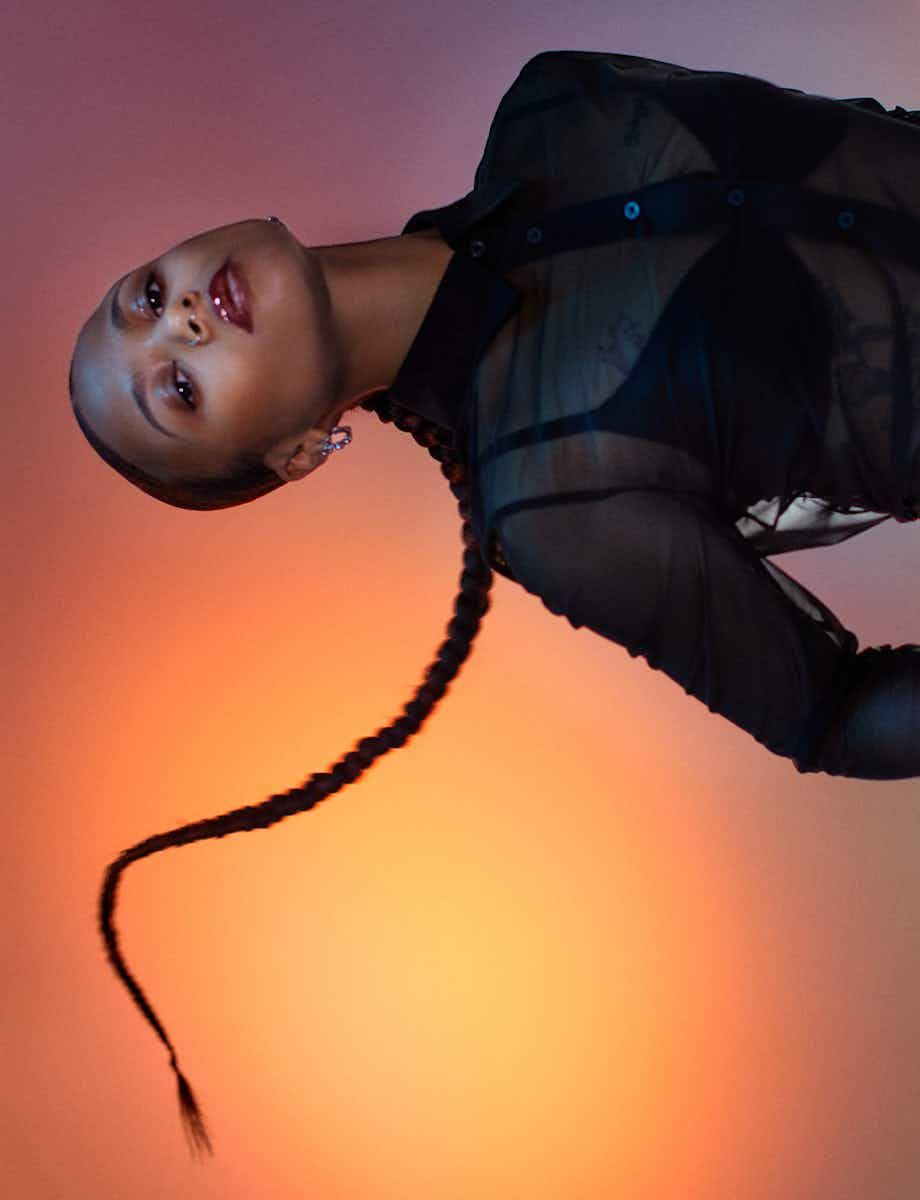 Of her current tally of 16, the most recent is a phrase on her right upper arm. This single child of a single mum pivots to show me: ​"I love you more". It's the mark of a recent visit to New York by Ms. Herrold senior. ​"My mom and I get a tattoo every time we're together, because we're not together that often. She has this same tattoo on her arm in my handwriting."
And her first tattoo? Inked in her second year studying drama, acting and music at Carnegie Mellon University in Pittsburgh, she lifts her vest to reveal an elaborate basil leaf below her right boob. ​"My mom grows a lot of food, [including] different types of basil, and she would make me this special pasta with it. When I went to college, she made a planter box and planted basil for my new apartment."

In Industry, the BBC/HBO's Cardiff-shot, London-set, boundary-pushing, banking-and-wanking ensemble drama that made Herrold a pandemic-era breakout, her character Harper Stern is all on the surface, too. In a good way, mainly. But also in a way that's deleterious to the wellbeing – professional, mental, emotional – of the American grad trainee trying to make her way on the trading floor of City bank Pierpoint. Never afraid to speak her mind – or party that bit harder – she challenges her fellow newbies, her bosses and herself, partly as a pre-emptive strike against the possibility that she might be exposed for having, shall we say, finessed her university qualifications.
"Harper was afraid she was gonna get found out about her transcripts," begins Herrold. In series two, which kicks off with a real-world, Covid-framed scenario as Harper reluctantly returns to the office after a year working WFH (working from hotel), that fear is supplanted by a new slew of paranoias. ​"What it reveals to the audience is how insecure she is still – but for different reasons.
"Now she knows she can do [the job]. But the pressure of the literal physical environment around her, and having to deal with people on a personal level – because clearly she's not very good at that social, interpersonal part – helps you learn more about her. Watching her re-emerge and how she handles that will be the most revealing."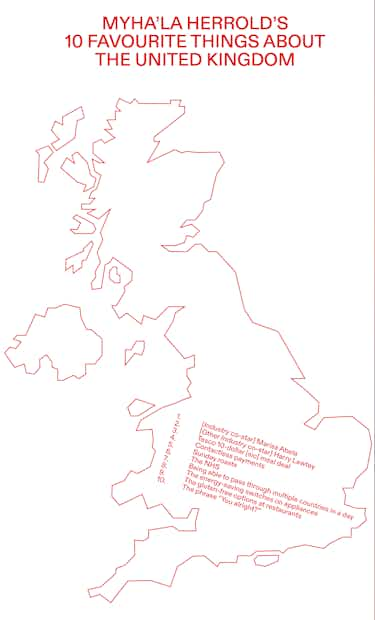 For the show's co-creator Konrad Kay, that melding of life and art was crucial in the building of the world of Industry.
"Harper was the hardest person to cast," says the writer, ​"and the one we saw most actresses for. Then we saw Myha'la's tape and within 30 seconds we knew… The thing about casting new young talent playing new young people in a workplace is that there's lots of analogies, about nerves and imposter syndrome. Myha'la feels an incredible connection to Harper on that basis. So she brings a lot of herself, that naturalism, to the character."
Even when Herrold isn't bringing herself, it seems, she's still a natural. Bodies Bodies Bodies is her other buzzed-about project this season. She plays Jordan, ​"Your Gen Z, type‑A, passive-aggressive, truth-telling friend, who's caught in a spicy love triangle".
Given that we know Herrold is happily coupled (rather than tripled) up (she met her partner in between lockdowns), what was it that drew her to the role?
"I'm somehow very drawn to the parts, or people are drawn to me for parts, that are these snappy, snarky, deadpan, sarcastic, smart characters. Jordan was that. But she also gets angry and aggressive and defensive really easily. All of those things do not live inside of me. So I was excited at the prospect of that challenge. And the script is just fucking amazing. I would have done any part in this film."


Her BBB director, Dutch actor-turned-director Halina Reijn, is no less fulsome in her praise of Herrold, who she credits with ​"comfortably ground[ing] the whole film, because it's a very wild, absurdist comedy."
"Myha'la has a very big brain," continues the director, ​"so she's capable of really collaborating, and not only thinking of her own character but about the story as a whole." Reijn, who has plenty of stage experience, also thinks Herrold should do more theatre work. ​"And she's very funny, plus she's an incredible singer. I'd love her to do a La La Land-style musical."
Options galore, then, for an actor barely two years into what the world has seen of her professional career – one who's also shot another, even starrier ensemble production. Leave the World Behind is a thriller from Mr Robot creator Sam Esmail that also stars Julia Roberts, Mahershala Ali, Ethan Hawke and Kevin Bacon.
But before all that, it's almost time to welcome back the glam, glossy, backbiting world of Industry and a banking floor that's as much about trading insults as stocks, where the stakes are so high that even the clothes mean business. Is there any of Harper's power-suit dressing that Myha'la Herrold would actually wear in real life?
This tattooed picture of downtown cool frowns and thinks. It seems not…
"Yes!" she suddenly exclaims, ​"There's a green silk shirt that I love. And a pair of The Kooples penny loafers. Oh, and there's this new Margiela coat that she starts to wear from episode five to the end. When we finished filming, I wanted to take it so bad, and I forgot! Everything else can go, ha ha!"

HAIR Erol Karadağ MAKE-UP Rommy Najor ON-SET PRODUCER Christo Arsenio PRODUCER Katherine Bampton PHOTOGRAPHER'S ASSISTANT Oscar Canas STYLIST'S ASSISTANT Lily Zhang HAIR ASSISTANTS Zach Dierk and Caitlin Boland Thanks to Veronica Studio.

More like this