Ben Platt, Broadway sweetheart, wants you to meet the real him
The lead in Ryan Murphy's chaotic political dramedy The Politician talks ambition, machiavellian scheming and late nights with Gywneth Paltrow.
It's fitting that, as the star of Ryan Murphy's The Politician, Ben Platt had his own political ambitions when he was in middle school. The 25-year-old has been working in theatre since the age of nine but campaigning and elections were built into the fabric of his academic environment. ("Student government was taken very seriously," he says.) After a childhood spent auditioning, Platt entered middle school with an eye to making a difference. The only problem: he was borderline unelectable.
"I ran for president and I lost. Then I ran for vice-president and lost," he recalls. Platt has an innocuous air about him, doe-eyed and with a gentle grin on his face. When we meet in a Soho hotel I'm reminded of the hapless Cousin Greg from Succession.
"I was disappointed. I took it personally – it's very much a popularity contest at that age – so I was like: ​'I guess I'm not as well liked as I thought.'"
The school ​"awarded" him the position of treasurer instead, to show there were no hard feelings, which meant Platt sat on the school's general board to help make policy decisions. His first order of business?
"Pizza. We had pizza every Friday and you would not believe…" he pauses to think. ​"The way they administered the pizza was very haphazard, and I really wanted to streamline that process." It's important to remember that Platt was 13 at the time.
Navigating his acting career has been more straightforward, even if The Politician, out this Friday, is something of a left turn for him. Just look at his previouses: a Broadway career that kept him busy as a kid. Later, he dropped out of studying at Columbia to star in a little-known production called The Book of Mormon as the good-natured but insecure Elder Cunningham. The global success of Mormon helped him pivot into film – notably in Pitch Perfect, where he played a nerdy illusionist and a sincerely enthusiastic a capella singer, but also Ricki & The Flash, the film where Meryl Streep pretended to be Alanis Morisette. Now, with The Politician, Platt plays Peyton Hobart, a scheming, manipulative high-schooler determined to become class President in order to further his long-term goal of one day running the country (future seasons will follow Hobart through his turbulent political career, though Netflix would not confirm anything beyond a second season).
American Horror Story and Crime Story creator Ryan Murphy wrote the part with Platt in mind and visited him while Platt was performing as the titular character in Dear Evan Hansen on Broadway – a culty stage musical in which a lonely teenager becomes a viral star after a classmate's suicide.
"He came backstage in a beautiful fur coat," Platt says, recalling his first proper meeting with Murphy. ​"Very larger than life, very complimentary. He had the vision very much figured out in his mind and he painted a very vivid picture for me. The main selling point was that he created a character that was totally 180 degrees from what he'd seen me do in Evan Hansen. He let me play on strengths that I had, but wanted me to play someone that was far more confident, who stood a little taller. It was something I'd never really gotten the opportunity to do before."
Platt's densely-packed career earned him a place in TIME's 100 most influential people list, as well as awarding him a Tony, a Grammy and an Emmy. But people saw him and his roles as one and the same: bookish, angsty, tormented, anxious. Payton was a chance for him to get his hands dirty.
"I had to figure him out, and imagine I didn't have the ability to connect with my emotions or allow empathy to supercede my ambitions now and again," he says. ​"What would that be like, if that ambition existed in a vacuum?"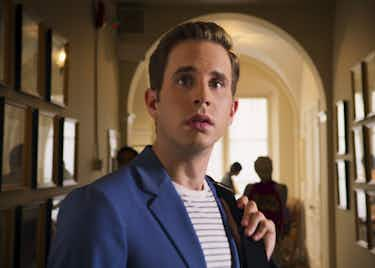 Payton's rise to power mixes the machiavellian scheming of House of Cards with the high-wire camp of shows like Glee. There is voter suppression and voter apathy aplenty, but there's also a scammer who might be faking cancer and a melodramatic bottle episode parodying Gone Girl. The colour palette of the show is Pride-flag bright; lurid and violent-hued. And though his character's methods are morally questionable, Platt admits he can see the appeal. ​"People are mesmerised by him," he admits. ​"He has a galvanising effect."
In fact, he identified with Payton's ​"laser-focused ambition" because he had a similar attitude about his rapidly accelerating career. ​"I wanted to be a performer for as long as I can remember, it's sort of this innate thing, where I don't ever remember making that conscious decision. [Payton] feels the same way about being President. He doesn't really have a literal specific explanation for that other than just… knowing."
The show has a stellar cast – including appearances from Bette Midler, Jessica Lange and Gwyeth Paltrow, as Payton's mother. ​"She exudes light, warm energy. And she made me feel very intimately close with her, in a very maternal way," he says.
Though Paltrow didn't give him any jade rollers or vagina eggs, she did cast a cursory glance over the products he had in his trailer. ​"If she saw me using something in make-up she would be like: ​'That's not the best' and replace it," he says. I ask him if he's worried the GOOP monarch might forget who he is entirely – earlier this year she forgot working on a Spider-man film with Tom Holland. ​"I don't think so," he replies earnestly. ​"We've had too many late nights for that."
Next he begins work on Richard Linklater's movie adaptation of the Stephen Sondheim musical Merrily We Roll Along, which is being filmed over a 20 year period. And he's also adapting Dear Evan Hansen for the screen; he says he feels a duty to bring the story that defined his career to a wider audience. ​"It's being developed. I'd rather do it sooner than later so everyone can forgive me for not looking 18 years old anymore."
He's spent years being other people and he's got it down to a fine art. Platt tells me how his Broadway success has ruined karaoke for him because he focuses too much on performing. ​"I like to go and see theatre," he admits, when I ask what he does to let off steam. ​"It doesn't feel like work when you're the one sitting in the audience."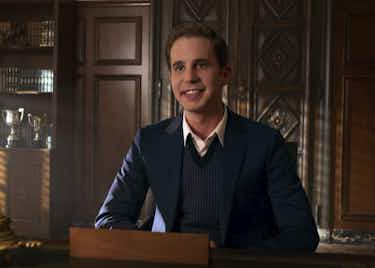 I ask him about his music; in March this year he released his debut album Sing To Me Instead (think vulnerable piano ballads in the ​"Shawn Mendes is sad" subgenre). When he started releasing music, he came out, too, although he says his parents knew his sexuality since he was about 12. Before I met him it felt to me like he was trying to be all things at once – a careers worth of work packed within a couple of years.
But he says he just wanted people to finally see him for who he is. ​"I had spent so much time disguising myself or transforming and focusing so much on hiding my personality that it felt very necessary and cathartic to invest purely in… ​'what does it sound like if I'm singing?' and ​'what are my stories?'". He'd been inward-facing, or playing other characters, for so long that he wanted to let the light in, even a little. He wanted people to meet Ben, and hear him, too.
"I don't think a second album will be on the cards until next year, though," he says, as someone in the hotel room taps a watch. ​"We're going to be making the second season soon.
"But hey," he says, getting up and shaking my hand. ​"Gwyneth has about four empires on the go at any given moment." When I leave the hotel he's stood by the window, looking deep in thought. How hard can it possibly be, to be all things at once?

More like this