The best arthouse romance films to elevate your Valentine's Day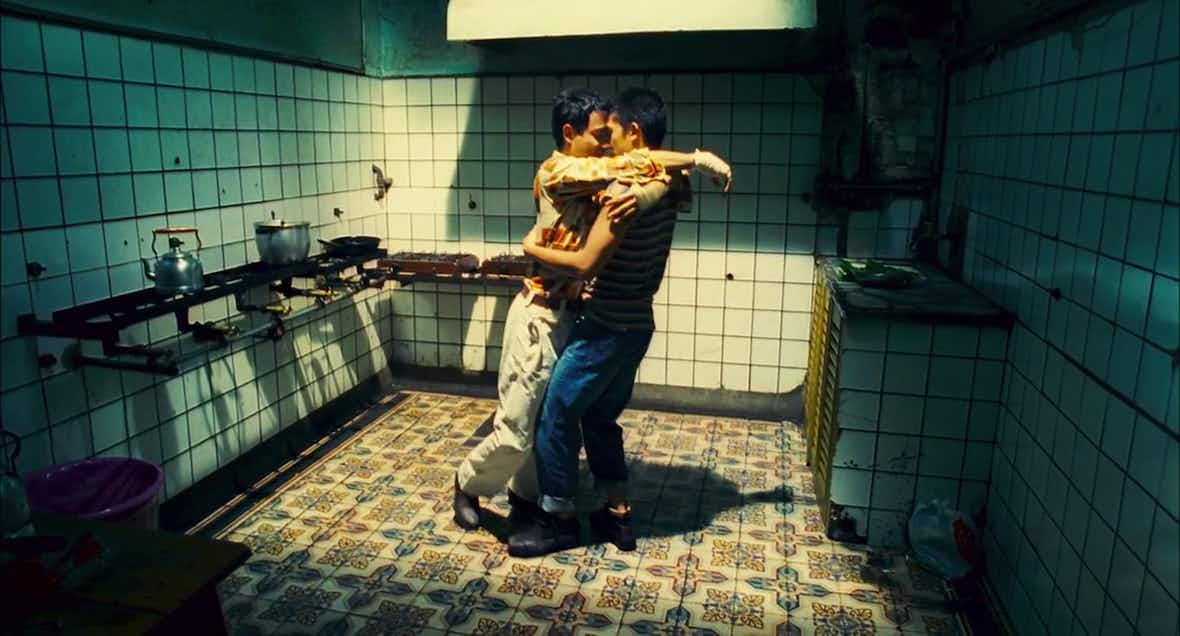 Skip the cheese, thanks. These films will make you think deep and fall hard.
Love isn't just about grand gestures and running through airports in search of the one who got away. This Valentine's Day, instead of watching Hugh Grant awkwardly gape at Julia Roberts, we suggest you put on a romance film that digs a little deeper, beyond the boring capitalist trappings of red roses and teddy bears.

We've rounded up the best arthouse romance flicks to get you in the loved-up mood – don't worry, we aren't suggesting you take these films literally. There's no need to bind your partner to your waist with red rope like in Dolls, or seduce a chaste catholic à la My Night at Maud's. But wouldn't you rather behold the simple beauty of lovers slow-dancing in their tiny flat in Happy Together than watch How to Lose a Guy in 10 days for the 15th time?

Turn down the lights and immerse yourself in these unconventional tales of romance.

In Dolls, Takeshi Kitano moves away from his classic hyper-masculine yakuza dramas to weave together a tender romance that tackles the beauty and mystery of undying love, and its accompanying woes. The film is composed of three different vignettes: two lovers, bound by a knot of red thread, wandering the ends of the earth together; a woman in a red dress waiting on the same bench every Saturday with lunch prepared for her lover; a pop idol who sings about love at first sight being followed around by a devoted fan. Kitano is a master of visual storytelling: in one scene, we see a close-up of our lovers' forlorn faces, completely still while the camera encircles them, as if the rest of the world has melted away. The characters all sacrifice something in the face of love, realising that they'd rather renounce society if it means they can be with their partner for just a second longer.

Available on MUBI.

It doesn't get much sexier than Maggie Cheung in a skin-tight catsuit. Oliver Assayas' film isn't strictly about romance, rather a satirical love letter to cinema, with his ex Cheung as his muse. Cheung plays herself, an actress who's arrived in Paris to film a remake of Louis Feuillade's silent classic Les Vampires, directed by an ageing New Wave director René Vidal (Jean-Pierre Léaud) who doesn't seem entirely certain about his concept. Assayas brings us into the chaos of the disastrous film set with equal amounts of comedy and adoration. Even while it pokes fun at films that are trapped in the past, Assayas reveals his love of the cinematic process. The camera itself takes on its own dynamic character, zigging and zagging, prowling with Cheung through hotels at night, invigorating the screen with playful experimentation.

Available on Amazon Prime.

I've Heard the Mermaids Singing (1987)
Patricia Romanza's charming comedy is a paean to those who feel left behind by the world. This is the circumstance our klutzy heroine Polly (Sheila McCarthy) finds herself in. Despite all her mundanity, she possesses a child-like wonder that she attempts to capture with her photography. But Polly's also forgetful and prone to daydreaming, which makes holding a job down difficult. When she secures an assistant role at an art gallery owned by the effortlessly elegant intellectual Gabrielle (Paule Baillergeon), Polly begins to fall in love and dreams of winning Gabrielle's approval. A warm and whimsical story of self-discovery, the theme of sexuality is given new depth through Polly, who proves it's worth pursuing the thing you love, even when you're not the best in the game.
Available on Amazon Prime.
"Ho Po-Wing always says, ​'we could start over again', and it gets to me every time", begins the off-screen voice of Lai Yiu-fai (Tony Leung), one of the tragic lovers in Wong Kar-Wai's intricately stylised queer love story. His words set the whole tone for the film. It's a tragic portrait of an on-off relationship that loops in a cycle of infatuation and jealousy, as Lai and Ho (Leslie Cheung) fight, make-up and do it all over again. The destructive lovers find themselves drifting in different directions as they adapt to their new lives in Buenos Aires – Lai is timid, silent and caring, while Ho is flirtatious, reckless and charismatic. Carrying the weight of their history and memories of Hong Kong with them, the two men reckon with the instability and loneliness of living in a foreign city. Devastating and feverishly romantic, the film also subtly explores the complexity of migration and the growing fears around LGBTQ+ rights in the wake of the 1997 handover of Hong Kong.

Available on BFI Player.

My Night at Maud's (1969)
My Night at Maud's embodies the genius of Eric Rohmer – a dreamy winter romance that, on the surface, conceals profound philosophical questions. A strict Catholic engineer (Jean-Louis Trintignant) finds himself staying the night with the alluring divorcée Maud (Françoise Fabian), after she insists that the winter storm outside has made it unsafe to drive home. Battling his rigid morals, Jean-Louis is caught between instinct and doctrine, while Maud is self-assured, living by her own desires and free will rather than a hollow moral code. The film captures the adrenaline-filled anticipation and fear that accompanies romantic decisions, giving the film a surprising sense of suspense as Jean-Louis tries to figure out his path to happiness.

Available on AppleTV.

The Watermelon Woman (1996)
Radical in both its content and history, Cheryl Dunye's film was the first feature directed by a Black lesbian filmmaker and is a landmark of ​'90s New Queer Cinema. Dunye also stars in the film as Cheryl, an aspiring filmmaker who works at a video store. She doesn't know what she wants to make a film about, but she knows that it has to be about Black women, ​"because our stories have never been told". Cheryl begins to construct a new film archive of cinema's uncelebrated Black artists, by seeking out the identity of an unnamed Black actress from the ​'30s, whose only credit is ​"the watermelon woman". As she pursues her research, Cheryl is surprised to find herself falling for a white woman, Diana (Guinevere Turner), which naturally prompts analysis of their racial dynamics. Dunye's masterpiece is a moving reminder that Black cinematic history exists, and that the stories of these women remain true and important, even in the absence of historical record.

Available on MUBI.

I'm a Cyborg, But That's OK (2006)
This wacky romantic comedy from Park Chan-wook takes place in the unlikely locale of a psychiatric ward. The film portrays a budding romance between Cha Young-goon (Lim Su-jeong), who thinks she's a cyborg and needs to lick batteries to live, and Park Il-sun (Jeong Ji-hoon AKA Rain), who believes he has the power to steal other people's personalities. Depicting mental illness without any pity or bleakness, the film instead chooses to focus on the poignant connection between two people who communicate in a unique and creative way. And, as you'd expect, Park dishes up the romance alongside gorgeous imagery, each scene infused with dazzling colours and originality.
Available on Amazon Prime.
Set in Dakar, Mati Diop's ghostly love story considers how we leave traces of life after death through the people we love most. The film follows women left behind by lovers who embark on a dangerous journey to Europe, setting off on their pirogues in hope of a life beyond the exploitation they've faced in Senegal. Ada (Mame Bineta Sane) is heartbroken after learning that her partner, Souleiman (Ibrahima Traore) was carried away by the tides after his boat capsized. As she tries to cope with her loss, uncanny events start occurring. Framed through the lens of fantasy and the supernatural, Atlantics offers an empathetic commentary on the devastating impact of the migrant crisis and the enduring effects of loss. But above all, the film puts us in the constant presence of Ada and Souleiman's expansive love, which crosses the boundaries of land and sea, love and death.

Available on Netflix.

The Annihilation of Fish (1999)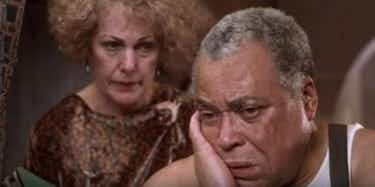 A lesser-known film from the experimental director Charles Burnett, The Annihilation of Fish is a gentle romance about middle-aged interracial neighbours, who prove that love can sneak up on us at any point in our lives. James Earl Jones and Lynn Redgrave make a great pairing: Jones embodies a man named Fish, who imagines he's being followed by a demon called Hank, while Redgrave plays Poinsettia, who believes that the dead composer Giacomo Puccini is in love with her. Burnett's film is kind and loving, treating our unlikely pair of lovers with generosity as they navigate their loneliness, ageing and mental illness, while learning how to be vulnerable and love one another.

Available on Mubi.

My Beautiful Laundrette (1985)
My Beautiful Laundrette is a seminal work of the ​'80s British film revival, written with sharp, layered precision by Hanif Kureishi and directed by Stephen Frears. The film tells an interracial, gay love story between a young second-generation English-Pakistani laundrette owner (Gordon Warnecke) and Johnny Burfoot (a young Daniel Day-Lewis), his white skinhead lover and childhood friend. The sharp comedy-drama is set in a run-down laundromat in a South London Asian community during Thatcher's tenure, and considers the culture of greed and racial inequality that was propped up by the neoliberal economics of the era. Yet the film's appeal lies beyond postcolonial and class critique; strands of fantasy and romance run throughout, making it funny, sexy and smart – the holy trinity of cinema.

Available on Amazon Prime.


More like this