Eight Japanese films to watch after Drive My Car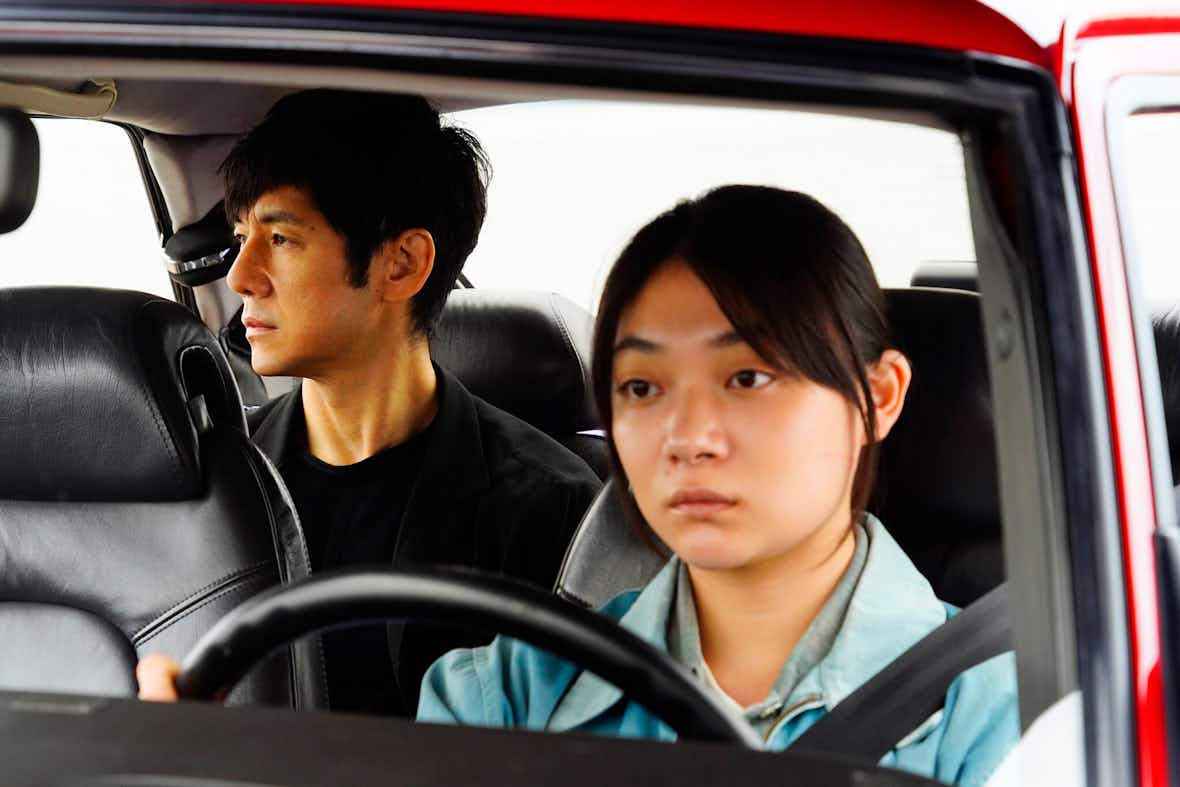 Ryusuke Hamaguchi's three-hour masterpiece was up for four gongs at last night's Oscars, winning Best International Feature Film. Hungry for more Japanese cinema amidst all the hype? Here's what to watch next.
The Academy Awards has been rife with twists in recent years and the 2022 ceremony was no different. But despite the various prizes reaped last night, the Oscars story of the year was ultimately not Jane Campion's Power of the Dog, Paul Thomas Anderson's Licorice Pizza or Denis Villeneuve's Dune. It was the Japanese film Drive My Car, which, against all odds and expectations, managed to work its way up from the corners of Japan's indie film industry to find itself competing for four major gongs. It went on to win Best International Feature Film.
Prior to last night's ceremony, IMDB listed no less than 71 award wins for Ryusuke Hamaguchi's three-hour Haruki Murakami short story adaptation, including a FIPRESCI Prize at Cannes, a BAFTA and a Golden Globe. At the Japanese Academy Prize ceremony this March, it scooped eight prizes, including Best Picture, Best Director, Best Actor and Best Screenplay. It now retains a place in history as the first Japanese film to compete for Best Picture at the Oscars – and the clamour is easily understandable. Hamaguchi's subtle, humanistic filmmaking in this tale of grief, contemplation and catharsis offers a verisimilitude and naturalism that transcends the language barrier. It's a film that stays with you long after the credits roll.
Drive My Car​'s understated Oscars victory might not quite be a Parasite-repeating moment, but it does carve a welcome new pathway into one of the world's great filmmaking nations: Japan. Catch the film now while it's still in cinemas (or on MUBI in April) and come back here straight after for tips on what to watch next, with this list of eight conducive Japanese films to explore after Drive My Car as your guide.
Happy Hour (Ryusuke Hamaguchi, 2015)
Here's an easy start: Hamaguchi's 2015 breakthrough film. It's five-and-a-half hours long, which also makes it Japan's longest single film feature of all time. Best get comfortable and stockpile the snacks before you start streaming via the BFI Player.
The film follows a group of middle-aged women whose lives slowly evolve after one of them enters divorce proceedings. And like Drive My Car, Happy Hour achieves transcendence via its protracted runtime, which allows its characters to develop deeply, intricately and naturally. Their journeys of introspection and contemplation unfold gradually here, alongside pleasantly meandering side plots involving community classes and book readings. By the close, these fully-formed characters feel captivatingly real.
The four lead cast members (amateur actors who developed the characters with Hamaguchi over a period of months at an acting workshop) were jointly awarded the Best Actor prize at Locarno Film Festival, a testament to the film's powerful subtleness. Don't be too intimidated by the runtime – if you don't have five consecutive hours to spare, you can always treat it like a mini-series. This is a wonderful piece of work that's well worth the screen time.

Flowing (Mikio Naruse, 1956)
Hamaguchi offered up the 1956 film Flowing as a personal viewing recommendation during an interview with THE FACE in February and it's a great film to highlight for a number of reasons. For one, Mikio Naruse was a key director of Japan's Golden Age of the 1950s, during which the country's film industry was recognised as one of the best in the world at major events including Venice Film Festival and the Oscars. And while he is a little less well-known in the West compared to the likes of Akira Kurosawa (Seven Samurai) and Masaki Kobayashi (Hara-kiri), he is as much a master of the shomin-geki ("common people dramas") as the great Yasujiro Ozu (Tokyo Story).
Flowing offers an intimate look at the nuances of the lives of several women working at a debt-stricken geisha house in Tokyo in 1956, the year prostitution was outlawed in Japan. Here, in the midst of sweeping transition, money, wellbeing, ambition and food are constant subjects of discussion. With its naturalistic dialogue and emphasis on conversation (combined with several meditative shots of a flowing river in the middle of the city), it's clear to see why this slice-of-life Japanese classic would have been so influential on Hamaguchi's own work. The parallels with his own female-focused stories such as Happy Hour and segments of his newest film, Wheel and Fortune and Fantasy, are obvious.

Maborosi (Hirokazu Kore-eda, 1995)
One of the most recent Japanese directors to be recognised at the Oscars was Hirokazu Kore-eda, who was nominated for the Academy Award for Best International Feature Film in 2019, a year after winning the Palme d'Or at Cannes for Shoplifters. That film's about a poverty-stricken family living on the streets of Tokyo, who resort to thievery in order to survive (it bears much in common with the similarly lauded Parasite, which was released a year later). But while it's easy to draw parallels between the latter family drama and Hamaguchi's Oscar-nominated study of grief, Kore-eda's astonishing 1995 debut Maborosi feels even closer in spirit.
The bottle-green-tinted film initially gets cosy with a loving young couple enjoying a comfortable life in the suburbs following the birth of their first child – until one day, their relationship is struck by a terrible tragedy without warning or explanation. Years go by and life goes on for young mother Yumiko (Makiko Esumi), who eventually moves to a seaside village to get away from the noise of the city. But over time, she is forced to come to terms with the unimaginable grief she has been carrying, expressed masterfully by Kore-eda in the film's moving catharsis.

Tokyo Sonata (Kiyoshi Kurosawa, 2008)
Another Japanese director who has received major international recognition in recent years is Kiyoshi Kurosawa, who was awarded the Silver Lion for best director at the Venice Film Festival in 2020 for World War Two romantic drama Wife of a Spy.
More than just a kindred spirit, Kurosawa was actually Hamaguchi's teacher while he was studying at the Tokyo University of the Arts. The Drive My Car director has spoken at length about the wealth of knowledge and wisdom he acquired from his mentor, particularly concerning the intimate relationship between his camera and his actors. (Actually, the respect was mutual – Hamaguchi ended up working on the screenplay for Wife of a Spy with Kurosawa.)
Hamaguchi's Tokyo University of Arts graduation project, Passion, was completed the same year that Kurosawa won the Jury Prize at Cannes for Tokyo Sonata. The latter film is a brilliantly constructed and moving drama about an ordinary family living in the city, whose lives are gradually transformed after its patriarch loses his job. And while Kurosawa remains best known in the West for his brilliantly eerie psychological films Cure and Pulse, Tokyo Sonata might actually be his most complete work.

Dolls (Takeshi Kitano, 2002)
There was notable clamour in 2021 for Drive My Car lead actor Hidetoshi Nishijima to get a nod at this year's Oscars himself. He didn't make the shortlist for Best Actor in the end, but he did win in the same category at this year's Japan Academy Awards for his role in the film, a worthy prize for his powerful portrayal of a respected actor who quietly suffers while preparing a new stage production.
Nishijima's mercurial performance is the latest in a three-decade career that also includes roles in Kiyoshi Kurosawa's License to Live, Loft and Creepy. But it is a collaboration with another great director of Japan's ​"new wave of the ​'90s" that might be the most conducive to Drive My Car. Dolls was released five years after director and entertainment icon Takeshi Kitano won the Venice Golden Lion for his nihilistic crime drama Hana-bi. A contemplative and romantic art film, it interweaves a series of plotlines, with the predominant focus being on Matsumoto (Nishijima), a young man whose sweetheart attempts suicide after he is pressured to marry a company president's daughter.
With some breathtaking cinematography embracing the four distinct seasons of Japan, a wardrobe by Japanese fashion designer Yohji Yamamoto and a rousing score from composer Joe Hisaishi (known for his iconic musical work in the films of Studio Ghibli), Dolls marks Kitano at his most lyrical and reflexive. Multiple scenes of Matsumoto sitting in stoic contemplation inside a bright yellow Nissan Primera, meanwhile, make you wonder if Hamaguchi had referenced the film himself before casting him in Drive My Car.
Eureka (Shinji Aoyama, 2000)
On the subject of great acting performances, Koji Yakusho – known for Kiyoshi Kurosawa's Cure, Kore-eda's The Third Murder and Takashi Miike's Thirteen Assassins – might well be the greatest Japanese actor of his generation. And while he lost the Japanese Academy Prize to Nishijima this year, despite delivering an emphatic turn as a reformed gangster returning from prison in Under The Open Sky (Miwa Nishikawa, 2020), he's won at the same competition four times previously. He was also the star of Shinji Aoyama's mammoth-sized Palme d'Or-nominee Eureka in 2000, an art film that shares many narratives and stylistic themes with Hamaguchi's own mammoth-sized Palme d'Or-nominee, Drive My Car.
Shot in sepia-hued monochrome, and built on contemplative silences and a wistful jazz piano score, Eureka tells the story of a bus driver (Yakusho) and two near-mute children who are the only survivors of a bus hijacking that leaves several people dead. Across a meandering 218 minutes, this enigmatic trio are forced to come to terms with their trauma while navigating an ongoing police investigation concerning a serial killer of women. They eventually find solace after taking a bus trip to the ocean, a climax that recalls François Truffaut's French New Wave classic The 400 Blows (1959).
Sweet Bean (Naomi Kawase, 2015)
Like directors Kitano, Kore-eda, Kurosawa and Aoyama, Naomi Kawase also came to prominence in the ​'90s. She became the youngest ever recipient of the Camera d'Or at Cannes in 1997, after she was awarded the prize for Suzaku at the age of 28. Her subsequent success has marked her out as one of the most important female filmmakers in the country, while her humanistic portrayals of characters and communities in the corners of society have made her a recurring presence at major film festivals worldwide.
Intimacy and empathy are cornerstones of both Hamaguchi and Kawase's works – and the latter's 2015 film Sweet Bean exemplifies those tropes with sublimity. The film is a tender and often claustrophobic portrayal of a lone street food vendor on the outskirts of Tokyo, who is forced to accept help from an elderly woman in order to save his business. Most of the drama unfolds inside his tiny dorayaki stall, where Tokue (Kirin Kiki) teaches him the secrets to a delicious sweet red bean paste, as well as a number of life lessons. But both she and Sentaro (Masatoshi Nagase, also of Jim Jarmusch's films Mystery Train and Paterson) are hiding something from one another.

Red Post on Escher Street (Sion Sono, 2020)
Sion Sono is best known for provocative arthouse cult classics, which range from ultra-violent horror films (Suicide Club) and hip hop gang-war musicals (Tokyo Tribe) to four-hour youth dramas (Love Exposure) and even avant-garde softcore pornography (Antiporno). He made his Hollywood breakthrough last year in typically off-the-wall fashion, directing Nicolas Cage in the bizarre samurai western Prisoners of the Ghostland. Yet, for all of these uniquely memorable spectacles, it is his most understated work that is perhaps his best.
Red Post on Escher Street is a love letter to the hard work of hopeful cast members and fatigued crews in the troubled creation of a feature film. It is the story of an ensemble of passionate hopefuls (played by students from an acting workshop held by Sono in real life) who strive to land roles in a movie by a maverick director who has come to town. Their fortunes vary – with often humorous results – but it is the captivating journey that counts.
It mirrors Drive My Car in a number of ways: both films are acutely concerned with the production of a performance (in Sono's film, it's a feature film; in Hamaguchi's, it's a play). Both are justifiably long, allowing the audience to become familiar with their uniquely captivating characters. And both achieve greatness in spite of their evidently modest budgets, a testament to the skill and vision of each distinct filmmaker.

More like this