Close Up: Bimini Bon Boulash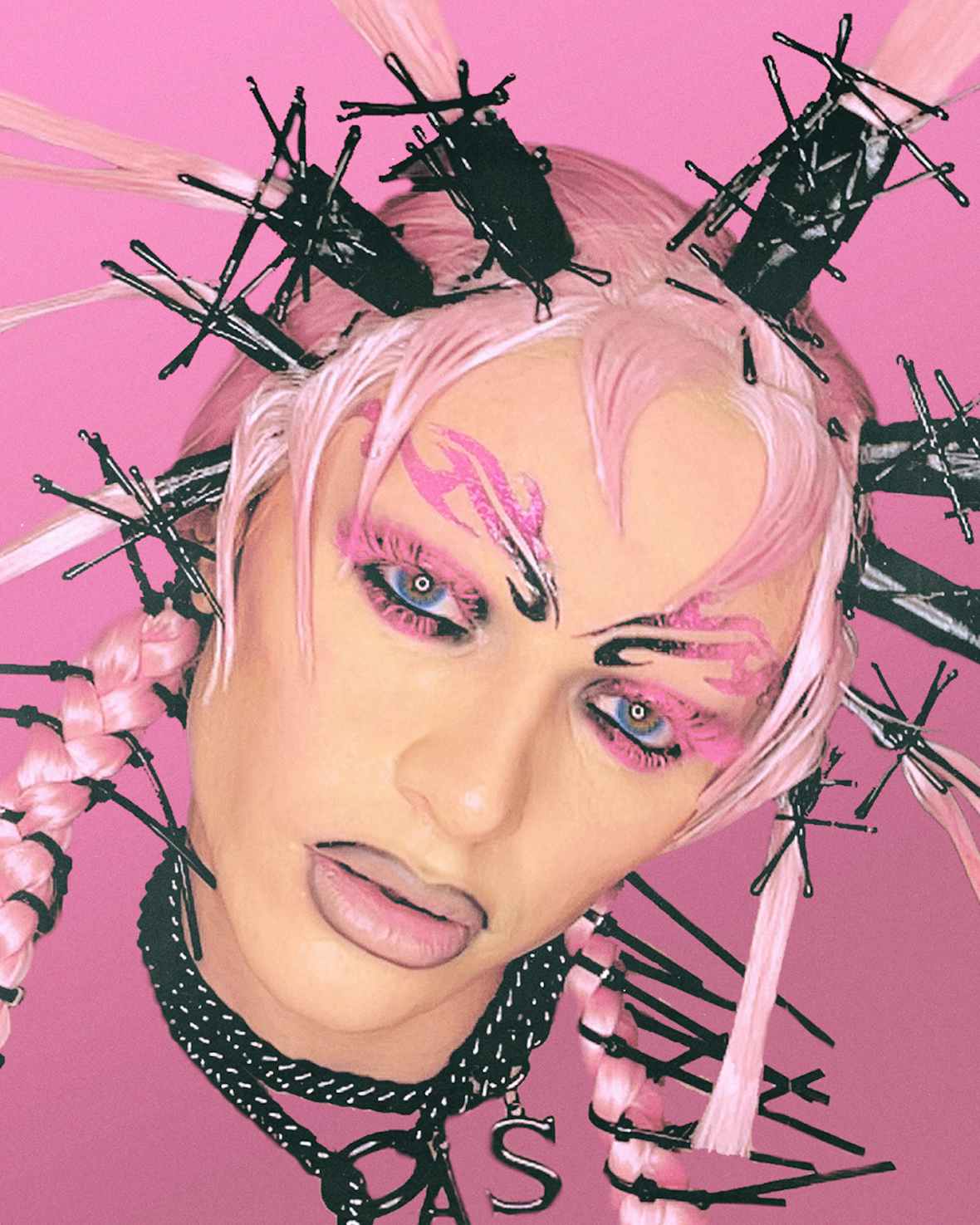 The RuPaul's Drag Race UK finalist has won the hearts of a nation with their razor-sharp wit, rock-star charisma and an amicable approach to the competition. Here, they share their compelling story with THE FACE.
If you visited Great Yarmouth in the early 2010s, you might have seen Tommy Hibbitts and a best mate staggering along in the Norfolk seaside town in ripped fishnets and moth-eaten old fur coats. Together, the teenage friends mimicked heroin chic and Kate Moss.
"We'd walk around with our Diet Cokes and cigarettes thinking we were the coolest kids ever," Hibbitts says today, laughing at the memory. In case the obsession with Croydon's once-and-forever supermodel queen is in any doubt, they hold up an arm with her infamous tiny anchor tattoo inked on their wrist.
Back then, the pair were the local off-the-wall indie kids, spinning an imaginary tale of the lives they wanted to lead using only clothes and attitude. A decade later, Tommy would be on TV as Bimini Bon Boulash, the non-binary drag queen in baby blue taking an imaginary strut across the Great Yarmouth beaches on a catwalk watched by well over a million people in the UK alone.
With effortless swagger and a high fashion take on trash, Bimini provided a jolting dose of charisma to the screens of an uninspired and isolated nation sitting through a pandemic. Since the second series of RuPaul's Drag Race UK began airing on BBC Three on 14th January, the 5 ft 7 queen has amassed a legion of followers, united under the #teambimini hashtag. After a wobbly start, Bimini quickly became the leading fan favourite among the 14 contestants, which included enormous characters like the loveable and clumsy underdog Tia Kofi, the shady sexpot A'Whora and the Glaswegian joker Lawrence Chaney.

Although Bimini didn't win, narrowly missing out on the crown in the final to Chaney, in the eyes of many viewers, they may as well have done. As one member of the #teambimini – now #biminiwasrobbed – camp said ​"a bimini bon burglary has occurred".
But being a runner-up hasn't bothered Bimini. The finalists were in Manchester, where they were being filmed as they watched the last episode for a reaction video. But due to the chaos of coordinating the day, they actually ended up watching the final a bit behind the rest of the country, without their phones so they couldn't sneakily check the result. ​"We loved it and when Ru crowned Lawrence, we all went crazy," Bimini tells me the day after the final. ​"Either way, I was on top of the world. I could've gone home first episode. I believe in the universe and how things happen. The world has its reasons and so does the universe."
Bimini appreciates the love the fans are showing them, but they urge everyone to be kind to other contestants and celebrate Chaney's victory. ​"I'm not a mean-spirited, bitchy person," they say. ​"It's great that people support me. But my whole message is not to tear people down. So if you're supporting me and doing that, it's not supporting me."
Storytelling is an art every good drag hopes to perfect, and for 27-year-old Bimini, it's a trained skill. Fascinated since their teen years with fashion magazines, they graduated from London College of Communication in 2016 with a degree in journalism, dropped out of a journalism masters at Goldsmiths but did a few media internships, hoping to focus on writing about social justice and human rights.
"If I wasn't doing drag, I would've really pushed that because I enjoyed that fast-paced thrill of it all," they explain. Right now, the same trendy fashion mags Bimini grew up with are queuing up to do photo shoots.
Bimini Bon Boulash knows, then, that the story of their drag name isn't quite the epic it could have been. Bimini was the name their mum would've given them if they were female at birth, and Bon Boulash was an adaptation of their pet cat's name. Both combined to make a ​"big fuck off alliteration".
Over a video call from their East London bedroom, a trans flag pinned to the wall behind them, during our first interview they're in off-duty drag mode, their face naked with only faint whispers of eyebrow. ​"I feel like the story is so underwhelming. Maybe I should say I went on a drag generator and came up with it," they say, giving the idiosyncratic throaty laugh.
Bimini is a quintessential British punk drag queen: Edie Campbell meets Johnny Rotten, with the amused but emotionally ambiguous air of a stand-up comic off the clock. They describe themselves as ​"East London's bendiest bitch" and ​"the inventor of veganism".
Jokes are political and topical: Brexit, class and overthrowing the patriarchy. Looks are so leftfield (a haunted amoeba on the runway?) they're not quite of this world. Not a joke, just a fact. On the verse on UK Hun?, the Eurovision-style song recorded in episode five, Bimini rapped about being a ​"gender-bender, cis-tem offender" with Keith Flint-esque snarl. The outrageously catchy tune reached 27 in the UK singles chart.

A vital element of what makes Queen Bimini so joyous to watch is not only their evident adoration for the wild women of so-called low culture.
"I always find women that give off that no fucks given, ​'my femininity is me and I'm using my power', inspiring," they say, which certainly explains their idolatry of Pamela Anderson.
It's this attitude that nabbed Bimini four coveted Ru Peter badges, more than any other contestant, including one for a stand-out Snatch Game performance, where they donned a pink Juicy Couture tracksuit and became Katie Price for the night. But it was done with sincerity and heart: what could have been a cruel or mocking impersonation was in fact a loving tribute to the glamour model and reality TV icon.

Life before that of a sexy wetlook bacterium began on the Norfolk coast in the early 1990s. Despite having four half-siblings, Bimini grew up the sole child of both their parents and was raised in a working-class environment with their mum, who's now a very active member of the Drag Race UK fans Facebook group.
"I'm very proud of my upbringing," Bimini tells me. ​"My mum never made me go without. She worked her arse off as much as she could for me to have as much as I could." Their relationship with their dad was less close, but both parents are now supportive and ardent fans of the show.

At school they weren't out ("I mean, it was so obvious," they cackle) but still Tommy demanded to be the focus, a classic extrovert.
"Even though I had feelings of anxiety, I've always had this urge to attention seek. I never wanted to blend in – I always very much had to have my say. Even if people would give me shit, I'd laugh it off, which I do now. In high school I was clutching on to try and stay popular."
British music and fashion dominated their teenage years.
"I grew up listening to pop, which my dad hated. All the music that he used to play and I'd say was shit, I got really into when I was 13- or 14– people like Bowie and the Sex Pistols."

Rock'n'roll was their gateway into designers like Vivienne Westwood, one of Bimini's greatest influences, Alexander McQueen and John Galliano, as well as the top UK models of the time. This was their Kate Moss era of dress-up and posturing.
Charity shops were a revelation. ​"That was when I really got into the fact that, to me, clothes don't have a gender. [In other shops] you always have a notion that they do, because you go to a boys' or girls' section."
Often they'd swap clothes with a female friend. But they couldn't understand why androgyny, so venerated in the fashion world they dreamed about, wasn't accepted on the streets of Norwich, Norfolk's biggest city. ​"For a normal person to be androgynous, it's just not really feasible, because I'd walk down the road and get shit shouted at me or: ​'Are you a boy or a girl?'"
The world opened to them – ​"a tale as old as time" – when they left staid, genteel Norfolk for the capital, 136 long miles to the south, at the age of 18. East London was the perfect place to build an act that would become Bimini Bon Boulash. As they explain, at pub venues like The Glory or Dalston Superstore, the drag is less polished, ​"very much more gender-fucky".
In London, there was never the need to come out as non-binary. ​"When I was 16, 17, I'd always say I don't want to be labelled for my sexuality, or those clichés like: ​'Labels are for cans of beans,'" they laugh raucously. ​"When I moved to London, I realised that actually is so true. In this place I'm in, gender doesn't exist, it's so diluted."
They've only started using the term non-binary to describe themselves in the last couple of years.
"Masculinity and femininity are soaked in so much suffering. To be less masculine you can be ridiculed, to be too feminine you can be ridiculed. It's a weird place."
Did they see adopting the non-binary label as opting out of that? They nod. ​"I don't have to be seen as one or the other, I'm just living my life."

Curiously for someone as vivacious as a drag queen, Bimini Bon Boulash is considered, even slightly guarded. ​"You can hear in my answers my journalistic knowledge," they say carefully. ​"I'm like, not to the point, but I don't say anything outrageous."
This has been the case on screen, too. For a show with a central trope of tear-jerking stories of adversity as a quick route to the judges hearts, up until their interview on the series finale (during which Bimini opened up about the passing of their best friend, and also referred to difficult periods of depression and drug misuse), they largely opted out of talking about their personal life.
"If someone asks me a question about myself I'll answer honestly. But I never went in with the intention of talking about myself," they say. ​"What you don't see is me probably being quite annoying and always trying to be a voice of reason in situations where people are arguing. Producers hate that stuff."
One of their amicable moments stands out as a series highlight: an ​"off-the-cuff" chat between Bimini and Ginny Lemon about Ginny growing up non-binary and the difficulties they still face as a gender-nonconforming person. Bimini's approach to the conversation was to listen rather than debate – the opposite of what they refer to as ​"the Piers Morgan method" of covering gender issues.
"I always tried to stay calm. I think that was important," they say of the conversation.

The power of RuPaul's Drag Race being aired on the BBC is that a mainstream space is created in which queer people of various stripes are able to just be, show their talents and tell their stories without any framing, hateful or otherwise. The US original was cult viewing for (mostly) younger viewers across the globe. Now the UK version has smashed through age and demographic barriers: from boomer and Gen X living rooms, it's a glitzy window not only into the rich and evolving art of drag, but into the vibrant reality of LGBTQ culture.
But all that's achieved through the show's camp framing, and in this series of RuPaul's Drag Race UK, the self-contained fantasy world of the workroom and runway was broken. When the first lockdown was announced in March 2020, contestants were sent home and filming halted until October 2020.
For the contestants, forced to twiddle their thumbs and fiddle with their lashes for six long months, the wait was particularly challenging.

"Drag was going at such a speed, had such a momentum that there were so many opportunities happening for everyone. And then it stopped," Bimini says with a sigh.
They survived by picking up work performing at bottomless brunches and small events in between lockdowns – I saw a magnificent clip of them at one event doing a chair dance to Britney Spears' I'm A Slave 4 U wearing a hefty blonde wig, wedding dress-style corset and Perspex stripper heels. But friends on the drag circuit became unemployed and had to take up regular work.

Little wonder that returning to the show to complete filming was ​"bittersweet". One queen, Veronica Green, couldn't return to the contest because she tested positive for coronavirus (Green was able to make a cameo in the series finale, and Ru has given her an open invitation to appear on a later series). But Bimini admits that they didn't notice immediately that, besides extra fillers and cosmetic dentistry work, some of the other contestants' emotional states had changed, too.
"It took a while for people to start opening up about what their experience had been during lockdown and what they'd been through. We realised that in London, we were quite lucky. Tayce and I were working quite a bit. But for the Scottish girls, there was nothing they could do."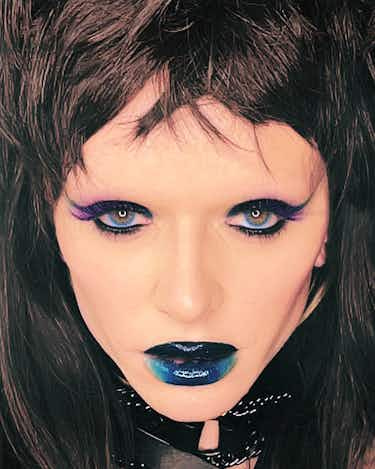 More recently Bimini had been just another viewer: they relished each episode and waited for lockdown three to end. They lamented not being able to dance to UK Hun? in the British clubs ("It would just go off, people would lose their shit") and watched the lead up to the final night with us, genuinely not knowing who the winner would be, just thankful they don't take themselves too seriously. ​"I think that when people do…" they trail off diplomatically.
As the glitter settles on another Drag Race season, it's unbelievable that they've only performed as Bimini for the past three-and-a-bit years. They really were – are – just that good.
"If I'd done the version of drag when I was 21, twatting around Soho in a wig and an H&M dress – don't tell Ru – I wouldn't have done well on the show," they say. ​"Everything I learned over these years, about who I am and the world and how complex we are as humans, has led me in my journey on the show."
It's an unconventional, colourful growth process. So they didn't come first place – it wouldn't have been punk to win, anyway. Bimini Bon Boulash was the underdog to frontrunner, the messy blonde-next-door to Britain's leading sweetheart, the sole thief of our hearts, minds and imaginations.
And that's a truly great story.


More like this