London
Society

Three twenty-something imams on race, religion and what it was like growing up in the aftermath of 9/11.

Life

An abandoned leisure centre, bodies bouncing, a hot, boxy, broken sauna, a bouncy castle experiencing suspicious power cuts and an adventure to find the centrepiece.
Society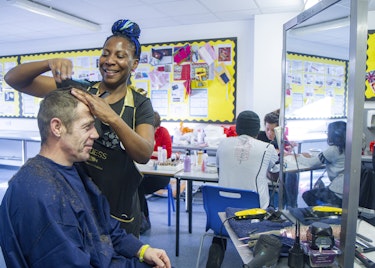 "The hardest conversation was with a father who had accepted his son being an addict on the streets. He was volunteering in the hope of seeing his son in the centre. He did see him, they shared a meal together and spent some time talking."
Style

Jordan Luca, Paria Farzaneh, Bethany Williams, Robyn Lynch, Nicholas Daley, Charles Jeffrey, Stefan Cooke, Wales Bonner, Art School, Martine Rose.
Life

Twenty-maybe-forty chicken nuggets, fifteen pounds entry, a cracked-out houseboat with a soundsystem, spinning, standing, smoking, spinning... anything can happen at The Boat.