Barry Keoghan is pulling no punches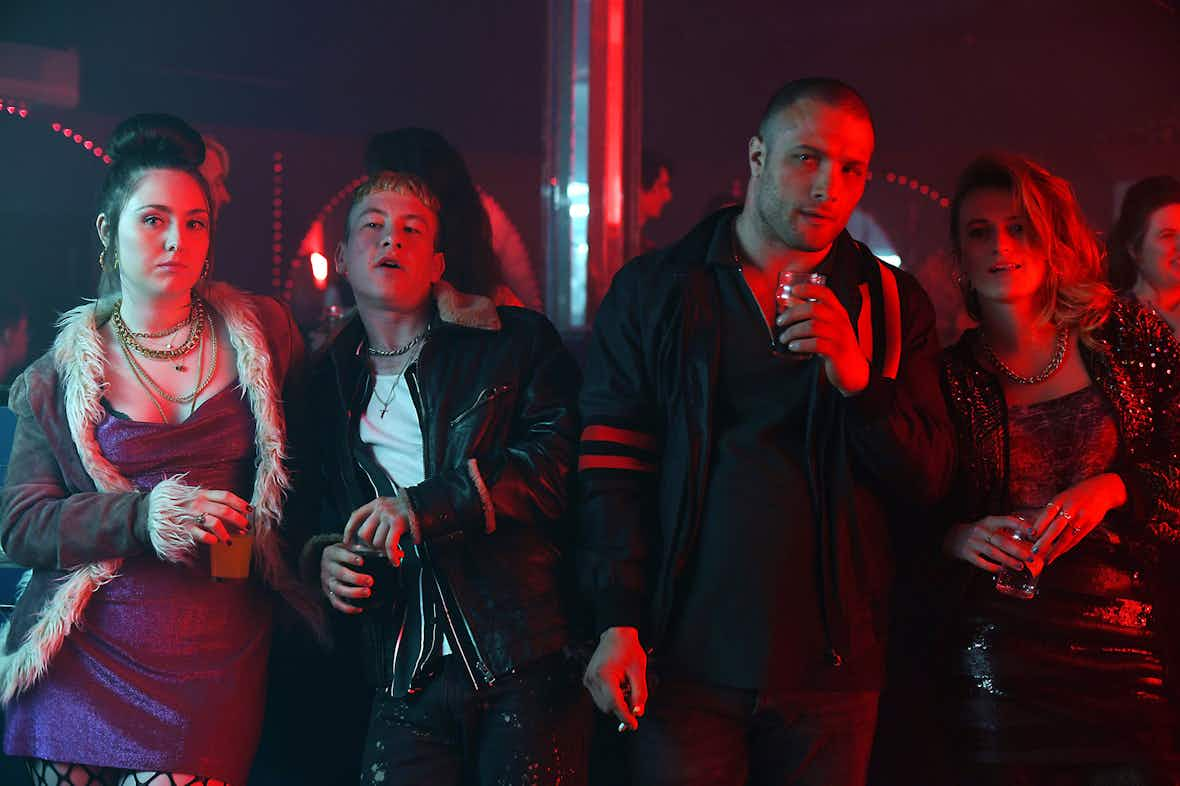 The Irish actor and boxing fanatic on his latest role as a drug dealing ex-boxer in Calm With Horses, a criminal drama set in the underworld of darkest small town Ireland.
Barry Keoghan bounds into the room and greets me with a warm hug, shortly before revealing that he has recently been in Italy. The interview is off to a good start. The 27-year-old Irish actor is jet lagged, late, cheerful and very clean, arriving with damp hair and wearing absurdly comfortable clothes that seem to turn this London hotel lobby into his own living-room. Pale-blue t‑shirt, joggers, trainers. Sitting every which way except the right one in his stiff armchair, Keoghan is irrepressibly boyish, and though he seems embarrassed and bored at being interviewed he is too gracious to kick against it.
I warm him up by asking him a little about his travels and living circumstances. He has recently relocated to New York, which he finds less showy and empty than Los Angeles: ​"the only place I liked there was Venice – the beach." Has he got a place of his own? No: he's staying with friends and living in hotels. There isn't even an iota of starriness to Keoghan, even while talking about LA and New York hotels, which he does while peering at a green nutrition shake that has arrived for him.
Keoghan tells me a little about his life – he grew up in Summerhill, the innermost district of Dublin, and received no formal training in acting. Instead he cut his teeth in a 10-man theatre group that he bunked off school for on the reg. That's when him and his mates weren't sneaking into the local cinema to watch Hollywood flicks for free.
He owes his first big break to writer-director Mark O'Connor who gave him the lead in 2011 gangster film, Between the Canals, for which he was street casting. Keoghan saw the flyer pinned up in a shop window, dialled the number. Next came a role in rough and ready Irish TV drama Love/​Hate. Keoghan's career was up and running.
He seems to forget we're doing an interview and asks me about my life. I tell him I grew up in France and he brightens. ​"Is it true," he asks me, ​"that the French… always have wine with their dinner?" I tell him that it's absolutely true, and Keoghan falls about laughing, his face creasing up with joy. ​"Hahahahaha, that's gas, man! That's gas."
After a couple of minutes spent laughing together about French people drinking wine, I ask him what drew him to his new film, Calm With Horses. It follows his most notable roles: an award-winning breakout performance in Yorgos Lanthimos's nightmarish thriller The Killing of a Sacred Deer (2017) – in which he played an unhinged, twisted teen boy with a chilling, unreadable leer, informed by the documentaries he watched as a child – and a prominent role in Christopher Nolan's World War II epic Dunkirk (2017).
Keoghan tells me he was attracted to the opportunity to film back in Ireland – ​"It's so beautiful there, the landscape is a whole character of its own" – and was eager to work with Nick Rowland. He had seen the director's first short movie, Dancing In The Ashes, and was keen to get on board with a project that's an adaptation of a short story by Colin Barrett in his prize-winning series Young Skins.
Keoghan had originally wanted the lead role of simple-minded gang enforcer Arm (which went to Cosmo Jarvis instead) but is a fine fit for the ambiguous, frightening, confused Dymphna, the scion of a family of petty criminals, who manipulates and uses his friend.
I ask if any element of this Irish film's grim brutality drew him to the movie – Keoghan's mother died of an overdose when heroin addiction was rife in Dublin in the early ​'90s, and so he and his brother went through the system accumulating thirteen foster homes in total during a childhood that sounds steeped in hardship. But he bats away my question, gently. His personal experience didn't influence his decision. ​"But I use that pain in every role," he says, quietly.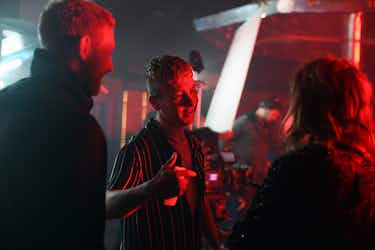 When quizzed on what attracts him to roles in general, Keoghan doesn't give full answers and always seems to want to turn our exchange into a conversation. So he tells me that he's drawn to directors (Lanthimos, Nolan, Bart Layton and Yann Demange are all on his list) and then asks me for my favourites. His energy is just a little on the nervous side – he casts darting glances around, and shifts from topic to topic. It makes sense when, later on, he reveals that he took up boxing at an early age.
Keoghan is expansive on the topic of the sport – he loves Tyson Fury; he wanted to become a boxer himself, even up until quite recently. He thinks that cinema still hasn't quite got the measure of boxing properly, apart from in Raging Bull and Jim Sheridan's The Boxer.
"They get the boxing, but they don't get the person," he says, and this seems emblematic of his acting, which always digs deep into the essence of a character, carving out a full person behind the appearances.
Part of the reason he wanted to play Arm in Calm With Horses is because of the character's past as a boxer. It's hard not to wonder if Keoghan gets frustrated by going up for lead roles and getting secondary ones – he had wanted to play Sir Gawain in the forthcoming medieval epic Green Knight, ​"but that went to Dev Patel, and he's brilliant". Keoghan is philosophical about it and grateful to director David Lowery for writing him a role. He must know that he is able to make his mark, even in supporting parts.
And, in case there was any doubt, he does.
One such supporting role will be in the much-anticipated new Marvel film, The Eternals, starring Angelina Jolie, Salma Hayek and Kit Harington. The movie is completely under wraps – he's not even allowed to say who he shares scenes with. I offer to play a game: I say names of actors, and he can simply blink when I say someone he acts with in the film. Keoghan creases up again. He would so clearly rather be shooting the shit than answering questions.
I say ​"Brian Tyree Henry" and wait theatrically for a wink and… nothing. But Keoghan does tell me that Henry ​"is a big lovely giant. He gives the best hugs, man. I asked him if he could give one to my girlfriend Shona so she could see." (His girlfriend of three years, also Irish, is with Keoghan every step of the journey that pinballs him around the world.)
Keoghan is tight-lipped likewise about future film projects, but does mention his excitement at a passion project that he has spent three years setting up with Bart Layton, with whom he made American Animals: a film about Billy The Kid. The project has a writer and a producer in place, and Keoghan is keen to ​"tell the story of the man himself, what made him who he was, not just the public figure, but the real guy".
It seems he is trying to take his career into his own hands – he laments that he is so picky, but he has to feel good about his own career and his choices. The goal is to emulate Daniel Day-Lewis – he met him recently, as he is friends with his son, and couldn't believe that Day-Lewis knew of him. ​"Those films he made with Jim Sheridan – My Left Foot, In The Name of the Father, The Boxer – that's a boxset at my house."
A PR waves at me to wind things up. I ask Keoghan about his next movements – he's heading back to New York tomorrow. What is his life like there, I ask. ​"I keep busy – I box, and I take pictures. I want to direct."
Calm With Horses is released in UK cinemas 13th March.

More like this