Conrad Khan's got stars in his eyes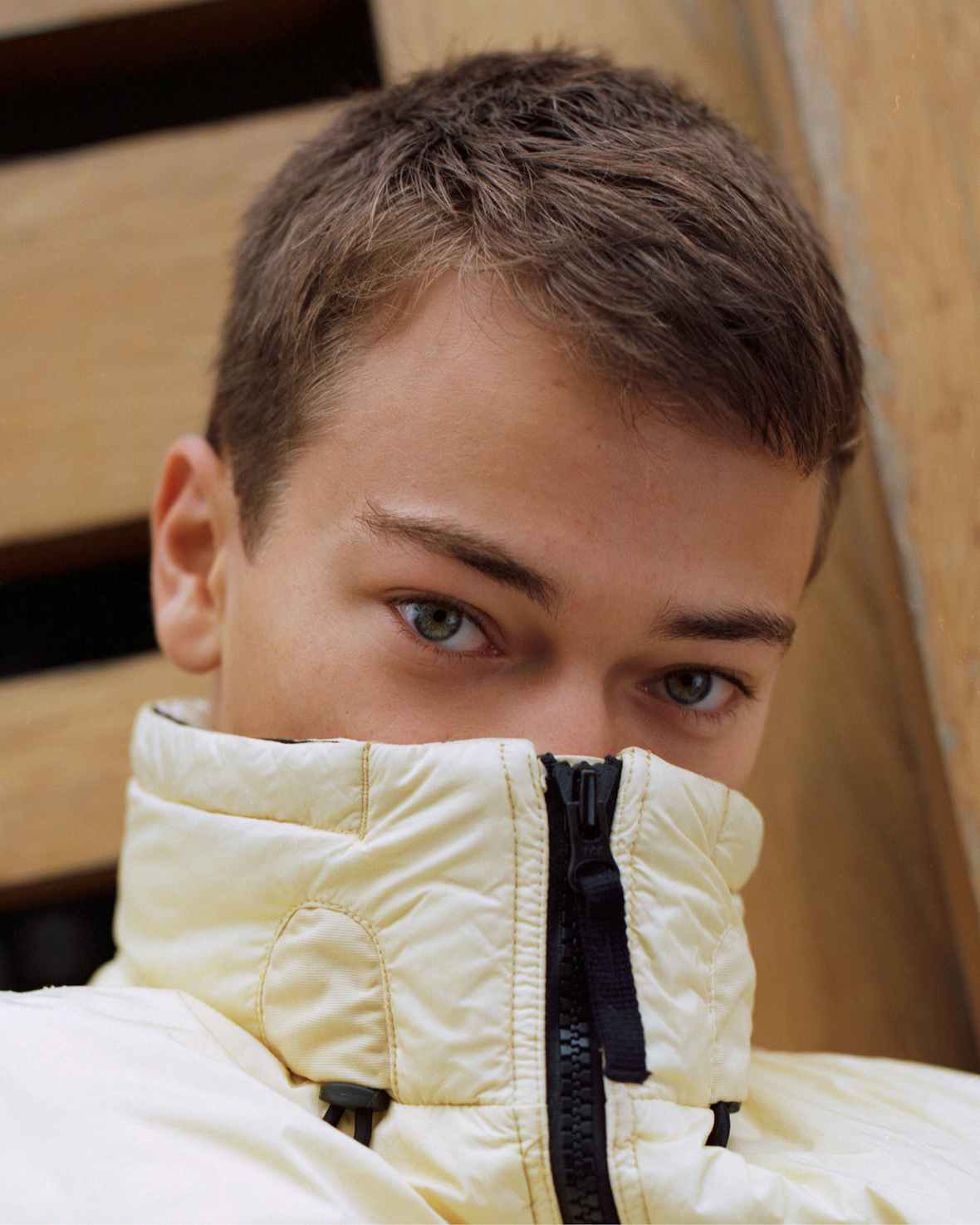 From kicking a football about with his mates, to a starring role in County Lines playing an exploited Class A-dealing teen, the 20-year-old actor is set to take on the film biz.
At 20-years-old, Conrad Khan has an ever-cool, ever-calm exterior that speaks of years in the acting business. Not a newbie buzzing off their first lead film role. And it's accompanied by a baby-faced sweetness that enabled him to convincingly play a quiet, troubled 14-year-old in powerful new Brit drug-dealing drama County Lines.
It's maybe unsurprising, then, that Khan isn't one of those young actors claiming a born-to-do-it passion for the profession. Yes, he's been jobbing in bit-parts since he was 16. But whereas ​"some people have stories like, ​'oh, I saw this film, or this play, and that was the moment I knew,'" for the Londoner it was ​"never really like that".
Growing up near King's Cross, Khan was too busy kicking a football around with his mates at his local comp. But eventually, in between being a normal kid doing normal stuff, shooting goals and grabbing a McDonald's after school, Khan thought he'd give acting a go, joining local theatre groups and drama classes.
Turned out he had a bit of a knack for it. After countless auditions, he scored a small role alongside Chris Hemsworth and Charlize Theron in 2016's The Huntsman: Winter's War, playing the 30-odd-years-younger version of Hemsworth's character. With a Rotten Tomatoes approval rating of, er, 19 per cent, the sequel to 2012's Kristen Stewart-starring Snow White and the Huntsman wasn't quite the breakout gig Khan had hoped for.
Still, landing a role alongside Hollywood heavyweights only a few years into those theatre groups ain't too shabby.
"I was thrown in the deep end a little bit. And there were definitely films that helped me get to bigger places," says a diplomatic and near-horizontally laid-back Khan, sitting on the far end of a large table in THE FACE's east London office, with his manager observing.
A year later, he landed another small role in the pilot for Virtuoso, an HBO drama centred around a group of aspiring musicians in 18th century Vienna. It was followed, in 2018, by an equally small role in the Smithereens episode of Black Mirror. But finally, last year, the legwork paid off when he landed the role of Tyler Hughes in County Lines.
"This film is really the epitome of my career, and it's what I'm most proud of," says Khan of a film in which Tyler is drawn into the world of cross-country drug-dealing. The grooming begins in a chicken shop. After Tyler is saved from bullies, he's bedazzled with first a gang-member's flashy car, then a new pair of trainers. Finally, he's offered the chance to make some serious cash.
Soon enough, he's skipping school to hop on trains, delivering bag-fulls of Class A's.
For Khan – who has always loved the social realism of directors like Ken Loach and Mike Leigh – the gritty sociopolitics of County Lines offered a chance to connect to a project on an emotional level. With a story deriving in part from Blake's 10 years as a youth worker, his personal experiences underpinned Khan's role with crucial credibility. To the then-teenager, it struck a more plausible chord than the depiction of county lines he first heard in drill tunes.

"I think the way rappers rap about it in music isn't true to what actually happens. There needs to be other forms of art, like film, that young people look at, that tells the honest truth of what county lines is. I think this film does that."
Soon after filming wrapped, Khan found himself playing Gus, a troubled kid struggling with crime, in BBC short The Passenger. Is he at risk of being typecast already?
"In the future, I'd like to do things that show my ability to be versatile," he replies diplomatically, ​"and to show that I can do completely different roles."
To increase his chances of that, and his options, in September Khan enrolled onto a film studies course at London's Queen Mary's University. So far, he's loving it, getting involved in scriptwriting modules and watching films he'd never heard of before. The one he mentions with the most enthusiasm is The Kiss, a 10-second film shot by Thomas Edison in 1896.
"It's one of the most simple, beautiful films I've ever seen," he enthuses. ​"It's just a couple, black and white, silent, talking and kissing for 10 seconds."
With an appreciation like that for its very dawn, in Conrad Khan cinema might have found a buzzing new future.

More like this