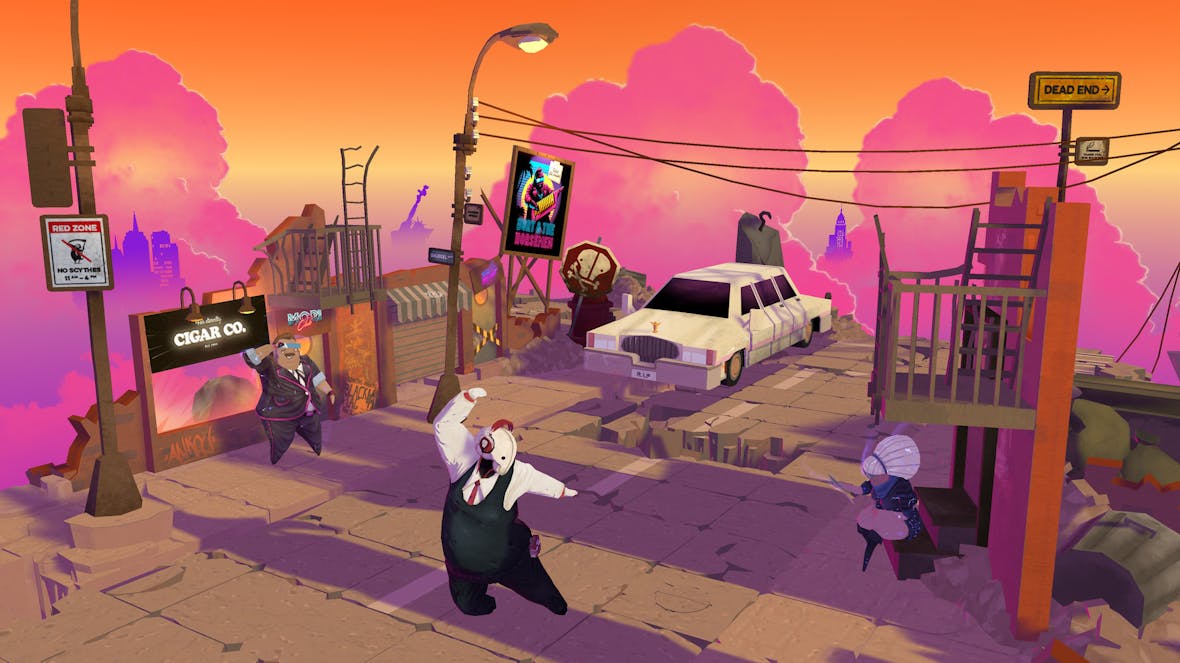 Death and the videogame
We've been danc­ing the danse macabre since the first microor­gan­ism emerged blink­ing from an ocean vent four bil­lion years ago, but the art motif of that name dates from rather lat­er. Prob­a­bly the ear­li­est exam­ple is a mur­al in a Parisian mass grave, the Cimetière des Inno­cents, com­plet­ed in 1425. It depicts a kind of egal­i­tar­i­an car­ni­val of souls – kings and peas­ants cavort­ing side by side under the reaper's mock­ing eye. Death, here, is a great lev­eller, a ghast­ly but odd­ly vital­is­ing force that binds peo­ple togeth­er across the divi­sions of class or station.
The Parisian mur­al was torn down in 1669, but the motif of death as dance sur­vived and pros­pered. Over the years, it has jig­gled and stamped its way into many art­forms, from poems and church friezes to orches­tral com­po­si­tions, films and, lat­ter­ly, video games. ​"We just fig­ured, there had to be a game about that," says Esben Kjær Ravn, founder of Dan­ish stu­dio Kong Orange. ​"It was sort of inher­ent game mate­r­i­al." Cheek­i­ly billed as a ​"roman­tic com­e­dy", Kong Orange's Felix the Reaper turns the danse macabre into a pecu­liar hybrid of Final Des­ti­na­tion and chess. It's one of a hand­ful of video games that goes beyond the con­cep­tion of death as mere mechan­i­cal fail­ure. It also invites us to look upon own mor­tal­i­ty with, if not antic­i­pa­tion, a cer­tain glee.
Death, in Felix the Reaper, is no leer­ing skele­ton but a mer­ry bureau­crat in a white shirt and waist­coat, a Walk­man jut­ting imp­ish­ly from one hip. Rather than a cowl, Felix sports head­phones, and rather than rid­ing through each lev­el on a white horse, he slides and shim­mies, pops his hips and kicks out his heels. His job may be to rid each lev­el of the liv­ing, arrang­ing car­toon objects like rolling bar­rels with­in each lev­el to cre­ate a fatal chain reac­tion, but he goes about it with an infec­tious gusto.
Felix has rea­son to be cheer­ful: he's danc­ing towards a roman­tic liai­son with the love­ly Bet­ty, a col­league at the Min­istry of Life. Kong Orange takes inspi­ra­tion on this count from anoth­er long-run­ning art motif, Death and the Maid­en, which became pop­u­lar in Ger­many dur­ing the Renais­sance. ​"Death was in love with The Maid­en, who rep­re­sents life, and had taught him­self to dance in order to attract her," says Ravn. ​"So Death is danc­ing to get in bed with Life. An impos­si­ble love sto­ry, right there."
If the game chan­nels anti­quat­ed art tra­di­tions, it owes the spring in its step to film and TV. Felix's char­ac­ter design recalls the Twi­light Zone episode One For The Angels, in which the reaper appears as a kind of tax­man, togeth­er with Hayao Miyazaki's work for Stu­dio Ghi­b­li and the Car­toon Net­work series Adven­ture Time. His port­li­ness express­es a body pos­i­tiv­i­ty that is sad­ly unusu­al with­in games, let alone those in which you play death incar­nate. ​"We got fed up pret­ty quick­ly with him being skin­ny, and thought we should flip it and make him fat," Ravn com­ments. ​"It gave him more per­son­al­i­ty and went real­ly well with the dancing."
The danc­ing itself riffs on Masayu­ki Suo's ball­room com­e­dy Shall We Dance?, and con­sists of motion-cap­tured per­for­mances from pro­fes­sion­al chore­o­g­ra­phers Gunil­la Lind and Raphaël Fer­di­nand Eder-Kastling. The buzzing elec­tron­ic sound­track is Felix's per­son­al mix­tape, and each move synchs up dynam­i­cal­ly with com­po­si­tions that are them­selves lay­ered up and down in real-time. ​"The music is also the game's feed­back mech­a­nism, so when you do good, the music inten­si­fies, and when you don't know what to do it grad­u­al­ly gets less and less intense," Ravn explains.
The game's rein­ter­pre­ta­tion of the danse macabre went through a num­ber of iter­a­tions. It was once envis­aged as a lit­er­al Con­ga line, akin to arcade game Snake, with Felix attract­ing an entourage of gam­bolling dead as he moved through lev­els. ​"But we don't like stress­ful games, and kept look­ing for the no-stress solu­tion," says Ravn. ​"And all the bricks sort of fell into place."
Among Kong Orange's indus­try influ­ences are the Hit­man games from IO Inter­ac­tive, in which play­ers dress up as hot­dog sell­ers, cat­walk mod­els and much more besides in order to breach the sanc­tums of obnox­ious elites. As the crit­ic Ed Smith argues, Hitman's charm lies not mere­ly with killing pow­er­ful peo­ple but mak­ing fools of them, end­ing them in mun­dane and/​or absurd ways that lay bare the vac­u­ous­ness of their priv­i­lege. There's a sim­i­lar wicked­ness to Felix the Reaper, in which mor­tals are just props in an oth­er­world­ly love sto­ry, and Death com­ports him­self with all the exu­ber­ance of an unsu­per­vised intern.
It's a world away from Spir­it­far­er, anoth­er uncom­mon­ly elab­o­rate video game about mor­tal­i­ty. The work of Cana­di­an devel­op­er Thun­der Lotus, Spir­it­far­er invokes a still-more ven­er­a­ble per­son­i­fi­ca­tion of death – Charon, the boat­man in Greek myth who fer­ries souls to Hades across the rivers Styx and Acheron. In this rework­ing, Charon has resigned this duty for rea­sons unknown, bequeath­ing his fer­ry to a gam­bolling young girl, Stel­la. So begins ​"a cosy man­age­ment game about dying", in which you house and care for spir­its aboard your (unex­pect­ed­ly lux­u­ri­ous and capa­cious) boat until it is time to let them go.
Spir­it­far­er uses Charon's infa­mous voy­ag­ing as a plat­form for think­ing about end-of-life care. Cre­ative direc­tor Nico­las Guérin's broth­er is head of the geri­atric ward at Nice Uni­ver­si­ty Hos­pi­tal, and the game draws on con­ver­sa­tions with its staff, togeth­er with per­son­al expe­ri­ences. Among the hospital's patients was Guérin's own grand­moth­er, who passed away last Decem­ber. ​"I tried to spend as much time as I could with her," he says, ​"and inter­act with won­der­ful care­givers, who gave me a pre­cious insight into the whole process of accom­pa­ny­ing and tak­ing care of dying people."
Where Felix the Reaper is per­fect­ly rau­cous, Spir­it­far­er offers a state­ly and serene vision of the after­life, char­ac­terised by lilt­ing orches­tral move­ments and the almost imper­cep­ti­ble motion of the ship against a soft, pel­lu­cid sky­line. Stel­la her­self is no foul, tow­er­ing appari­tion: she has a cat named Daf­fodil, sports an over­sized hat, enjoys fish­ing from the rear deck in qui­eter moments, and is giv­en to hug­ging her pas­sen­gers. The spir­its them­selves com­pare to totem ani­mals from the mytholo­gies of North Amer­i­can indige­nous tribes, hybrids of ani­mal and flower. The game is ​"agnos­tic", Guérin says, but makes use of ideas from var­i­ous belief sys­tems, from ancient Egypt to pre-medieval Norse cults.
Spir­it­far­er may appear rather sani­tised in trail­ers, too sun­ny and upbeat to con­vince as a por­tray­al of dying, but Guérin com­ments that it will enter ​"dark­er" ter­ri­to­ry lat­er on, as some of your pas­sen­gers strug­gle with con­di­tions like demen­tia and depres­sion. While the game focus­es on Stella's chang­ing rela­tion­ship with each char­ac­ter, he adds, ​"the spir­its will acknowl­edge one anoth­er, and some of them might have more in com­mon than just being here at the same time."
Where Felix the Reaper finds com­e­dy in the arbi­trari­ness of death, Spiritfarer's achieve­ment may be how it res­cues the man­age­ment sim genre from its banal inter­est in prof­it. Man­age­ment sims are gen­er­al­ly about resource opti­mi­sa­tion and expan­sion – here, you'll tend to an on-board gar­den, vis­it islands in search of raw mate­ri­als, and add facil­i­ties to your ship dur­ing the voy­age. But Spir­it­far­er is not, in the end, about build­ing up: it is about let­ting go. It will be inter­est­ing to fol­low how the game plays this theme against what it bor­rows from less emo­tive set­tle­ment sims, like Har­vest Moon.
Death in video games is typ­i­cal­ly a non-event, a lapse to be edit­ed out on replay. Where it's more than that, it is often coarse­ly trans­mut­ed into cur­ren­cy: one of the defin­ing traits of the mod­ern role-play­ing genre is the con­ver­sion of an enemy's life­force into ​"XP" for char­ac­ter growth. Few are the games that set out to seri­ous­ly inves­ti­gate death – to engage with the forms it has assumed over the cen­turies, and break the silence that hangs around the subject.
"Death is some­thing we – in Den­mark at least – don't speak about, and if we do we low­er our voic­es," observes Ravn. ​"And that's just weird, espe­cial­ly when you look at how promi­nent and sprawl­ing Death is [when] por­trayed in art. So we'd love to push at that. Make it OK to talk loud­ly and clear­ly about Death, and laugh when fac­ing it."
---