Meet the Damsels of Destruction
One by one, a tow truck drags a parade of cars onto a mud­dy field in Cos­ta Mesa, Cal­i­for­nia. They're gar­ish­ly dec­o­rat­ed; one is adorned with a giant sparkling hair bow, slight­ly askew. It sports a hot pink skull sur­round­ed by goth­ic let­ters: 𝔓𝔦𝔫𝔨 𝔓𝔲𝔫𝔦𝔰𝔥𝔢𝔯. Sponge­bob Squarepants sits atop a blue sedan, on the pil­lar fram­ing the driver's side door, the dri­ver begs ​"don't hit me baby one more time". A colour­ful­ly neon, chevron-striped car stut­ters onto the field, star­ing down the crowd with its big goo­gly-eyed sun­shade. Anoth­er, with a patri­ot­ic red, white, and blue paint job, has a bald eagle stretch­ing its wings across the hood, scream­ing onto the fend­er, ​"Ameri-CAW!".
These cars belong to the Damsels of Destruc­tion, a loose team of rac­ers who host the only annu­al, all-women demo­li­tion der­by com­pe­ti­tion in the Unit­ed States. Demo­li­tion der­bies, a sta­ple coun­ty fair event, is a motor­sport that resem­bles bumper cars for adults. Sourc­ing totaled cars from junk­yards, rac­ers replace engines, weld doors, and Franken­stein parts togeth­er to cre­ate vehi­cles that run just well enough to ram into one another.
Osten­si­bly co-ed, the Damsels are out­liers in what is, even in 2019, a male-dom­i­nat­ed sport. All-women races are usu­al­ly rel­e­gat­ed to a pre-show, pow­der­puff match, where the wives and girl­friends serve as a warmup to row­dy crowds. Damsels of Destruc­tion flips the script when­ev­er they can: for their open­ing race, known as a Fig­ure Eight, they recruit their boyfriends and hus­bands, who lap around the track, trac­ing the num­ber eight, fish­tail­ing and broad­sid­ing one anoth­er on every tight turn.
The track is com­pact, small­er than an Amer­i­can foot­ball field. This gives the cars lit­tle room to avoid their oppo­nents or wait out the car­nage. A cramped race­track promis­es max­i­mum destruc­tion. For safe­ty, all the glass has been removed. The dri­vers sit with a hel­met, seat belt strapped tight, obscured by a met­al cage that takes the place of a wind­shield. There's a fire truck parked next to the track with two fire­fight­ers on stand­by. Every time cars crash into one anoth­er, the grand­stands erupt in cheers. Fend­ers fly off, met­al crum­ples like paper, and tires spin furi­ous­ly until their rub­ber tears and trails in the vehicle's wake.
The 16 Damsels gath­er each year at the Orange Coun­ty Fair to raise mon­ey for breast can­cer aware­ness – and they've pulled in more than $65,000 in their eight-year his­to­ry. A mix of expe­ri­enced der­by rac­ers and intrigued new­bies, the Damsels are a tight-knit fam­i­ly that smash each oth­er all in good fun.
The Face asked some of the rac­ers how they fell in love with der­bies and what draws them to the chaos.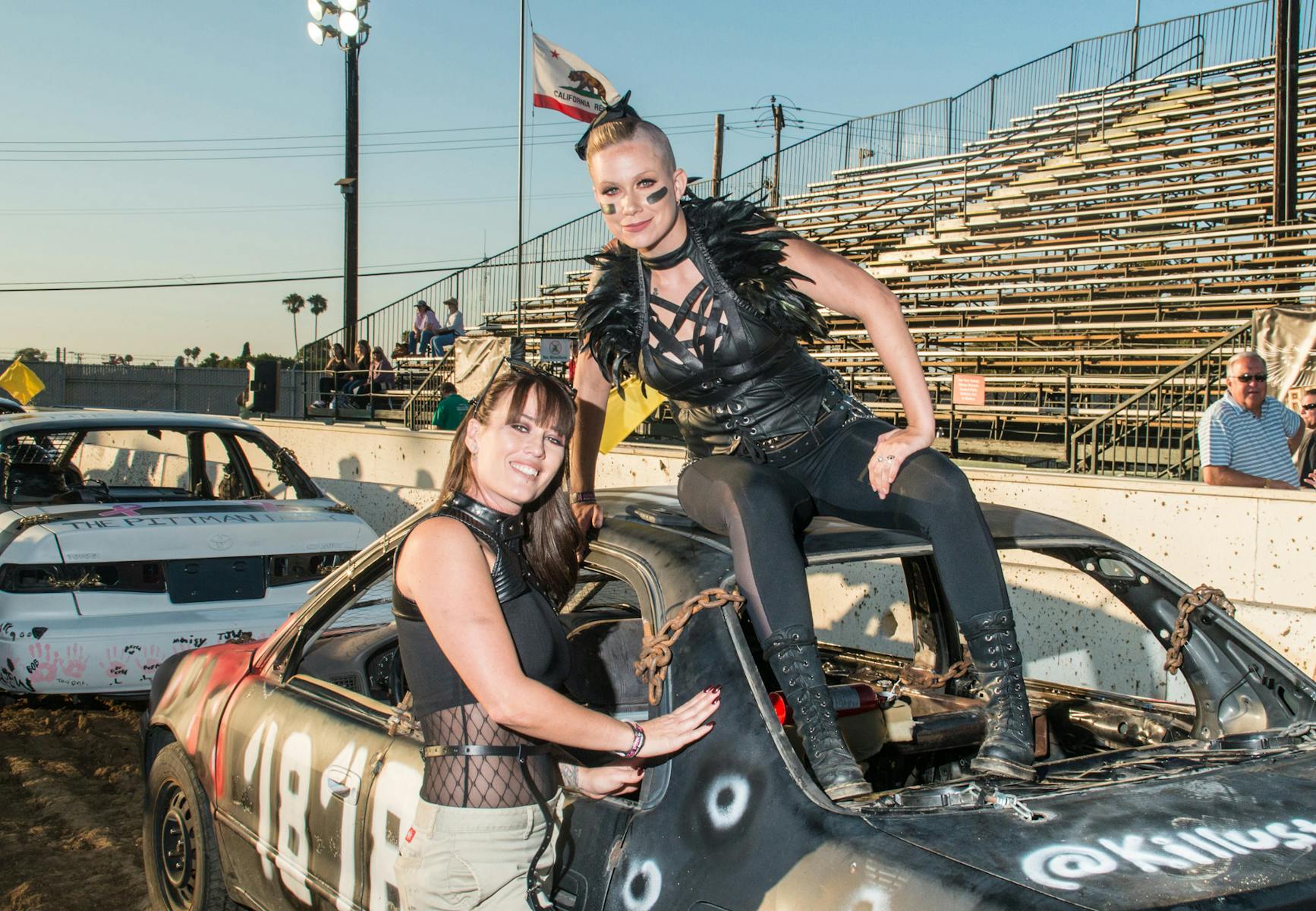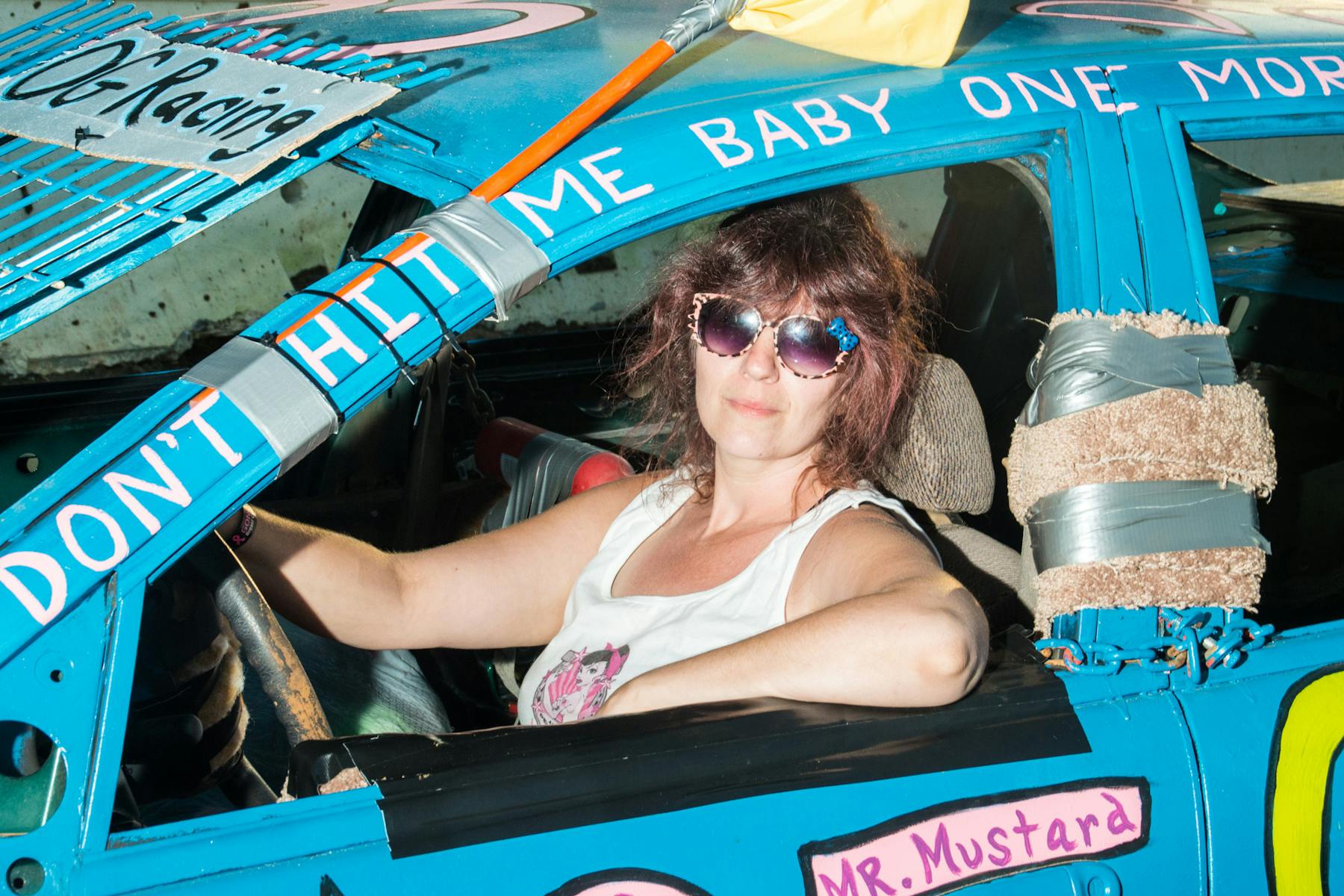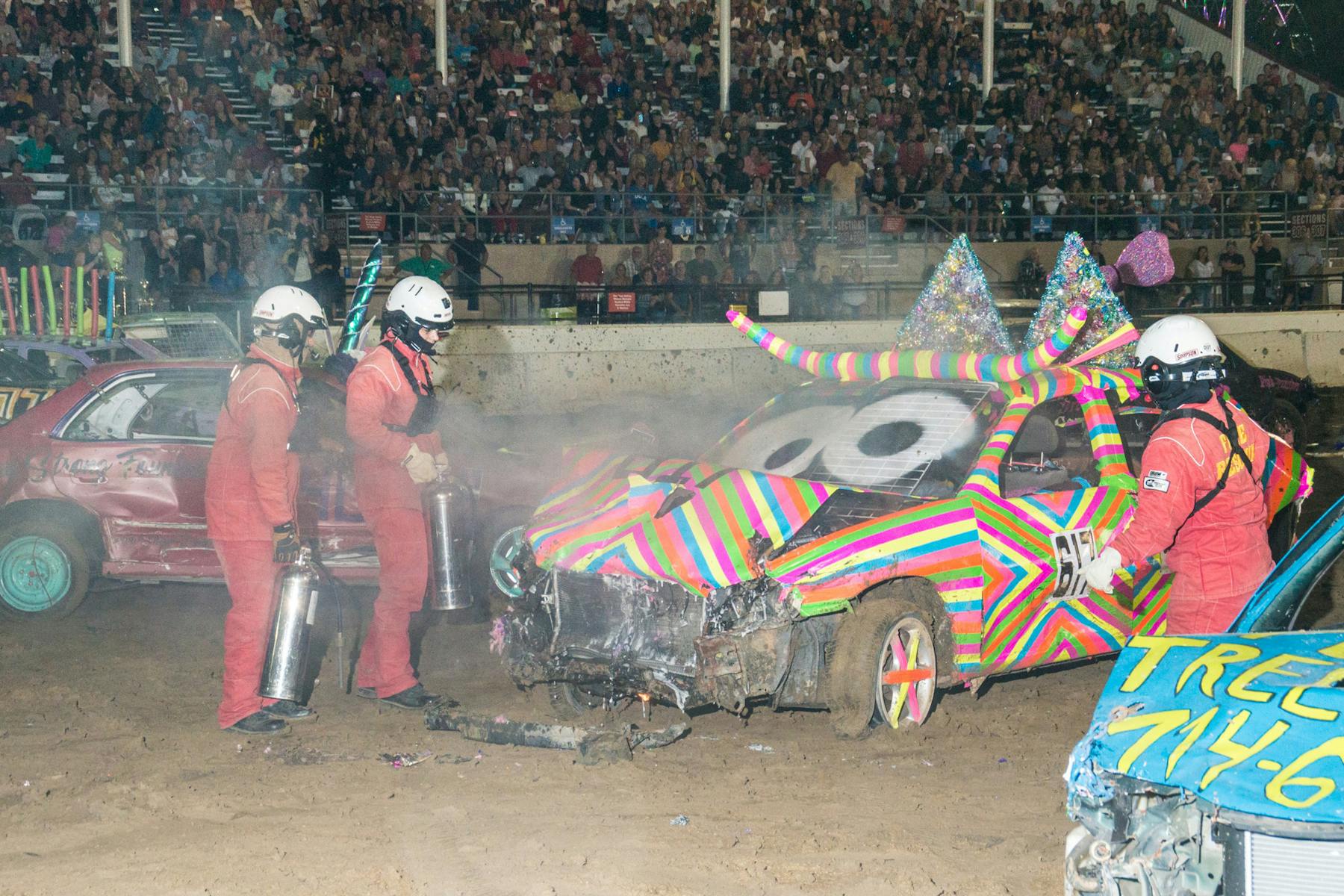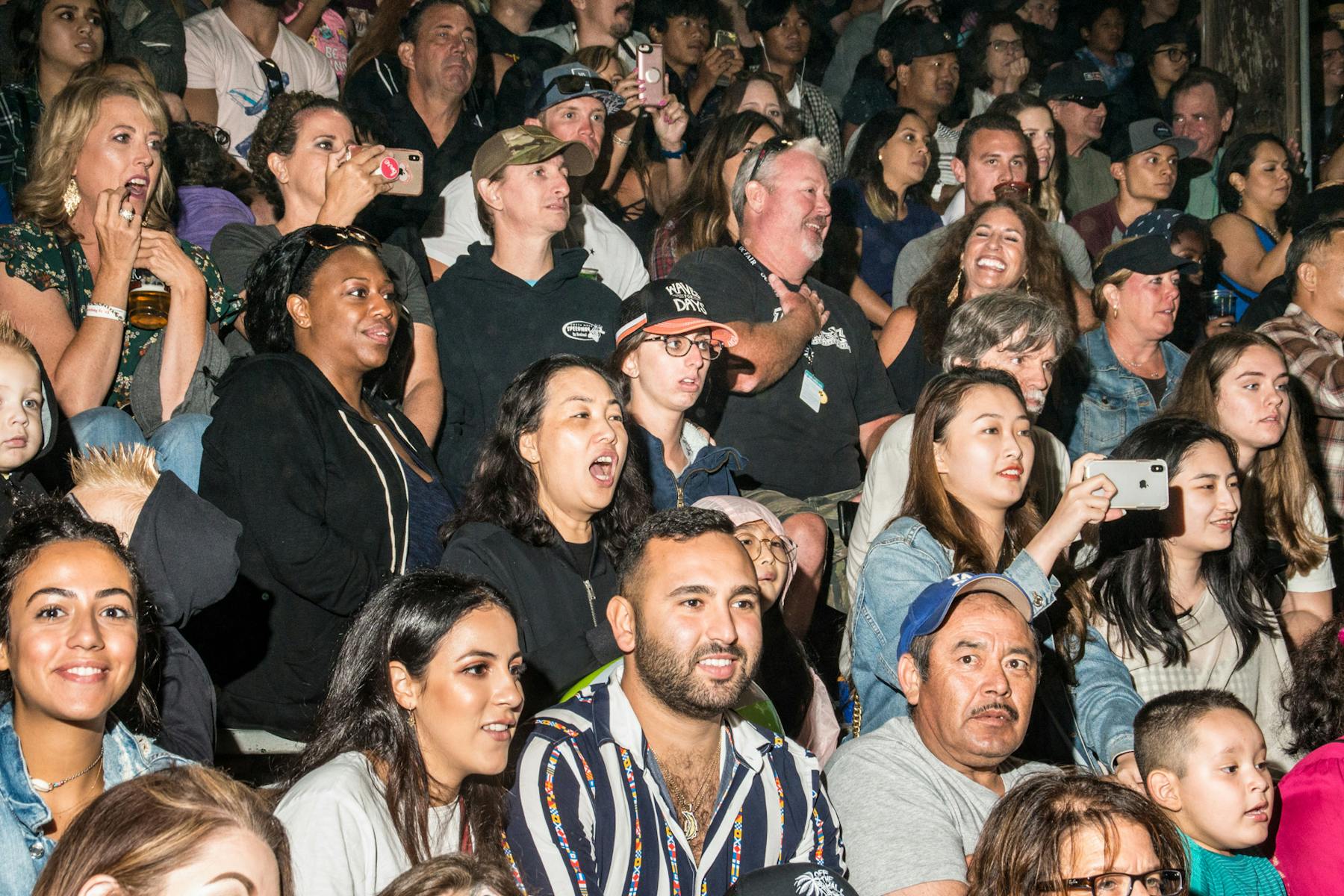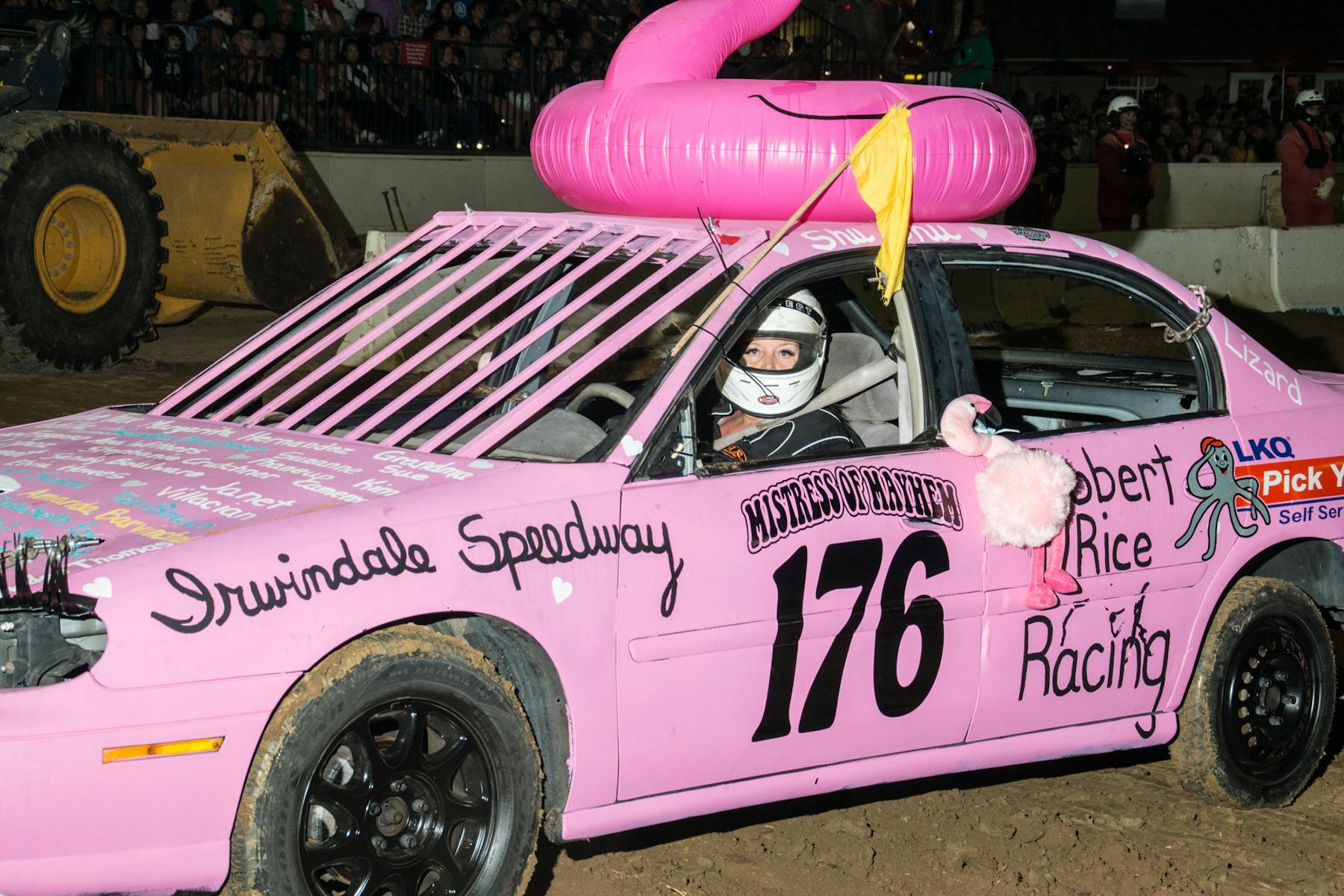 #65, TIFFANY ORTEGA
Orte­ga is Damsels of Destruction's main orga­niz­er, and she is the only rac­er who has com­pet­ed in every der­by to date. ​"The orig­i­nal orga­niz­er had a ful­ly spon­sored car and she called me about two weeks before the der­by, and she said, ​'I'm preg­nant and I have a ful­ly spon­sored car. Can you put your ass in a seat and dri­ve?'" Orte­ga took up the chal­lenge and won.
Now, she's the moth­er hen. Orte­ga men­tors the new dri­vers and teach­es them how to sur­vive on the course. The key is to pro­tect the car's front end, where the engine is locat­ed, and to rear-end oppo­nents as much as pos­si­ble. Ortega's strate­gies have helped her become one of the Damsels' top dri­vers, and now she races with men on the com­pet­i­tive der­by circuit.
Orte­ga dreams of mak­ing the Damsels the only all-female der­by team in the nation. ​"My plan with this is just to keep this team nice and strong. I would love to have a der­by team that could trav­el state to state." Orte­ga is now orga­niz­ing anoth­er all-women demo­li­tion der­by in Chi­no, CA, and will have some of the oth­er dri­vers join her as offi­cial Damsels of Destruc­tion team mem­bers. ​"I love the cama­raderie with all the women here."
As for Ortega's desire to keep dri­ving, it comes down to thrill and temp­ta­tion ​"I love the adren­a­line. I love the thrill of just smash­ing cars. You want to do it on the road all the time."
#176, CHERYL HYLAND
Hyland won this year's der­by, out­last­ing her com­pe­ti­tion in her bright pink Chevy. Though it was her first time par­tic­i­pat­ing in Damsels of Destruc­tion, Hyland is a sea­soned der­by dri­ver who com­petes on the pro­fes­sion­al cir­cuit. She learned how to love the sport from her father, and she dri­ves in his hon­or. ​"That's why I run the 176, that was my dad's num­ber," Hyland says.
The ​"Mis­tress of May­hem" acces­sorizes her car with an inflat­able pink flamin­go, long eye­lash­es (from the head­lights, nat­u­ral­ly), and poignant­ly, the names of many women who had been affect­ed by breast can­cer. Each detail has a pur­pose. ​"The Flamin­go is a beau­ti­ful pink ani­mal," Hyland explained. ​"It's gor­geous, just like all the sur­vivors out there."
"All my race cars always have lash­es on them. It's like my trade­mark," Hyland con­tin­ues. ​"I always tell every­body that I like to play with the boys but I don't want to look like them."
On a more seri­ous note, Hyland ges­tures to the dozens of names writ­ten on her car's hood: ​"there are peo­ple who've passed, who are angels, as well as many survivors."


#42, LOUISE PACHELLA
To over­come her dri­ving pho­bia, Pachel­la became a der­by rac­er. ​"I didn't get my license until I was maybe 22 or 23, and I still was not con­fi­dent enough to dri­ve a reg­u­lar car," Pachel­la explains. ​"Once I start­ed dri­ving der­by, it helped me get behind the wheel of a reg­u­lar car, and I don't have as many fears as I used to."
A mor­ti­cian and moth­er of three, Pachel­la still finds time to work with her hus­band to build all the cars for the der­by. While Pachella's hus­band was instru­men­tal in help­ing her get com­fort­able behind the wheel, she didn't want to sim­ply dri­ve. ​"He taught me how to weld. He taught me how to replace a motor. And then after that, I went to weld­ing school and I got cer­ti­fied." With­out the Pachel­las, the Damsels of Destruc­tion wouldn't have their vehicles.
Pachel­la grew into a fierce com­peti­tor, and shares one of her favorite der­by mem­o­ries: ​"One of the best things I've ever done is dri­ve a motorhome. It's a lot dif­fer­ent than a reg­u­lar der­by. It's cushi­er. It's like hit­ting some­body with a marsh­mal­low," she says before adding, ​"I end­ed up win­ning one of [the motorhome races], even beat­ing my hus­band in it."
#5150, BERLYN HARDY
Hardy has returned for her sec­ond year with her daugh­ter as part of her pit crew. Hardy's car is dec­o­rat­ed with black wid­ow spi­ders, reflect­ing her own per­son­al hard­ship. ​"I'm a wid­ow," she explains. ​"It's just some­thing that I iden­ti­fy with, it's some­thing I deal with every day. It kind of plays a big part of my life."
Hardy hopes the der­by won't be a repeat of last year's deba­cle. ​"My car smoked-up the whole sta­di­um, nobody could see any­thing. Every­one thought some­thing real­ly bad had hap­pened — my mom comes run­ning down, and my daughter's run­ning down, try­ing to save me. And then here I come through the smoke, and they're like, ​'oh, she's okay,'" she laughed. ​"It smoked up the whole stands and everything."
#33, DOROTHY MUTCH
Mutch, a third-year dri­ver, has such a pas­sion for the com­pe­ti­tion that she flies 833 miles from Col­orado Springs, CO to race. ​"Let­ting peo­ple know – that have been diag­nosed with can­cer – that we have their backs in a unique way I think is real­ly fun. That's what keeps me com­ing," Mutch said.
Last year, Mutch was out of the race ear­ly, but dri­vers stay on the field because there's no safe way to exit the are­na while the match is in progress. ​"Your adrenaline's going and you can see the cars com­ing towards you," Mutch recalled. ​"I like to go fast, and I like that I'm get­ting into a con­trolled car accident."
After this, their main event for the year, mem­bers from the Damsels of Destruc­tion will make oth­er appear­ances in South­ern Cal­i­for­nia in the com­ing months. Like Orte­ga, Hyland is adding anoth­er women-only der­by into the cir­cuit. Her car spon­sor, Robert Rice Rac­ing, will host anoth­er char­i­ty der­by at the Irwin­dale Speed­way on Octo­ber 12, with all pro­ceeds ben­e­fit­ing the Amer­i­can Can­cer Society.


---