How Demon Slayer became a box-office major player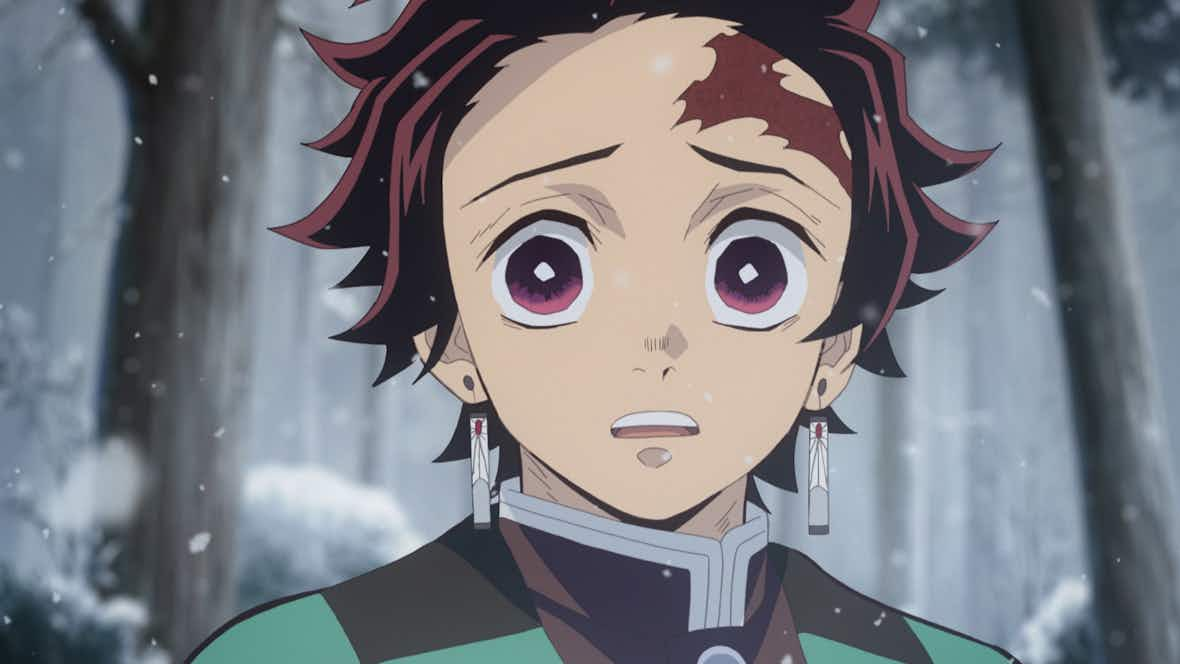 Roll over Avengers and tell Spirited Away the news: in three months, the new anime has become the biggest ever film at the Japanese box office. Here's how.
It has, of course, been a devastating year for the entertainment industry. But in Japan one homegrown film has defied all odds to break pretty much every domestic box office record standing. And no, it isn't Wonder Woman 84.
In October 2020 Demon Slayer the Movie: Mugen Train had the highest opening weekend on the planet. True, there wasn't much competition. But since then the anime has grossed $350 million, which is great box-office at any time. And it's not even reached the West yet.
Toppling a 19-year record set by Spirited Away to become Japan's highest-grossing film of all-time is no mean feat. To do so in the midst of a global pandemic is a madness. Over 26.44 million cinema tickets have been sold for Demon Slayer – that's more than Australia's entire population – and, heading into February 2021, the movie is showing little signs of slowing up. After 14 weeks on release, Demon Slayer is still leading the Japanese box office, with the only blip in its flawless record being a brief lapse into second place earlier this month. It regained pole position a week later.

With an English-language trailer now streaming internationally, speculation about an imminent release in the West is ramping up (seemingly Netflix will be showing it in the US and the UK). What, then is Demon Slayer, and how has it managed to become such a phenomenon?
As described by Abby Trott, an American voice actor with major experience of working in Japanese film, Demon Slayer's plot doesn't sound exactly revolutionary. The franchise – which also encompasses a manga and anime TV series (already streaming on Netflix in the UK) – is essentially the story of Tanjiro, a boy left devastated after a demon murders most of his family. His sister, Nezuko (voiced by Trott in the Western dub) is one of the few survivors. But she's been possessed by a demon herself. It is Tanjiro's mission, then, to restore his sister to her human self. In this Mugen Train chapter, that means battling a ghoulish villain causing chaos aboard a fast-moving train.
Trott suggests that Demon Slayer resonates in the age of Covid-19.
"Themes of loneliness, friendship, trying your hardest and working to achieve a goal – I think a lot of those themes, people strongly identify with," she says. And with the protagonist's mission being literally to defeat demons – symbolic of unknown terrors and diseases in traditional Japanese folklore – Demon Slayer feels like it landed at exactly the right time. It helps, too, that the generic and wholesome plot provides a good deal of escapism. And, with the story set in the Taishō era – a pre-World War Two Japan rarely explored in anime – there is also a sense of uniqueness. That historical setting feels both escapist and familiar, adds Trott, in a time of pandemic because ​"it's a world more mysterious and unstable".
On top of that, the specifics of lockdown in Japan have played a part in Demon Slayer​'s extraordinary success.
"Even in a state of emergency [the government] doesn't have the power to lock down or order places to shut," explains Tokyo-based film producer Adam Torel, founder of Third Window Films, a leading distributor of Japanese cinema in the UK. ​"They can ask the shops [to close] and pay them for complying, but there's no penalty if you don't."
Accordingly, he continues, ​"even during this third wave, the cinemas haven't been forced to close. And since there are no Hollywood films to compete against, we've now got [domestic] films setting box office records."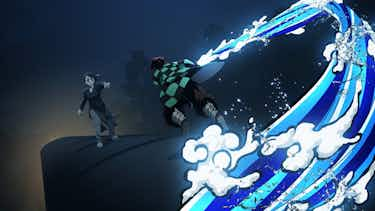 Films like Demon Slayer, then, are enjoying a greater market share than they've ever had before.
"They're not playing just on one screen," says Torel, ​"but five or six screens in every cinema." And with TOHO cinemas – the country's biggest cinema chain – having exclusive access to the film's distribution, it means Demon Slayer is on repeat, all over, all the time.
"You look at the schedule, and it's on at 09:00, 09:15, 09:25… They block-book every screen of every cinema to play this film." Little wonder that Demon Slayer enjoyed the widest release of any film ever in Japan.
The filmmakers do still have to get people into the cinemas, of course. In Trott's eyes, it's the animation itself that is one of the biggest draws. Admittedly, Demon Slayer's pig-headed beasts, train-top sword-fights and sniggering villains look pretty run-of-the-mill for a shōnen (teenage boy-targeting) anime. But, as the voice actor points out, it also incorporates into its animation the ukiyo‑e art style: the wooden block print style famously seen in Hokusai's 19th-century masterpiece The Great Wave off Kanagawa.
While it's unlikely that Demon Slayer will be adorning the walls of the British Museum any time soon, the film's forays into shrine-filled vistas, peach orchards, grand temples and gardens of moss and stone do make for some great eye candy.
All that said, however, it takes more than pretty pictures for a franchise anime to break a box office record of two decades' standing. That's where the deep-rooted Japanese commitment to fandom comes in.
"Digital media is not a big thing over here," Torel explains. ​"It's still all physical, which means people buy CDs, rent DVDs, even books and manga."

The people behind Demon Slayer know this better than most. With the original manga having over 120 million copies in circulation by December 2020, Demon Slayer is now one of the best-selling manga series of all time in Japan. ​"It would be selling better if it hadn't sold out," says Trott. ​"There weren't enough copies to stay on the shelves."
And with an XL merchandising campaign for Demon Slayer including collectable ticket stubs, cinema pamphlets, toys and video games, the franchise is penetrating pop culture from all angles.
It's even infiltrated other films. Gintama: The Final briefly took the top box office spot from Demon Slayer in January, but only thanks to an exclusive series of Demon Slayer cards and posters being given out to customers who bought tickets. ​"There are tie-ins everywhere," Torel notes. ​"It's got to the point where my local post office has a sign outside saying: ​'Sorry, we don't have the tie-in merchandise here.'"
"Anime fans are probably some of the most passionate fans out there," says Trott. And in a year where Netflix reports that the global number of households watching anime on its service is up 50 per cent, that passion may become even more widespread. She's noticed the franchise penetrating the US already, weeks in advance any likely release date.
"I ordered a piece of furniture, and the owner's son dropped it off. Later that day, I posted about Demon Slayer on Instagram, and they messaged me [about it] afterwards. I responded that I'm on the show, and he just lost it. I sent him a signed poster, and he was so thrilled, it blew his mind."
Will the film's success be replicated in the West? At a time of heightened enthusiasm for any entertainment that's simultaneously fresh and proven, Abby Trott thinks it could at least make a good fist of it. ​"People are chomping at the bit to see this movie – I've seen it bubbling on Twitter. There's so much anticipation and interest, although I do think it will be a more muted release because of Covid."
For Adam Torel, it's not so clear-cut. ​"You get these things quite often in Japan. Most of the best-selling films in the past 10 or 15 years are spin-offs from manga and anime, and because we don't have those manga or anime overseas, we can't always relate to them."
Still, the English-language trailer has streamed over 4.5 million times in the two weeks since it premiered on YouTube on 15th January. One thing's for sure, then: the hype train still has plenty of steam in 2021. Non-anime fans, ignore Demon Slayer at your peril.

Demon Slayer the Movie: Mugen Train is out on Netflix in the US on 4th February

More like this