Inside

DRC

No.

12

+ Bunker, Beijing
Dot­ted through­out Bei­jing are sev­er­al diplo­mat­ic res­i­den­tial com­pounds. Start­ing life as guard­ed apart­ment blocks for for­eign diplo­mats and jour­nal­ists – a hang­over from a time when they were seg­re­gat­ed from Chi­nese soci­ety – today they remain high­ly sought-after apart­ment build­ings: hous­ing offices for con­sulates, char­i­ties, news out­lets, as well as one unique art space.
In the win­ter of 2015, for­mer lawyer and ceram­ics con­nois­seur Peng Xiaoyang made the unusu­al deci­sion to turn a two-bed­room apart­ment in the Jian­guomen DRC com­pound into an inde­pen­dent, non-prof­it art space (don't refer to it as a gallery, seman­tics are impor­tant here). The result­ing space, DRC No.12, is curi­ous­ly low-key, hold­ing four exhi­bi­tions a year, last­ing a few months each. The space remains hid­den from pub­lic view, so peo­ple can't just wan­der in, and while admis­sion is free, it's by appoint­ment only. Artists are invit­ed to cre­ate work to fit with­in the apartment's con­text, mak­ing the view­ing expe­ri­ence both inti­mate and thought-pro­vok­ing (the cur­rent exhi­bi­tion, Liu Xinyi's Applause is Due saw a life-sized faux-Chi­nese con­sulate cre­at­ed with­in the space).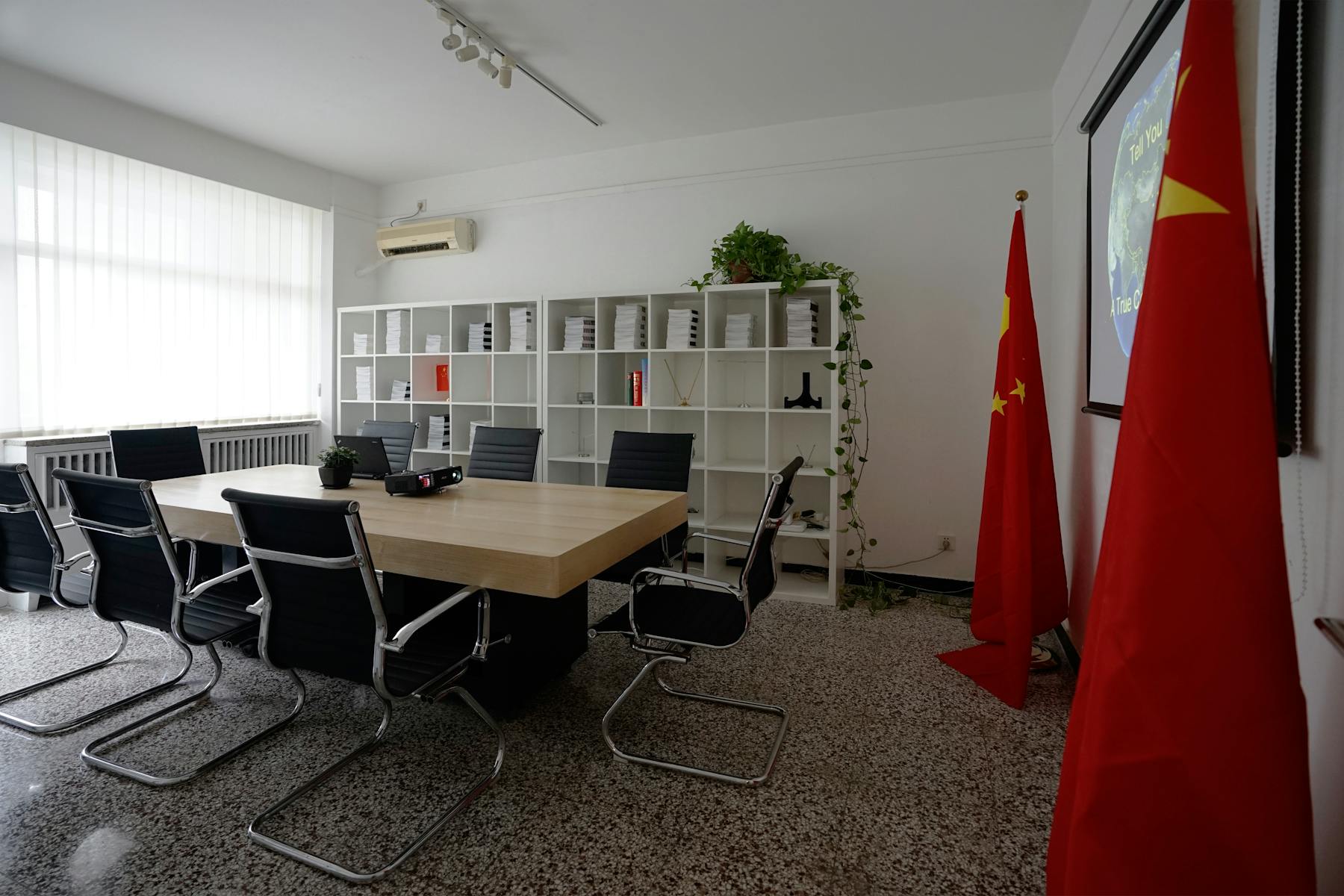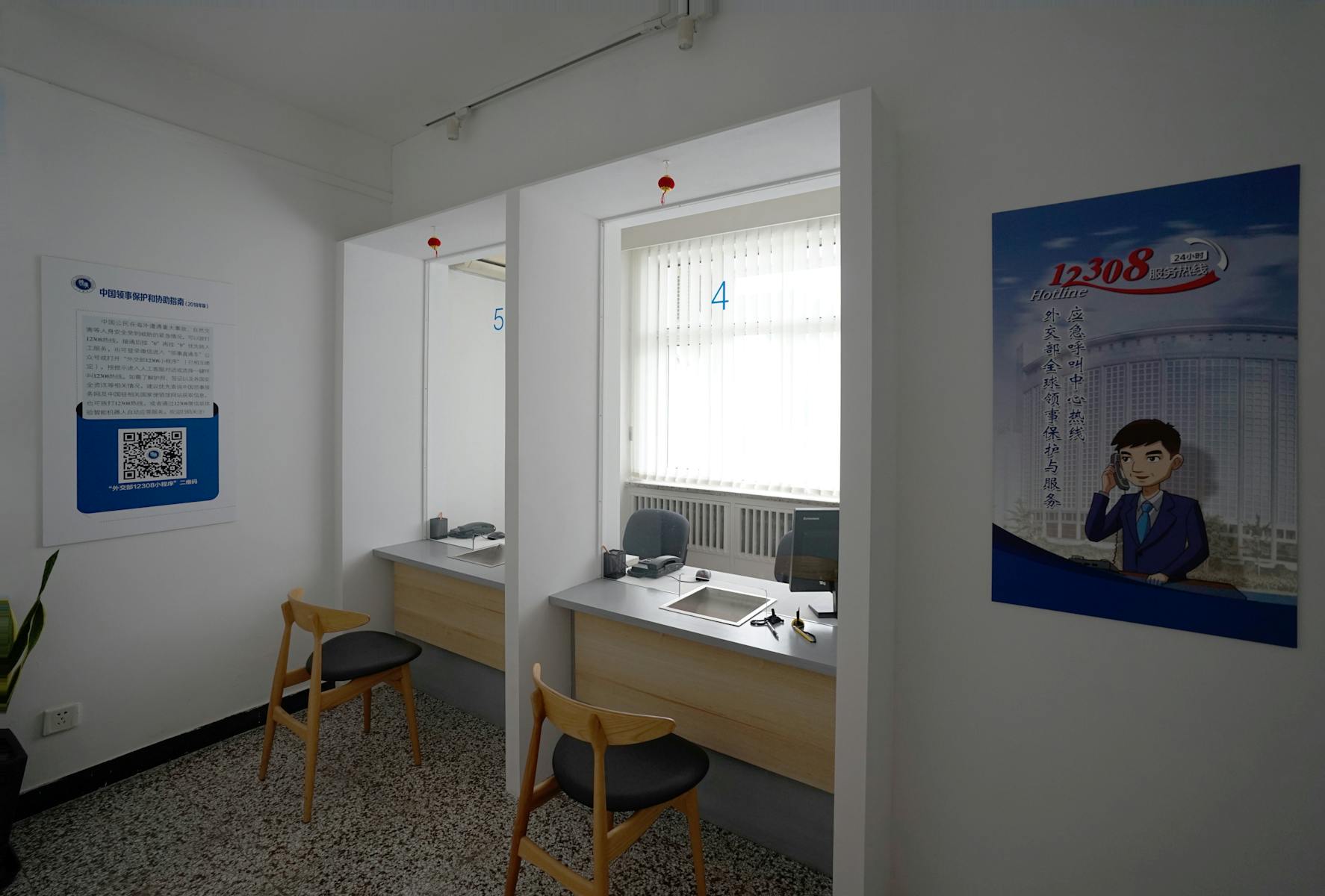 Two years ago, Peng opened Bunker – a sec­ond space in a sim­i­lar­ly obscure loca­tion: a dilap­i­dat­ed man­sion, unfa­mil­iar even to many locals, which served as the war­lord Duan Qirui's head­quar­ters dur­ing the 1920s. The space is hid­den under­ground in the com­pound, sit­u­at­ed in a bunker that was built for Japan­ese Gen­er­al Yasu­ji Oka­mu­ra dur­ing the Sino-Japan­ese war.
Out­side Beijing's famous art dis­tricts of 798 and Caochang­di, sim­i­lar spaces have been pop­ping up, but for many, it's a brief exis­tence. DRC No.12 and Bunker are unique in that they sur­vive while insu­lat­ed from out­side inter­fer­ence and com­mer­cial con­cerns. The phone num­ber you call to make reser­va­tions is Peng's own mobile, which seems part of a con­scious deci­sion to keep the cir­cle small. There's no pub­lic­i­ty, and each exhi­bi­tion typ­i­cal­ly attracts 700 – 800 vis­i­tors, most­ly drawn from the art com­mu­ni­ty, friends of friends or art stu­dents. The ​'by-invi­ta­tion' word­ing also helps cir­cum­vent bureau­cra­cy which requires per­mits for all pub­lic-fac­ing exhibitions.
"I don't real­ly like to com­bine my per­son­al his­to­ry with why I run these spaces," Peng said as we sat down to dis­cuss the chal­lenges he faces. ​"To be sus­tain­able, it shouldn't be about a sin­gu­lar per­son. One day, if I decide to retire, they can still car­ry on with­out me."
How did you come upon this space in the DRC compound?
We orig­i­nal­ly rent­ed the apart­ment to use as an office and a few of my artist friends came to look around. It made them quite nos­tal­gic because when they first start­ed out in the late ​'70s and ​'80s, there was nowhere to exhib­it art, and so a lot of for­eign­ers held exhi­bi­tions in their apart­ments here. This place birthed a lot of con­tem­po­rary Chi­nese cul­ture, not just visu­al arts, but also the ear­li­est rock music from Cui Jian (often labelled ​"The Father of Chi­nese Rock"), as well as poet­ry. The spir­i­tu­al bedrock of con­tem­po­rary art is in chal­lenge and con­fronta­tion, and that was man­i­fest­ed here.
When did you decide to turn it into an alter­na­tive art space?
Tra­di­tion­al­ly, exhi­bi­tions are held in muse­ums or gal­leries. Apart­ments are dif­fer­ent, they're made for liv­ing, so the basic form and con­cept was already going against pre­vail­ing ortho­doxy. We'd just bought some fur­ni­ture, and my friends encour­aged me to do an event when the space was still most­ly emp­ty. Coin­ci­den­tal­ly, it was the 10th anniver­sary of Feng Guodong's pass­ing, he was an impor­tant artist as well as the father of a co-work­er, so we invit­ed his friends over for a sym­po­sium and the result­ing dis­cus­sion was print­ed out and post­ed on the walls. That was the first so-called ​'exhi­bi­tion'. It was very rough and ready, but quite mov­ing, it remind­ed us of some­thing, so I was per­suad­ed to keep the space for exhibitions.
It's quite an inter­est­ing under­tak­ing con­sid­er­ing you nev­er offi­cial­ly worked in the art world before.
I was born in Bei­jing in the ​'60s, and pret­ty much through a few degrees of sep­a­ra­tion, you know every­body who grew up here then. I was friends with many of these artists from a young age, I even used to come to the DRC when I was in university.

Did you decide from the begin­ning to make it non-prof­it? It's sur­pris­ing you don't charge admis­sion to at least sup­ple­ment your costs.
What we are doing is nev­er going to be com­mer­cial­ly viable. If we want­ed to sell art we would just run a gallery, and this wouldn't be the right space. Tick­et sales wouldn't cov­er our costs, and any­way, these spaces are for artis­tic exchange with­in the com­mu­ni­ty, they're not aimed towards the pub­lic. We receive fund­ing from indi­vid­u­als on the under­stand­ing they have no say in what we do and are not allowed to rec­om­mend artists.
How are the artists chosen?
We have a com­mit­tee of four peo­ple who will dis­cuss and invite artists. We don't choose peo­ple to be polit­i­cal­ly cor­rect, and nation­al­i­ty and gen­der doesn't mat­ter to us. We have worked with inter­na­tion­al artists, but we don't have fund­ing for pro­duc­tion costs, so logis­tics become more dif­fi­cult. Oth­er­wise, peo­ple can pro­pose ideas and the com­mit­tee decides by vot­ing. We also don't empha­sise ​"young artists." In any case, there is only young art, no young artists.

How do you see your exhi­bi­tions vis-à-vis oth­ers in China?
First­ly, we do shows that muse­ums and gal­leries can­not because they're con­trolled by cap­i­tal and need to attract a cer­tain num­ber of vis­i­tors, which lim­its cre­ativ­i­ty. Sec­ond­ly, you can build a room with­in a muse­um, but you're not work­ing with an exist­ing struc­ture, so that fun­da­men­tal con­text is missing.
Do you see your­self as an out­sider in the art community?
If you mean the com­mer­cial art mar­ket, then we bare­ly exist in that world. How­ev­er, if it's the cre­ative art world, then we're very much on the inside and work with many key artists. Con­tem­po­rary art is about the fringes, because it's sup­posed to chal­lenge exist­ing concepts.
Many inde­pen­dent art spaces are clos­ing due to lack of funds, are you wor­ried about your future?
None of us are paid a salary, it's a pas­sion project, so long we still have enthu­si­asm and can fund the spaces, it keeps on going.
The Diplo­mat­ic Res­i­dence Com­pound is locat­ed on Jian­guomen­wai Avenue in Beijing's Chaoyang Dis­trict. Liu ​'Applause is Due' runs until 30th June.
---