How Dubai became the hottest holiday destination for UK rappers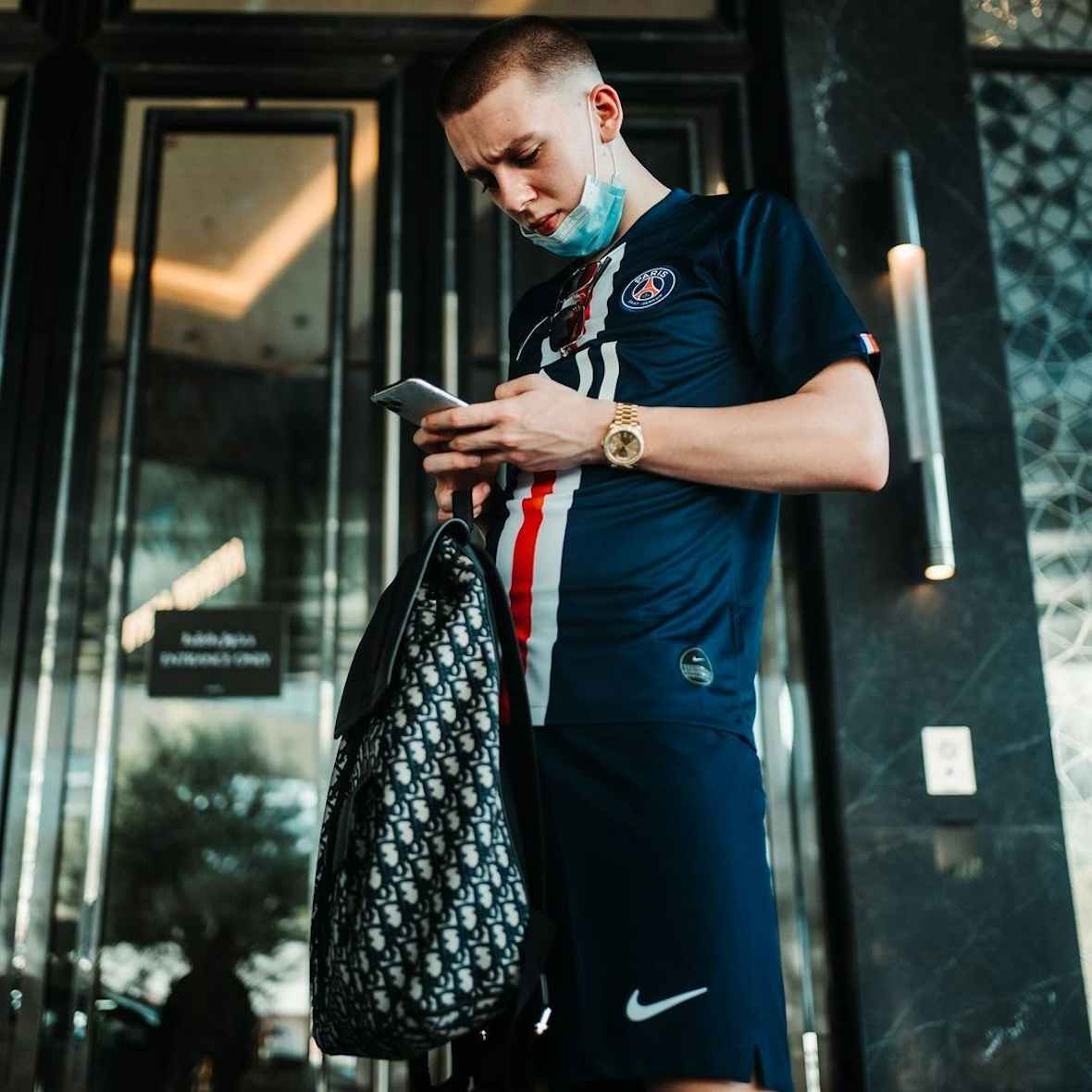 2020 in review: While you were scrolling on your phone in lockdown, it looked like half the music scene was popping bottles at the Burj Al Arab.
During the endless hours we spent glued to our phones in lockdown, we often found ourselves being teased by UK rap stars living it up in what looked like an alternative universe.
It was far removed from socially-distanced supermarket queues and government-approved daily walks in the grey British weather. We've watched Aitch ride through the desert on a dune buggy, Dave play with tigers and, infamously, Headie One and Tion Wayne brawl on a sparsely populated airplane.
The United Arab Emirates has been an increasingly popular holiday spot for British rappers, celebs and media personalities (the likes of reality TV star Megan McKenna and Love Islander Kaz Crossley have made their presence known there) for some time. But there's no denying that in 2020, Dubai's hype reached fever pitch.
Part of Dubai's appeal is that it's so deliciously Instagrammable. It's the perfect place to flex on social media by sharing pics of luxurious beaches, skyscraper views and souped-up supercars. Whether it's your favourite rapper posting videos of restaurateur-turned-human meme ​"Salt Bae" at Nusr-Et Steakhouse, or showing off with piles of shopping bags from one of Dubai's many mega malls, the city provides endless fodder for their followers.
The Dubai trend feels like a polished upgrade to the more hedonistic Ayia Napa trip – once a rite of passage for Premier League footballers, UK garage and grime stars from the mid-1990s into the early 2000s. While Dubai can't offer a strip of clubs playing Black British music, this city offers artists the opportunity to flex they like they've never flexed before with Uber helicopters, Rolls Royce rentals and duty-free designer garms.
You'll have probably noticed that the Dubai hype peaked in the latter quarter of 2020, as the days in the UK grew shorter and colder, attracting fed-up Brits looking for a bit of winter sun (which reaches up to up to 28°C in the UAE). During the UK's second lockdown, international travel was severely restricted, but flights to and from Dubai opened up as of November when the UK added the United Arab Emirates to its approved travel corridor list. This means those arriving in England from the UAE will not be required to self-isolate, since the country has been evaluated as low risk from coronavirus.
"Since opening our borders on July 7, it's been a key priority for us to safeguard the health and wellbeing of our residents and guests in Dubai," said Issam Kazim, CEO of Dubai's Department of Tourism in a statement to Arabian Business. ​"Following the announcement to include Dubai on the UK's travel exemption quarantine list, we are delighted to welcome British visitors back to the city".
With European party destinations being locked down all summer, Dubai offered itself to be a safer alternative to Ayia Napa, Ibiza and other party islands after opening borders this summer. To date, the UK has recorded 1.7 million cases of Covid-19, whereas the UAE has only had 170,000 confirmed cases. A rigorous process of rapid Covid-19 testing upon arrival at Dubai International Airport throughout the pandemic helped curb imported cases of the virus.
Airlines like Etihad and Emirates had been showing signs of recovery with more Brits booking trips to the UAE and demand for flights rose from July onwards, but airlines anticipated a little turbulence with the UK's second lockdown. In spite of this, Dubai authorities were in talks on London airport operators to make travel easier between the two destinations. Now, business appears to be booming, as flight bookings have since surged by 112%.
The UAE can't replace the UK's touring circuit, but it does give artists the opportunity to perform in a setting that's somewhat more glamorous than most of Europe's socially-distanced gig experiments.
In November, MoStack, Not3s and Yungen all performed in Dubai. Former BBC DJ and Fire in the Booth host Charlie Sloth has temporarily moved there, so he can host a UK rap residency at Five Palm Jumeirah's Penthouse every Saturday night. Recently he posted a picture of his tab of over £200,000 after a night out with the bill including 53 bottles of Ace of Spades champagne, proving when you're in Dubai, you go hard or go home.
The pandemic has presented venues with an ​"adapt or die" ultimatum. Dubai's nightlife scene has been creative in meeting Covid-19 safety guidelines, with clubs operating at a reduced capacity and tables being spaced two metres apart in attempt to enforce a no mixing of groups rule (although some stars' snaps have suggested the lines loosen a little once the champagne is flowing).
The award winning club WHITE Dubai – which has hosted performances from Skepta, Tinie Tempah and Krept & Konan – has had a major social distancing-friendly makeover. The club's facelift sees dancefloors replaced by booths and barriers. Other nightspots introduced high-end supper club or lounge experiences and are supposed to stick to a strict curfew of 1am.
Meanwhile, all the usual tourist to-do's are up and running again. There are the camel rides on sand dunes and quad biking in the desert at sunset. There are jet ski tours with views of the Burj Khalifa – the tallest building in the world – and towering skyline from the sea, lounging on the pristine Jumeirah Beach with the Burj Al Arab in the backdrop, or swimming with dolphins at Aquaventure Waterpark. The celebs seem to love the Fame Park zoo – which lets visitors feed giraffes, play tug of war with lions and pet tiger cubs. Privately owned by the billionaire Belhasa family, the park is invite-only. Anthony Joshua, Dave and Jesse Lingard have all visited the zoo that's home to over 500 exotic animals, and which MoStack so kindly gave us all a TikTok tour of.
So where do the stars lay their heads? The dream hotel is the opulent Burj Al Arab, where Maya Jama shacked up at their £4,000 per night club suite. It's the only seven star hotel in the world. Guests stay in incomparable luxury, with rooms boasting flashy gold-plated taps, whirlpool tubs and complimentary Hermes toiletries – this ain't no Premier Inn.
As you'd imagine, Dubai's hospitality sector is feeling pretty optimistic. Omar Souab, General Manager of Sofitel Dubai is assured international tourism will bounce back over the upcoming months. ​"Despite these unprecedented times, we are extremely confident that the economy will pick up and that we as a hotel will gear up along with the economy," he told Arabian Business. ​"The city went through a government-regulated quarantine and re-opened successfully. Social distancing rules and regulations are in place and testing is very accessible… The city will see an increase in tourism over the next few months as a result of the swift and successful response to Covid-19″.
As hospitality and nightlife resume under a socially distanced ​"new normal", the doors of Dubai are open for anyone with enough cash at their disposal. If UK rappers have anything to say on the matter, it was truly 2020's place to be. And with thousands more Brits looking to book themselves a post lockdown getaway, many dream of shaking a leg on one of Dubai's beaches. Someone tell MoStack to save us a cabana.

More like this