Glen Pudvine's art is more than just dicks and dinosaurs
The Cheshire artist uses painting as therapy to tackle existential dread, religion and fear of death. Honest, it's way more fun than that sounds.
Glen Pudvine lets his painting do the talking. And it's worked: two years after graduating with a masters degree from the Royal Academy, the 32-year-old from Chester has cracked the London art scene with his darkly humorous, shocking and sinister self-portraits.
In one of his latest works, a witty self-portrait titled Born, there's nudity, and a lot of it. His cheek is on full display, as are other body parts. Pudvine stands there, smiling, naked and erect, wearing only socks, while a dinosaur chomps on his forearm.
What minimal clothing he wears, he admits, is highlighting a size inadequacy, only not the one we might imagine.
"In paintings I wear socks because I'm insecure about the size of my feet." Poor sole.
Dawn, from 2019, shows the artist in a hellish fiery landscape, his penis blown up to enormous proportions, big enough to take your eye out. Also pictured: a bird humping a limp rat and, of course, hosiery.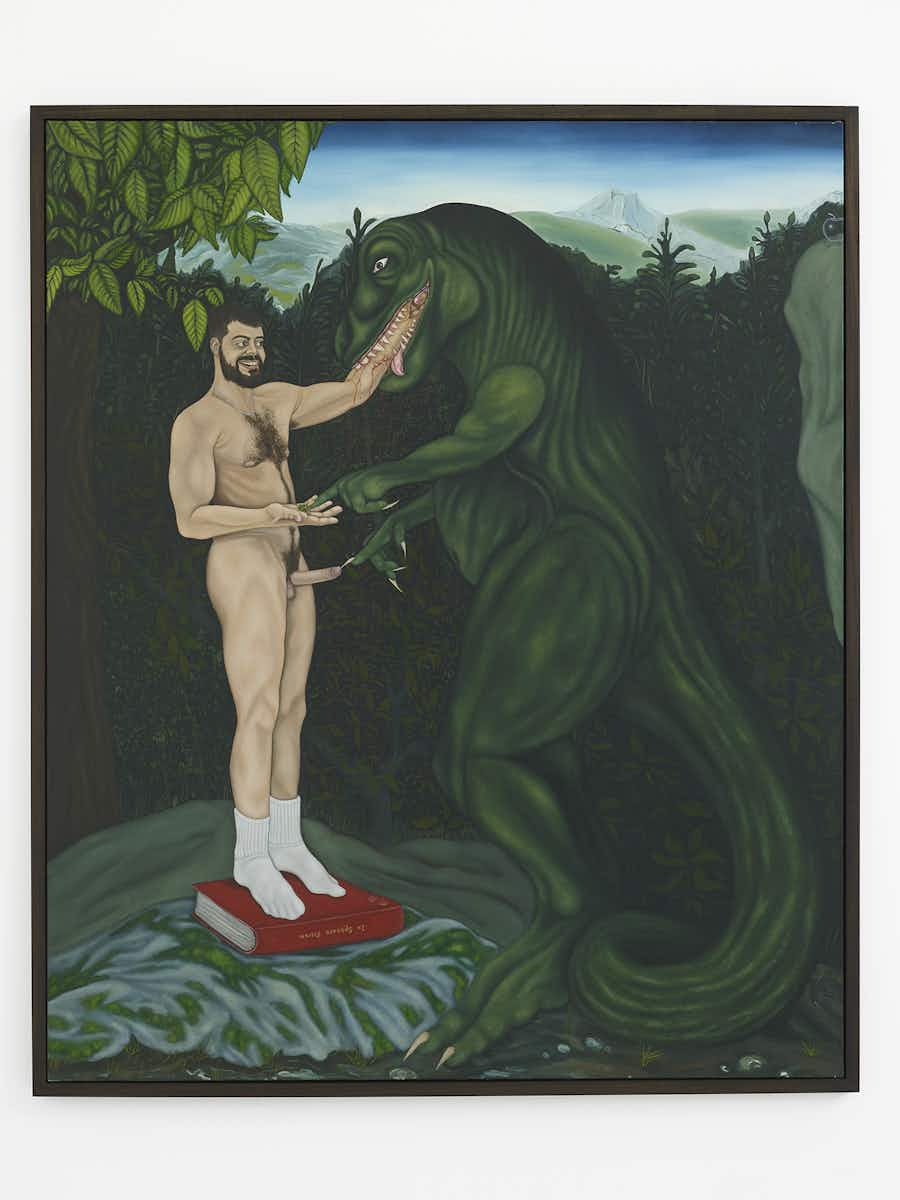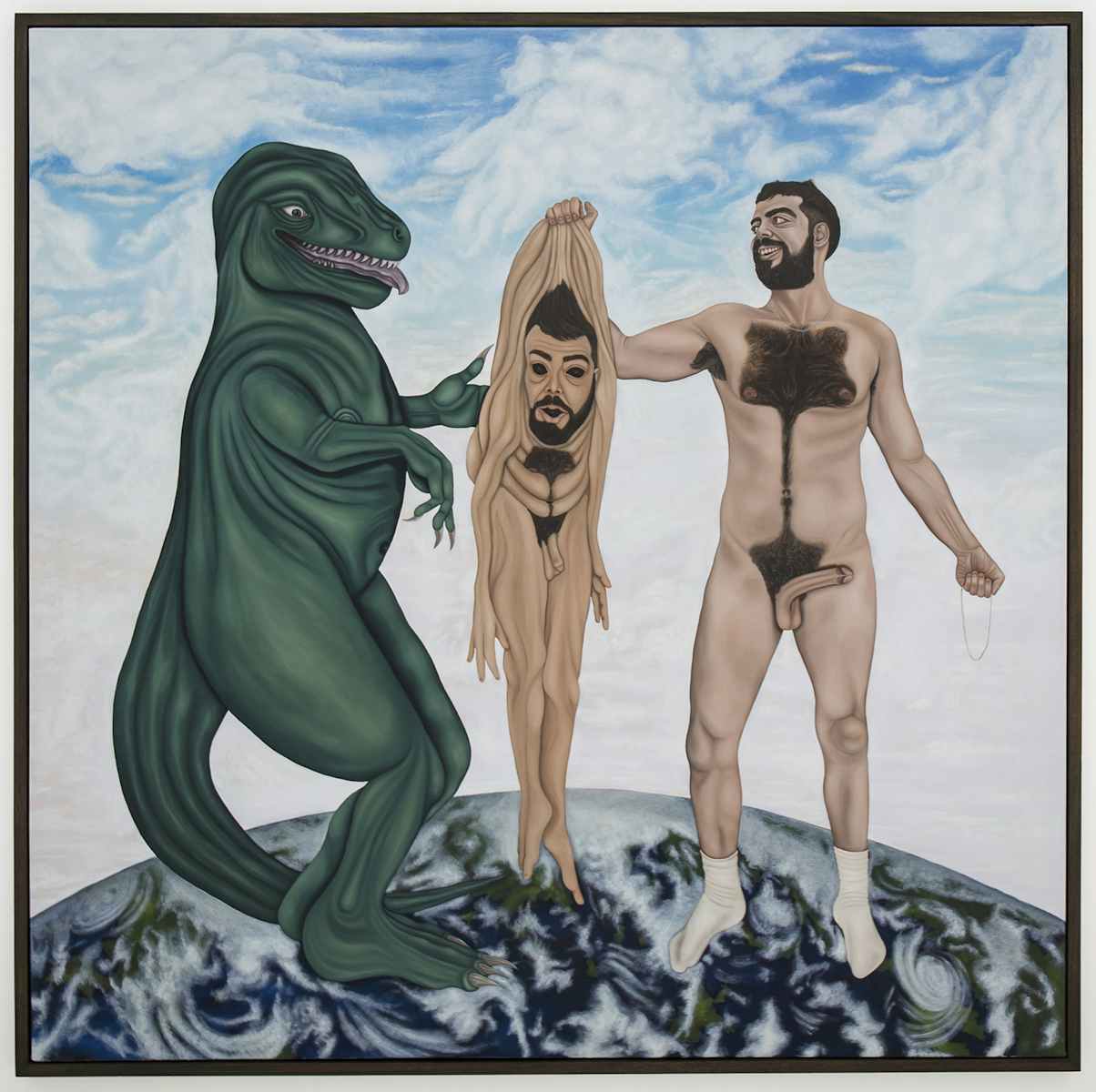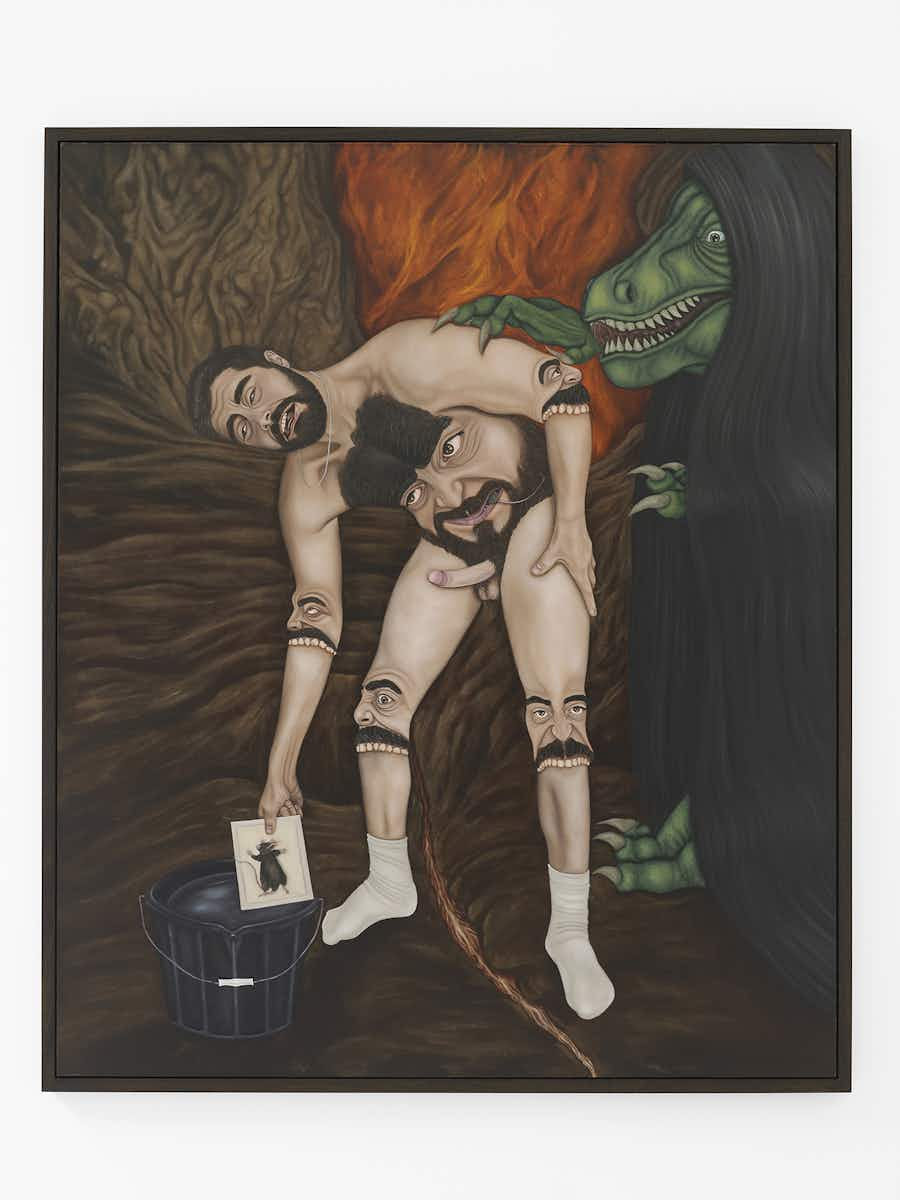 What, one wonders, led Pudvine down this obscure painterly path, producing work that straddles themes of homoeroticism, whiteness and religion (and socks)?
"I didn't have a story that anybody would find interesting," he replies. ​"I was fumbling initially because I didn't have the vocabulary."
But he acknowledges that he's interested in the inevitability of death and uses his art as a way to portray, exorcise even, his fears.
"I think I've always been really scared about having to come to terms with that. I wonder if that's why the work sometimes has religious-style imagery – because it's like trying to find its own religion, or make me feel more comfortable with existential dread. The dinosaur is death and the self-portrait is life. It's there, it's present, it's me."
Despite completing a Fine Art degree at Leeds Metropolitan in 2011, Pudvine didn't believe he could become a full-time artist. ​"You hear romantic stories but I couldn't understand how I'd be able to make art work. I came out of Leeds with a lot of encouragement and a 1:1, and I felt really good about it. But I moved to Chester."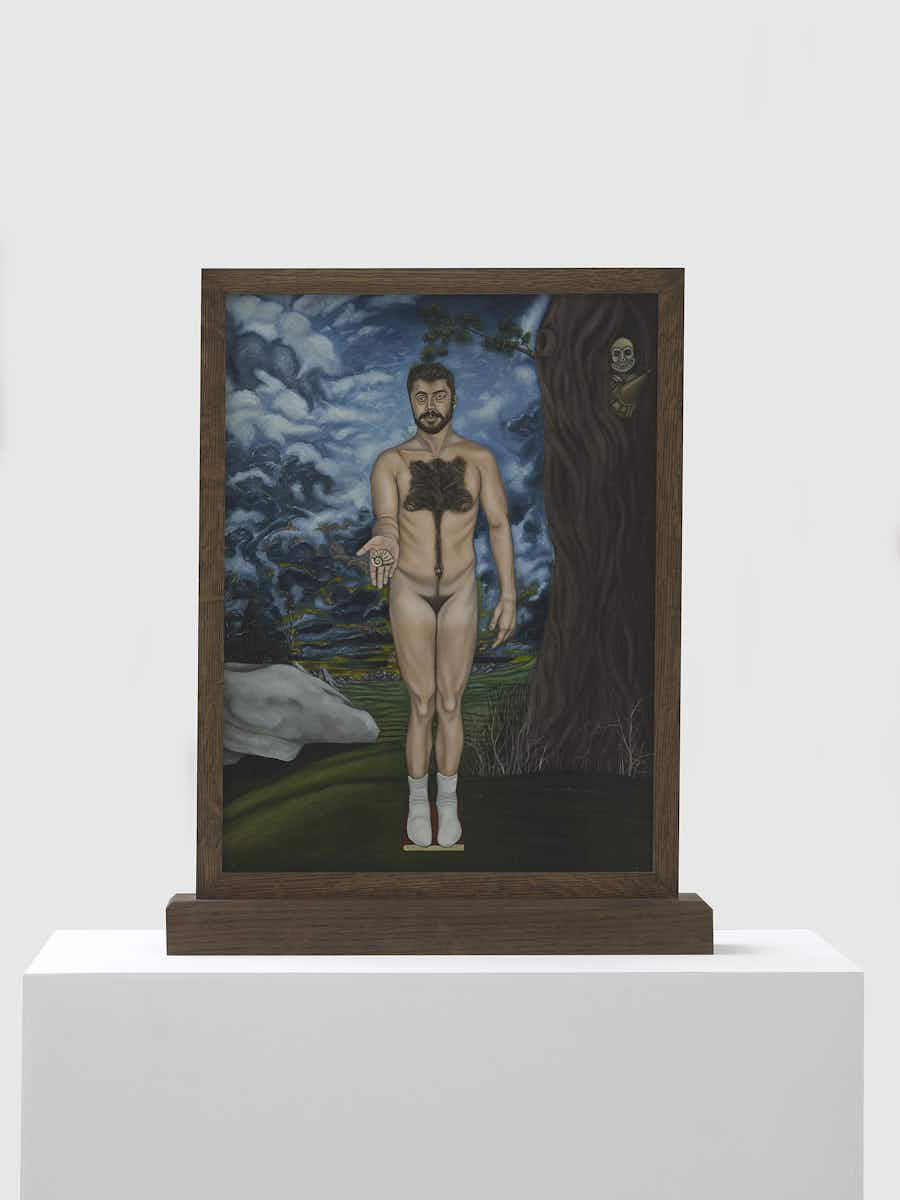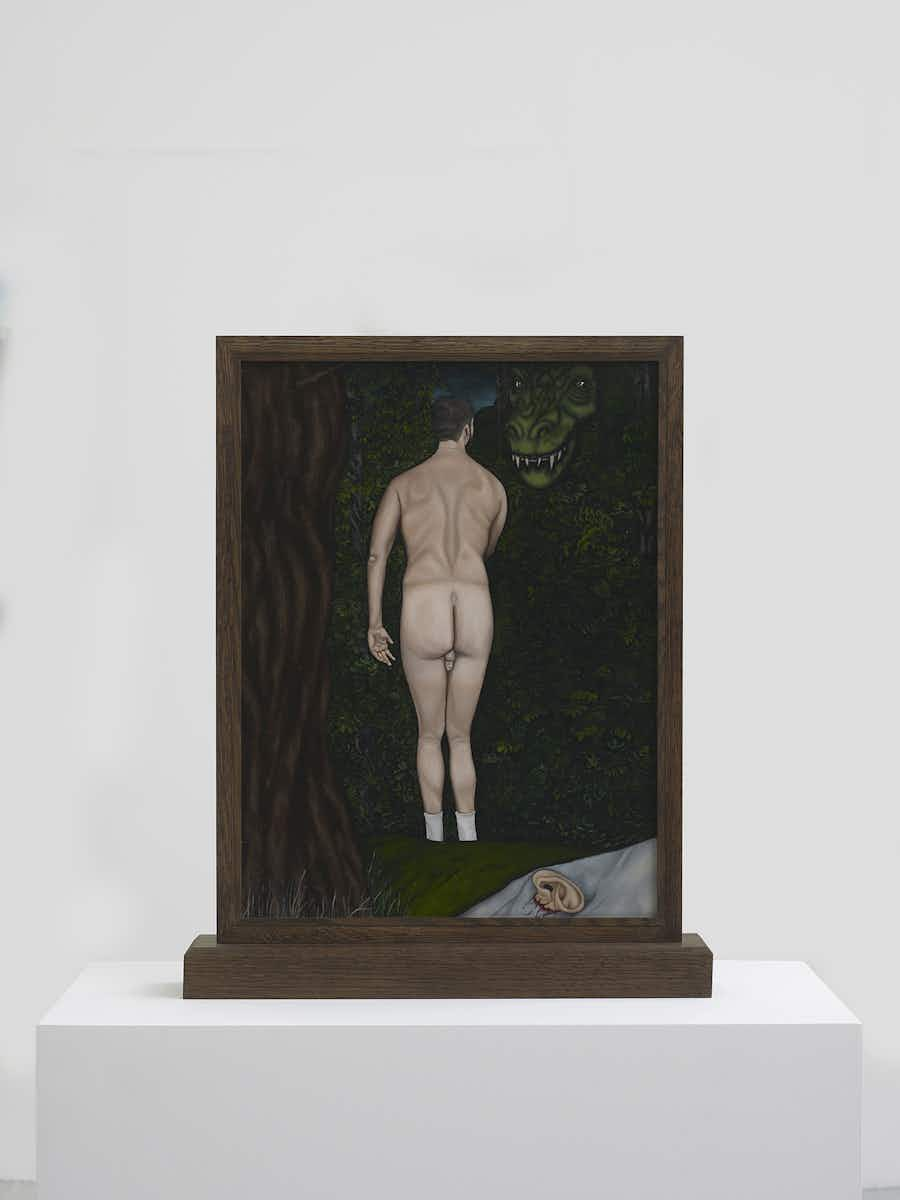 Back at home and only toying with the idea of relocating to London, it took the entreaties of his long-term friend, ceramicist Jesse Wine, to lure him back into the studio. Taking a residency with Wine three days a week in Elephant and Castle in South London, Pudvine built his way up from faithfully depicting the mundane to diving into the visually insane.
"My work has always been very diaristic," he says. ​"Because I wasn't in the studio as much as I would like, I'd start a painting and finish it in like a day, or less. They were lary and dumb and what I'd encountered that day. I just didn't know what I was interested in. But they were really formative years, because I was doing it for no reason and nobody cared."
From such basic beginnings were hellscapes born… During lockdown, Pudvine has been working on a 12-part sequential series which, fingers crossed, will open at the J Hammond Projects gallery in Islington, North London on the 15th April.
Its title? Slugulus the White and the Penance of Saint Glen. Um… what?
"My dick starts to strangle me, basically, kills me and then starts to consume me," is all he'll reveal today, but frankly that's enough. ​"And then it develops from there."
Glen Pudvine, then: cocky in all the best ways.


More like this