Global art calendar: August
Curator, writer and art-lover Shonagh Marshall has edited a list of this month's must-see exhibitions.
The international art world is snoozing in the shade of September's back-to-back madness. With summer holidays in full swing and wanderlust cravings at an all time high, gallery shows are reflecting this need for space.
During this month international galleries will stage group exhibitions that feature emerging artists, ruminating on a theme that will offer a chance to see something unexpected. New Ruins at Soft Opening in London, Them at Perrotin in New York and Mutaerium at Mumbai Art Rooms are absolute highlights.
Contemplating a different kind of space, the Metropolitan Museum of Art's summer blockbuster Apollo's Muse celebrates the 50th anniversary of the Apollo 11 moon landing. The magical and mystical exhibition is not to be missed. Why are we so desperate to harness the moon in an image? Our obsession with the universe outside of our immediate tangible one is fascinating. This month, you'll find two more shows that take us on a journey out of this world and into the realm of science fiction in Shanghai and Melbourne.
As for the big institutions, it's business as usual. Turner-Prize winning British-artist Lubiana Humid's first solo US show is on at The New Museum in New York, Sweet Harmony: Rave | Today is at London's Saatchi Gallery and Other Bodies Behind by Adriana Varejão is on at the Museo Tamayo in Mexico City until November. Let's dive into some art.

2019 Aperture Summer Open: Delirious Cities at Aperture Foundation, New York, until August 29
Taking Rem Koolhaas' 1978 manifesto Delirious New York as its starting point, this annual exhibition displays work by 23 emerging lens-based artists from across the world that Aperture and their cronies feel are ​"defining the contours of metropolitan life in the twentieth century". Like any open call group show this is an outing of taste. My highlight is Adam Pape, whose noir-esque black and white film photographs capture New York City's parks after dark. Each scene plays out like a dramatisation of the everyday – one image captures a skunk caught in the headlight of Pape's flash, while another sees a couple make out (with tongues).
Apollo's Muse: The Moon in the Age of Photography at Metropolitan Museum of Art, New York, until September 22
In celebration of the 50th anniversary of the Apollo 11 moon landing, this exhibition charts the visual representation of the moon from the dawn of photography to present day. The show is chronological: it starts with some of the earliest captures rooted in scientific study, followed by a section focussing on the Apollo 11 landing, ending with the contemporary artists exploring the moon as a form of inspiration. I love Alexandra Mir's First Women on the Moon (1999) that closes the show. The video documents Mir crafting the moon's surface on a Dutch beach in the height of summer – faking an all female landing in the process.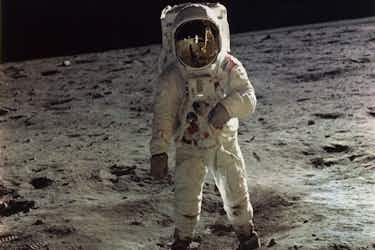 Sweet Harmony: Rave | Today at Saatchi Gallery, London, until September 14
Sweet Harmony aims to embody and evoke the feeling that was associated with the acid house scene, while enthusing the current generation of ravers. In it, Vinca Petersen's diaristic installation charts her personal experiences from the early ​'90s to the current day through images and text, which seem to best capture the spirit of the time. The subcultural histories shared are both personal and collective; I find them best told subjectively and without interference. It is hard to stage a show about hedonism, rebelliousness, and freedom within an institution – I hope this one inspires as it intends to.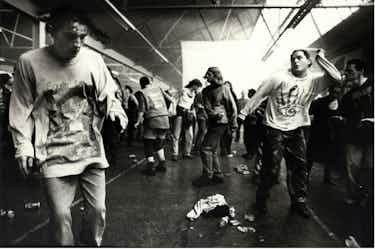 Lubaina Himid: Work from Underneath at The New Museum, New York, until 6th October
This is Turner-Prize winning British artist Lubaina Himid's first solo US show, for which she has created a new body of work. It includes drawings, paintings, sculptures and textile works that critique the consequences of colonialism while questioning the invisibility of people of colour within the worlds of art and media. The title – Work from Underneath – examines how language and architecture generate a sense of fragility or stability. It's borrowed from the pronouncements of health and safety manuals, whilst also doubling as a subversive proclamation. Drawing viewers in with monotonous moments of daily life, Himid's urgent work asks us to query the way histories are formed.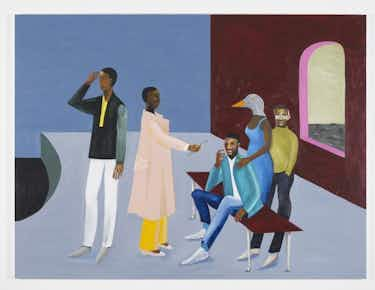 Other Bodies Behind at Museo Tamayo, Mexico City, August 24 – November 10
Other Bodies Behind is arranged into three sections that explore the lines of research Adriana Varejão has developed in her artistic practice since the 1990s. The first displays her early career figurative canvases, the next is a selection from her Ruinas de carne carne series and the final section focusses on the latest version of her Polvo installation, which questions race in relation to skin colour. Varajão's work reflects on the multiplex nature of Brazilian history, memory and culture, unpicking Brazil's postcolonial identity through painting, sculpture, photography and video.
Them at Perrotin, New York, until August 16
Them surveys contemporary, figurative paintings that depict the romance of the embrace. Within art history tender moments typically depict heterosexual couples, Them puts forward an investigation into sensitive depictions of romance and the poetry in contemporary quotidian queer life. The exhibition features some of the most buzzed about New York painters: Hernan Bas, Jonathan Lyndon Chase, Anthony Cudahy, TM Davis, Angela Dufresne, Louis Fratino, Jenna Gribbon, Paul Heyer, Maia Cruz Palileo, Ana Segovia and Salman Toor.
Rebecca Warren at Morena di Luna, Hove, until September 29
Located in the British seaside town of Hove, Morena di Luna is an outpost of London's Maureen Paley gallery. Rebecca Warren's work is currently on show, including a painted bronze sculpture and a series of neon-based collages. She often approaches the female body in her work – indulging in its history of sexual guises from ancient fertility goddess to misogynistic cartoon character. The regency architecture of Morena di Luna is a stark contrast to Warren's contemporary work , which is exactly what Paley intended for the space.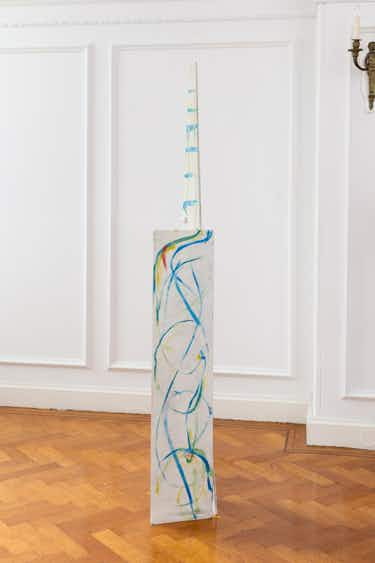 New Ruins at Soft Opening, London, until September 8
In keeping with the gallery tradition of staging a group show in the summer, Soft Opening presents New Ruins – a showcase that includes work by Gina Fischli, Matt Hilvers, Anne Libby, Tenant of Culture, Liz Quezada-Lee and Lara Shahnavaz. The show examines the melodrama of the ruinous, its relationship to nostalgia and what this reveals about the construction of collective or personal memory. Through the work of these six artists, New Ruins asks the viewer to redefine the ruin beyond physical architecture, inviting them to look into the space that ruins create for re-imagination, re-construction and re-growth.
Momo Okabe: Bible and Dildo at Foam, Amsterdam, until September 4
Foam's latest exhibition celebrates work from Japanese photographer Momo Okabe's Bible and Dildo series. The exhibition charts the story of Okabe's lovers as they struggle with gender dysphoria, identity disorders and social isolation. The title of the work makes reference to a body part that some transgender people may or may not ever have. In Bible and Dildo Okabe also charts the complex lives of her friends and lovers dealing with issues of identity. Expect images of Tokyo's underground nightlife and social vulnerability juxtaposed with images charting the destruction wrought by the heavy earthquake and subsequent tsunami in 2011.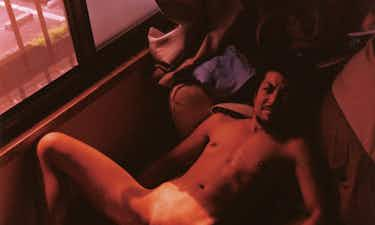 Lucy McRae: Body Architect at National Gallery of Victoria, Melbourne, August 30 – February 9 2020
In this new exhibition body architect, designer and science-fiction artist Lucy McRae contemplates how technology will transform the body. It's her first exhibition and it will include the grotesquely beautiful colour images she created with Dutch textile artist Bart Hess between 2007 and 2009. Speculating on fictional technology, the flicks propose a future human body that is capable of physiological transformations, such as colour-excreting skin and needle-like pores. Seven of McRae's videos, produced between 2009 and 2016, will be on show, each combining storytelling with speculative science by delving into the evolving relationship between the human body and technology. The exhibition also includes collaborations with pop stars such as Robyn.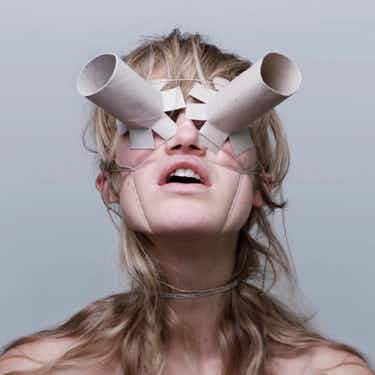 The Kind Stranger at UNArt Centre, Shanghai, August 23 – October 20
As the predictions made in science-fiction novels over the past fifty years start to become a reality, there is increased interest in how today's society will play out. This exhibition featuring the work of 30 artists (mostly from or based in Shanghai) focusses on a fictional sci-fi character – ​"The Kind Stranger" – who uncovers a fictitious private collection (made up of the artworks on display). The text on the website explores the idea that human society is reaching the ​"end stage" of its existence, suggesting that we need to prepare for a ​"New era". It's a show that encourages you to think.

Please recall to me everything you have thought of, curated by Eve Fowler at Morán Morán, Los Angeles, until August 24
Curated by artist Eve Fowler – best known for her posters of Gertrude Stein quotes (the title is a Stein quote) – this exhibition features the work of 20 female artists who are in the later years of their careers. It's an extension of a film Fowler made about the artists. ​"I'm not asking the artists to tell me anything, but they allowed me in their studios – a private place where artists often feel vulnerable," she explains. The exhibition includes ceramics, painting, photography, sculpture, textiles, works on paper and video, highlighting each artist's practice with over 30 artworks, dating from the ​'70s to current day.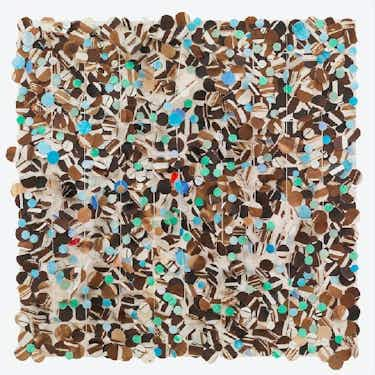 Mutarerium at Mumbai Art Room, until August 31
The title Mutarerium is a portmanteau of the Latin verb ​"mutare" (to change or exchange) and ​"terrarium" (a glass unit for growing plants). By using this as a metaphor for the world being in the sixth stage of extinction (directly due to humanity's actions), this exhibition looks at forms of growth while asking questions about the future of our existence. Can we get used to the new way of living? Would it be more languishing than living? Would there be a ​"we" to pose that question from? Claiming to be both dystopian and cautionary in intent, the project offers alternative pathways and non-linear models of growth that are tentacular and symbiotic. The exhibition features work by Indian artists Mustafa Khanbhai, Priyanka D'Souza and Waylon James D'Souza, and is curated by Adwait Singh.
Pierre Cardin: Future Fashion at Brooklyn Museum, Brooklyn, until January 5 2020
Presenting over 170 objects this blockbuster show includes archive and contemporary haute couture, prêt-à-porter, furniture, lighting, fashion sketches and film excerpts that chronicle the career of legendary French couturier Pierre Cardin. Bests known for his vision of futurism throughout the 1960s, 1970s and 1980s, the work seems particularly relevant in light of the current renewed interest in space travel and our journey towards an increasingly sci-fi existence. I am intrigued by ​"futuristic" dressing for today, perhaps this show will inspire New York based designers to sneak some Cardin references into their collections.

Harry Gruyaert at Hôtel Départemental des arts du Var, Toulon, France

This retrospective celebrates the work of photographer Harry Gruyaert – best known for his use of colour and his travel documentary. By capturing the everyday through his lens, he turns often-overlooked moments into enrapturing images via his approach to light and colour. The exhibition will allow you to marvel at the potency of his spectacular prints, far removed from the way they appear on a monitor screen.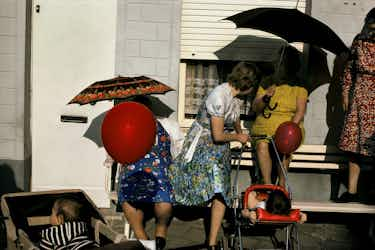 More like this