Glob­al art cal­en­dar: July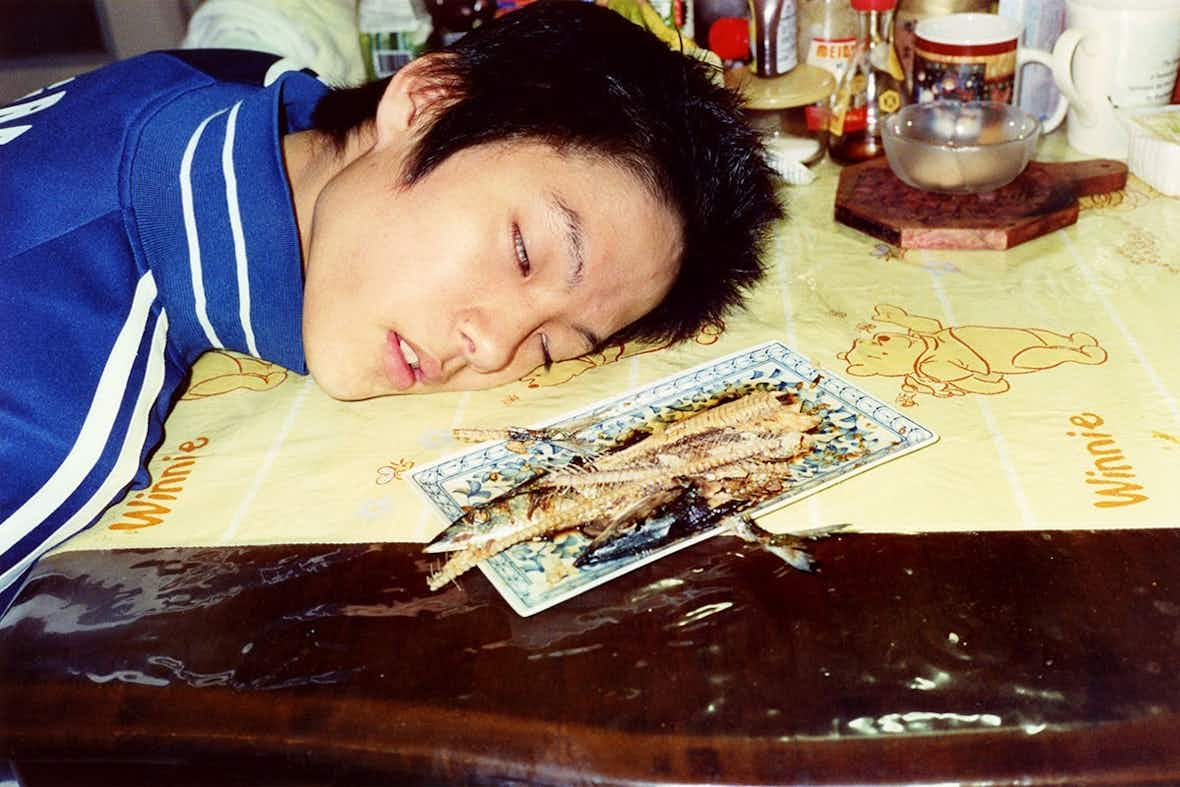 Curator, writer and art-lover Shonagh Marshall has edited a list of the must-see exhibitions opening this month.
July sees exhibitions around the world taking the concept of ​"time" as a jumping off point: placing works in the context of the past, present and future to assess politics, the environment and social issues.
In London, the Tate Modern opens the largest exhibition to date of artist Olafur Eliasson, whose work asks us to question ideas of perception and our role in society. Garage Museum of Contemporary Art in Moscow embarks on an ambitious exhibition around the environment with a sci-fi twist (it's set in the future between 2030 and 2100). Campbelltown Arts Centre, just outside Sydney, has commissioned ten artists to question democracy in our fast-paced media landscape in Ok Democracy, We Need to Talk. Meanwhile, Awakenings: Art in Society in Asia 1960s-1990s looks to the past, breaking down geographical boundaries by showcasing contemporary artists from all over Asia, whose work takes in political issues as a starting point.
Sat somewhere in between is Davide Sorrenti: Our Beautyfull Future, the first solo exhibition for the late photographer whose imagery of 1990s downtown New York is steeped in nostalgia. With a similar longing tone, Coming of Age at Little Big Man gallery in LA showcases work by photographers in the attempt to untangle the complexities of boyhood. Nostalgia is a tricky one in today's climate; so intangible it slips through our fingers. Does it help or does it hinder?
Olafur Eliasson at Tate Modern, London, 11th July – 5th January 2020
Dutch-Icelandic Berlin-based artist Olafur Eliasson is returning to the Tate Modern after his triumphant installation The Weather Project, where a glowing sun drew two million visitors to the Turbine Hall in 2003. Eliasson's work is engaged in making us rethink both our role in society and our connection to the world around us. Installing natural phenomena in the gallery space, such as rainbows, the exhibition is the most comprehensive to date, evoking scrutiny around ideas of perception. With the heatwave that is currently ripping through Europe, we need to be asking the questions that Eliasson raises more than ever. This is not to be missed.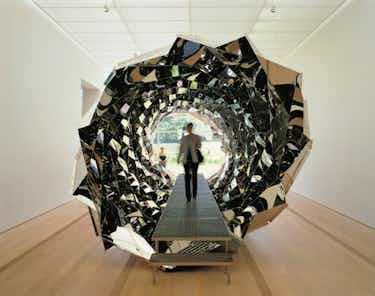 Frieze Sculpture Park at Regents Park, London, 3rd July – 6th October
Throughout the summer, Regents Park's English Gardens plays host to a number of sculptures by 24 artists such as Tracey Emin, Lars Fisk, Robert Indiana, Zak Ové, Jaume Plensa, Tom Sachs and Joanna Rajkowska. Including Indiana's ONE through ZERO and When I Sleep by Tracey Emin, it is a magical opportunity to encounter art for free outside. Curated by Clare Lilley, the Director of Programme at Yorkshire Sculpture Park, she has also narrated an audio guide available on the Frieze Art Fairs app. I would start at the top of Primrose Hill, overlooking the whole of London, and walk all the way through the park to this ​"museum without walls".
Cindy Sherman at the National Portrait Gallery, London, until 15th September
The first major retrospective of her work in the UK, it is long overdue. Including 150 works, it charts her career from the mid-1970s, with seminal works from series Untitled Film Stills, through to more recent works exploring the characters that make up upper-class society today. Using photography to questions female identity, her own body becomes the canvas, which she shapes using clothing, wigs, masks, make-up and props. The distinctive characters she creates are eerily relatable, acting as a mirror to contemporary popular culture. (I was standing outside the National Portrait Gallery in London two weeks ago, where there was a marketing poster mounted to the building announcing the show. An American tourist passed and said to her husband ​"Look, honey! There's Carmela from the Sopranos" pointing at the image of Sherman – an anecdote which neatly illustrates the power of her work).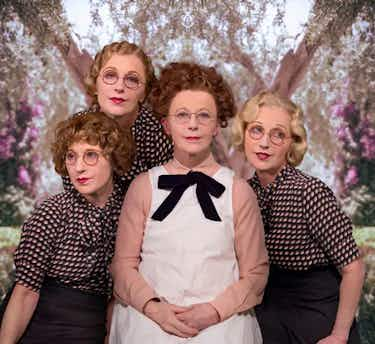 Coming of Age at Little Big Man Gallery, LA, until 3rd September
Focusing on male youth, this exhibition is curated by Virgil Abloh. Featuring legendary photographers such as Nick Waplington, Ed Templeton, Aräkï and Jim Goldberg, it also presents work from exciting emerging artists such as Sandy Kim, Nick Sethi, Bafic and Ivar Wigan. The work on display attempts to untangle the complexities of boyhood, drawing to the fore factors such as class, race, social economics, subcultures, isolation and camaraderie.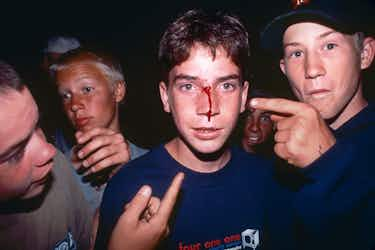 Davide Sorrenti: Our Beautyfull Future at CC Projects, New York, until 28th July
"Set within the still raw and menacing pre-Giuliani playground of New York in the early to mid-1990s," wrote Charlotte Cotton in the introduction to this exhibition, ​"this precious cache captures the last passionately youthful moment on the cusp of the city's commodification and sanitisation. They are an elegiac and close testimony to a young man's life, filled with curiosity and unbounded enthusiasm." Displaying the work of Davide Sorrenti, son of Francesca and brother of Mario, who died in 1997 at the age of 21, you feel the youthfulness seep from the images. In the characters he captures – his then-girlfriend James King strung out, his graffiti friends and the city itself – the images leave you emotionally charged – the way you feel when a really juicy conversation has been interrupted. To me this acted as a testament to a life taken too soon and our collective nostalgia for a time past.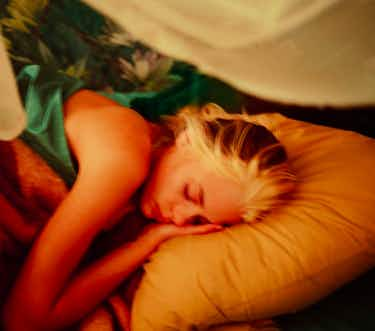 The Other Art Fair at West Handyside Canopy, London, 4th – 7th July
The Other Art Fair is another art fair. Founded seven years ago, they have three events a year in London and events around the world in Brooklyn, Chicago, Los Angeles, Melbourne and Sydney. This one, held in Kings Cross, offers proximity to emerging artist's work, with the opportunity to buy. There is an interesting events programme that runs alongside curated by Kate Bryant called Greener Future, it focuses on the environment, and the guest artist this time is light artist Chris Levine.
City Prince/​esses at Palais de Tokyo, Paris, until 8th September
This exhibition focuses on megacities Dhaka, Lagos, Manila, Mexico City and Tehran and their chaotic expansion. Although each very different in their cultural, political and social singularities there is a commonality between skyscrapers and shacks, urgency and patience all mingling with overblown transfers of capital. Showcasing visual artists, creators, fashion designers, experimenters, tattooists and musicians that are emerging from these metropolises, the show acts as a microcosm for a version of them combined. ​"An imaginary, multiple and complex city, without borders, messy, staggering and creative: an unpredictable laboratory, which is always in motion and being (re)constructed."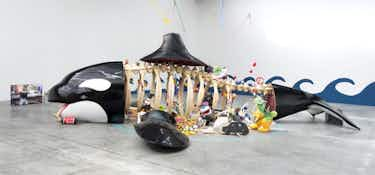 Singing the Body Electric, at David Zwirner, Hong Kong, 12th July – 10th August
Singing the Body Electric, the title taken from Walt Whitman's ecstatic and politically nuanced poem I Sing the Body Electric in Leaves of Grass (1855), celebrates the complicated theme of the body and desire. A group show there will be works on view by aaajio, Philip-Lorca diCorcia, Felix Gonzalez-Torres, Jian Yi-Hong, Wei Jia, Wolfgang Tilmans, and Lisa Yuskavage. An eclectic bunch – I am curious.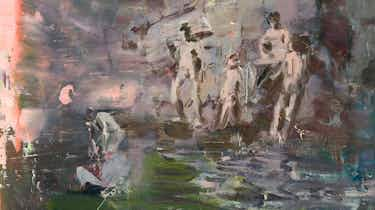 The Coming World: Ecology as the New Politics 2030 – 2100 at Garage Museum of Contemporary Art, Moscow, until 1st December
"The time has come to change our understanding of the environment. The more we think of ​'nature' as independent from us, the more we distance ourselves from the changing world. Humans are part of the ecosystem, meaning our everyday activities shape our future," screams the homepage of The Coming World microsite. Showcasing work by over 50 artists from all over the world, it takes two points in time: 2030 when it is suggested that oil resources will be exhausted and 2100 when science fiction writer Arthur C. Clarke said humans will be able to expand to another star system, to map out a ​"performative" space to carve the future. Work on display is by Doug Aitken, Martha Rosler, Huang Yong Ping, Le Corbusier, Maurizio Cattelan and Bill Fontana, to name a few.
Awakenings: Art in Society in Asia 1960s-1990s, at National Gallery Singapore, until 15th September
Through the lens of contemporary artists, Awakenings charts the social, political and cultural changes that occurred in Asia in the years between the 1960s and 1990s. It features 170 artworks from 100 prominent artists from Korea, Japan, China, Taiwan, Hong Kong, Singapore, Malaysia, Indonesia, the Philippines, Thailand, India, Myanmar and Cambodia. Transcending national boundaries, the exhibition looks at the way artists have responded to radical transformations brought on by decolonisation, ideological conflicts rooted in the Cold War, the outbreak of the Vietnam War, the rise of nationalism, rapid modernisation, and democratic movements.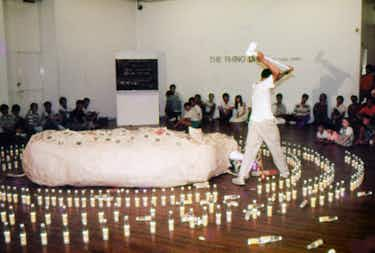 Ok Democracy, We need to talk at Campbelltown Arts Centre, Campbelltown, Australia, until 31st July
In light of the Australian elections in May, Campbelltown Arts Centre commissioned ten artists to make new work to interrogate and provoke conversation around how democracy is performed in its current state. Featuring Richard Bell, Louisa Bufardeci, Kuba Dorabialski, Deborah Kelly, Eugenia Lim, Make or Break, Eugenia Raskopoulos, Sarah Rodigari, Abdullah MI Syed and Lara Thoms, each artist was encouraged to draw inspiration from the idea of free media as a pillar of democracy. The resulting installations touch upon themes surrounding identity politics, environmental politics, political structures, economies of labour, currency and nationalism – creating a space to discuss the future of democracy, or its potential demise.

More like this