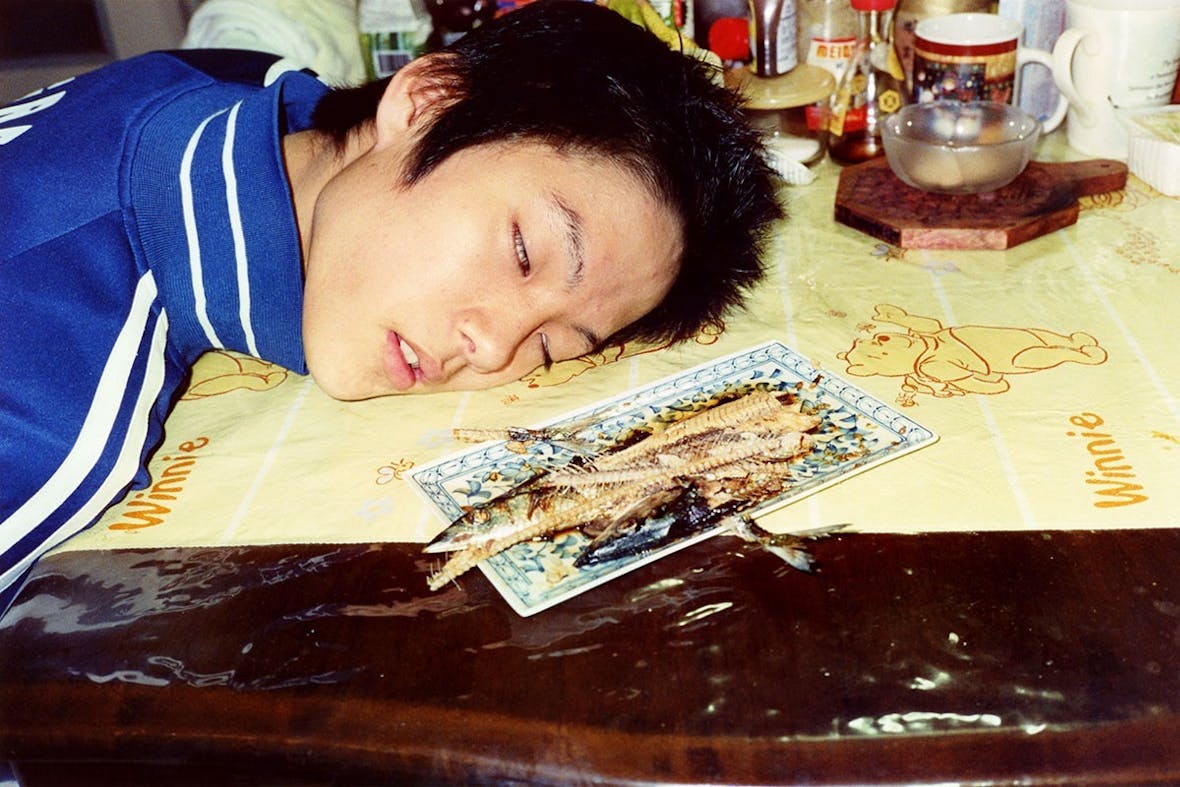 Glob­al art cal­en­dar: July
July sees exhi­bi­tions around the world tak­ing the con­cept of ​"time" as a jump­ing off point: plac­ing works in the con­text of the past, present and future to assess pol­i­tics, the envi­ron­ment and social issues.
In Lon­don, the Tate Mod­ern opens the largest exhi­bi­tion to date of artist Ola­fur Elias­son, whose work asks us to ques­tion ideas of per­cep­tion and our role in soci­ety. Garage Muse­um of Con­tem­po­rary Art in Moscow embarks on an ambi­tious exhi­bi­tion around the envi­ron­ment with a sci-fi twist (it's set in the future between 2030 and 2100). Camp­bell­town Arts Cen­tre, just out­side Syd­ney, has com­mis­sioned ten artists to ques­tion democ­ra­cy in our fast-paced media land­scape in Ok Democ­ra­cy, We Need to Talk. Mean­while, Awak­en­ings: Art in Soci­ety in Asia 1960s-1990s looks to the past, break­ing down geo­graph­i­cal bound­aries by show­cas­ing con­tem­po­rary artists from all over Asia, whose work takes in polit­i­cal issues as a start­ing point.
Sat some­where in between is Davide Sor­ren­ti: Our Beau­ty­full Future, the first solo exhi­bi­tion for the late pho­tog­ra­ph­er whose imagery of 1990s down­town New York is steeped in nos­tal­gia. With a sim­i­lar long­ing tone, Com­ing of Age at Lit­tle Big Man gallery in LA show­cas­es work by pho­tog­ra­phers in the attempt to untan­gle the com­plex­i­ties of boy­hood. Nos­tal­gia is a tricky one in today's cli­mate; so intan­gi­ble it slips through our fin­gers. Does it help or does it hinder?
Ola­fur Elias­son at Tate Mod­ern, Lon­don, 11th July – 5th Jan­u­ary 2020
Dutch-Ice­landic Berlin-based artist Ola­fur Elias­son is return­ing to the Tate Mod­ern after his tri­umphant instal­la­tion The Weath­er Project, where a glow­ing sun drew two mil­lion vis­i­tors to the Tur­bine Hall in 2003. Eliasson's work is engaged in mak­ing us rethink both our role in soci­ety and our con­nec­tion to the world around us. Installing nat­ur­al phe­nom­e­na in the gallery space, such as rain­bows, the exhi­bi­tion is the most com­pre­hen­sive to date, evok­ing scruti­ny around ideas of per­cep­tion. With the heat­wave that is cur­rent­ly rip­ping through Europe, we need to be ask­ing the ques­tions that Elias­son rais­es more than ever. This is not to be missed.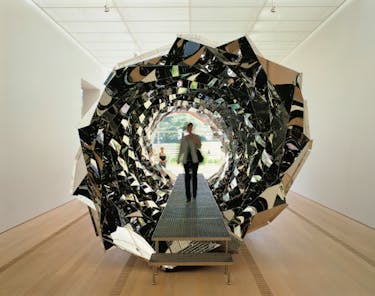 Frieze Sculp­ture Park at Regents Park, Lon­don, 3rd July – 6th October
Through­out the sum­mer, Regents Park's Eng­lish Gar­dens plays host to a num­ber of sculp­tures by 24 artists such as Tracey Emin, Lars Fisk, Robert Indi­ana, Zak Ové, Jaume Plen­sa, Tom Sachs and Joan­na Rajkows­ka. Includ­ing Indiana's ONE through ZERO and When I Sleep by Tracey Emin, it is a mag­i­cal oppor­tu­ni­ty to encounter art for free out­side. Curat­ed by Clare Lil­ley, the Direc­tor of Pro­gramme at York­shire Sculp­ture Park, she has also nar­rat­ed an audio guide avail­able on the Frieze Art Fairs app. I would start at the top of Prim­rose Hill, over­look­ing the whole of Lon­don, and walk all the way through the park to this ​"muse­um with­out walls".
Cindy Sher­man at the Nation­al Por­trait Gallery, Lon­don, until 15th September
The first major ret­ro­spec­tive of her work in the UK, it is long over­due. Includ­ing 150 works, it charts her career from the mid-1970s, with sem­i­nal works from series Unti­tled Film Stills, through to more recent works explor­ing the char­ac­ters that make up upper-class soci­ety today. Using pho­tog­ra­phy to ques­tions female iden­ti­ty, her own body becomes the can­vas, which she shapes using cloth­ing, wigs, masks, make-up and props. The dis­tinc­tive char­ac­ters she cre­ates are eeri­ly relat­able, act­ing as a mir­ror to con­tem­po­rary pop­u­lar cul­ture. (I was stand­ing out­side the Nation­al Por­trait Gallery in Lon­don two weeks ago, where there was a mar­ket­ing poster mount­ed to the build­ing announc­ing the show. An Amer­i­can tourist passed and said to her hus­band ​"Look, hon­ey! There's Carmela from the Sopra­nos" point­ing at the image of Sher­man – an anec­dote which neat­ly illus­trates the pow­er of her work).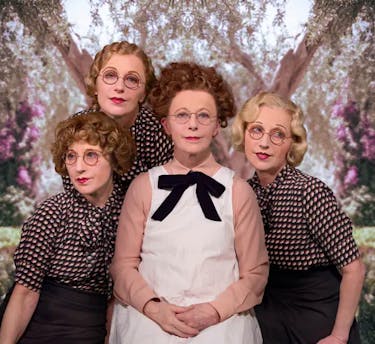 Com­ing of Age at Lit­tle Big Man Gallery, LA, until 3rd September
Focus­ing on male youth, this exhi­bi­tion is curat­ed by Vir­gil Abloh. Fea­tur­ing leg­endary pho­tog­ra­phers such as Nick Wapling­ton, Ed Tem­ple­ton, Aräkï and Jim Gold­berg, it also presents work from excit­ing emerg­ing artists such as Sandy Kim, Nick Sethi, Baf­ic and Ivar Wigan. The work on dis­play attempts to untan­gle the com­plex­i­ties of boy­hood, draw­ing to the fore fac­tors such as class, race, social eco­nom­ics, sub­cul­tures, iso­la­tion and camaraderie.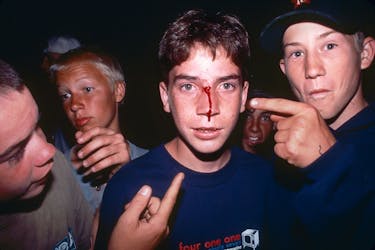 Davide Sor­ren­ti: Our Beau­ty­full Future at CC Projects, New York, until 28th July
"Set with­in the still raw and men­ac­ing pre-Giu­liani play­ground of New York in the ear­ly to mid-1990s," wrote Char­lotte Cot­ton in the intro­duc­tion to this exhi­bi­tion, ​"this pre­cious cache cap­tures the last pas­sion­ate­ly youth­ful moment on the cusp of the city's com­mod­i­fi­ca­tion and sani­ti­sa­tion. They are an ele­giac and close tes­ti­mo­ny to a young man's life, filled with curios­i­ty and unbound­ed enthu­si­asm." Dis­play­ing the work of Davide Sor­ren­ti, son of Francesca and broth­er of Mario, who died in 1997 at the age of 21, you feel the youth­ful­ness seep from the images. In the char­ac­ters he cap­tures – his then-girl­friend James King strung out, his graf­fi­ti friends and the city itself – the images leave you emo­tion­al­ly charged – the way you feel when a real­ly juicy con­ver­sa­tion has been inter­rupt­ed. To me this act­ed as a tes­ta­ment to a life tak­en too soon and our col­lec­tive nos­tal­gia for a time past.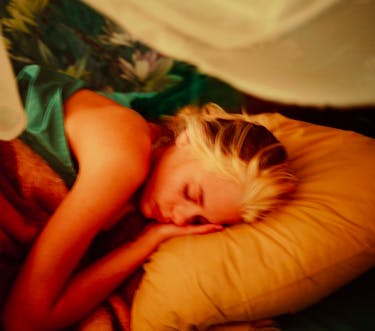 The Oth­er Art Fair at West Handy­side Canopy, Lon­don, 4th – 7th July
The Oth­er Art Fair is anoth­er art fair. Found­ed sev­en years ago, they have three events a year in Lon­don and events around the world in Brook­lyn, Chica­go, Los Ange­les, Mel­bourne and Syd­ney. This one, held in Kings Cross, offers prox­im­i­ty to emerg­ing artist's work, with the oppor­tu­ni­ty to buy. There is an inter­est­ing events pro­gramme that runs along­side curat­ed by Kate Bryant called Green­er Future, it focus­es on the envi­ron­ment, and the guest artist this time is light artist Chris Levine.
City Prince/​esses at Palais de Tokyo, Paris, until 8th September
This exhi­bi­tion focus­es on megac­i­ties Dha­ka, Lagos, Mani­la, Mex­i­co City and Tehran and their chaot­ic expan­sion. Although each very dif­fer­ent in their cul­tur­al, polit­i­cal and social sin­gu­lar­i­ties there is a com­mon­al­i­ty between sky­scrap­ers and shacks, urgency and patience all min­gling with overblown trans­fers of cap­i­tal. Show­cas­ing visu­al artists, cre­ators, fash­ion design­ers, exper­i­menters, tat­tooists and musi­cians that are emerg­ing from these metrop­o­lis­es, the show acts as a micro­cosm for a ver­sion of them com­bined. ​"An imag­i­nary, mul­ti­ple and com­plex city, with­out bor­ders, messy, stag­ger­ing and cre­ative: an unpre­dictable lab­o­ra­to­ry, which is always in motion and being (re)constructed."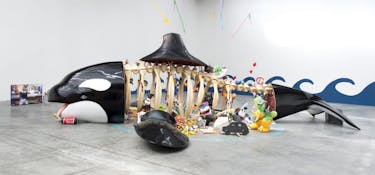 Singing the Body Elec­tric, at David Zwirn­er, Hong Kong, 12th July – 10th August
Singing the Body Elec­tric, the title tak­en from Walt Whitman's ecsta­t­ic and polit­i­cal­ly nuanced poem I Sing the Body Elec­tric in Leaves of Grass (1855), cel­e­brates the com­pli­cat­ed theme of the body and desire. A group show there will be works on view by aaa­jio, Philip-Lor­ca diCor­cia, Felix Gon­za­lez-Tor­res, Jian Yi-Hong, Wei Jia, Wolf­gang Tilmans, and Lisa Yuskav­age. An eclec­tic bunch – I am curious.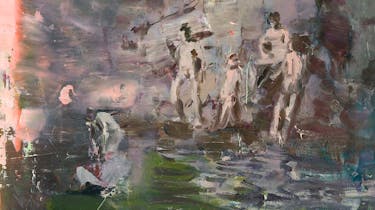 The Com­ing World: Ecol­o­gy as the New Pol­i­tics 2030 – 2100 at Garage Muse­um of Con­tem­po­rary Art, Moscow, until 1st December
"The time has come to change our under­stand­ing of the envi­ron­ment. The more we think of ​'nature' as inde­pen­dent from us, the more we dis­tance our­selves from the chang­ing world. Humans are part of the ecosys­tem, mean­ing our every­day activ­i­ties shape our future," screams the home­page of The Com­ing World microsite. Show­cas­ing work by over 50 artists from all over the world, it takes two points in time: 2030 when it is sug­gest­ed that oil resources will be exhaust­ed and 2100 when sci­ence fic­tion writer Arthur C. Clarke said humans will be able to expand to anoth­er star sys­tem, to map out a ​"per­for­ma­tive" space to carve the future. Work on dis­play is by Doug Aitken, Martha Rosler, Huang Yong Ping, Le Cor­busier, Mau­r­izio Cat­te­lan and Bill Fontana, to name a few.
Awak­en­ings: Art in Soci­ety in Asia 1960s-1990s, at Nation­al Gallery Sin­ga­pore, until 15th September
Through the lens of con­tem­po­rary artists, Awak­en­ings charts the social, polit­i­cal and cul­tur­al changes that occurred in Asia in the years between the 1960s and 1990s. It fea­tures 170 art­works from 100 promi­nent artists from Korea, Japan, Chi­na, Tai­wan, Hong Kong, Sin­ga­pore, Malaysia, Indone­sia, the Philip­pines, Thai­land, India, Myan­mar and Cam­bo­dia. Tran­scend­ing nation­al bound­aries, the exhi­bi­tion looks at the way artists have respond­ed to rad­i­cal trans­for­ma­tions brought on by decoloni­sa­tion, ide­o­log­i­cal con­flicts root­ed in the Cold War, the out­break of the Viet­nam War, the rise of nation­al­ism, rapid mod­erni­sa­tion, and demo­c­ra­t­ic movements.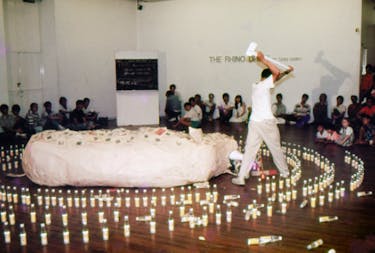 Ok Democ­ra­cy, We need to talk at Camp­bell­town Arts Cen­tre, Camp­bell­town, Aus­tralia, until 31st July
In light of the Aus­tralian elec­tions in May, Camp­bell­town Arts Cen­tre com­mis­sioned ten artists to make new work to inter­ro­gate and pro­voke con­ver­sa­tion around how democ­ra­cy is per­formed in its cur­rent state. Fea­tur­ing Richard Bell, Louisa Bufarde­ci, Kuba Dora­bi­al­s­ki, Deb­o­rah Kel­ly, Euge­nia Lim, Make or Break, Euge­nia Raskopou­los, Sarah Rodi­gari, Abdul­lah MI Syed and Lara Thoms, each artist was encour­aged to draw inspi­ra­tion from the idea of free media as a pil­lar of democ­ra­cy. The result­ing instal­la­tions touch upon themes sur­round­ing iden­ti­ty pol­i­tics, envi­ron­men­tal pol­i­tics, polit­i­cal struc­tures, economies of labour, cur­ren­cy and nation­al­ism – cre­at­ing a space to dis­cuss the future of democ­ra­cy, or its poten­tial demise.
---