Gods and influencers: ringside at KSI vs. Tommy Fury

As the world of "crossover" boxing descended on Manchester last weekend, Clive Martin was given Triple A access to its "biggest, baddest and best event yet".

It's 10pm Saturday night in Manchester's AO Arena, and 21,000 people are on their feet.
A middleweight title challenger has just taken a vicious pair of right-handers to the jaw before crumpling to the deck. The collective heart of the crowd seems to stop as the man in the royal blue shorts comes to his feet, desperately trying to prove his cogency to the referee. The people in the arena are not the only ones off their seats. At home, 1.3 million others have forked over serious cash for pay-per-view access. God knows how many freeloaders are watching on illegal streams.
Is it Usyk vs. Fury? Álvarez vs. Crawford? Taylor vs. Cameron round two? No, the fallen favourite is Nathaniel ​"Salt Papi" Bustamante, a British-Filipino TikToker famous for little more than adding copious amounts of salt to Wetherspoons breakfasts, and the man who put him on his arse is ​"Slim" Albaher, a Brooklyn-based YouTuber whose best-known work is titled: ​"11-year-old does fake tattoo prank on Dad!!"
This is the world of ​"crossover" boxing, where influencers, content creators, Twitch streamers, Onlyfans models, part-time rappers and journeyman fighters become bona fide sporting idols. This strange and inscrutable form of entertainment, which sits somewhere between Celebrity Deathmatch and the unlicensed fights of the 1970s, has taken over Manchester for the best part of a week, and I have been given Triple A access to the circus.
The promoters of the event are Misfits Boxing, an outfit that has been knocking around for a few years now, selling out stadiums from Nashville to Newcastle. But this weekend's action is being sold as their ​"biggest, baddest and best yet", something akin to the genre's Rumble in the Jungle or Thrilla in Manila.
Headlining the proceedings are the genuinely-quite-famous KSI and Tommy Fury: a one-time FIFA streamer from Watford turned global hustle icon, pitted against the underachieving scion of a boxing dynasty. Just beneath them on the bill are a controversial, misanthropic ex-UFC fighter named Dillon Danis, and KSI's fellow YouTuber, Logan Paul, with whom he co-founded the PRIME Hydration empire in 2022.
The fact that few of these men could hold a candle to even the lowliest of pro-boxing stumblebums is besides the point. What matters is the spectacle, and the vehicle Misfits provides for this highly postmodern breed of celebrity. By this point, the narratives around Misfits have been long set, and the scene was building up to a true breakthrough moment.
Olajide Olayinka Williams Olatunji, known as ​"JJ" to his friends and KSI to the world, has spoken of this being his ​"legacy" event, and as a stalwart and co-founder of Misfits, he has plenty of skin in the game. KSI comes into fight week as the undefeated, undeniable face of the sport. Yet this match-up also presents something of a risk for him. While he has roundly battered other content creators, his opponent, Tommy Fury, is also undefeated (albeit mainly against Eastern European journeymen in mid-sized venues) and has some real boxing pedigree as the half-brother of world heavyweight champ Tyson.
For months, this billing has brought forth fierce debates about what a real fighter is and whether one should be competing in a crossover match. To boxing purists, an event like Misfits is an abomination, a grave insult directed towards a sport that is already treading in farcical waters. To Misfits fans, the involvement of the Fury family represents something of an intrusion from the staid world of traditional boxing. An unwanted guest at the party.
The real bad blood, however, lives between Paul and Danis. By the time fight week comes around, things had gotten so grim between the pair that there were even rumours of a lawsuit in play. Danis, a renowned troublemaker who came to wider attention brawling with the great Khabib Nurmagomedov ringside at the UFC, has been on a long, tawdry and possibly criminal promotional campaign against Paul and his fiancée Nina Agdal. All of which came to a head when Danis allegedly published what have been described as ​"revenge porn" images of the Victoria's Secret model.
It's no wonder, then, that so many have reservations about this shitpost bazaar. Crossover boxing is a difficult and sometimes disturbing rabbit hole to venture down, and this sense of niche, hyper-referential, very ​"online" absurdity trickles right down to the fights themselves. Aside from Paul, Danis, Fury and KSI, the Manchester bill also promised a 20-plus fighter undercard (which is practically unheard of in the professional federations), each with their own persona to sell and scores to settle.

At Manchester Central, the same venue that held host to the Tory Party conference just weeks before, with only marginally less security, I get to know some of the supporting cast. They are gathered for a press conference, clad in all the trappings of ostentatious celebrity. There is a young man in a cowboy hat and dungarees, another in a full Spider-Man costume, and someone else in a Manchester United shirt and durag combo. Propping them up are a team of promo girls in Prime-branded cheerleader outfits and grizzled bouncers in black-on-black co-ords.
Until this moment, I thought I had a good grasp of lowbrow internet culture, that I knew my Big Joe Gambinos from my Big John Fishers. Yet the people in front of me came from a corner of the World Wide Web I'd always stayed clear of: the one that's home to mukbangs, street pranks, crypto scams, reaction videos, obscure and dangerous viral ​"challenges". What made it even more confusing was that the assembled media knew everything about them: their ​"journeys", their narratives, their weight loss regimes and their redemption arcs. For the first few minutes, it felt like being drunk in a hotel room, watching Bulgarian television. Being dragged well beyond your zone of references.
The only person on the undercard I'd heard of until today was Astrid Wett, a Portsmouth-based OnlyFans creator who made a name for herself by sending sexually suggestive posts to Chelsea footballers. At one point, there was a joke going around Chelsea fans that goalkeeper Édouard Mendy's sudden drop in form was due to him liking one of her posts. But at Misfits, Astrid is a star, challenging Alexia Grace, a former flight attendant, Aston Villa fan and fellow adult content creator, for the only women's title of the night.
As the event goes on, I learn that the man wearing a Stetson is BDavve, a small-time Californian prankster who, alongside ex-semi-pro boxer Luis Pineda, was taking on fellow YouTubers NichLMAO and Alex Wassabi in a tag team fight (Misfits often plays fast and loose with the Queensberry Rules). There was King Kenny, a Fortnite streamer and member of Chunkz's ​"Beta Squad", and My Mate Nate, an American YouTuber who found himself in hot water in his adopted country of Thailand, when he hired serving police officers to chase him and his friends in a video entitled ​"50 Cops Hunt Me Down!". Adding a certain degree of menace to the card was Deen the Great, who became infamous for boxing strangers on Miami Beach, and rounding off the bill were TikTok hardman Ed Matthews, weight-loss influencer Tempo Arts, star of Netflix's Too Hot To Handle ChaseDeMoor, Salt Papi, Slim and too many others to mention.
In the midst of all these colliding personalities were the brains behind Misfits: Mams Taylor and brothers Nisse and Kalle Sauerland. It is the latter who have sports-world experience, the heirs to a dynasty that fired the Klitschko brothers-led European boxing boom in the noughties and early 2010s. But it is Taylor who is Misfits' promotional powerhouse and spiritual forebear.
Taylor is KSI's manager, executive record producer and co-president of Misfits. He is also a man with a truly astonishing CV: born in North London, he found moderate success in the States as a music producer in the early ​'00s, releasing a few (dreadful) porno rap tracks with Carmen Electra and Joel Madden from Good Charlotte (including one with Electra called Bigger Dick). At some point, he half-discovered Lady Gaga. Yet until Misfits, his greatest claim to fame was knocking out Desperate Housewives actor Jesse Metcalfe in a Hollywood street brawl (a moment that has been described as ​"the best punch in TMZ history").
Taylor is a man who emits a deep and dark sense of L.A. kitsch – the kind of guy who will forever be wearing an invisible Von Dutch hat – but despite his faintly ludicrous credentials, he appears to have a powerful understanding of contemporary fame.
What Misfits does best is create stars rather than leaning on them. If most of us were given the chance to curate a celebrity boxing event, we would likely reach for absurd, politicised grudge matches: Mike Parry vs. Owen Jones, Greta Thunberg vs. Candace Owens, and so on and so on. But Taylor doesn't do this. Instead, he finds young, hungry internet faces with pre-existing followings and gives them everything they need to become boxers.

What's striking, looking at the social media profiles of the Misfits stable, is that many of them have since ceased making the kind of content that made them well-known in the first place. Now, the majority of their output is boxing-related, and they seem to operate more like athletes than influencers, thereby creating a kind of alternate reality, which Taylor treats deathly seriously. When the boss speaks at the press conference, there are constant references to adversity, tenacity and spirit. Like all great salesmen, he is a believer himself, and the Misfits brand is all the more viable for it.

After the official presser ends, there is an informal chance to meet some of the stars. Without a camera, I'm at the bottom of everyone's priorities, but I manage to grab a quick chat with BDavve, who is walking around with a joke-shop fart machine and blasting it in people's ears – mine included. Despite this, I'm strangely drawn to him. Possibly because, with his mullet and dirtbag persona, he reminds me of the weirdo gimmick wrestlers of my youth, characters like Al Snow and Papa Shango (interestingly, Taylor happily refers to Misfits as ​"sports entertainment", a concept pioneered by WWE's Vince McMahon).
I ask BDavve about his chances on Saturday night.
"It feels like Nich is a little too confident," he says. ​"But confidence killed the cat. Imma beat this motherfucker's ass."
And how has he been preparing for this beating?
"Smoking a lot of cigarettes, drinking a lot of beers… I went for a one-mile run a couple of months ago."
Looking to break through the character somewhat, I ask how he got into content creation, and subsequently crossover boxing.
"I was doing YouTube videos with my friends, stupid shit, making no money. Then influencer boxing came along, and I thought: ​'Oh shit, I could do that.'" What kind of person does crossover boxing attract, I wonder? ​"A load of degenerates", he blurts before running off to stick the fart machine in a young vlogger's ear.
I'm then granted a few minutes with Tommy Fury. Someone from the events team tells me that Fury is far less starry than KSI and Paul, and politely goes about his media obligations. Indeed, he is perfectly agreeable, precision-preened and sculpted like a Blackpool waxwork of himself.
While his father ​"Big" John snoozes on a nearby sofa, I ask him if there's any shame attached to potentially losing to KSI, a YouTuber and a (much smaller) public schoolboy at that. He responds in the classic Fury family vernacular: ​"My arse isn't twitching; his is. I'm all about fighting. If he wanted it out on the street, I'd be ready to go. I'd like to see how it went if me and him were in a bathroom together. He'd hold his hand out and go: ​'It's all for the cameras.' That's the difference between a proper fighter and a fake fighter."
Does Fury still have ambitions in the pro game?
"Let's not beat around the bush, crossover boxing is financially amazing. Fighters here are earning more than world champions. But do I want to prove myself against the best in the world and win a world title? One hundred per cent."
Still, I wouldn't begrudge Fury for sticking to crossover level. Not only are the purses for main event fighters quite astonishing (we are talking multiple millions of dollars for main eventers), but they also protect an average fighter from the kind of difficult match-ups that stop so many aspiring champions in their tracks – the kind of fights that have left his cousin Hughie's career in limbo. In this scene, Fury, BDavve, Astrid, and KSI can play packed-out arenas, make Mayweather sums of money and command huge press events. So long as they can suspend their disbelief, a middling fighter can live like an icon at Misfits.
At a ceremonial weigh-in the next day, I had my first glimpse of the Misfits fans. Mostly teenage boys, they are about as normal as it comes. Neither socially awkward bedroom types nor Tate brother acolytes, they could be found at any shopping centre, gym or vape store in the country. In fact, there is something quite naive and tweeny about the way they queue up to see their idols, resembling Swifties or K‑pop stans more than hardened fight fanatics.
They appear to have a comprehensive knowledge of all the crossover lore, which vastly surpasses that of the production staff. An unassuming young man walks past the crowd barrier and is suddenly swamped with photo requests, almost pulled into the throng. Whether he was a sideman, a member of the Beta Squad, or a content creator in his own right, I will never know. But to them, this person was extremely famous.
Around them, an all-consuming content machine is working at full velocity, one that encompasses everything from the enormous, broadcast-quality rigs of streaming service DAZN, who have the live and exclusive rights to the fight, to tiny one-man-band accounts run off laptops. In the auditorium, an almost celestial band of iPhone ring lights shimmers around head height, while a sea of branded microphones bobs beneath.
Everyone here is either making something or selling something. There are people shooting reaction videos and vox pops, hurriedly editing and uploading them on-site. There are well-known boxing accounts such as Fred Talks Fighting and iFL TV that practically jump fighters as they get off stage. There are crews from BBC Sport and Joe​.co​.uk, as well as online personalities like Johnny ​"Bosh" Fisher Jr. and Adam ​"EssexPR" Brooks, a sometime GB News pundit who is claiming he is a late stand-by for the bill. I spot ex-heavyweight champion Derek Chisora, famous for interrupting press conferences and slyly making content for a fried chicken chain. There is even Abdu Rozik, a viral star from Tajikistan, who acts as a kind of B‑list Hasbulla.
Alongside them are an array of ​"proper fight people", trainers with broken noses and baked potato hands introducing their kids to the fighters; people I recognise from John Ryder and Conor Benn fights. There are proper boxing journalists Gareth A Davies and Ariel Helwani, who are always seen at the biggest fights.
For all crossover's inherent absurdity, there is a strange pretence of legitimacy at play here; the security team is the same that runs Eddie Hearn's Matchroom events, and today's custom-built ring is built by one of the most respected firms in the game. Even Michael Buffer, the legendary fight announcer famed for his ​"let's get ready to rumble" catchphrase, has flown in. It actually starts to feel like a classic boxing moment: the entourages, the atmosphere, the braying crowds. I recall scenes from When We Were Kings and passages from Jonathan Rendall's This Bloody Mary is the Last Thing I Own. It all feels weirdly proper.
After rattling through the undercard fighters, it's time for the big boys to make their way to the weigh-in scales. First up is Dillon Danis, who arrives in a T‑shirt sponsored by Duelbits, a ​"crypto sports betting and casino site". Despite his wretched trolling, Danis isn't quite what you'd expect in person. Softly-spoken and strangely laconic, he comes off like a man who is doing this purely for the money, a well-regarded jiu-jitsu champion reduced to a showbiz punch-bag and soundbite machine.
Still, he knows how to get in his opponent's head. Yesterday, while Logan Paul was late to the initial press conference, Danis claimed the delay was due to Paul doing cocaine in the bathroom, among other libellous suggestions. After Paul brashly chucked water at Danis, the latter responded by flinging a heavy microphone straight at his head. Paul may be the more experienced boxer, but Danis has that innate streak of violence that leaves the crowd in no doubt over who'd win on the cobbles. He plays the heel role expertly, appearing as a kind of podcast-pilled Anton Chigurh, a man who just wants to watch the world burn. That evening, he is filmed in a nearby cocktail bar doing tequila shots.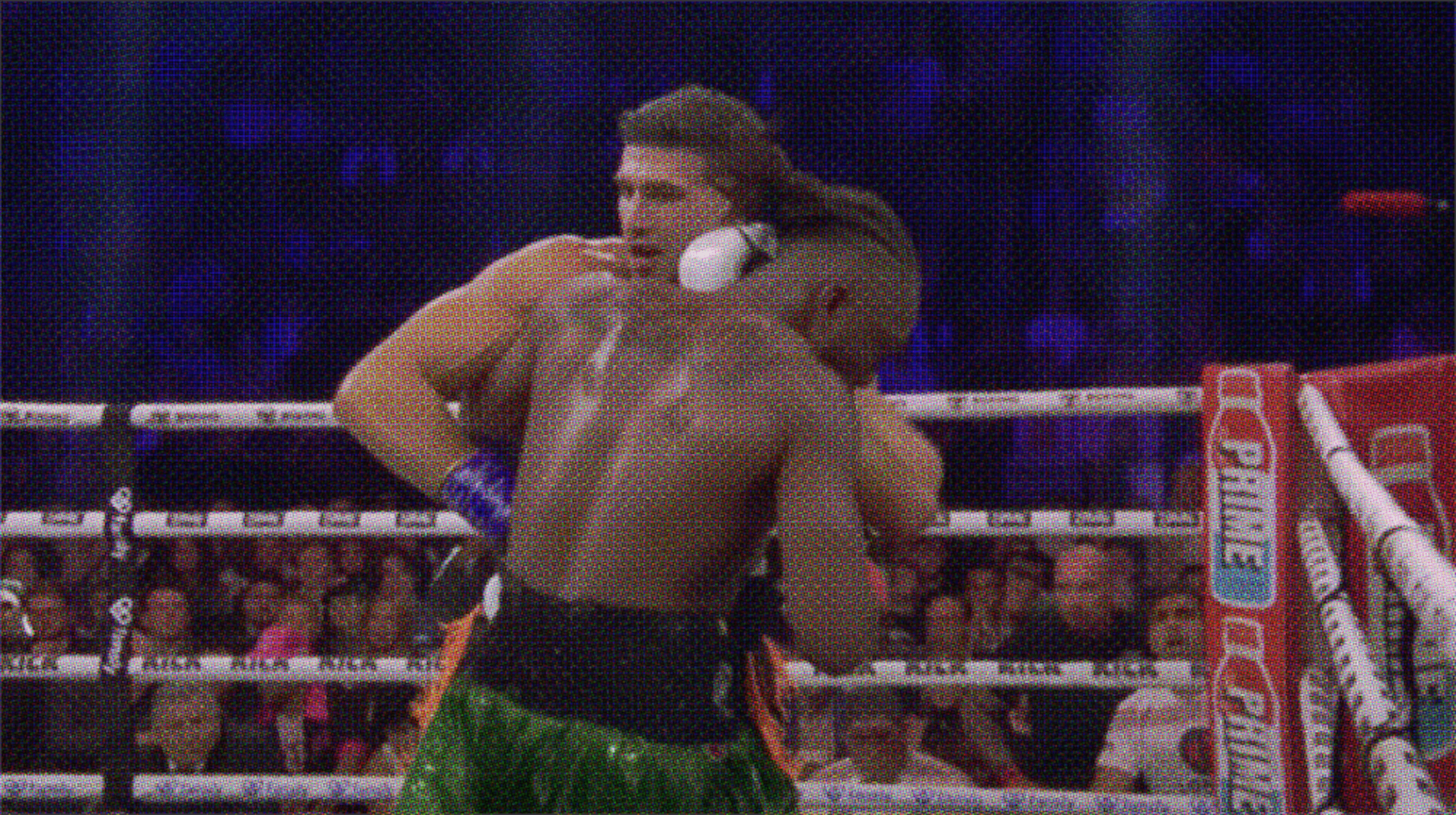 After another long delay, an escort of gangly youngsters in ​"Team Paul" burgundy hoodies signals the arrival of their boss. In tow, Paul has brought Danis's former trainer, Gordon Ryan (who Danis has a long-standing beef with) and Chris Hansen, the host of To Catch a Predator.
Hansen is here as little more than a badly executed punchline; Paul says Danis is a predator and needs to be exposed in the same way that Hansen used to do on primetime TV. That nobody in the paying seats is old enough or American enough to understand the reference matters not. Misfits has so much money, so much pull, that Paul can put a TV presenter on a first-class flight from LA and bring him out for one silly gag.
Eventually, the man from Westlake, Ohio, infamous for filming dead bodies in the Japanese ​"suicide forest" weighs in with a Prime-branded balaclava on, looking like some kind of YouTube paramilitary or a Belarusian Soundcloud rapper. After this, things quickly descend into highly-marketed chaos. The fighters enter a custom-built cage, separated by reinforced perspex, within which they rattle and scream at each other, while more promo girls in cheerleader outfits (this time for Fansly, a kind of OnlyFans rip-off) watch on gleefully. KSI turns up in a lime green suit to the sound of his own music and John Fury shows his bum for some reason.
The whole effect is a dizzying display of bizarro, post-crypto marketing and revenue generation; a milieu loaded with big personalities, dodgy schemes and undrinkable energy beverages, all watched over by people you wouldn't buy a used e‑scooter from. Sometimes it seems like the lowest common denominator, yet in others, it unfolds like pure, exhilarating zeitgeist.
Lord knows what Michael Buffer, now 78 years old and witness to some of the greatest moments in sporting history, thinks. Mostly, he just looks old and confused, giving off what some corners of the internet might call ​"Joe Biden energy". I feel quite sorry for him, pulled out of semi-retirement to give all this weirdness some sense of prestige. But then someone tells me how much he's being paid.
It's here that I start to really consider the incredible trajectory of KSI. I'd first heard about him nearly a decade before, during his FIFA-streaming era, and was told that he lived in a swanky penthouse in Stratford, East London. I couldn't believe that anyone made a penny from such an endeavour, let alone a mint, but how wrong I was.
Since then, ​"JJ" has built an empire off his ​"mate from uni halls" schtick. He has a vodka brand, a restaurant chain, Misfits, Prime and endless affiliate channels divided between him, his friends and his brother Deji. Although he's not primarily known as a recording artist, he has released two albums, Dissimulation and All Over the Place, which charted at No. 2 and No. 1 in the UK, respectively, and performed at The Brits last year. He's starred in a feature-length sex comedy and two documentaries have been made about his life in the past five years, the latter of which was executive produced by Louis Theroux.
That he would never be invited to play Glastonbury or appear at the Met Gala doesn't matter. KSI is the David Geffen of contemporary bad taste.
With the fight less than 24 hours away, I go for more than a few drinks in town, trying to make sense of the events, the concept of crossover boxing, the arc of KSI and, consequently, the last 10 years of modern life. In a taxi on the way back from the pub, I get talking to my driver. He asks why I'm in town, and I explain. He's well aware of crossover boxing and isn't a fan. ​"These guys… I just don't rate them," he says. ​"They're not proper fighters. It's just all promotion, giving it the big one. It's like they want to be gods or something."
In the Arndale Centre Pret a Manger, where I am sheltering from the rain and wolfing down a rapidly coagulating mac ​'n' cheese, people are asking: ​"What the fuck is going on in town today?" The area around Victoria Station and the AO Arena has been invaded by ticket touts, bootleg merch sellers, chauffeured vehicles, Misfits-branded open-top buses and thousands of eager fans. A friend of mine sends a message: ​"You're in the centre of the universe this evening."
It certainly feels like that in these seats. After a long walk through the bowels of the arena, I'm amazed to find I'm basically ringside, just behind legendary boxing broadcaster Steve Bunce. There is a light-up, Prime-branded wristband on my chair and a Prime T‑shirt on every punter's seat.
Interestingly, the crowd has diversified somewhat from the weigh-in event. There are mums, dads and pre-teens here now. Men in Tapology hoodies, men in velvet blazers, women in bright white short suits with immaculate hair, lads in full ​"fighting at the races" three-piece clobber and little boys with Brylcreemed hair. These are the lesser hardcores, the casual crossover fans, and they settle in for the night with pitchers of Pepsi and Rollover hot dogs.
The undercard starts in lamentable fashion. After being walked in by the legendary D Double E, a gamer from Croydon decimates a music producer from Wolverhampton in a bloody, one-sided first round. Astrid Wett vs. Alexia Grace follows before anyone has a chance to take stock, with the former walking into Seven Nation Army. Their fight is a risible, borderline depressing affair, full of exasperated, glancing hooks and a general sense of discomfort. Neither of them possesses any real power in their punches, and it all starts to feel a little degrading. Astrid takes it on points, but few beyond her coterie seem to care.
Between rounds, I strike up a conversation with the person next to me, a young, self-proclaimed influencer from Leicester called Maina. Straight off the bat, Maina tells me that he has 12 million followers on TikTok, and I ask him how this came about. ​"It just randomly blew up," he explains, ​"I got angry at a video online." I ask what the video was. ​"It was of some guy putting ice cream up his ass."
Although he was given a better seat by Boohoo Man, Maina has opted for the press seats with a view to making post-match content with the fighters. As a fellow content man, I ask him what makes the Paul brothers and KSI so good at what they do.
"It's the people around them," he states with assurance. ​"You can never make it without a team, as you could just crumble one day. These guys, they've got people making sure they never come down."
And what are his thoughts on the appeal of crossover boxing?
"A lot of people want to see some of these influencers, who they hate so much, get bashed in the face. The best way to do that is to make it legal and put it in a ring."
The possibility that Dillon Danis and BDavve are modern-day flagellants hadn't occurred to me until that point, but Maina made a good case for it. And the crowd, now shouting ​"Fuck Jake Paul" in unison, confirmed a certain bloodlust in the air. That it was Logan fighting, not Jake, made it all the more peculiar.
The fights roll on. BDavve and NichLMAO's tag team event is an entertaining, light-hearted affair and called a draw; Tempo Arts pulls out a hard-fought underdog win over the cocky Netflix dating star Chase DeMoor; Ed Matthews knocks out Swarmz within seconds, and people's champion Salt Papi is roundly smashed by Slim, despite his iron chin and will.
By the time the main events come around, the arena is bursting with anticipation. The DJ has moved away from ArrDee and Dave towards crowd favourites: Sweet Caroline, Freed From Desire, songs from weddings, songs from football. In turn, Barbie pink glitter cascades from the rafters and the bracelets on every seat glimmer in bright white and ice blue. While this fight could have happened anywhere in the world, it's the Manchester crowd that provides it with a real atmosphere. Another smart move on Taylor and DAZN's part.

When Dillon Danis enters the ring in a pair of leopard print shorts with a wild, slightly hungover look in his eyes, there are people dancing in the aisles and being pulled out by security. The crowd even takes it upon themselves to boo The Star Spangled Banner, which inspires MMA podcaster Andrew Schulz to respond with a full-throated rendition back at them.
In this moment of distraction, Tommy's girlfriend Molly-Mae Hague, flies past me, half undercover and with her own security detail. A few of the kids near the front notice her and act like they've just seen Ringo Starr in 1968. In an incident I'm still not entirely sure was real, John Fury takes a running jump through the press box towards the ringside seats. It's possibly the most visceral realisation of celebrity I have seen since the One Direction heyday.
I'm well aware I should hate Danis, but I can't help silently admiring his born-to-lose attitude and barely-veiled weirdness. He enters the ring like a man who doesn't care if he lives or dies; he doesn't care who he upsets. Still, there was only going to be one winner here. The fight reveals itself to be a bizarre spectacle, with Danis almost flat-out refusing to throw any punches before getting himself disqualified in the last round for trying to grapple with Paul, forcing their respective entourages and promoter Kalle Sauerland to rush the stage. Whether it was deliberate self-sabotage or something more underhand, I'm still not sure.


Fury and KSI are up next, and the latter comes out with a headliner's entrance, bringing out Giggs to perform the classic Talkin' The Hardest, with a lime green Lamborghini on stage behind them. Yet, as the bell rings, I'm immediately distracted by what happens in the seats next to me: a huge and vicious brawl, so fierce it brings some of the ring security guys into the fold. Through the melee that is now rolling down the stairs, I can see that the perpetrator is a skinny young man in a plaid suit, taking on all comers.
At first, it's quite an amusing side-note to this monied display of organised violence, but then the mood shifts. I still don't know what happened: I thought a bouncer broke his leg in the crush, someone else said there was a knife involved. For certain, what I saw was real panic in the eyes of punters and security staff. One guy is carried away in what seems to be a state of total shock. The fact that this venue has such a dark history, with the Ariana Grande bombing happening here in 2017, only adds to this deeply unsettling moment.
In the end, the fight between KSI and Fury is a damp squib, a tedious body blow exchange full of clinching, head-rutting, huffing and puffing. Ex-boxer Carl Froch later describes it as ​"absolutely fucking diabolical", while Steve Bunce called them ​"high-profile dreamers in novice scraps". I leave as soon as Fury is crowned the winner, shattered but still weirdly enthralled by it all.
Uber kindly decides to ramp up the surge prices, so I walk most of the way back. In an Oxford Road chicken shop, I spot a mum and three young boys, still wearing their Prime-emblazoned hats and wristbands. They're complaining about the headline fight, saying it was a fix, KSI was robbed and there should be a rematch.
In mainstream sports, these may be regarded as the deluded moans of eager young fans. But in crossover boxing, any of these outcomes feel entirely possible, because this game is always listening, always providing. What Misfits has created is perhaps the perfect accelerator for contemporary media culture. It is content, made by content creators, which inspires its consumers to produce even more content, giving people like Maina the chance to become stars off the back of it. It's a product so virile and potent that not even Arthur Sackler or the most cynical algorithms in Silicon Valley could have dreamed it up.
The fact that it all stems from some of the most ridiculous people on the planet only adds to the appeal.

More like this