Halle Bailey is ready to stand
Halle Bailey knew that, as a Black woman, her presence would add extra significance to her role in The Little Mermaid. What she didn't expect was the way in which her and Ariel's journeys would run parallel.
Taken from the new print issue of THE FACE. Get your copy here.

Halle Bailey was unloading boxes from a van when she declined the first call. It was 2nd July 2019, and she'd just returned from a long weekend at an idyllic Airbnb in Malibu, gazing out at the soothing Pacific coastline and toasting big sister Chlöe's 21st birthday. Halle, then 19, had been in charge of the important stuff: food, decorations, everything you need to have a ​"big, grand weekend".

Now back at their family home in Sherman Oaks, Los Angeles, it was time to pack up the party and do what she does best: make music. Unknown number? No time for that.

The mystery caller tried her dad instead. And then her songwriting time was cut short. ​"My dad and my brother ran in and were like, ​'Answer your phone!'" she says. Bemused and somewhat unbothered, Halle obliged when the phone rang for a second time and quickly recognised the voice. It was Rob Marshall, director of Disney's upcoming live-action remake of The Little Mermaid.

​"Ariel?" he said, presumptively crowning his new underwater princess. ​"Am I speaking to Ariel?"

Three and a half years on, Halle is leaning over a table at her favourite restaurant in central LA's Little Ethiopia neighbourhood, clutching a half-eaten lentil sambusa in one hand while the other mimes a phone, reenacting the moment she found out she'd scored the starring role in one of Disney's most anticipated remakes.

​"Of course, I burst out crying," she says, rolling her eyes at a propensity for tears that appears to have been knocked into overdrive by the film's magnitude. A proud smile pierces the self-deprecation, but she's still pinching herself. ​"I did not believe it. I still honestly don't."

At that point, it had been months since Halle was first asked to audition for the role of her favourite Disney princess; weeks since she'd worn a wonky red wig over her locs for a screen test. ​"I was just like, ​'OK, I must not have got it,'" she says. Besides, it had always seemed a little too good to be true. When Halle first heard that Disney wanted her to audition for The Little Mermaid, her response was: ​"Which role?" When it was confirmed that she would indeed be reading lines for the little mermaid, the most she could muster was: ​"Huh? Me?"
Like every generation of little girls across the globe for the last three decades, the 22-year-old had grown up with Ariel from the animated 1989 film. And that cartoon character, the one printed on lunchboxes, pencil cases, T‑shirts and even Halle's phone case, didn't look like her. The original Ariel, portrayed by Jodi Benson, had the voice of an angel, disproportionately big blue eyes and straight, scarlet hair that ebbed and flowed with the ocean. Not to mention leading-lady-of-the-era white skin. Halle ticked one out of those four boxes. ​"I'm like, ​'Why would they ask me?'" she says incredulously.
Short answer: her performance with Chlöe at the 2019 Grammy Awards.
You'll know them as Chlöe x Halle, the sibling duo from Georgia whose innate talent and single-minded pursuit of success was so immense that, in their mid-teens, Beyoncé signed them to her Parkwood Entertainment label. On the night of their Grammys performance, the pair had been nominated for Best New Artist and Best Urban Contemporary Album, off the back of their debut album, 2018's The Kids Are Alright, which they wrote and produced themselves in their living room.
But it was their rendition of Where Is the Love, made famous in 1972 by soul legends Roberta Flack and Donny Hathaway, that caught Marshall's attention. Halle's vibrato shimmered with a timeless quality that echoed her biggest inspiration, Billie Holiday; her slick, stylish riffs were delivered with striking control. For a contemporary fairytale about the value of a woman's voice, it was exactly what Marshall was looking for.
"What's beautiful about this version of The Little Mermaid is that it's a lot more modern," says Halle. Although the original film featured Part of Your World, a quietly defiant ballad about ​"Bright young women sick of swimmin' /​Ready to stand", the overarching message wasn't exactly what you'd call feminist. Ariel literally relinquishes her voice and drastically changes her body for the man of her dreams.
"When we saw it, when we were younger, she gave up everything for the guy. But I don't think [that] reflects modern women today. So [now] it's more about Ariel finding freedom for herself because of this world that she's obsessed with." Prince Eric, the handsome shipwrecked human for whom she gives it all up, ​"is a cherry on top. But it's not all about him."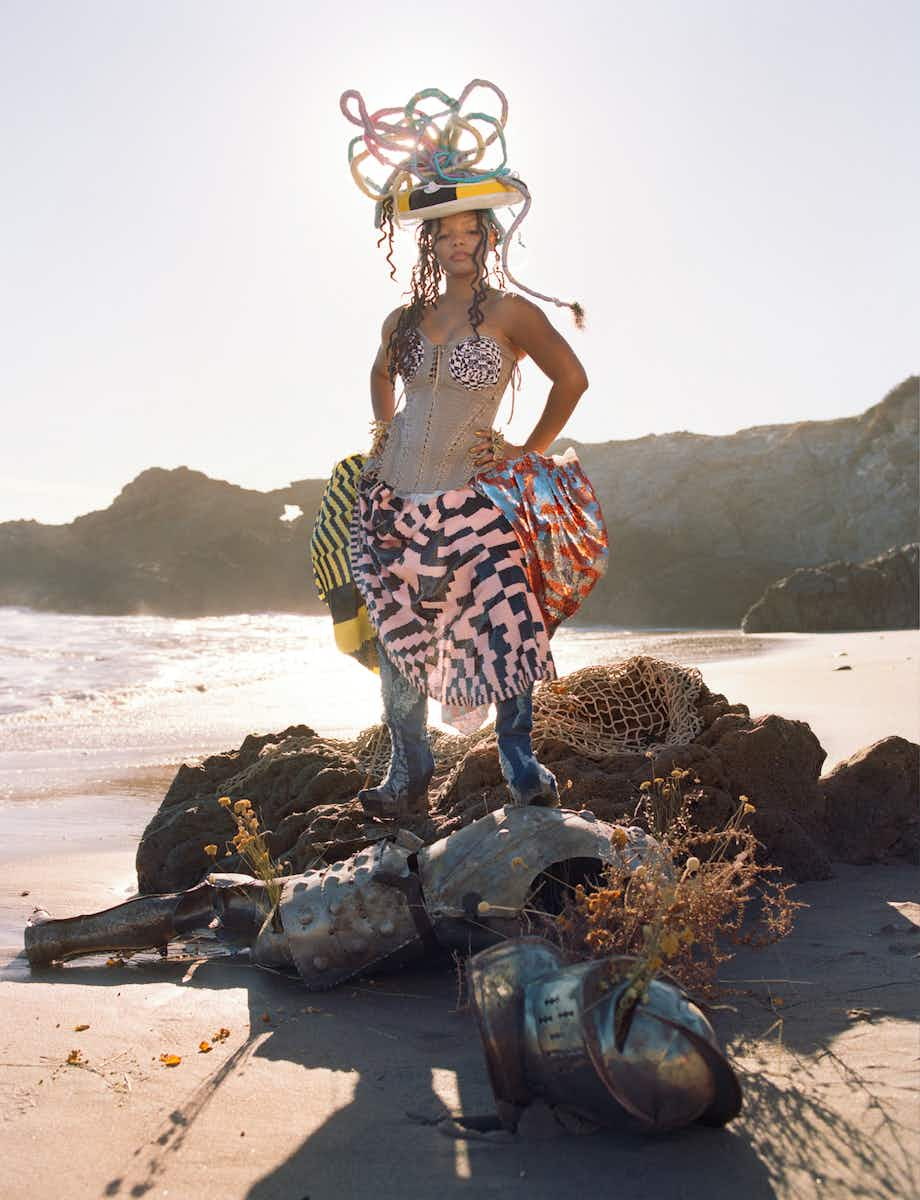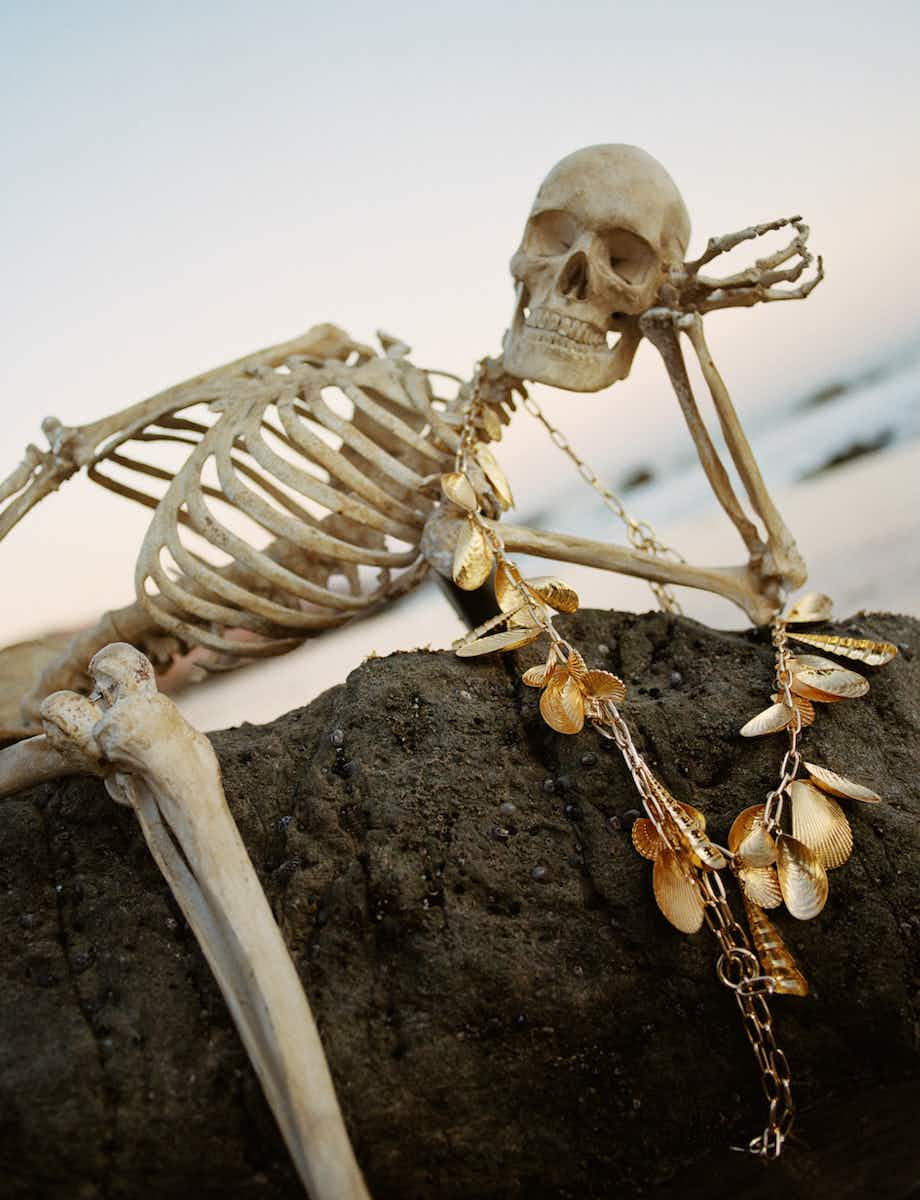 Growing up in Atlanta with two older sisters, Ski (pronounced Sky) and Chlöe, and a younger brother, Branson, Halle wasn't the baby of the family. But as the youngest girl, it sometimes felt like it. Her sisters, particularly Chlöe, were objects of admiration and inspiration, a loose blueprint for her own identity. ​"I was a copycat, the baby sister who just follows the older one around and does whatever she's doing," she says, smiling. Halle is softly spoken, but when the subject of her family comes up, those breathy tones become bolder, more relaxed. ​"Chlöe would sing, I would sing, Chlöe would dance, I would dance."
As cute kids, modelling and commercial gigs were obvious steps. But when Chlöe and Halle began spontaneously harmonising around the house, their parents – mum an HR recruiter, dad a stockbroker who later became their manager – realised music might be their calling. The sisters began performing around Atlanta, before the family relocated to LA when Halle was 12.
The restaurant Halle has chosen for our lunch is one of the first places she visited when they moved to California. Jewel-toned Ethiopian umbrellas hang upside down from the ceiling, embroidered tapestries and paintings of traditional coffee ceremonies line the walls and a photograph of Diddy (Sean Combs) with the restaurant's owners watches over our table. The vibe is laid-back, an IYKYK local spot void of any Hollywood pomp. Halle's dressed accordingly: white T‑shirt, black joggers, socks and fluffy green sliders.
"Yaaay!" A heap of injera and two giant platters of spiced lentils, greens and ground peas are plonked in front of us. ​"It's sooo good," gushes Halle, instantly tearing off a piece of the sour flatbread and using it to scoop up a dollop of yellow peas. ​"I eat this once a week – probably more."
Halle currently lives just around the corner, but her proximity to Ethiopian food is a happy accident. She moved to be close to Chlöe. ​"Our apartments are in the same building on different floors," she says, laughing. ​"It's nice because it feels like we have our own space, but at the same time, we're right next to each other. We'll call each other crying, like: ​'Can you just come upstairs?'"
Before rehearsals for The Little Mermaid began at Pinewood Studios, just outside London, in early 2020 (production paused during the pandemic and resumed in January 2021), Halle and Chlöe had never been apart for more than a few days. Homeschooled from the ages of 10 and 12, they spent practically all day, every day, together for the best part of a decade.
"When you grow up, especially in a big family, your identity has so much to do with the people around you. You're used to having this anchor of people holding you up. You don't really know what it's like on your own."
Moving more than 5,000 miles away from her big sister gave Halle the space for self-discovery. It was unfamiliar, intimidating, ​"the scariest thing I've ever done," she admits. But, ultimately, Halle's grateful for the experience that, aged 19, coaxed her out from under Chlöe's wing and into adulthood.
"I really got to be alone with myself and say: ​'Oh, this is who I am. These are the things I like, these are the things I don't like.'" And without big sis watching her back, Halle also learned to stand up for herself. ​"I'm very protective of my family, but when it came to speaking up for myself, it was weird, I used to be paralysed. On the set of Mermaid, I learned how to say, ​'This is what I need', without feeling bad about it."
Halle was discovering how to stand on her own two feet for the first time, which will sound familiar to anyone who, like her, pretended to be Ariel in the swimming pool as a child. You might call the strange convergence of the character and the actor's narratives coincidence, fate or even subconscious method acting. But Halle's locked on the idea of divine intervention.
"I felt like God was lining up themes in my life with the character. Ariel has this longing for something more. She doesn't quite know what it is yet, but she has to be brave in order to find it on her own. Being away from everybody for the first time in my life, I really loved those themes of knowing that it's OK to be fearful and pushing through it."
To quiet any feelings of loneliness, Halle plunged herself deep into work. Mermaid bootcamp was fun but tough. She'd wake up at 5am for back-to-back workouts and stunt training, then pretend to swim in front of a blue screen (like a green screen but, well, blue), while hanging from straps that left the occasional bruise on her ribs. The best bit was going into ​"the tank" for a swim. ​"I did diving training for the first time and discovered that I have a passion for it," she says. ​"We didn't end up diving a lot during filming, but it's harnessed this newfound love for being in water."
The majority of Halle's time spent in the tank was for hair tests, as the production team analysed how her locs moved in the water – no wonky wigs, just natural Black hair. Marshall had been keen to incorporate parts of Halle's identity into the reimagined Ariel throughout the entire production process. Using the locs that she's worn since she was three was a no-brainer. ​"As a Black woman, hair is spiritual, especially locs. It was really cool for them to make Ariel a version of me with my locs. I feel like that's what mermaid hair would be anyway."
Then, of course, there was the music. Official ​"Disney Legend" Alan Menken returned to The Little Mermaid, three decades after co-writing the original's double-Oscar-winning score and songs with his late writing partner Howard Ashman. He was joined by Hamilton creator Lin-Manuel Miranda, who has more recently been initiated into the Mouse House via his songs for Moana and Encanto. Together, Menken and Miranda wrote four new numbers for the soundtrack.
Halle was excited to meet Miranda. But it was Menken – an eight-time Oscar winner who also co-wrote classic songs for Beauty and the Beast and Aladdin – who left her utterly in awe. She recalls standing by Menken's piano as he taught her the notes to a new song, For the First Time, which Ariel sings when she makes it to the human world and learns to walk with – ​"what do you call ​'em?" – feet. ​"I mean, oh my gosh, he's just a genius," she says. ​"I just remember looking at him like: ​'This is really cool!' I was really grateful for his feedback on my singing and him being open to this new version of Ariel."
In fact, he's more than open to Ariel 2.0. Like Marshall, Menken became totally enamoured with Halle's vocals. ​"Her voice and performance style is a magical combination that brought me to tears as I watched and listened to her," he says over email. ​"She's an Ariel who breaks your heart – and will live powerfully in everyone's hearts."
Hollywood first used colour-blind casting in 1967, when Eartha Kitt took over as Catwoman from Julie Newmar in the first Batman TV show. But there were no examples of it in mainstream cinema until Morgan Freeman was cast in The Shawshank Redemption as Red, who was Irish in Stephen King's novella, nearly 30 years later. The practice has picked up considerable momentum over the past decade, as conversations about representation entered the mainstream and the industry's lack of diversity was increasingly scrutinised. Now, in theory, a person of any colour can play any character. Not to ​"push an agenda", as critics might argue, but because they're the best actor for the job. Halle's version of Ariel is arguably the most prominent example of colour-blind casting to date.
"I know people are like: ​'It's not about race.' But now that I'm her…" she trails off, searching for the right words. ​"People don't understand that when you're Black there's this whole other community. It's so important for us to see ourselves."
That's why she wasn't surprised when the racist backlash began. First came the hashtag #NotMyAriel in response to the 2019 announcement of her casting. Then a fresh wave of vitriol when the film's teaser trailer dropped last September.
"As a Black person, you just expect it and it's not really a shock anymore," Halle shrugs. She was never going to pay attention to what social media had to say anyway. ​"When [Chlöe and I] first signed to Parkwood, B" – that's Beyoncé to you and me – ​"was always like: ​'I never read my comments. Don't ever read the comments.' Honestly, when the teaser came out, I was at the D23 Expo [the biggest Disney fan event] and I was so happy. I didn't see any of the negativity."
Moral support came from Halle's grandparents, whose memories of growing up in a segregated United States reminded her of how far society has progressed. Then the next generation of young Black girls chimed in. Within hours of the teaser drop, TikTok was flooded with children reacting to the first glimpse of Halle as Ariel, grinning as they gasped, pointed at the TV and yelled: ​"She's Black like me!"
Friends and family inundated Halle's phone with videos. ​"I was crying all night for two days, just staring at them in disbelief," she says, welling up again at the memory. ​"It makes me feel more grateful for where I am."
Becoming a big-shot actor was never part of Halle's plan. She'd appeared in the Black-ish spin-off Grown-ish, alongside Chlöe, and gone to a few auditions. But after the Grammy nod, she'd concluded that music was her most likely path. Now, though, with that Grammy moment also alerting Hollywood to the range of her talents, she's on a road to bona fide screen stardom. After The Little Mermaid makes her a household name on its release in May, her appearance later this year in a film adaptation of the Broadway musical version of The Color Purple will underscore the arrival of Halle Bailey: movie star.
"It's a little bit of pressure," Halle admits, although it's not the fame that fazes her. After all, having spent her formative years in the orbit of the world's biggest pop star, she's used to all that. It is, she acknowledges, more the fact that her first two major roles are in adaptations.
"When you're doing a remake of anything, everyone's gonna be like: ​'Well, this isn't how I liked it in the original.'" Despite a heavyweight cast that includes Fantasia, Colman Domingo, H.E.R. and Ciara, she's particularly anxious about The Color Purple. ​"That movie has meant so much to us in our community for so long. It was Whoopi Goldberg's first big thing," she says of Steven Spielberg's multi-Oscar-nominated 1985 adaptation of Alice Walker's Pulitzer Prize-winning novel. ​"I hope people like my versions [of the characters in The Color Purple and The Little Mermaid]. But at the same time, I'll respect it if they don't."

It's been a year and a half since both projects wrapped filming. During that time, Halle's had a chance to meditate on the lessons learned from this transformative period of her life. But she's also used the breather to have some fun. Her days have been filled with yoga, cooking, songwriting, guitar practice and cuddles with her cat, Poseidon, named by her brother after Ariel's grandfather. ​"I'm kind of an introverted person – not a party girl or anything. Since being home, I like having time to do the things that I want to do. It's this feeling of freedom."

All of Halle's creative energy is being channelled into her first solo album, which she's hoping to release after The Little Mermaid comes out. ​"The music I'm making now is happy and about love, but it's also about vulnerability and how scared you can be when you know that somebody now has power over your heart." During the writing process, she adds, ​"it's been really cool to see this theme of anxious attachment, beauty in vulnerability, on paper."
The project is still taking shape and she's hesitant to spill more details – unless the listener is Beyoncé, that is. It's not been long since Halle sat down with her mentor (who, she admits, still occasionally leaves her feeling ​"starstruck") for a super-exclusive listening party for her solo work. ​"She hadn't heard anything with me on my own before, so it was a really big moment for me. She was just so proud, so complimentary. It's a beautiful thing when a creative you look up to tells you that you're doing a good job. It means the world."
Chlöe x Halle aren't on hiatus, though. They're already back in the studio, working on the follow-up to their second Grammy-nominated album Ungodly Hour, which dropped in 2020 during Mermaid​'s production hiatus. But right now, Halle's more interested in hyping up Chlöe's own solo projects. Her sister's releasing her debut album, In Pieces, in March, while also climbing up Hollywood's ranks: she'll soon be starring alongside Olivia Colman, Woody Harrelson and Tosin Cole in an adaptation of the Tony-winning Bob Dylan musical Girl from the North Country.
"Watching my sister is really reaffirming for me. When you see somebody who has been next to you for so long spreading their wings, it's like: ​'Wow!' You're just in awe," she says, beaming. ​"That makes me feel like we're both moving in the right direction. Her accomplishments make me feel really good about myself, too."
Halle mops up the last of the lentils before relaxing back in her seat. This is the calm before the sea-storm of publicity that will blow up around the film. ​"I got to see The Little Mermaid two weeks ago. I kind of dissociated, watching this girl, like, ​'She's doing really great!' I forgot that it's me."
The little voice in her head that once seeded doubt has been silenced by newfound self-confidence. The ​"heartbreak" of being separated from her family has, in the end, made their bond stronger. The tears, the bruises, the 5am starts were all worth it.
"I just want to continue to heal through my art. Each project I've done has taught me something about myself, has given me something to live off," concludes Halle Bailey, a Little Mermaid with big appeal to millions of little girls across the world. ​"If somebody can take something away from whatever character I'm playing, that's all that matters to me."
She smiles and looks down at her empty plate. ​"I'm just really, really happy."

HAIR Fesa Nu MAKE-UP Sara Tagaloa MANICURIST Riley Miranda PROP STYLING Emily Kreusch PRODUCER Chloe Mina PHOTO ASSISTANT Trever Gens LIGHTING TECHNICIAN Ivory Serra STYLING ASSISTANTS Borys Korban, Hollie Williamson and Lennon Gabriel HAIR ASSISTANTS Noelle Preston MAKE-UP ASSISTANT Arielle Park

More like this