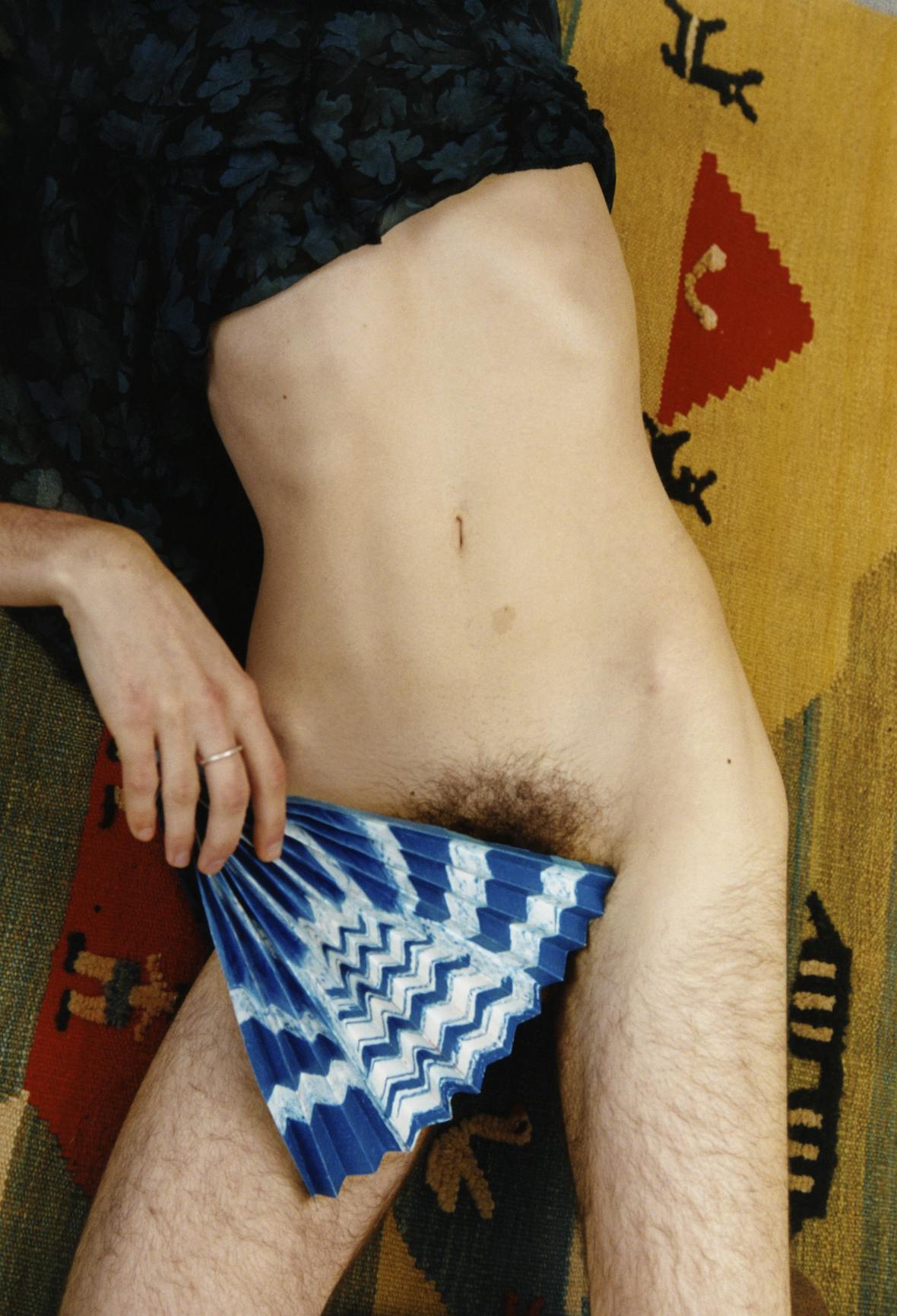 Harley Weir is explor­ing the male body through a dif­fer­ent lens
Harley Weir's lat­est book Father is delv­ing deep into the male body via a con­coc­tion of erot­i­ca – strik­ing por­traits, taste­ful nudes, super sat­u­rat­ed full body mono­grams, and a hot pink ren­der­ing of ejac­u­la­tion (peep the front cov­er, screen print­ed with metal­lic foiled text).
Sick of the way in which desire is, more often than not, framed by a male per­spec­tive, the pho­tog­ra­phy heavy­weight is using her book to explore attrac­tion on her own terms. 192 pages of erot­i­ca – the major­i­ty of which has been shot pure­ly for this project – print­ed in Italy on 100% recy­cled ​"I always want­ed to make the kind of things that I found sex, so I could feel that desire was mine too," explains Weir.
Hav­ing col­lab­o­rat­ed with cast­ing direc­tor Julia Lange and styl­ists Ben­jamin Kirch­hoff, Emile Kareh and Raphael Hirsch, amongst oth­ers, the pho­to anthol­o­gy looks at diverse vari­ants of mas­culin­i­ty and beau­ty, across all cul­tures, with the inten­tion of pro­vok­ing not just a con­ver­sa­tion, but ​'feel­ing'. Cap­tur­ing sub­jects at their most inti­mate – from cis and trans men, to Japan­ese hosts that play boyfriend for a night – Weir is prob­ing tra­di­tion­al gen­der con­fines whilst estab­lish­ing a dynam­ic plat­form, one that wor­ships the male physique in an all new viewpoint.
What was the ini­tial start­ing point for Father?
I'd been work­ing on a col­lab­o­ra­tive project with my real father and ini­tial­ly want­ed this book to be a part of that. In the end he doesn't fea­ture in the book, not in mind or in body… yet some of the themes still felt rel­e­vant so I decid­ed to keep the title. The father is often the first male fig­ure in peo­ples lives. The image of the arche­typ­al male passed down from father to father… for most, your first hero.
So it was more of an intu­itive process?
Always intu­itive with me. I start some­thing want­i­ng to learn about it. After leav­ing the project with my dad to fol­low its own jour­ney, I decid­ed with IDEA Books that I would do a series of male nudes (the term male is used very loose­ly as the book actu­al­ly cov­ers a whole spec­trum of gen­ders, includ­ing cis­gen­der women). The project quick­ly became a lot more mean­ing­ful than just a series of nudes, so many impor­tant threads appeared. One slith­er of them was desire – my own. Grow­ing up there was a real lack of sex­u­al imagery of men, espe­cial­ly in the straight realm, so I often turned to gay porn. With so much expo­sure to what a man thinks is sexy I was left want­i­ng to explore my own desires and this book is a taster of that.

How did you go about select­ing your subjects?
I was look­ing for a real range of peo­ple, to show dif­fer­ent vari­ants of mas­culin­i­ty and beau­ty. I col­lab­o­rat­ed with cast­ing direc­tor Julia Lange and with styl­ists and friends who brought on their own opin­ions of beau­ty. Ben­jamin Kirch­hoff, Emile Kareh and Raphael Hirsch, to name a few.
Which images stand out most for you now that the book is complete?

I don't think any­one stands out more. But I did find pho­tograph­ing the hosts from Japan very fas­ci­nat­ing. These men work in clubs that cater to women. The ladies pay them to be their boyfriend for the night, it's not sex­u­al, more flir­ty and con­ver­sa­tion­al. I found this out­let for women to be real­ly inter­est­ing. In the West, we real­ly don't have a sim­i­lar cul­ture for ladies. I can't say that it's the health­i­est trade but I did vis­it as a cus­tomer before the pho­to­shoot and found it sur­pris­ing­ly fun and refresh­ing to be on the oth­er end of this exchange.

What was the deci­sion behind the mixed media approach?
I've always been very hands on, it's in my nature and the rea­son I still shoot film. The oth­er rea­son is that I've had a lit­tle more time to myself as have been tak­ing a break from edi­to­r­i­al work. It's meant I could look back at things from the past and also have a bit of a play with new images.

What con­ver­sa­tions do you want to spark via Father?
So many! I'd like to talk about accept­ing ​'s bod­ies – men's and women's, mak­ing gen­ders less con­fined. Female desire, male desire, they desire, all desire! It was cer­tain­ly a jour­ney mak­ing the book, and still is, lots to think of from here. I would like to con­tin­ue the discussion.
---