How Long Gone's Chris Black and Jason Stewart: ​

"

We don't allow the vibes to be off"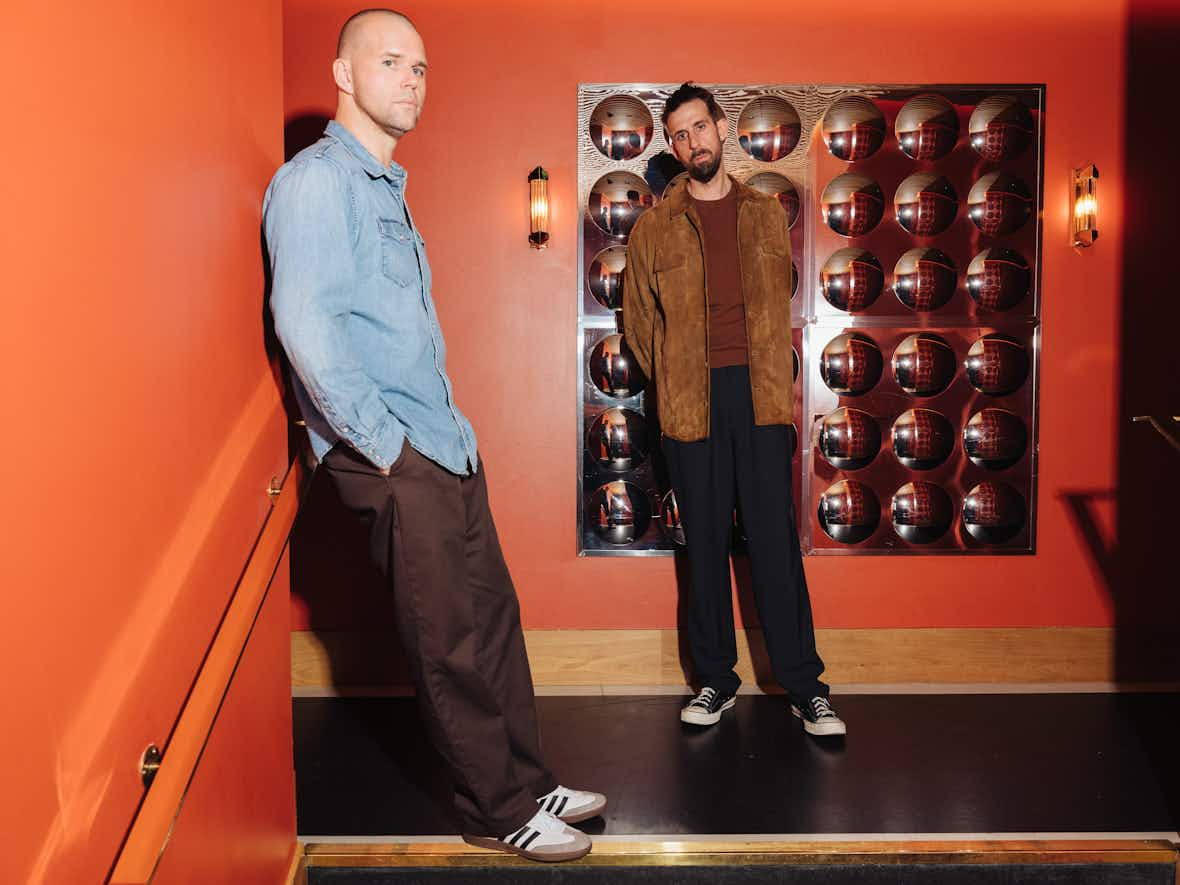 The "bi-coastal elite" podcast attracts hundreds of thousands listeners and big name guests. Now, the flippant American duo are selling out shows overseas. Not bad for two blokes who've never had proper jobs.
Two straight white men have a podcast where they chat shit, but this time it's different.
Chris Black and Jason Stewart are the duo behind How Long Gone, the lockdown project that became the podcast ​"all your cool friends listen to", according to Vulture. Every week, three episodes of How Long Gone hit DSPs. Chris Black and Jason have racked up over 450 episodes and, as a testament to the pod's success, they've attracted guests such as Matty Healy, Bret Easton-Ellis and Charli XCX alongside esteemed journalists and a bunch of people you probably haven't heard of. But even if you're not familiar with the sunkissed garage rock of King Tuff, for example, if you're a How Long Gone fan ('a gonner' shall we say) you'll probably love hearing him talk about orange juice and old deodorant brands with Chris and Jason anyway.
Chris and Jason like to tuck into the trends and social media outrages of the day (think: Beyoncé's Dubai gig, olive oil with cool packaging, articles in The Cut), striking a balance of banter and self-critique. It's rapid, energetic and, yeah, some people might find it a bit annoying.
But How Long Gone has gained hundreds of thousands of listeners – and they're not all bros. The split is ​"roughly 60 – 40", male to female, based on the cis-gendered metrics available. Recently Chris and Jason have been eyeing up some lucrative film and TV opportunities, having signed with CAA.

Chris (40) and Jason (42) have been friends for 17 years, initially crossing paths when they worked in the music industry. Then, Chris managed a pop-punk band from Atlanta called Cartel, while Jason was making a name for himself was DJ Them Jeans and remixing the likes of Bloc Party, SBTRKT and Rihanna. Chris, who was born in Atlanta, now spends a lot of time in New York but is mainly based in Los Angeles, while Jason is an LA native (they flippantly call How Long Gone a ​"bi-coastal elite" podcast).
How Long Gone isn't their first rodeo, either. Jason has clocked up over a thousand podcast episodes in his lifetime, while Chris is probably around the 600 mark, ​"excluding illustrious guest episodes". Chris also writes for the likes of New York Magazine and GQ, and consults for brands including Thom Browne, Stüssy and New Balance. Jason is a podcast consultant alongside his DJ work too. So the success of How Long Gone is no fluke.
Today, they're in the lobby of The Standard London in King's Cross London, where they're staying during their UK trip for two live shows – one for Matches Fashion, the second at Moth Club. Both sold out very quickly – which, they claim, they find surprising. But maybe they're just being modest.


Chris Black
I was checking out the beautiful Coal Drops Yard last night.
THE FACE
Yeah. What's the architectural take?
CB
It's like an attempt at an outdoor Californian mall, but the weather isn't nice enough for the outdoor part here. But it's actually pretty nice to be close to, it has all the modern conveniences.
Jason Stewart
I have no idea what you guys are talking about. Cold drops yard?
THE FACE
Coal. It's where coal used to be delivered into London from the North of the UK. Where is your favourite place to drop coal?
CB
That's a great question. I don't have a huge yard so I like to do it off site if I can.
JS
I drop mine in public.
THE FACE
Why has How Long Gone done so well?
CB
Because in every episode people can tell that we're really friends. I also think that listening to people make fun of each other is fun.
JS
It doesn't feel like a job for us. I think with others you can hear that it's a job in their voices. Especially ones that have like Patreon and Discords and all that other stuff. We're forfeiting the money part for now, in order to cultivate a real thing.

THE FACE
What do you do when you're recording an episode and the vibes feel off?
CB
We don't allow the vibes to be off.
JS
We make fun of the guests until the vibes are on again.
CB
I'm happy for someone to give us shit too though, like Japanese Breakfast and King Princess did. More importantly, the listener likes that a lot. We'll have fun either way.
JS
If a guest makes a good quip or knocks us down a peg, I'll never edit that out. As long as the egg is going on someone's face, that's all that matters.
THE FACE
What's your favourite way to eat eggs, Jason?
JS
Soft scrambled, just perfectly cooked with butter and salt. Maybe a bit of chive.
THE FACE
On this trip you've both been to St. John, and Jason went to Brawn.
JS
[Geezer voice] Brawwwwn.
CB
[Deeper geezer voice] Brauuuunnn.
JS
Both times the server was a listener of the podcast.
THE FACE
Any idea what Brawn is?
JS
It's like a shrimp with a B. It's also a buff guy, right?
THE FACE
Shrimps are buff, if you think about it.
CB
That's a good point – they're kind of stacked at the top! An upside-down triangle. Which is all I'm trying to achieve.
THE FACE
Are you comfortable with the fact that you are probably role models for a lot of people?
CB
I think anytime you do something independently that gets respect, a following, or success. It becomes something people are inspired by. Because in our world, no one wants a job. And neither of us have ever had a proper job.
JS
Absolutely, 1000 per cent.
CB
But I think I shoot a little higher than podcasters as role models go. I love Marc Maron, but I wouldn't call him a role model.
JS
I think a podcaster is more of an influencer than a role model. I will influence people with things that I'm an expert at, like food. But in terms of how to live your life? I would not say I'm a role model. But who knows – I go through life pretty easily. I'm engaged to a beautiful, successful person, I have a great home. So like, why not be a role model?
CB
I wouldn't go that far.
JS
I don't do anything I don't want to do and I've got a roof over my head.

CB
I do tons of stuff I don't want to do. I have two roofs that cost me a lot of money. I have cars. But otherwise, I'm doing pretty good.
JS
He's burdened by success, I'm enjoying success.
CB
I wouldn't say I'm burdened by my minor success. My relationship with my girlfriend, with Jason, with my work clients…
JS
[1950s BBC British accent] With my country.
CB
With God, with my ​"football" team…
Okay, actually, let me tell you something. I hate to say this, but soccer is never gonna happen in America. Unfortunately, you play soccer-football here as a child and then you pick an American sport when you get to middle school. Some people do stick with it in high school, but those people are always very hot stoners. This makes it a cool thing to be, but it's not the same.
JS
It's not because ​"football" is bad. It's because our attention span can't handle a full length game.
CB
Much like movies, I can't really handle it, because I'm sober. I do appreciate the raw athleticism, ​"football" players and basketball players are true specimens. They're running the entire time.
THE FACE
A lot of people take coke while watching football here now, if that's the problem?
CB
That's why you guys are cool.
JS
I've never picked up a bag to watch a baseball game.
CB
Going to Dodger Stadium, having a vegan hot dog and a couple of bags? It's not going to work.
THE FACE
What's the most high-profile guest rejection you've had for How Long Gone?
CB
Gwyneth Paltrow. It was a flat out: We appreciate the email. And here's some vouchers to try [Paltrow's LA ​"clean food" delivery company] Goop Kitchen. This was a while ago, so I'm willing to retry. I think Gwyneth will come on one day.
THE FACE
How is Goop Kitchen?
CB
Pretty good! I've also been talking to Courtney Love and she was basically like, ​'I'm not doing podcasts for a while'. But I didn't take that as a no because then we had a nice convo so I think she's open to it.
JS
Our two favourite birds.
CB
Top birds.
THE FACE
Who is third? Other than your partners.
CB
Alexa Chung, our guest at the first London show. I think she defines Britishness in America.
THE FACE
How come?
JS
We grew up watching Alexa Chung on MTV House of Style, even though we're around the same age. You just kind of had a crush on her as well as thinking she's a cool person you want to be friends with. They don't make girls like that in America.
CB
Also every woman we've ever dated liked her as much as us, for different reasons or even the same reasons. It doesn't happen anymore. Because it was pre-internet, I think there was a little mystery to her. And she has done a pretty good job of maintaining that.
THE FACE
How would your mums describe How Long Gone?
CB
No idea, but they both listen often. I think my mom uses it as a way to keep up with what's going on with me. From my end, the show has taught me that my mum is cooler than I ever thought she was.
JS
We were talking about this with writer David Coggins a couple of nights ago, because he does a podcast and his mum listens as well. He's saying his mum listens and therefore you don't have to check in as often. And that's true, it really did create a good relationship between us and all of our mums. I've never smoked a cigarette in front of my mum, but she knows that I smoke. She'll never be like: Jason, you fucking smoke? You smoke a cigarette on the podcast? She's just kind of like, ​'Okay, you're an adult. You do things I may or may not approve of, and you talk about it publicly. I know it, you know it.'

Every mum would love for you to call them more often than you do. I'm sure. We're kinda calling mum three hours a week. [David's] show is a lot more buttoned up though, they talk about travel tips and fashion do's and don'ts. And we're talking about like, cum.

THE FACE
Jason, what is your optimal edible dosage: morning, afternoon, evening?
JS
For me, morning is 10 milligrammes, afternoon is 20, and evenings is zero! That's when I *puts fingers to mouth and starts inhaling air*. If you have an edible in the morning, you have all day to let things settle out. But at nighttime, if I'm gonna have marijuana, I want to be high and to sleep for eight hours. It takes an hour for the edible to hit you, and you don't know if it's gonna be too strong or not enough. If you smoke it, within 30 seconds, you know whether you're high or not.
THE FACE
Chris, when is the best time of day to overspend?
CB
Overspending in the morning is obviously a smoothie, clocking in at 22 dollars. But there's no better way to overspend than in the afternoon. Lunch that can go to 200 plus, followed by a little shopping, you're Uptown New York and stroll to Bergdorf or whatever. I don't overspend really though, I like nice stuff but only when I need it. People that buy designer clothes every season and then sell them to get the new designer clothes. That's psycho. I try to buy things that I'll have forever, and then there's no reason to not buy the best. I've put a $300 limit on a single T‑shirt too.
THE FACE
What's the future of How Long Gone? You've signed with a TV agency.
CB
More podcasting, trying to grow it in terms of reach, but also new verticals. TV, books, doing something on video, whatever it may be, you kind of have to keep ploughing ahead I think.
JS
Anything but TikTok is basically our future.
CB
I'm not even going to rule that out, unfortunately.
JS
Actually I got high and came up with a pretty interesting TikTok idea a couple of days ago. I haven't had a chance to go over it with Chris yet, so that's off [cockney accent] the bloody record, mate.


More like this