How the psilocybin-dipped world of Entergalactic came to life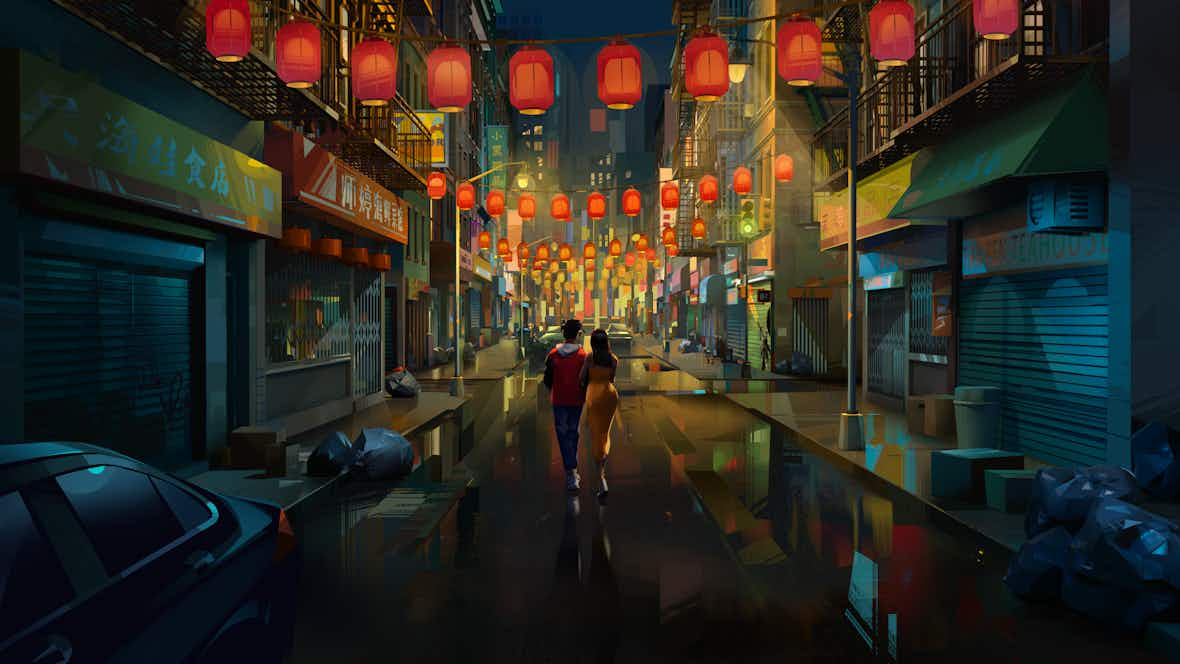 Kid Cudi's new Netflix special Entergalactic has got it all: a cast including Timothée Chalamet and Ty Dolla $ign, a wardrobe designed by the late Virgil Abloh and eye-candy animation. We chat to director Fletcher Moules, the mind behind its surreal world building.
Entergalactic. It's a great word, right? It's as much an imperative as it is a cooked-up noun, imploring you to explore a new cosmos and take a trip to another galaxy from the comfort of your own couch – no actual space travel needed, but, hey, a space cake might help.

Lifted from Kid Cudi's 2009 song Man On The Moon (then stylised with a literal space between ​"Enter" and ​"Galactic"), it's now the title of the rapper's feature-length Netflix animation, soundtracked by an album of the same name.

Set in New York City, it sees graffiti artist and comic book designer Jabari – voiced by Cudi – move into a new apartment and fall head-over-sneakers with his neighbour Meadow (Jessica Williams), balancing love and creativity. It's backed by a stellar cast, too: alongside Williams and Cudi, the film features Vanessa Hudgens, Macaulay Culkin, Ty Dolla $ign, Laura Harrier and the seemingly omnipresent Timothée Chalamet.

But even if you decided to watch Entergalactic without the sound or subtitles on, you'd be in for a great time. Its insanely vivid, richly textured visual approach is eye-candy dipped in psilocybin, thanks to it being hand-painted rather than entirely computer-generated. Daubed with a neon palette inspired by the sound of Cudi's album, it brings the city's electric clubs and phosphorescent billboards to life, a hyperreality cut with dream sequences, hallucinations and shroomy scenes. Fashion, too, is central. Designed by the late Virgil Abloh, the characters' wardrobes are varied and boxfresh, featuring references to Valentino, Prada and, of course, Off-White.

Though, er, obviously don't actually watch it on mute. While the visuals are worth the ticket, the narrative is equally bright, a tender romantic story that cuts through the city's hubbub with an often-comic commentary on dating, art and consumer culture. It's also a beautiful and rare representation of Black love in film. ​"I feel like there's a void when it comes to Black love stories in the industry," Cudi previously said about its inception. ​"Young, modern dating … I wanted to really show what it's like and also show real love between two really great people." Then, obviously, there's also the music, which is some of Cudi's finest for years.
In this focus on modern dating, there's a striking interplay between analogue and digital, the real and surreal. Technology is often the cause of disequilibrium in the film's narrative: the fictional dating app Stush, as ubiquitous as Uber, promises love but serves up identity fraud, Instagram DMs lead to relationship tension and a literally-represented rogue GIF jarringly breaks through the film's animation.

In this sense, Entergalactic is a love letter to the analogue. From its hand-drawn aesthetic to Meadow's film photography to Jabari's spray paint creation Mr. Rager (another element lifted from Cudi's discography), it's powered by a deep sense of the true human experience. To find out more, we spoke to its director Fletcher Moules, the mind behind the animation.

Hey Fletcher, what was it like creating an animation based around an album?

It was definitely a different process. I think Cudi had four or five songs when he started working with Kenya Barris, and then the writers and Maurice came on board. The key element of Entergalactic was to release an album with a visual component, but let the narrative lead. [After listening] I could start to visualise: OK, I'm in New York City, I have these two young artists, it's a love story. I had this emotion that I could react to from the songs. It was like, OK, it needs to be hand-painted and look hyperreal.

It's interesting that you say it's hyperreal because there's a real mix of visuals – very neon, nocturnal and New York, but also analogue…

"Analogue" is the right word, I'm glad you hit that. The writers were saying it was an analogue love story in this digital age. When Harry Met Sally was a real kind of touchstone for the narrative. I wanted to make sure what came on screen visually did the same thing [as the album] – I wanted to make it look hand-painted so you can see the brush strokes on the faces.

It's interesting that the narrative's digital moments, like the Stush app, feel less inviting.

We're definitely not anti-digital, but it's just really trying to make it romantic. What we're trying to do is just to tell a classic love story in a digital age and the best way to do that is to try and make it as romantic as it could be. So that's why I made [Jabari and Meadow] neighbours. They take cabs around the city – no one takes Ubers, you'll notice, because it's way more romantic for someone to hail a cab. It's about how you can get the most emotional reaction out of an audience that can engage with that and actually feel a connection.

And how about the Stush app? What's the story behind that?

We used it as a device to make sure that we're aware that dating apps are obviously out there. It also [allows us to] have billboards and posters throughout the world. So when our character was feeling something, we could underline that emotion with a bus stop poster or with a billboard, or something that Len [Jabari's co-worker] was saying on his app. It's making sure our audience is engaged with how the characters are feeling and it's helpful to have a roadmap on the way.

In terms of those billboards, there's the tribute to Virgil at the end, but his presence exists throughout the entire film. Why was fashion central?

It was imperative for Cudi from the start. He had a real close relationship with Virgil and fashion is a huge part of his world and the culture, so we wanted to make sure Entergalactic was true to that. We were fortunate enough to work with Virgil throughout the show. I think it was so important in Entergalactic that we took the time and made sure that the wardrobe was on point. It breaks the mould of your traditional CG animation. We wanted to make these characters feel real and [reflect] that people change their clothes when they go out at night, so we approached it like live action. But it also grounded our super painterly world through seeing those very real street corners and real locations, painted in a stylistic way that links into the fashion.

Next to those elements of realness you have contrasting psychedelic moments. Were they fun to make?

With animation, you can do things where you can completely change visual styles and step back the base look of the show without it being jarring. You can then use different tools and art forms, which in live action would probably feel forced. [For example] we made sure that when each character is telling their story, it's their point of view so they look different. Having Mr. Rager as a character and having him have his own traumatic moment was super important.

How did the cast help make these characters so distinctive?

It worked out great. They're all fantastic and we're super thankful to those great performances, that we could cut them together to make them sound like they were all in a room. Visually, we designed them based on the real actors' looks and would mimic their mannerisms, recording them all with video. That's why Jimmy's (Timothée Chalamet) legs are always shaking, because I wanted to make him look like he's on edge, whereas Ky (Ty Dolla $ign) is big and loud and owns the scenes.

Lastly, maybe I was tripping, but I'm sure I caught you making your own cameo?

Well spotted! My character designer drew me as I think it was my birthday or something. I don't know, I just got in there!


More like this