When Terry Met Terry: I May Destroy You​

'

s breakout stars unite
Terry (old, but not actually old) and Terry (young) really stole the show in Michaela Coel's I May Destroy You. We got them together to talk school, stereotyping and those mini Just Do It rucksacks.
It feels like a distant memory when Normal People was the talking point of lockdown. It guided us through pub closures and weekly Zoom cocktail hours (grim), but Connell's Chain has swiftly been deposed and replaced with the impeccable I May Destroy You. Ever since, the 12-part series has captivated the nation. And for good reason. Cheers, BBC.
The brainchild of creator, writer and novelist Michaela Coel – who The Face spoke to a week before the show's airing – the drama-cum-dark-comedy unravels the story of its protagonist Arabella (played by Coel) as she navigates through blurry events after having been spiked and raped on a night out.
What comes after is an uncompromising search for clarity: sex, assault, drugs, Grindr, rotten relationships, family woes and being young in modern London.
Caught somewhere in the middle is Terry, Arabella's quick-witted partner-in-chief since secondary school. They go through a lot together, furiously gossiping, holidaying in Italy, cracking up and mending wounds inflicted by dark secrets. Regular best friend stuff.
Terry, played by 32-year-old British-Nigerian Londoner, Weruche Opia, shared the role with first-time TV actress, 22-year-old Lauren-Joy Williams, who plays her younger self in two flashback episodes where she's clad in a nostalgic British school uniform. They're bound by their shared character, but never cross paths on camera, so we thought we'd get Little Terry and Big Terry in conversation. Turns out, the pair aren't so far removed – even in real life…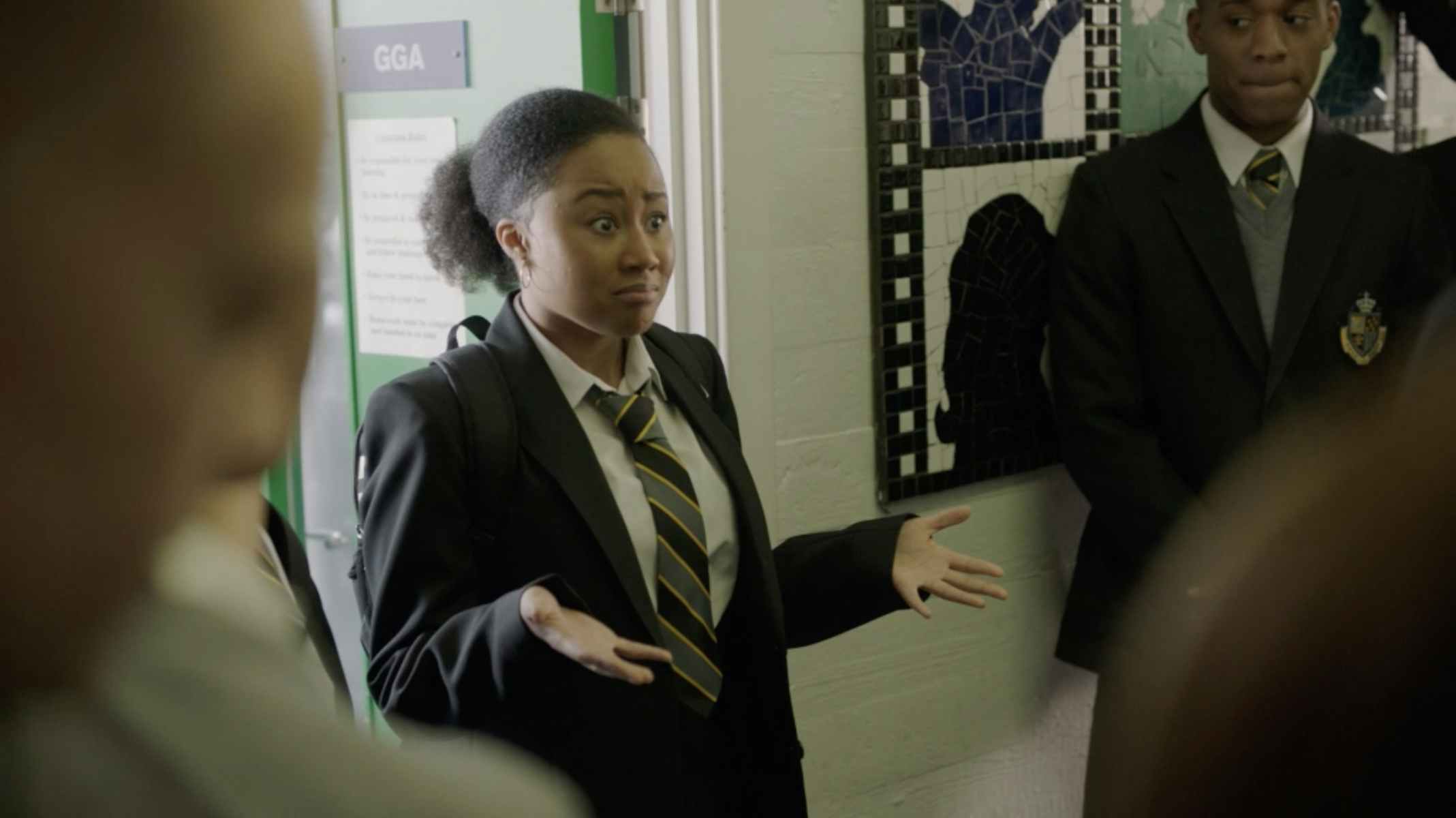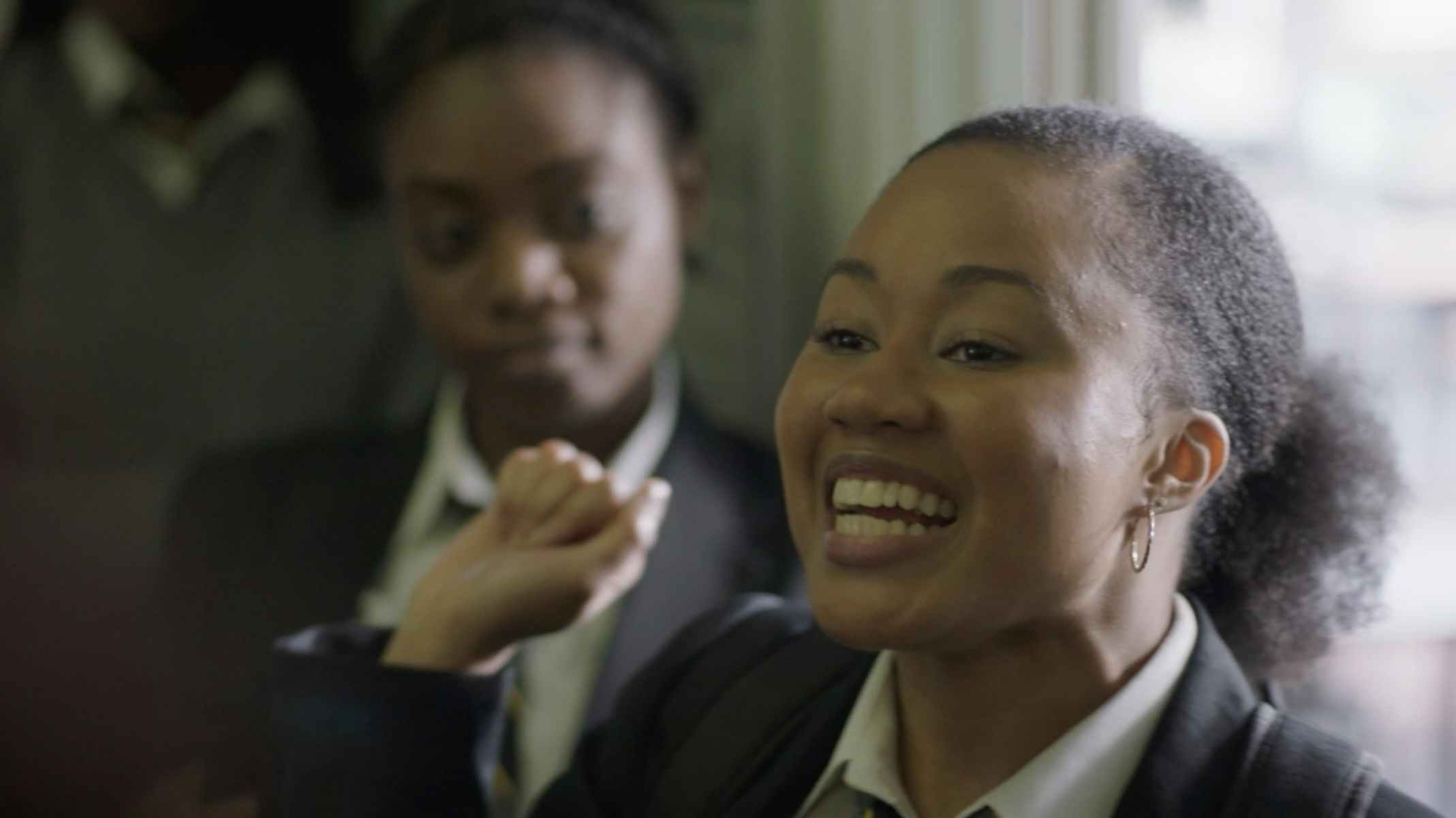 How are you both this morning?
Weruche Opia: I mean, I was going to put some mascara on but I couldn't focus.
I was going to put some lippy on but I thought you won't mind if I'm barefaced, right?
WO: Your hair is lovely, though!
Thank you. How do you feel since the last episode of I May Destroy You aired last night?
Lauren-joy Williams: This was my debut TV role, and it has been such an exciting process. I can't believe it's over already!
What was it like seeing yourself on TV for the first time, Lauren?
LJW: The school scene was such a throwback – it was like experiencing school all over again.
The school scene was proper authentic, wasn't it? The music, the mini Nike school bags…
LJW: Shooting in a school really brought everything back. We were all vibing together and I think that energy really came through in the scenes.
How did kids fit anything in those mini Just Do It bags?
WO: You could barely fit a book in it. What education were we really getting carrying those bags to school without a book? What were we reading?
Right? So on set, did Weruche give you any advice?
LJW: I hadn't even met her until after we had filmed most of the school scenes!
WO: Had you even seen any of the Terry scenes, Lauren?
LJW: No, I hadn't seen anything.
WO: So we both played the same character without watching each other…

That is pretty mad.
WO: We had only seen pictures of each other. On the day we finally met it was actually my day off and I was that sad person who went to work on their day off. It was mad to see the person who was playing the younger version of me.
Was it weird going ​"back to school"?
WO: I once played a schoolgirl when I was 25, and I remember when I put my uniform on I behaved like a teenager straight away. Did that happen to you, Lauren?
LJW: Definitely. As soon as I put that tie on and I was making it baggy at the top, that was it – I was back at school. Then the Just Do It bag… it was magic.

WO: When I did Bad Education it was all about the attitude. I was basically playing myself. I was quite bad in school. Young Terry is much better than I was.
Lauren, I love that moment where you turn to Arabella after your impromptu news report and say ​"I should do this for a living!" Did you ever have that moment in real life?
LJW: I've always been performing in front of people. so acting came naturally – I just married up the two. I've definitely always wanted to be a writer or performer.
What about you, Weruche?
WO: Same as Lauren-Joy – I've always acted from young. My earliest memory is when I was five or six, performing for my siblings and parents at home, all the way through to school, college and university. I'm so thankful I've been able to make a career out of it! I don't know where I'd be right now.
Well, you wouldn't be doing this interview.
WO: Can you imagine?!
I think part of the show's appeal is that there hasn't been anything like it before – a Black woman as the main lead tackling heavy issues like mental health, rape and drugs. Growing up, what did you resonate with on TV?
WO: There definitely wasn't anything like this, that is so educational but doesn't feel educational. I guess [in my day] it was… Talk to Frank that was available.
I feel like Frank has disappeared now.
WO: Is it even a thing?
I remember Talk to Frank leaflets being handed out at school, but it's all gone a bit quiet. They used to show the adverts of the guy sitting in the front of the car and his eyes would be really big while driving past a policeman.
WO: I didn't understand what it was until it was over. Who is Frank? Society's changing and things are no longer quite as binary as they once were. People are more open to speak. Back in my day we had dial-ups which made that weird sound. Now, everything is so accessible without it being so Talk to Frank-ish. What do you think, Lauren-Joy?
LJW: What this show did with representation is insane. It's an all-Black cast, but so many people can relate to these characters. If anything, it shows how quotas really have no place when talking about representation – it's a human topic.
A common – infuriating – misconception has been that having a Black lead means white audiences can't resonate, or white audiences won't understand.
WO: That's a part to do with what stories have been allowed to be told. We know most of the stories that are told with Black people tend to be stereotypical, especially in the UK. For white people to think that this show humanises Black people to an extent is bizarre – we have always been human!
LJW: It's lazy to assume that a person can only be one dimensional, and I think the show really does make the characters 3D – you can see that there are so many nuances to a person. If anything, it shows the industry that this is the future and no longer do we rely on stereotypes! There are nuances to us.
Speaking of the future, where do you see yourself in 10-years-time, Lauren-Joy?
LJW: Seeing this show and how a creator of a show can have control of their project gives me hope. It makes me hopeful to see where the industry is changing and where doors that were once just a crack open are being held wide open.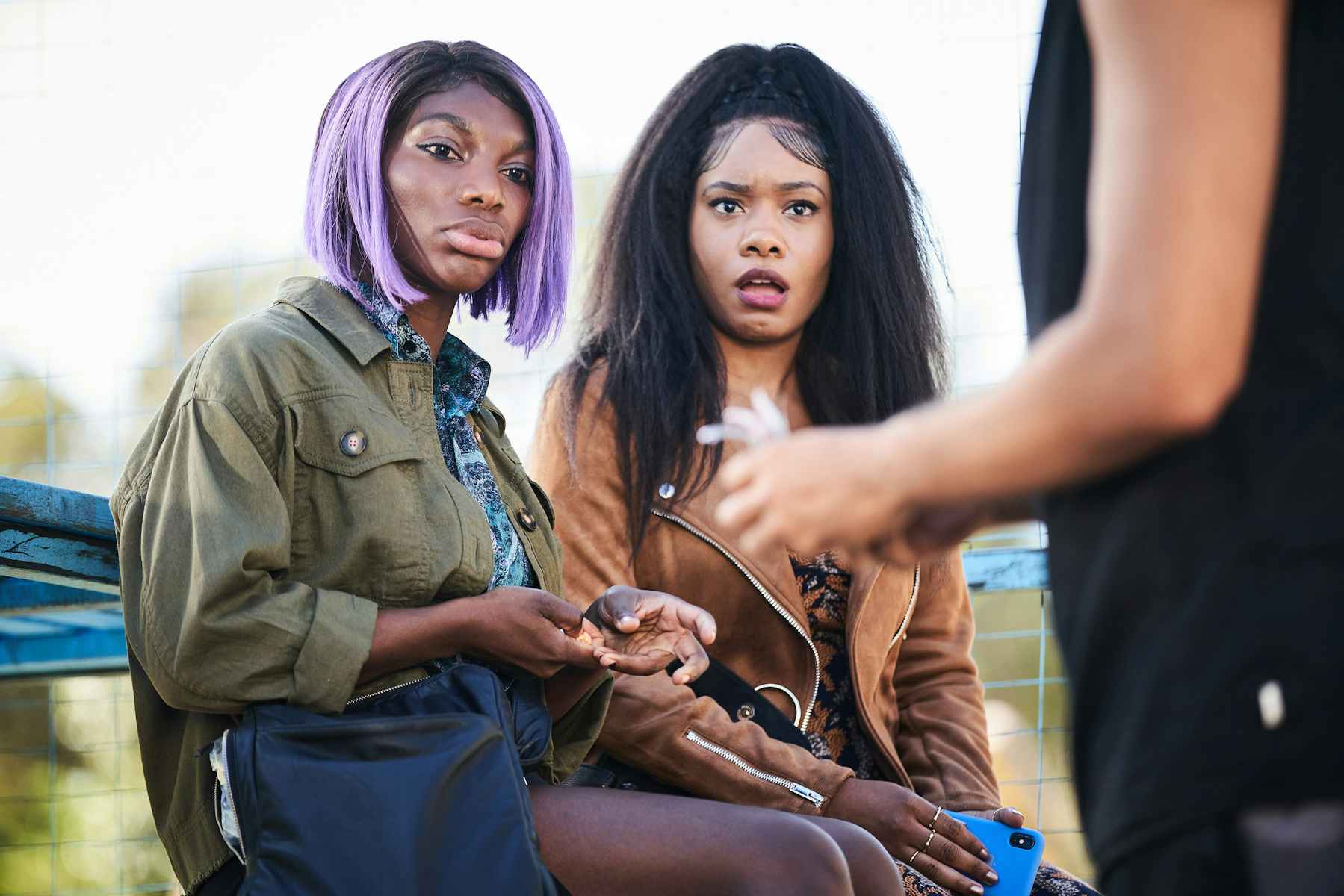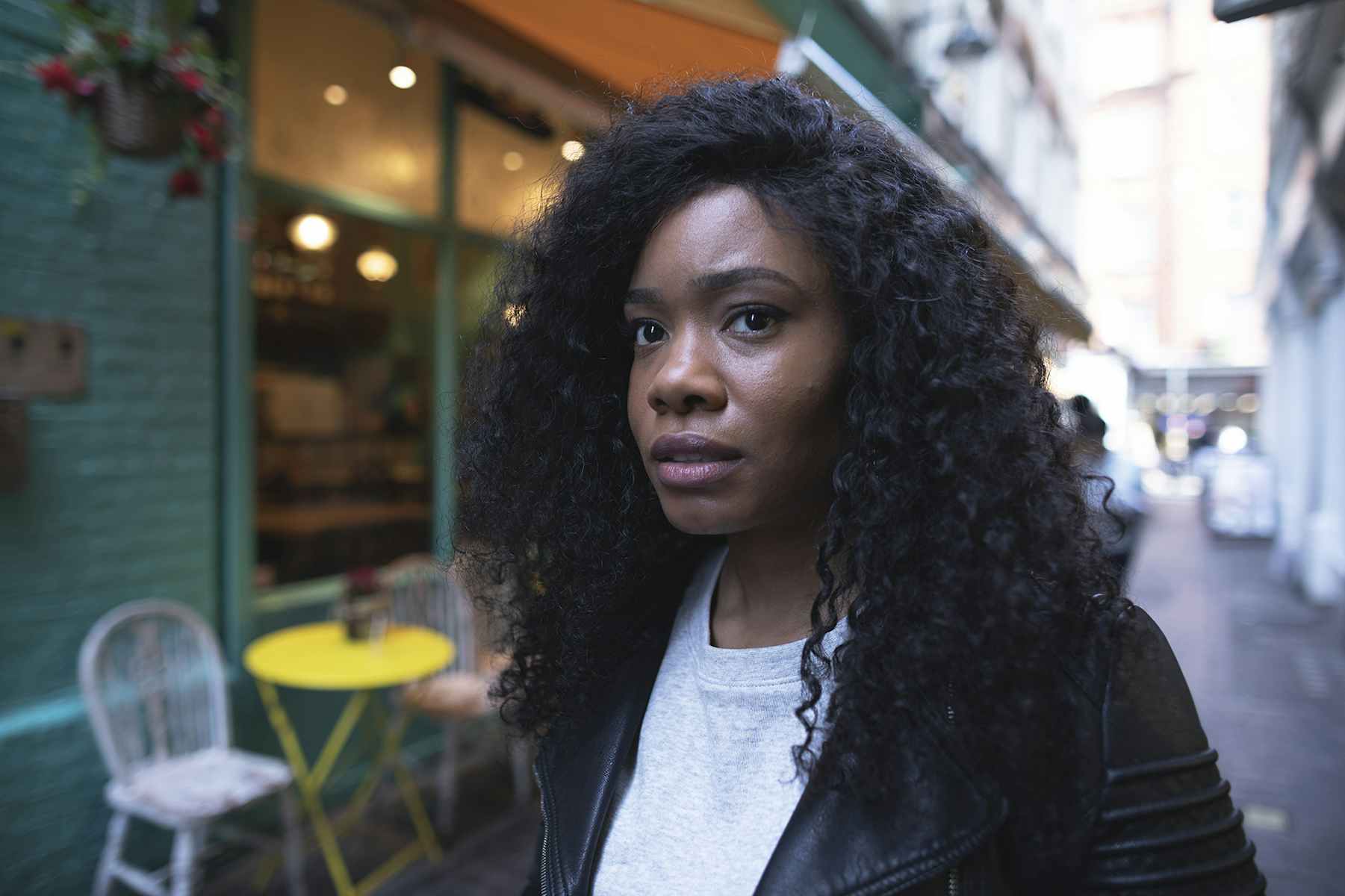 Would you go for EastEnders if it was offered to you? I'm a huge EastEnders fan, by the way.
LJW and WO: Why not!
Weruche, what advice would you give to your Younger Terry if you could?
WO: I would say keep going, and God's got you. I know that times are hard and life is never smooth sailing for anyone – especially in my career there have been many ups and downs – but I would tell her not to worry and to keep cracking on. It's going to pop off one day, girl!
Would you be friends with Terry in real life?
WO: Yeah – Terry's cute, man! I have a lot of people messaging me saying they wish they had a friend like Terry. She's cute, but also, are we taking in the full scope of Terry and Arabella's situation? Terry did let Arabella down, and I know friendships that have been cancelled for much less!
LJW: I found it so refreshing that Arabella didn't necessarily squash the beef. I've had friendships where we've had to recognise that our friendship and what we've been through is more important. People make mistakes – I really liked seeing that that wasn't the be-all or end-all of their friendship.
WO: I agree. That's the beauty of it, because we see them grow from teenagers. We know they've been through stuff already, but they're able to love each other through it and grow together. I think that is what really resonates with people – those friendships that can have unconditional love.
Besides that rocky bit, I think Terry is a proper solid mate. You can rely on Terry – you can call her up, she'll have supper on the table and you'd watch a nice film.
WO: That's 80% of her, man!
How are you hoping people will remember Terry?
LJW: For episode six, The Alliance, I think they should remember that teenage Terry was the ride or die. She was there on the front line ready to advocate for everyone, and she did it while looking good.
WO: The Alliance is feisty! To see her as a teenager from even in the scene where she's got all the people listening, you can already see the seeds of her career choice later on. I hope Terry encourages people to stick to their dreams, allow yourself to grow and to be there for your friend. Terry is the girl who grew!

More like this