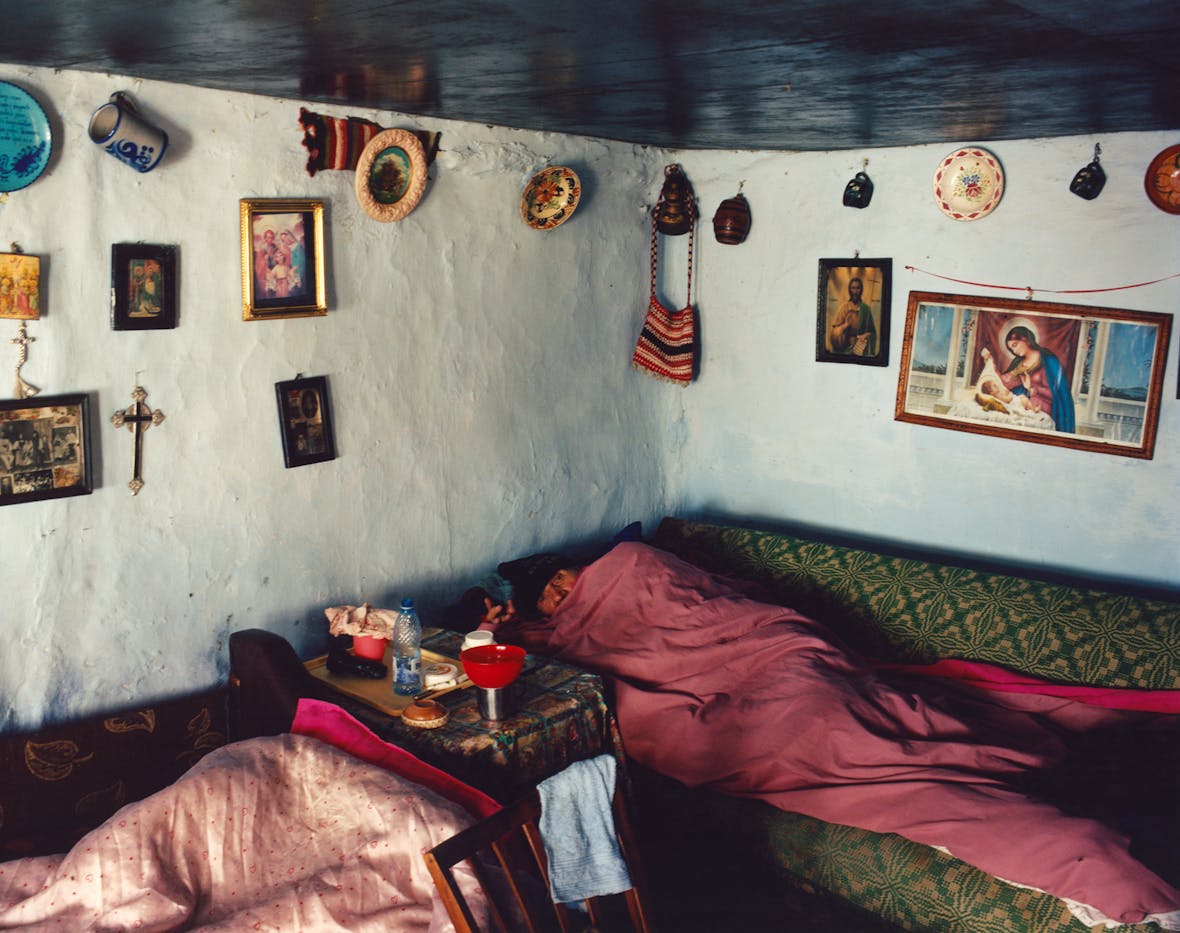 Jamie Hawkesworth's lat­est exhi­bi­tion is a short, plea­sur­able journey
"I'm try­ing my best to keep it exact­ly what I felt it was," says pho­tog­ra­ph­er Jamie Hawkesworth of his lat­est exhi­bi­tion A Short Plea­sur­able Jour­ney, Part Two. ​"It was a short jour­ney, it was real­ly plea­sur­able and these are the pic­tures and this is the film."
The sec­ond half to his 2016 exhi­bi­tion of the same name, the work traces Hawkesworth's doc­u­men­ta­tion of three weeks he spent in Flo­rești – a tiny vil­lage in Roma­nia. ​"I was trav­el­ling through Flo­rești and it was so beau­ti­ful," he says. ​"I end­ed up stay­ing for three weeks and that is basi­cal­ly the show."
Recog­nis­ing the charm of his sur­round­ings, Hawkesworth was inspired to cap­ture the beau­ty of where he was at exact­ly that point in time. While the first part of the exhi­bi­tion was the sto­ry of his move­ment – hav­ing shot in var­i­ous coun­tries from Japan to Antarc­ti­ca – this most recent show sees the pho­tog­ra­ph­er hon­ing in on one spe­cif­ic place: ​"I haven't real­ly done this since Pre­ston Bus Sta­tion," Jamie says of the work that boost­ed his career when pub­lished in pam­phlet, Pre­ston Is My Paris, back in 2010. ​"I did it in one place and I real­ly want­ed to show all of the steps in between."
Hawkesworth's pho­tog­ra­phy has always been not­ed for its sub­tle­ty as well as its sub­ject mat­ter, and it's the authen­tic­i­ty that remains present in this lat­est exhi­bi­tion. Not one to rely on heavy pro­duc­tion or over-edit­ing, Hawkesworth has main­tained the stripped-back style he's known for, adding: ​"That's real­ly what has always been quite impor­tant to me, that I'm not try­ing to say any grand mes­sage. I think the title hope­ful­ly reflects that."
Tak­ing a more lit­er­al approach than Part One, the exhi­bi­tion is intend­ed for the view­er to feel as close to Hawkesworth's time in Flo­rești as pos­si­ble. ​"When some­one walks around the show, in the most hon­est way, I real­ly do want them to feel like they're by my side plod­ding along and tak­ing pic­tures of things," he says.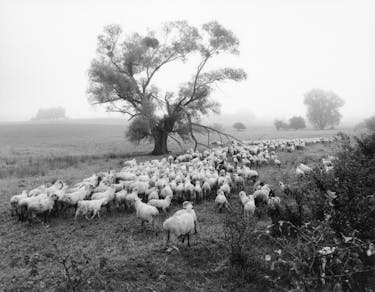 Where does the inter­est in show­ing a jour­ney in your work stem from?
It's actu­al­ly from not real­ly hav­ing an idea. I've always loved pick­ing a place and see­ing what I come across. And the idea of being open to chance, which comes with going to a place, not know­ing what you're going to do, and see­ing what you come across. The best way to illus­trate that is through show­ing the pic­tures I took in that place and that's where this idea of the jour­ney comes from. When I first start­ed tak­ing pic­tures, I'd catch trains around Eng­land and sort of pick a place. There was a cer­tain naivety because I didn't real­ly know much about pho­tog­ra­phy, I was just excit­ed by every lit­tle detail that I came across. So, in a way, turn­ing up to a place and just walk­ing around kind of holds onto that naivety a lit­tle bit.

Aside from the jour­ney itself, what are some of the oth­er themes in this exhibition?
I like to think the main themes are the details and an appre­ci­a­tion of mak­ing some­thing quite nor­mal feel quite mon­u­men­tal. Not in an over-the-top way, just in a way that makes sense. I've talked about this a bil­lion times, but the chance nature of things and being in that rhythm – it's always there, it's always a theme. With the show being unedit­ed, it allows for that theme to come across more than in any oth­er show I've done.

What gets you excit­ed about your pho­tog­ra­phy subjects?
I've found the less you try to force your inspi­ra­tions or love of things onto peo­ple the bet­ter. It becomes quite pre­dictable. I'm very open to sur­prise. I did a shoot not long ago where I said to the styl­ist ​'I don't want to know who we're pho­tograph­ing – I'll just turn up and be sur­prised'. When I'm walk­ing with my cam­era on my own, like I was in Roma­nia, I don't know who I'll come across. The sur­prise of see­ing some­one for the first time is quite exhil­a­rat­ing. I found that, par­tic­u­lar­ly with mod­els, the sur­prise of not know­ing is quite amazing.

What has most informed your pho­tog­ra­phy style so far?
What real­ly informs any­thing I do is curios­i­ty about a place or of a par­tic­u­lar per­son or loca­tion. That curios­i­ty is what gets me out of the door to take pho­tographs. I mean, it's an obvi­ous thing to say but it's true.
What are you hop­ing your view­ers will take away from this exhibition?
If some­one comes out think­ing ​'wow, this place Flo­rești I've nev­er heard of – it's incred­i­ble', then that's great. Shin­ing a light on a place, and for no rea­son, just for the love of going some­where. I think that's always quite nice because I feel like with a lot of things it can very quick­ly become quite heavy polit­i­cal­ly or what­ev­er it may be. I like the idea of going to an exhi­bi­tion and just enjoy­ing the spir­it of exact­ly what it is.
Last­ly, what is your idea of a short, plea­sur­able journey?
I think the times I've been most excit­ed, like when I was in Flo­rești, is when I get up at sun­rise and I walk for about 30 min­utes. That's my idea of heav­en. You know that time when the light is par­tic­u­lar­ly amaz­ing and you're walk­ing down a place you don't know? For me, that's a short, plea­sur­able journey.
A Short Plea­sur­able Jour­ney, Part Two will be exhibit­ing at 1 – 7 Ayles­bury Street, from 17 – 27th May, open 10am – 6pm daily.
---