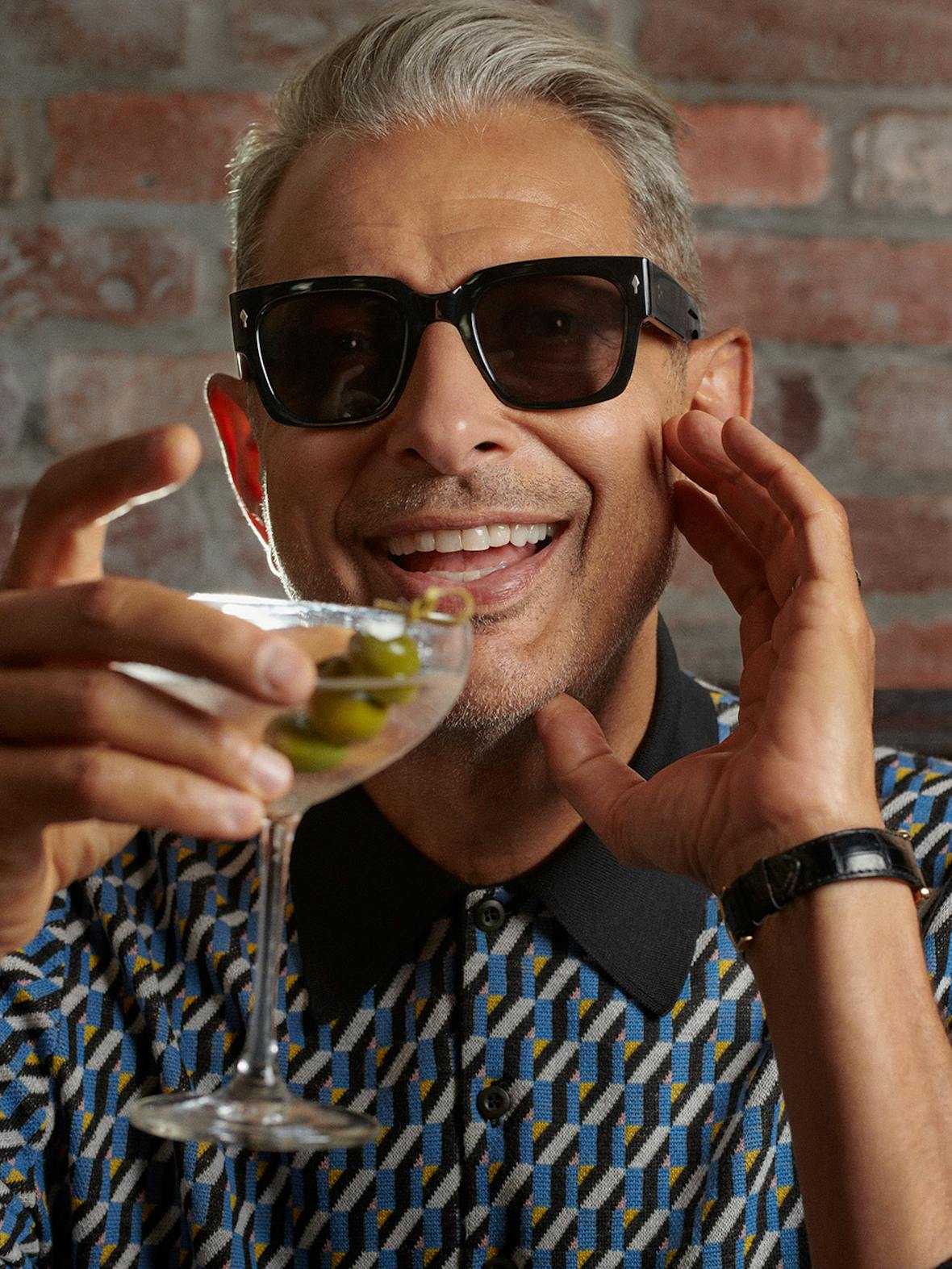 Jeff Gold­blum: ​

"

Be your­self, what­ev­er that is"
Rick Alver­son made a film, The Moun­tain, about a wom­an­is­ing doc­tor who trav­els across Amer­i­ca in the ​'50s to per­form lobot­o­mies. So who bet­ter to embody that char­ac­ter than human negroni Jeff Gold­blum, whose awooga eyes and humi­na humi­na voice lend them­selves per­fect­ly to a lust­ful doc­tor who car­ries around a brain icepick? The doc­tor is based on real-life brain pok­er Wal­ter Free­man, who first named the psy­chosur­gi­cal pro­ce­dure the ​"lobot­o­my" before he pop­u­larised it.
The Moun­tain has lit­tle dia­logue and is slow to watch – on pur­pose. It's, in the words of its direc­tor Alver­son, a salve for the media mun­dan­i­ty we're con­sis­tent­ly fed. ​"The lobot­o­my was a pro­ce­dure to engi­neer pas­siv­i­ty in rest­less minds," he says. ​"In a broad sense, the enter­tain­ment indus­try has a sim­i­lar moti­va­tion." This is all to mean that watch­ing Love Island or Are You the One? is prob­a­bly melt­ing your brain. But you already knew that.
This film, Gold­blum explains, (lit­er­al­ly) taps right into the mind of the view­er to get to the nucle­us of self – if self even exists… Gold­blum, now 66 and fre­quent­ly wok­en up either by his two chil­dren or his Olympic gym­nast wife Emilie's foot on his face, enjoys projects that buck nar­ra­tive con­ven­tion. He is a self-pro­claimed snob, hates The Appren­tice, and has a few ideas for how to get a sec­ond date.
Every­one came out of the the­atre where I watched The Moun­tain stunned; there was no talking.
I think it's some­thing. [Direc­tor Rick Alver­son] means it to be the antithe­sis of a movie that lobot­o­mis­es you and pro­vides a sto­ry that you expect and that enter­tains you, dis­tracts you to sleep in some way. This was meant to dis­turb and dis­rupt your faith in sto­ries and mythology.
Is that what attract­ed you to it initially?
It's one of the things I like. I'm inter­est­ed in that. It's what I like about The Mas­ter and There Will Be Blood and Death of a Sales­man and movies like that. And this book Fan­ta­sy­land by Kurt Ander­son talks about the Amer­i­can char­ac­ter and that movie that the Coen Broth­ers put out last year, [The Bal­lad of] Buster Scrug­gs.
Who do you think needs a lobotomy?
Who needs a lobot­o­my? Well, nobody needs a lobot­o­my. That was a bad idea, prob­a­bly. But we need what this movie pro­vides, which awakes us into see­ing our unex­am­ined sto­ries that we find our­selves swim­ming in and allows us to pos­si­bly touch real­i­ty and see the dif­fer­ence between the two for the first time. Many peo­ple need help. Who of us doesn't need a lit­tle help men­tal­ly. [Laughs]




I'm just curi­ous what you think of the whole obses­sion with celebri­ty? If you think that's lobot­o­mis­ing or dan­ger­ous? Or do you read The Dai­ly Mail​'s celebri­ty sec­tion once in a while?
Well, yeah. [My wife and I] are not let­ting our kids look at any screens at all. We want them to have eyes, live­ly expe­ri­ences with real­i­ty and peo­ple and nature. Any­thing prob­a­bly can be – I'm no expert, one way or anoth­er about any­thing – but any con­tent can be used for intox­i­ca­tion and dulling. Or the oppo­site. And you know a per­son of sharp wit can look at a real­i­ty show and be awak­ened by it in anoth­er way. I myself have a taste that does not lend itself toward real­i­ty shows.
I had a friend who said, ​"You've got to see this Appren­tice" years ago, and the peo­ple in the scene that I saw go and look at some gold appoint­ments. Some­thing that, to me, is crum­my and grotesque. It's gar­ish. I was like, ​"Turn this off, for god's sake." I aggres­sive­ly avoid­ed it for­ev­er. I've nev­er seen anoth­er episode nor many oth­er shows like that.
I know I prob­a­bly am snob­bish in one way or anoth­er. But I do have the taste I have. And I'm not attract­ed to those things myself. I like to have fun too and turn on some­thing dumb, but not much these days. I like to watch foot­ball. I have a sort of a guilty plea­sure around the Pitts­burgh Steel­ers, so I still watch that you know and get over­ly involved. So, like that. You lis­ten to Noam Chom­sky and he would say the entire con­sumerist cul­ture is is ready made for get­ting peo­ple to be unin­volved polit­i­cal­ly and inac­tive. So smarter peo­ple than myself would say, yes.
I have no set prej­u­dices against one thing or anoth­er. But my taste is toward movies these days and mate­r­i­al that keeps me feel­ing like I'm awake, awakening.

In this movie, your char­ac­ter is a womaniser.
Yeah.
I was won­der­ing if you had any advice on how to get a sec­ond date?
With a woman or man or any­thing, how to get a sec­ond date?
Yeah.
Well, I'm no expert at advice, but a sec­ond date, there are all sorts of ways to fol­low up. I think the answer is, there's no broad brush. Every­thing has to be spe­cif­ic. I would say don't be manip­u­la­tive and don't be strate­gic. Be your­self, what­ev­er that is. And of course these days, the life sci­ences tell us that there's no such thing [as being yourself].
Do they say that? I've nev­er heard that before.
Oh, yeah, yeah. Read Yuval Harari. The major reli­gion of the last cen­tu­ry real­ly has been human­ism, which is that there's some­thing in us that's indi­vid­ual and if we con­tact it, it will give us all the answers.
Life sci­ences [argue that] is we have no free will even. Free will is, yes you want the things that you desire, but why do you desire the things you do? Why do you think the things you do? You don't choose to think things you do. They come and go. Some peo­ple say the best you can do is watch them. And get in touch with the real­i­ty of your breath and and your thoughts com­ing and going. So be authen­ti­cal­ly what­ev­er you are.
Don't pre­tend, don't do any­thing in order to get any­where. Just present your­self open­ly. Try to be open. And be actu­al­ly inter­est­ed in this per­son with whom you may want to have a sec­ond date. See if there's any­thing that you specif­i­cal­ly are inter­est­ed in about them. Or express to them some­thing, open up about your inter­ests. The most attrac­tive thing is some­body who's inter­est­ed in something.
Con­vic­tion.
Yeah. Pas­sion, con­vic­tion. Engage­ment… Why? You're going on a sec­ond date?
Not right now.
The Moun­tain is out in US cin­e­mas now.
---