Jordan Firstman: ​

"

I was on all the drugs in real life"

Catching up with the internet's favourite funnyman to talk dick pics, sleazy shenanigans and his new film Rotting in the Sun.

Jordan Firstman has a cough.
A few seconds after the handsome actor-comedian walks through the glass double doors of a fancy King's Cross office – part of the North London area's weird regenerative square of dystopian buildings, home to Google, TikTok and Nike – Firstman is handed a bottle of Beecham's and a packet of Strepsils by his manager. And an oat milk iced latte.
"Will I be OK?" the 32-year-old asks, fiddling with the childproof lid before taking a sip of the cold and flu syrup. ​"Sorry, I've got this cough." Then, just to prove it, he coughs, like a pro.

Los Angeles-based Firstman first stuck his finger in film in 2016, when he wrote Call Your Father. He starred, too, as Josh: a selfish, self-centred millennial dating a Gen X daddy, whose relationship dwindles after realising their generational divides. Firstman's debut was, in no doubt, a looking glass into what was to come.
During Covid he gained followers – 850,000 at time of writing – when he started posting impeccable impressions on his Instagram account. He kicked off with ​"banana bread's publicist", when every Tom, Dick and Harry was mashing up a ​'nana and partaking in a sodding Zoom cocktail hour. He's also done ​"gen z in therapy", ​"straight guy talking to gay guy" and ​"the guy who insists that everyone makes eye contact when they cheers at a 12 person dinner" – all spot-on.

Since then the hot, hairy Firstman has picked up celeb fans (Katy Perry commented ​"you're a big deal" on one of his posts), double-kissed his way around various fashion weeks, and cemented his spot as Instagram's funniest funny guy.
Today, he's in London to promote his new film Rotting in the Sun. His first main character in a feature-length role, the Sebastián Silva-directed satire was a hit at its Sundance premiere, with critics applauding its wild commentary on self-obsession. Touted as an ​"audacious meta-comedy", Firstman plays, well, ​"Jordan Firstman". He's an affable if slightly moronic Instagram influencer keen to work with depressed ket-head director Sebastián Silva (who also plays a version of himself – how's that for meta?) on an upcoming film project. Their relationship began after they met on a gay beach – which the wide-eyed Firstman is absolutely certain was fate.
After parting ways on a proverbial handshake – kind of – Firstman travels to Silva's hometown in Mexico City to track him down and get to work. But where is Silva? Well, that would be giving the film away.
But what happens is a cat and mouse chase involving drugs, parties, suicide ideation, a dog eating shit, countless cocks (including Firstman's) and big questions on identity, narcissism and contemporary gay culture, all delivered in a masterclass in cringe comedy by Firstman and Silva.

Wearing a bright pink T‑shirt with ​"Why not? Lol" sprawled across it in jewels, Firstman perched his bottom on a velvet sofa, ready for the Big Questions. So, here goes…
Hey Jordan! Let's get straight down to it. How would you describe your cock?
I would say it's handsome. It has a nice shape, it's a healthy size. I think the film shows it has range. You see it at its lowest coming out of the ocean, and then I have a semi when I'm meeting Sebastián, so it's looking a little nice and floppy. That's probably where it looks the best in the film. But then when I get the blowjob from the Mexican boy, as he's exiting the blowjob, it cuts. There's a second half to the shot that Sebastian cut, and that's when it looks its best and biggest.
So, you were robbed.
I begged him. I literally was like: ​"I'm an Associate Producer on this film! I demand you keep the shot where my cock is big!" He was like: ​"No, it's too gratuitous and it's less funny." And I'm like: ​"It would be a little less funny, but then I would have that screenshot."
That must have been a blow to your ego.
I mean, I think it is a little bit more badass to have it out there not in its full glory. It's a little more ballsy.
Would you say you're cocky?
Yeah. It's worked as well as it's worked, and I think it's why some people are a bit resentful, or triggered by me. But I think I'm also very obviously in this movie very open about my insecurities, too. I'm allowed to celebrate the good if I also acknowledge the bad.
What are some of your best and worst traits?
I was actually thinking this morning about my character versus Sebastian's character, and how so many gays find him to be so much more palatable. But I'm like; would you rather hang out with someone who's super fun and positive? Yeah he's narcissistic, but he's not always talking about himself, he is perceptive and looks inside of people. Or [would you rather hang out with] someone who is constantly talking about killing themselves? I feel like his flaws are worse than my flaws in the film. But for some reason, because I'm more gregarious and in your face, people find it more annoying.

That's on-screen Jordan. What about IRL?
I really bring the fun, when I want to. And I strive for depth. And my bad parts… definitely the narcissism, which we can blame on my parents. I don't think it's full narcissistic personality disorder, just narcissistic tendencies. I think gay guys in general just didn't get the attention they wanted or felt they deserved, and so they have to seek it out in other ways. Which is where the sex and the overuse of drugs comes from. That, and I think I can be a little bit of a bitch sometimes. But only when I'm not feeling good about myself.
As with the cocks, there are a lot of drugs in the film.
Post-pandemic, the drugs and the sex got multiplied by 20. I always say: you take sex [and drugs] away from gay guys for two weeks with a quarantine and they make up for it in the next six years. When we filmed this in 2021, K got really big in New York and LA, and you were seeing people dropping like flies – just mentally not there. The movie and my character show that side of it. And Sebastian's ketamine use is pretty specific. I Most of the gays I know are partying a lot, not listening to Brian Eno and putting themselves into K holes.
You were very convincing on drugs.
I was always on the drugs that I'm on in the scene, in real life. So that was a fun experiment to see what drugs are good to act on and what drugs are not. Ketamine is not.
What was the best drug to act on?
Acid. I'm on it in all of the beach scenes, and I feel like it's the most ​"on" I am. I did coke for a couple of them and it's a bit stiff, but it worked for the scene. Ketamine, I'm in a real K hole in that scene – it hit me really bad. Worst day of filming by far. And the same with the sex – some of it was really easy and fun to do, and some was really hard. The whole thing felt super dangerous. When we talk about the intentions and stuff, a lot of it was really instinctual, which is why it feels so real. Because we weren't overthinking everything we were trying to say with the movie. We were just acting on what was around us and what we were feeling at that moment. And I think it captures that moment pretty perfectly.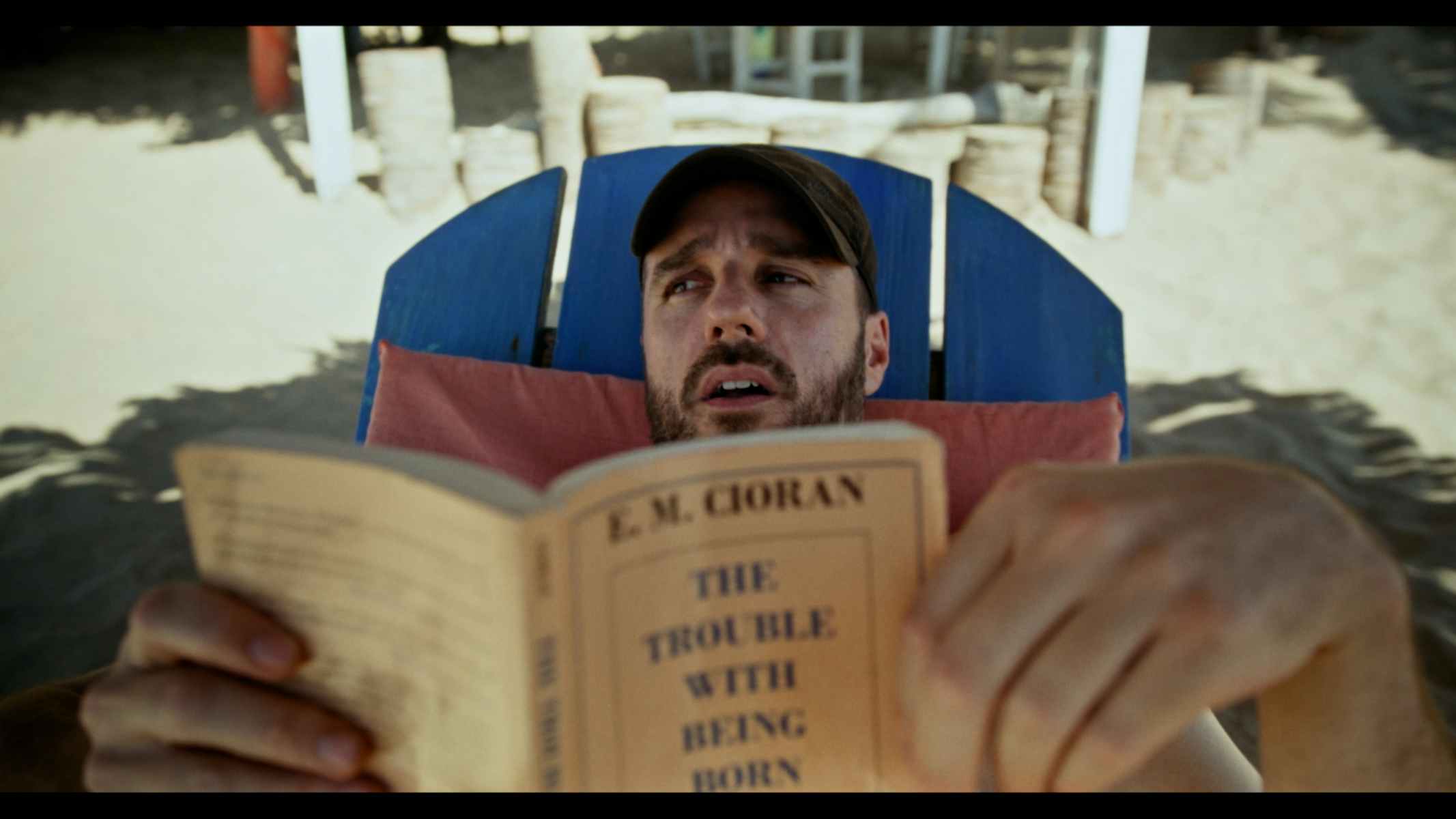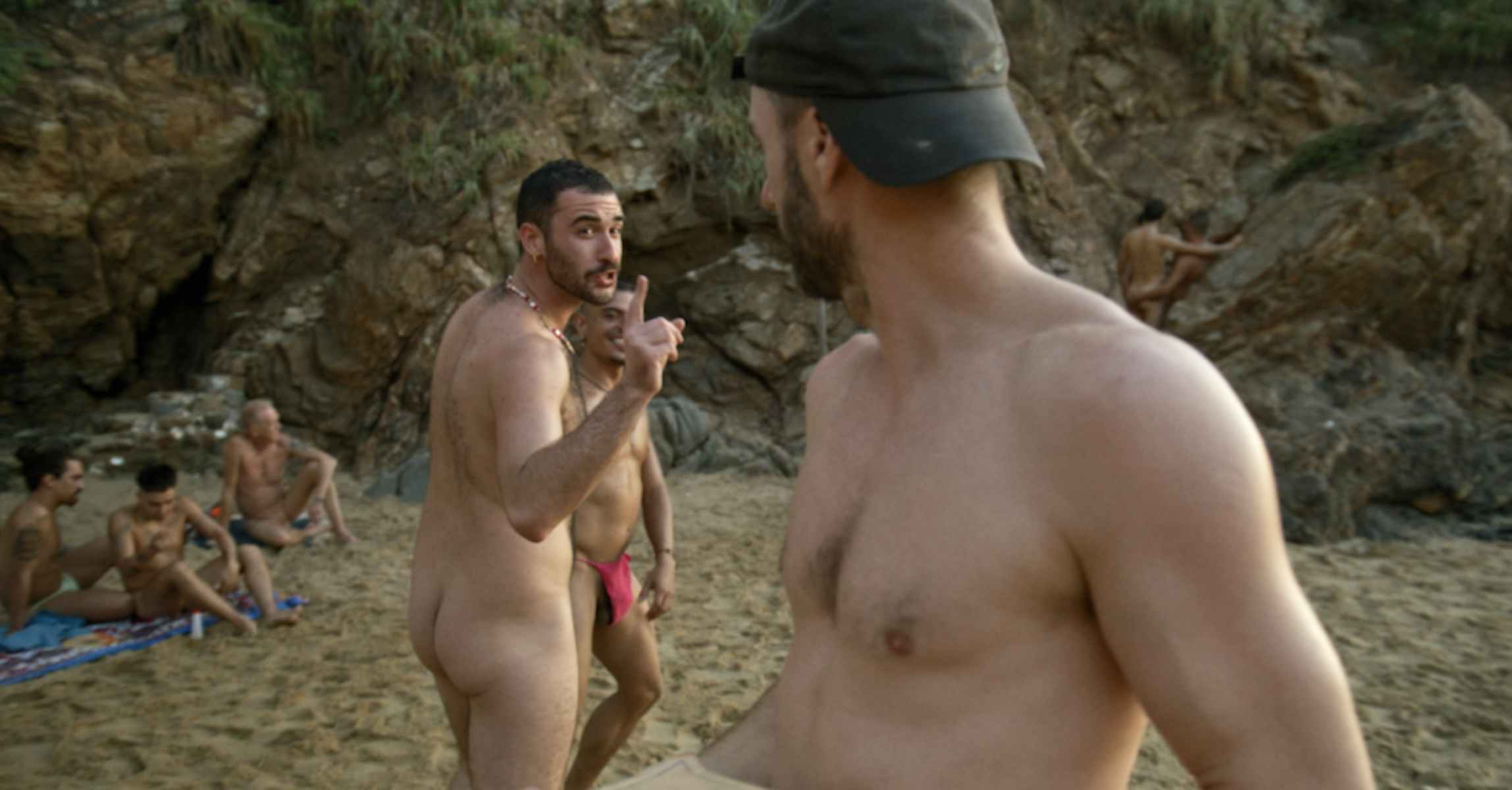 Time for some quick-fires. What's the last thing you saw that made you laugh?
Kate Berlant's show [at Soho Theatre] last night.
Can comedy ever go ​"too far"?
Yeah, or just not be funny. Shock humour never really does it for me.
Do you ever flex and groan in front of the mirror?
During the pandemic when I was really horny I probably had a moment when I did. But not usually. I'm pretty coy when I'm just by myself.
Where's the most interesting place you've had sex?
A train station.
How many dick pics do you send in a week?
Don't let my boyfriend read this. Probably 15 to 20.
What would it take to insult you?
Not that much. I'm actually pretty sensitive – be nice to me!
What's the sleaziest thing you do behind closed doors?
You know how some guys will blindfold themselves and suck dicks? I'll invite a really ugly guy over and I'll blindfold myself for him to suck my dick so I don't have to see him. I leave the door open, blindfold myself and then he'll leave. I've never told anyone that.
Got the exclusive. Thanks, Jordan!
Rotting in the Sun will be streaming exclusively on MUBI from September 15th

More like this