Josh O'Connor on his role as a young Prince Charles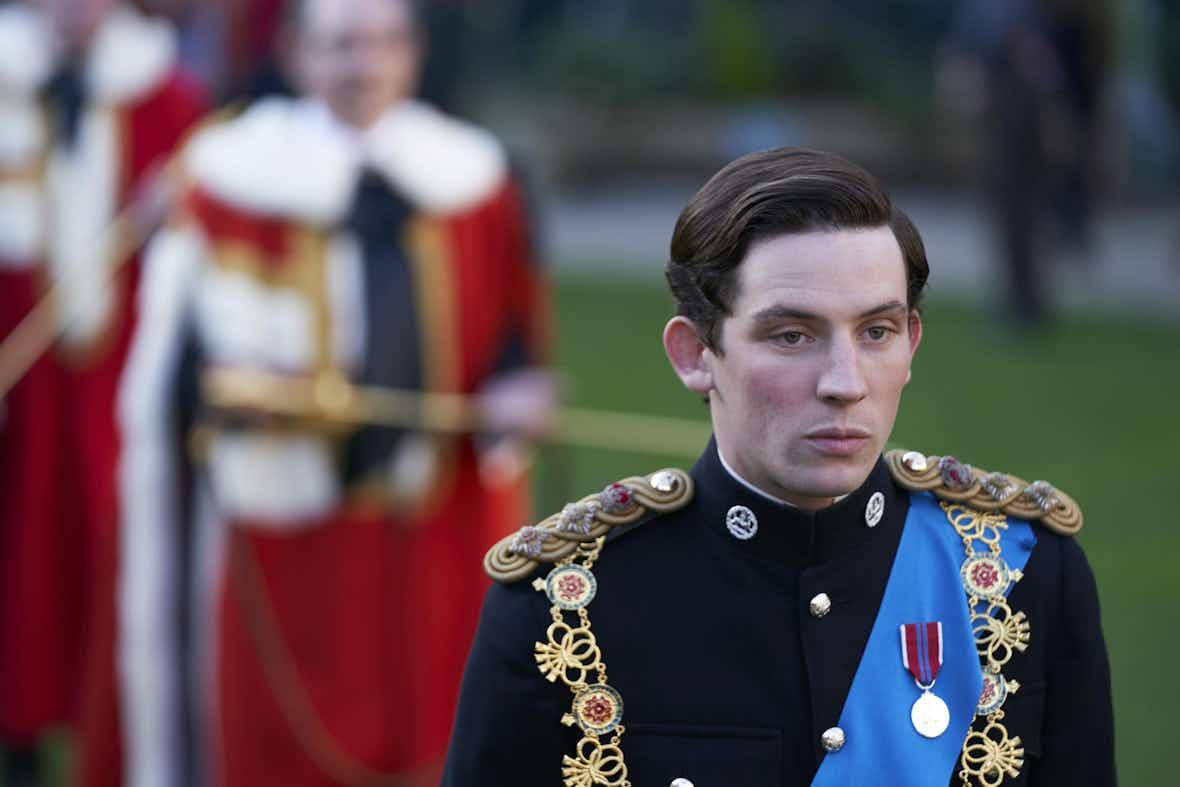 After a devastating performance in God's Own Country, the actor swaps the Yorkshire Dales for Buckingham Palace in the new series of The Crown. Here's why even punks, anarchists and republicans should tune in.

Before he was a Peaky Blinder (series two), a closeted Yorkshire sheep farmer (the brilliant 2017 indie God's Own Country) and, now, a king-in-waiting (come in Prince Charles, your time is nigh – in series three of The Crown, anyway), Josh O'Connor was, to put it bluntly, a blight on the charity sector.
The pre-acting career of the Southampton FC fan and cheese sandwich expert consisted of ​"a few offices" and ​"three charity call centres". But as the 29-year-old admits with a rueful grimace, he was fired from the latter.
"There's a system where you call up someone who's already given money to, say, the British Red Cross," he begins. ​"And the idea was to get them to give it a little bit more. You had to do three asks. The first ask was: ​'Would you do a little bit more? 20 quid more?' And they go: ​'Woah, I can't afford that.' And you go: ​'Absolutely, of course you can't. Ten quid more? No?' So the final ask is: ​'How about just a couple more pounds a month – done.'"
Unfortunately, O'Connor's empathy lay in the wrong direction.
"I'd always get on the phone and, I don't know, Deirdre would pick up and say: ​'I can't afford £2, let alone add anything more.' And I'd say [conspiratorial whisper]: ​'Do you know what, Deirdre? Just cancel the direct debit. Prioritise your own heating and bills.' And they'd pull me aside: ​'Josh, come on, mate…' And they'd kick me out!"
Lucky, then, that O'Connor has proved eminently more employable as an actor. After graduating from Bristol Old Vic Theatre School in 2011 he did Brit telly spadework in Lewis, Doctor Who and Law & Order UK, before graduating to recurring roles in Ripper Street and The Durrells. But it was playing a shut-down and lonely farmworker in the lyrical, moody, passionate God's Own Country – for which he won Best Actor at the British Independent Film Awards – that put him on the map.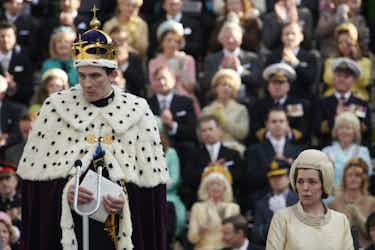 It also put him on the radar of the producers of The Crown. Netflix's blockbuster series about the British royal family has helped reinvent and modernise the costume drama – and make the House of Windsor way more internationally appealing than any number of cool(ish) young princes, princesses and ​"revealing" interviews.
Playing Prince Charles, O'Connor is one of the new wave of actors coming aboard for season three as the decades-spanning epic marches onwards. Olivia Colman is in for Claire Foy as Queen Elizabeth, Tobias Menzies replaces Matt Smith as Prince Phillip and Helena Bonham Carter takes over Princess Margaret's tiara and fags from Vanessa Kirby.
Over two series, O'Connor will be tasked with playing the young Prince of Wales from the age of 21 up through the ​"Diana years" – a span even anarchists would acknowledge as quite the bumpy ride.
"Yeah, it's going to be covering quite a span," the beanpole actor, dressed in a black corduroy suit, says when we meet in a swanky hotel in central London. ​"Intense."
To play Charles, he rocked the voice, the mannerisms, the hair and as much documentary material as The Crown's army of researchers could throw at him.
"You fire over an email with the smallest question – ​'what did Charles wear at such and such an event in 1975?' – and you'll have files on your table the next day: every event ever, what he wore, the material, endless detail. That's a dream for someone like me because I'm obsessive about research.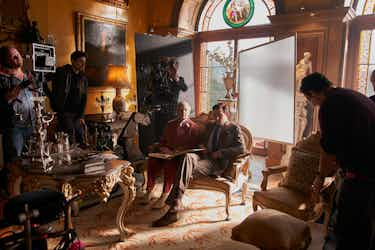 "But apart from that, the hardest thing was working on what we don't know, and how to create a character rather than mimic a person."
To help him, he thought about I'm Not There, Todd Haynes' kaleidoscopic 2007 art-biopic of Bob Dylan.
"There was about eight actors – including Cate Blanchett, Ben Whishaw, Heath Ledger – playing different aspects of him: the poet, the rock'n'roll star, the Woody Guthrie-influenced folkie. That was so much more successful in telling us about a person in the public eye.
"So I wanted to delve a bit deeper into a speculation about a fictional version of Charles. And to do that, it was about saying goodbye to the physicality and the voice – although that is all there," he clarifies, ​"to make audiences safe in the knowledge that this is Prince Charles.
"But half of that is done by make-up. And these bad boys," he says playfully, waggling his own not-insubstantial ears.
Ah, yes, Charles' jug-handles. Did the hair and make-up teams have to sprig out O'Connor's even more? No. Those FA Cup-ears? Actor's own.
"But," he grins, leaning in for his chatshow anecdote close-up, ​"this is a true story: I was doing this scene in episode six, where I'm at Aberystwyth University and all the tutors and principals have got me round for a big grand dinner. One of the extras came round – Welsh guy – and he said: ​'Have you seen the film Ghandi?' Yeah.' ​'The actor [Ben Kingsley], they had to stick his ears out with tape.' ​'Oh, right…' ​'So what did they do with yours?'
"And I went: ​'Oh, no, they didn't use tape.' ​'Really? What did they use then?' ​'Nothing. These are literally my ears.' And he just went pale and said [Welsh accented lamentation]: ​'Oh, noooo,'" O'Connor relates, rocking with laughter.
So the actor can connect with Charles on an auricular level. But ask about his level of engagement with-slash-interest in the House of Windsor before booking this gig and he exhales through his lips
"Sort of indifferent," he admits. ​"If pushed, I'm an all-out, signed-up, Left-leaning republican. And I sort of still am. But the indifference about the people has flipped. I have huge respect for Queen Elizabeth and Prince Charles. But politically the thing that holds me back from being a monarchist now – because I do have a lot of affection for them ­– is that I just don't know if we can live in a truly equal, classless society while having a monarchy in place."


It's exactly that point that might deter younger, less traditionalist viewers from sitting down for ten hours of sumptuous costume drama about a bunch of titled toffs from the last century. But the majesty of The Crown is creator/​writer Peter Morgan's deft ability to humanise these 0.001 per centers against a backdrop of totemic social and political developments, in the UK and abroad. Few of us live in palaces, collect corgis or have Commonwealths to tour every few years. But most of us can relate to a young woman thrust into a job she didn't want, or to a young man trying to live his own life in the shadow of his large and mental family.
Still, what does O'Connor think an audience his age can get from a heavy-hitting drama about modern British history and the monarchy?
"Good question," he shoots back. ​"Well, I watched the first two series with my grandmother, who I'd describe as a monarchist. She's an artist, a ceramicist, and I was trying to understand why she has so much respect of The Queen. And I think it's attached to nostalgia, essentially. She grew up with Elizabeth – seen wars, seen Prime Ministers come and go – so there's a mutual respect there.
"But for my generation: we're living in a politically very unstable time. And more and more we're going to lean more and more towards the stability of this social structure which is the monarchy.
"What the show does brilliantly is take the extraordinary and makes it ordinary," he continues. ​"And it helps us remember that amongst all this madness, all the jewels and the processions, are sons and daughters, and mothers and fathers and grandmothers, and relationships and affairs. The soap opera of life, essentially."
Speaking of soap operas and other such plebeian joys… Before Josh O'Connor heads back to set – he's already filming series four – we hit him with some either/​or questions. Just to find out whether he's really still one of us.
The Royal Family or The Royle Family, Caroline Aherne's classic turn-of-the-millennium sitcom?
The Royle Family, 100 per cent. Love it. It's the best. One of my favourite TV shows of all time.
Prince Charles or Ray Charles?
Ha ha! Ray Charles! No, Prince Charles, it has to be, dammit! I can't believe you're making me choose. I haven't seen the Ray Charles movie [Ray, with Jamie Foxx] but everyone says it's great. I'll watch it.
Prince Charlie or Charlie Austin, recently transferred Southampton FC striker?
Well, Charlie Austin left in difficult circumstances. Didn't he have a scuffle on the training pitch? Also, [manager Ralph] Hasenhüttl [raises fist in salute], praise be, I think he made a rule on the pre-season tour that the players weren't allowed phones. To which I thought: rock on. But Charlie Austin took issue with that. Out the door, mate. But we really are missing him! I'd love to have him back.
Olivia Colman or Colman's Mustard?
Olivia Colman. But who'd be better on eggs? Good question. And Charles has a boiled egg with everything. But, controversial: I'm not a huge Colman's mustard fan. I'm more of a wholegrain mustard man. In fact, listen to this, favourite sandwich: mayonnaise, wholegrain mustard, then a couple of slabs of cheddar, stick that between couple of slices of bread. We're not toasting this, we're just whacking it in our mouth. It's like a Ploughman's, but with a bit more oomph.
The Crown by Peter Morgan and Netflix, or The Crown by Gary Byrd and the GB Experience, a UK Top Ten hit from 1983, co-written by Stevie Wonder and an early soul/hip-hop classic?
I've no idea what that is! I was born in ​'90… Let me google it now… Oh, I've found it… I'll listen to that later. Thanks!
As Byrd said at the time: ​"Wearing the crown is about reaching the top of your potential."
Well, someone needs to tell that Charles that. If only! He's still not reached his potential, poor lad.
The Crown is on Netflix now.


More like this