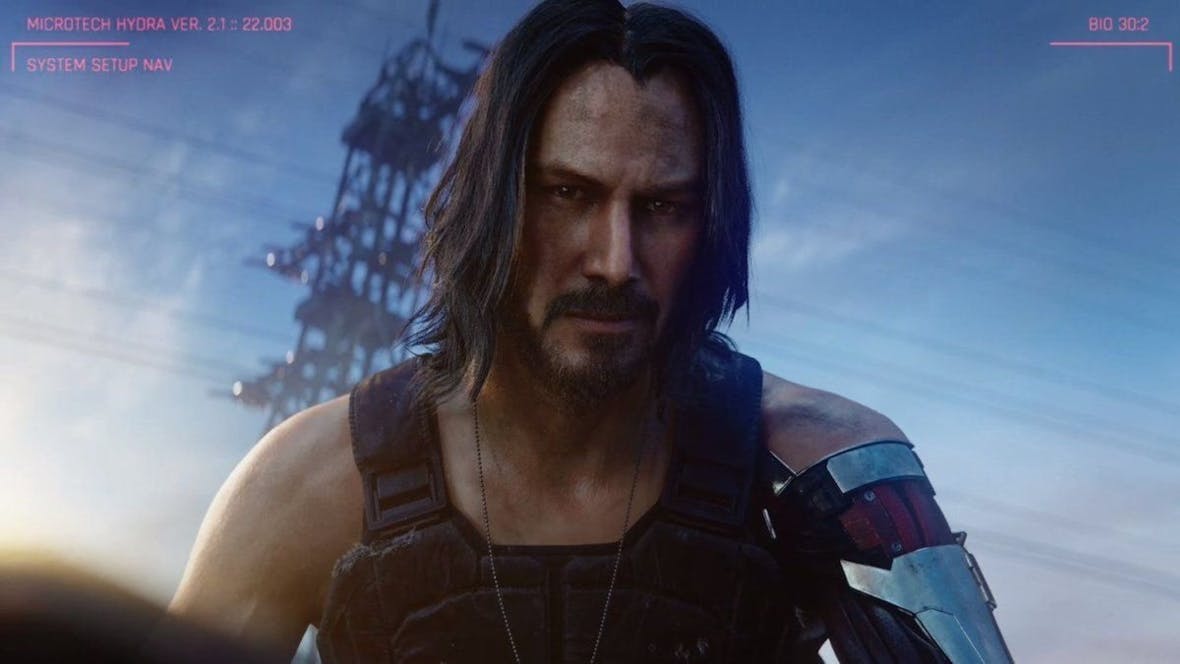 Why is the video games indus­try in love with Keanu Reeves?
One of the most pop­u­lar spec­ta­tor sports at E3, the games industry's year­ly Los Ange­les-based expo, is look­ing for moments of ​"human­i­ty" lodged in amongst the ther­monu­clear trail­ers and dystopi­an hymns to shiny box­es and ser­vices. Whether cul­ti­vat­ed by mar­ket­ing teams or unscript­ed, these moments are grease to the wheels of a prod­uct show­case mas­querad­ing as a com­mu­ni­ty get-togeth­er. 2017 gave us footage of a devel­op­er hold­ing back tears when intro­duced by Shigeru Miyamo­to, cre­ator of Mario and Zel­da. 2018 saw Red­l­ynx boss Antti Ilves­suo fall face-first through his own podi­um. And 2019, amongst oth­er things, has giv­en us Keanu Reeves.
The John Wick star plays a char­ac­ter in CD Projekt's 2020-bound Cyber­punk 2077, a grimy but glossy role-play­ing game in which play­ers shoot, hack and hus­tle their way through a deca­dent near-future city. While well-regard­ed for its The Witch­er fan­ta­sy series, CD Pro­jekt hasn't exact­ly cov­ered itself with glo­ry late­ly. On the one hand, there was its defence (not quite walked back) of an alleged cul­ture of over­work. On the oth­er, its on-going flir­ta­tions with trans­pho­bia: one press image for Cyber­punk 2077 includes an advert fetishis­ing the body of a trans per­son, which the devel­op­er has excused as the cre­ation of an in-game cor­po­ra­tion. But it was, as CD Pro­jekt pre­sum­ably hoped, easy to for­get all that when Keanu walked on stage fol­low­ing his character's debut. Here he was in the flesh: that famil­iar blend of bright­ness and wari­ness about the eyes, that stoop-shoul­dered lope, the hands spread like those of a pas­tor try­ing to fend off a crowd of zeal­ous grannies.

Keanu Reeves is far from the first Hol­ly­wood actor to be piped through the giz­zards of a videogame, but for bet­ter and worse, there is some­thing fas­ci­nat­ing in the res­o­nance between his career and cer­tain cul­tur­al dri­ves in the indus­try today. Part­ly, this is because Reeves's best-known roles tri­an­gu­late a par­tic­u­lar con­cep­tion of mas­culin­i­ty which the cre­ators of big­ger-bud­get video games, still pre­dom­i­nant­ly male, are indebt­ed to.
There's the ​'80s high school lunk he played in Bill and Ted, scorned by his elders and bet­ters yet des­tined to inher­it the earth. There's Neo, the porce­lain Mes­sian­ic every­man from The Matrix, a pro­gram­mer who bursts through society's illu­sions despite his lack of brawn or sta­tus – the basis for a mil­lion alt-right memes. And lat­ter­ly, there's John Wick (whose already rather videogamey brawls and shoot-outs are now being adapt­ed into a video game), the griev­ing assas­sin dragged back into the vio­lent world he'd washed his hands of. These char­ac­ters can be regard­ed almost as phas­es in the evo­lu­tion of the block­buster male video game pro­tag­o­nist: from care­free doo­fus, through mil­i­tant nerd, to age­ing, reluc­tant killer.
John Wick in par­tic­u­lar cap­tures an on-going moment in the cul­ture of gamedev. Like many a revenge flick, it's essen­tial­ly a sto­ry about the cre­ation of cir­cum­stances in which vio­lence can be not just per­mit­ted, but rel­ished. As Angel­i­ca Jade Bastién notes, the premise of the sor­row­ing hit­man forced to resume his trade ​"meta­tex­tu­al­ly cap­i­talis­es on the sto­ry arc of Keanu Reeves, Action Star, regain­ing his title in the genre", and draws pow­er as much from our mem­o­ries of the actor's fail­ures as his suc­cess­es. It also maps pret­ty well onto the efforts of game devel­op­ers to repack­age erst­while blood­thirsty ciphers for an old­er and more self-con­scious audi­ence. Con­sid­er Kratos, geno­ci­dal fig­ure­head of the 14-year-old God of War series. In the 2018 game, like Wick, he's a mourn­ful recluse dri­ven back into the quag­mire fol­low­ing the death of his wife, his ogreish ten­den­cies tem­pered by the pres­ence of his teenage son.

As a star who can play the action man with­out actu­al­ly play­ing an action man, Keanu is a use­ful ref­er­ence point in such a mesh of self-justification.
If these roles say some­thing about games, so too does Reeves's act­ing, or as some would pre­fer his inabil­i­ty to act. He's often con­demned as all-sur­face and wood­en, recit­ing rather than embody­ing his lines, but there are also crit­ics who echo Reeves's descrip­tion of him­self as a ​"min­i­mal­ist" actor. Bastién has sug­gest­ed that he is bet­ter under­stood as a silent film star, with ​"immense screen pres­ence and a keen under­stand­ing of com­mu­ni­cat­ing sto­ry through phys­i­cal­i­ty." She also claims that there is a gen­der dynam­ic at work in both his per­for­mances and their recep­tion, argu­ing that he ​"mar­ries typ­i­cal­ly mas­cu­line and fem­i­nine qual­i­ties". Bastién con­trasts all this with the mar­tyr-cult of macho self-trans­for­ma­tion woven around actors like Mar­lon Bran­do. Reeves's low-key por­tray­als, she sug­gests, make space for co-stars, where­as the likes of John­ny Depp try to upstage everybody.
From CD Projekt's per­spec­tive this lack of range is sure­ly a non-issue – the point of bolt­ing Keanu Reeves into Cyber­punk 2077 is pre­cise­ly for Keanu to play Keanu. Beyond that, what Bastién calls Reeves's mix of fem­i­nine and mas­cu­line-cod­ed traits lends itself to the industry's on-going tur­moil about gen­der rep­re­sen­ta­tion. Block­buster pub­lish­ers have spent much of the past few decades try­ing to resell tra­di­tion­al­ly male-ori­ent­ed action licens­es (includ­ing Halo, Tomb Raider and Gears of War) to an always-con­sid­er­able, but increas­ing­ly vocal, audi­ence of women. As a star who can play the action man with­out actu­al­ly play­ing an action man, Keanu is a use­ful ref­er­ence point in such a mesh of self-justification.

Reeves's lack of expres­siv­i­ty also allows him, in the eyes of some crit­ics, to serve as a can­vas for intrigue, giv­en an appro­pri­ate­ly enig­mat­ic role. In an arti­cle on Reeves's turn as Scott in My Own Pri­vate Ida­ho, Mar­i­an­na Mar­tin writes that ​"the qual­i­ty he brings to the screen most con­sis­tent­ly, beyond an androg­y­nous and vague­ly exot­ic phys­i­cal beau­ty, is a blank­ness into which almost any­thing can be pro­ject­ed." There's no casu­al con­nec­tion, but this chimes with the endur­ing notion of the videogame pro­tag­o­nist as ​"blank tablet" for the player's choices.
This idea dates from the found­ing days of the first-per­son shoot­er genre – it's epit­o­mised by Gor­don Free­man, the mute crow­bar-wield­ing hero of Valve's Half-Life games. It's espe­cial­ly preva­lent in role-play­ing games like Cyber­punk 2077, which pride them­selves on offer­ing many solu­tions to every obsta­cle, be it a locked door or an unwill­ing accom­plice. The blank-tablet premise falls over quick­ly in prac­tice, because even in the absence of explic­it char­ac­ter­i­sa­tion, the range of actions offered by a devel­op­er inevitably deter­mine who the play­er is play­ing. But it's a pop­u­lar con­ceit, nonethe­less, not least because it allows devel­op­ers to duck ques­tions about the pol­i­tics of each por­tray­al (for instance, its han­dling of trans­pho­bia), by tac­it­ly lay­ing the bur­den of answer­ing those ques­tions at the player's feet.
In Cyber­punk 2077 Keanu Reeves plays a dig­i­tal phan­tom, the soul of a dead man patched into the protagonist's brain by a mal­func­tion­ing microchip, larg­er than life yet intan­gi­ble. This sums up his curi­ous adja­cen­cy to a medi­um he him­self seems lit­tle enam­oured of (cer­tain­ly the impres­sion giv­en by his bemused E3 appear­ance). Keanu Reeves is at the heart of a par­tic­u­lar idea of the videogame: 20 years on from The Matrix, he is still the ghost in our machine.
---