Kelsey Asbille and Evan Mock: siblings… sort of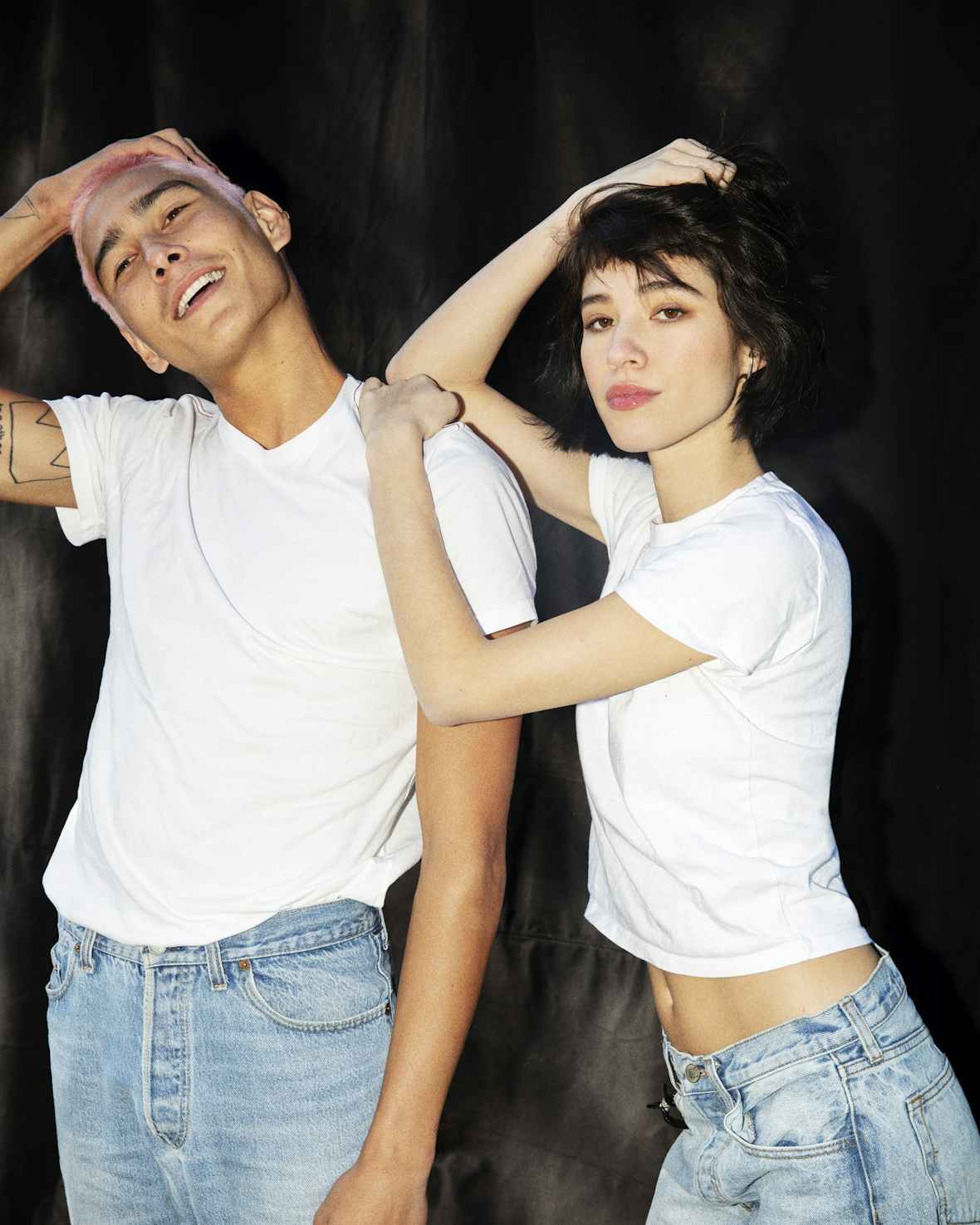 The Fargo actress and skater-slash-Calvin Klein-model may not actually be related – as was once reported – but they sure do share the same creative DNA.
Though they aren't in fact related, actress Kelsey Asbille and skater turned model and Gossip Girl actor Evan Mock were brother and sister for a brief moment in time. It was a fleeting idea concocted by their publicist to pitch them for jobs, they explain, and while they may bear a passing resemblance, in reality, the two are just friends who connected through serendipity and a shared interest in creative pursuits. Still, listening to them speak to each other, it's easy to believe.
The pair met in April of last year and became fast friends, though they haven't been able to see each other since January because of coronavirus. But when they talk on the phone in late September, they greet each other like long-lost siblings. ​"Kelsey! Love!," says Mock as soon as the line connects. ​"It's so nice to hear your voice!," responds Asbille, a series regular in Fargo, and is currently in Montana shooting the fourth season of Yellowstone. Meanwhile Mock, now a resident of New York City (where he can be spotted on billboards for brands such as Calvin Klein) after a four-year stint in Los Angeles, returned to his childhood home of Hawaii for part of his quarantine, while Asbille split her time between Brooklyn and her native, South Carolina.
They were first introduced by that same prophetic publicist, Jamie Skinner, when they were both staying at her house in LA. ​"I woke up at Jamie's," recalls Asbille, ​"went down to the kitchen, and saw Evan sleeping on the couch with Jamie's son just kind of poking him." As it happened, Asbille and Mock were wearing similar outfits, and when Mock joined her on the set of a photo shoot, the photographer snapped an impromptu series of sibling portraits that same day of the inseparable duo. ​"I feel like you have this effect on everyone," says Asbille to Mock: ​"to know you is to love you."
We caught up with Kelsey Asbille and Evan Mock shortly after the premiere of Fargo​'s fourth season. Read their conversation below.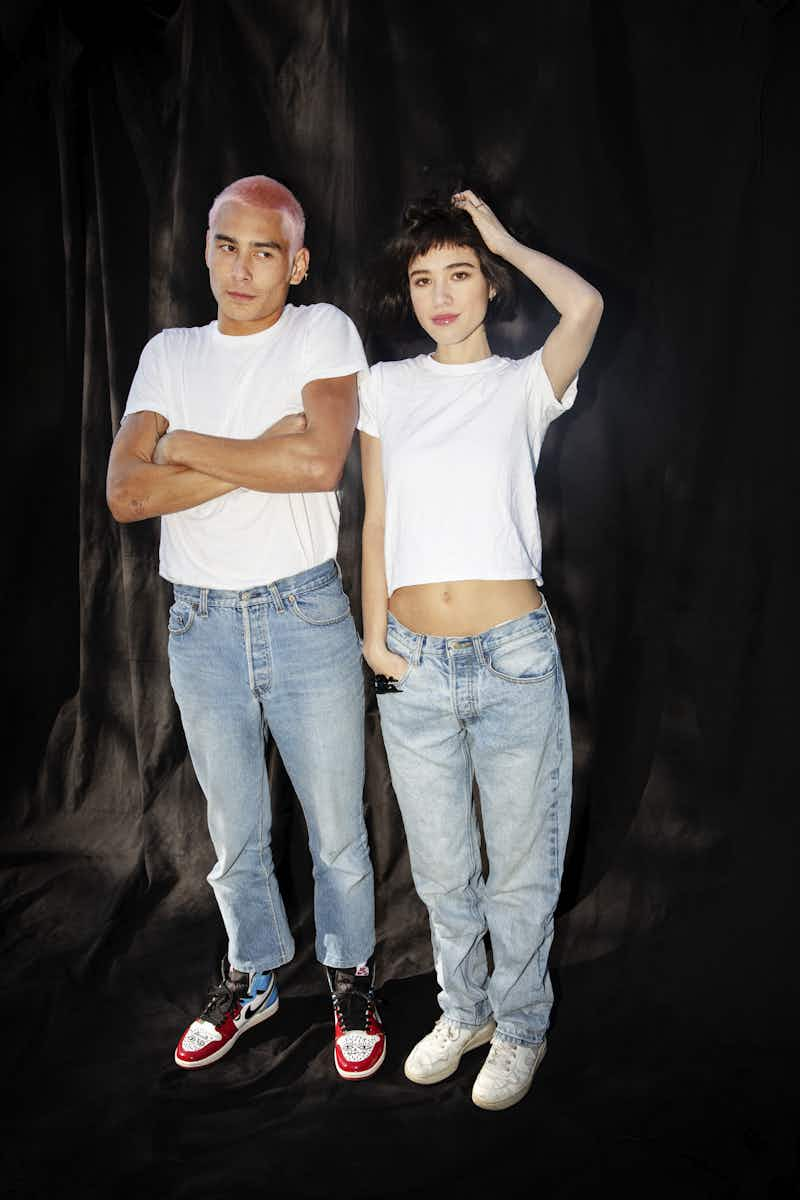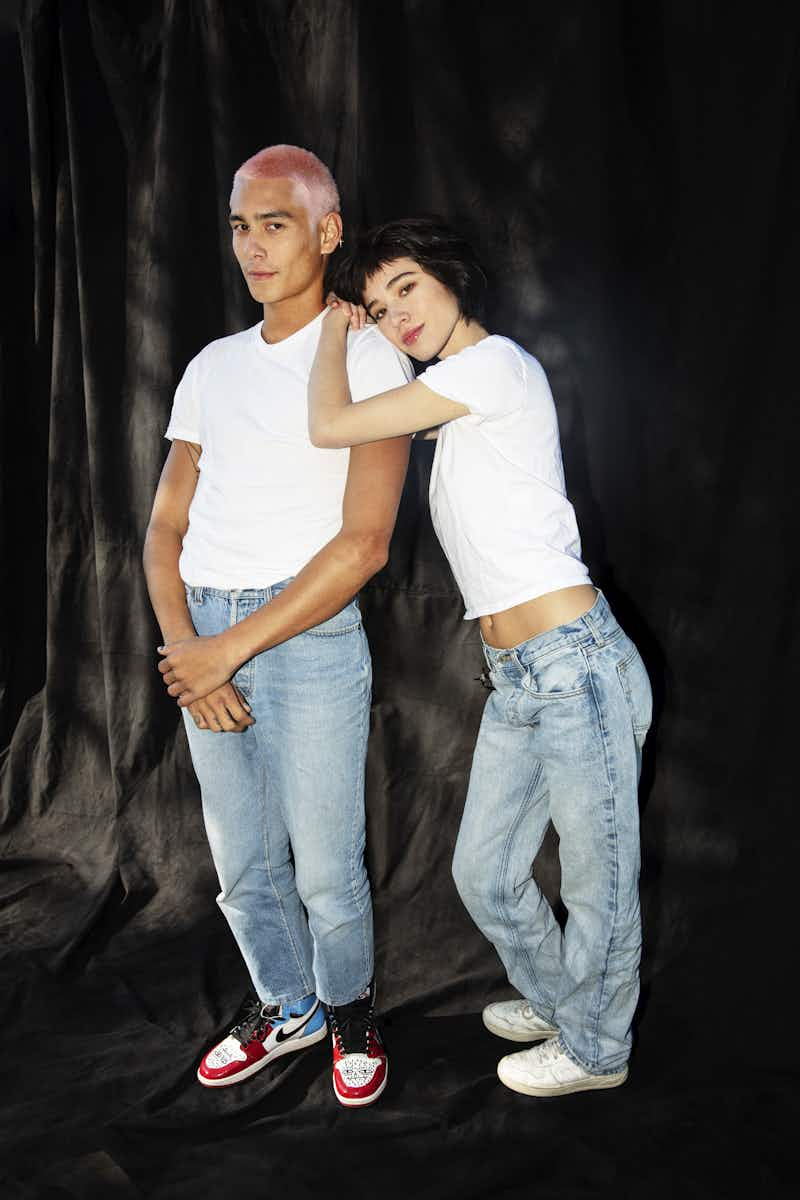 Kelsey Asbille: I feel like you live such a fast-paced life and never sit still, so what was the quietness and stillness of quarantine like for you? Are you going to stick with that, or are you going to go back to the way things were?
Evan Mock: In terms of working, it'd be great for everything to be normal. In terms of getting used to sitting still for once in my entire life, this is the first time I've had to adjust and learn to enjoy downtime. I went back to Hawaii for the first summer since I moved away, so it was nice to have that quality time with the people you really love, and just get accustomed to self-care because you actually have the time to do so. I'm ready to get back to work, though. Now let me go the easy route and ask you the same question: have you learned to like it, and was it good for you to have some chill-out time?
Kelsey Absille: [When you're in the middle of it,] you don't realise that you're going at such a fast pace. I got to be home for the first time in a long time and kind of nest in my apartment in New York and figure out how to be content in the stillness. I've got to say, though, I'm happy to be back here in Montana, working. Like you're saying, I think it's going to be like this for some time, but I feel like even with the way we're working on Yellowstone, it feels safe, and everyone's so grateful to be back – it almost brings out a completely different environment. We're just so happy to be here and work with the people we love, especially when we've all been holed up in our apartments or houses for so long. I definitely think that home means something different to me now and, hopefully, I'll take that into the ​"new normal". I also went back to school [at Columbia, to study human rights] for the summer semester, and that's so weird, because I'm kind of old now, Evan…
[a long pause]
Kelsey Absille: Alright, Evan, I was hoping you were going to cut in at some point! I'm not that old!
Evan Mock: I just think it's funny because you have this career and this path that you're on, and I would have to get paid so much money for me to go back to school in the position that you're in, honestly.
Kelsey Absille: I'm definitely a nerd; I've always liked school. The way I'm doing it now, it's definitely not a conventional education, but I do really appreciate it. With everything that's going on in the world, even if it's a virtual space, to be with a group of people and talk it out and make sense of what's going on was really nice. But I can't keep up with the papers. The writing and the reading sucks, and I'm way too slow.
Evan Mock: I can only imagine. Like I said, it would be a lot of effort to go back to school right now.
Kelsey Absille: So tell me about this new campaign that you did. You wrote it, you directed it, and you starred in it, right?
Evan Mock: Um… which one?
Kelsey Absille: Exactly! Which one, dude. You're booked and busy.
Evan Mock: No! I'm serious! I'm lost.
Kelsey Absille: The Lanvin one. The one about those sneakers?
Evan Mock: Oh, yeah! It was funny because throughout this whole thing, sets have been so stripped down and really the only people that need to be there are the essential players, so it allows us to be more creative and care less about other people telling us what to do, which is great. The content that you create comes out a lot more authentic. In normal times, that sort of thing would've been a lot more dictated by the higher-uppers which is honestly easier, because you just do what they say, and when you do it right, you don't have to do any more. But it's cool to create your own stuff, because then it comes out the best as possible.
Kelsey Absille: It's a really sick campaign. Is there a creative lane that you're finding you identify with most? Or do you like wearing many hats, where you basically do everything?
Evan Mock: Growing up in Hawaii, I was exposed to so many avenues you can take, some detrimental to your health and some that are life-altering. I can go down the whole rabbit hole of that, but I think it's cool to be able to merge all of them. I never want to close an avenue because it's based on fear. I'm not an actor, for example, but I'm getting into it…
Kelsey Absille: Yes you are!
Evan Mock: It scares me. You've helped me run lines before – that stuff is embarrassing!
Kelsey Absille: Alright, on the record, Evan is a great actor. Truly.
Evan Mock: No!
Kelsey Absille: It's like everything you do is very effortless. What part of your upbringing gave you that gift of possibility? Is it from your family, and growing up in Hawaii? That mentality of skating and surfing…
Evan Mock: I think just being around so many of my heroes: surf legends, skate legends, and photographers that were around that world. I was interested in what they were doing and how they do it, and how they make a living. Moving to LA was such an eye-opener – I felt like anything was possible there, and then also moving to New York, I feel like everything is possible. It's funny how that works out. Having good mentors was a really huge thing, and very educational. What was it like shooting in Chicago?
Kelsey Absille: I was always nervous about Chicago because I had heard of those really wild winters. For Fargo, we shot there from November to March, so we were really in the thick of it. But I love that city, I really do. We worked with so many amazing actors from Chicago. It's a beautiful city with so much spirit and culture. I loved the character I play – something so different to what I've done, but she's really got a special place in my heart. She's really a simple fellow, and an outlaw, but not a very good one. I think with Fargo this season, it's a story about these two gangsters, but more so it's a deconstruction of the American Dream and people who are on the outside of that Dream. And I think that for my character, Swanee, especially, she rejects the rules of the game. Her and her partner in crime, they plan to burn out rather than fade away. I had the best time on set. I loved it, and I'm excited that it's airing.
This conversation has been condensed and edited.
Hair Dennis Gots, makeup Hinako.

More like this