Latifa Echakhch's joyful paintings will get you in the mood to party
The Moroccan-Swiss artist discusses her new show at London's Pace Gallery, and the importance of savouring time spent with your friends.
Over the past two decades, Moroccan-born contemporary artist Latifa Echakhch has established herself as a leading creative mind in her home country of Switzerland.
"I'm a happy person," she exclaims, ​"but when I make work, I find I'm creating beautiful things and then destroying them! I'm always asking: what's my problem?"


Having spent the last 15 years creating installations and fine art that challenges society's many prejudices and contradictions, now Echakhch is gearing up to travel to Venice for this year's Biennale exhibition where she will represent Switzerland with an immersive experience entitled The Concert.

As we connect via Zoom, the 47-year-old is walking through her vast studio, a repurposed ballroom in the lakeside Swiss town of Vevey, complete with modular moving walls and a large, ornate skylight. It seems fitting, then, that her new series of paintings titled Night Time, currently on display at London's Pace Gallery, was conceived in a space once devoted to revelry, lively dancing and a buzzing community.
Echakhch has dedicated much of her practice to locating moments of contrast, duality and contradiction in everyday life. She is animated when talking about her attempts to expand these moments into ambitious – often immersive – artworks, and her bid to achieve a sense of harmony ​"between sadness and joy, violence and beauty".
True to Night Time​'s running theme, the untitled painting she presents on camera is a tribute to the good, old-fashioned house party. It depicts, in smooth brushwork, a close-cropped group of friends hanging out in a bathroom. Sounds familiar, right? However, like each of the paintings in the series, the image is fractured, shrouded by a wash of dark concrete grey, which spreads across much of the canvas like an agent of decay. ​"I like this balance," Echakhch says, ​"without this destruction, the painting for me is not finished."

This so-called ​"destruction" is achieved through layering a preparatory concrete solution onto the canvas before then painstakingly chipping away at the finished painting on top until an equilibrium is reached. When asked about the tension in these works, the ominous presence of all that grey, Echakhch says that it represents ​"the opposition between a completely joyful memory and the inevitable loss of that moment".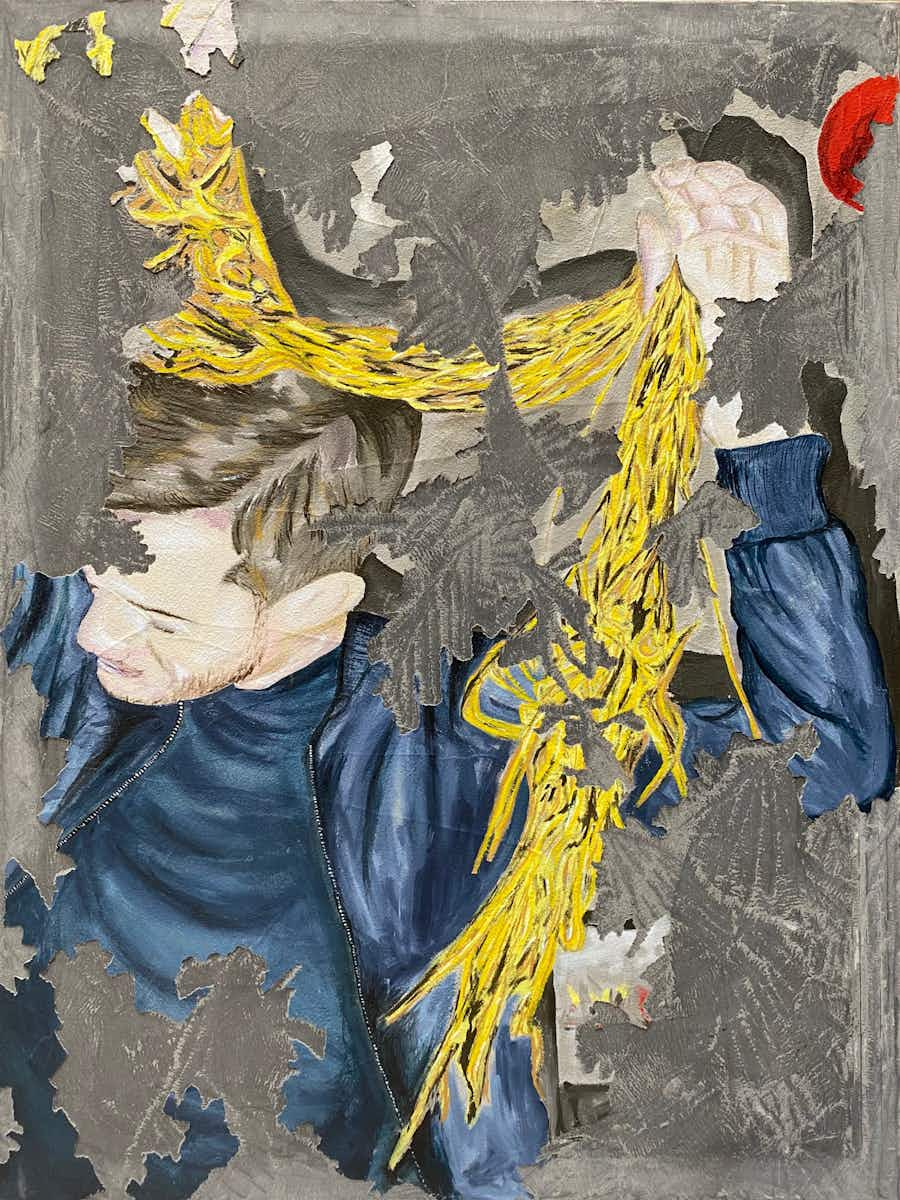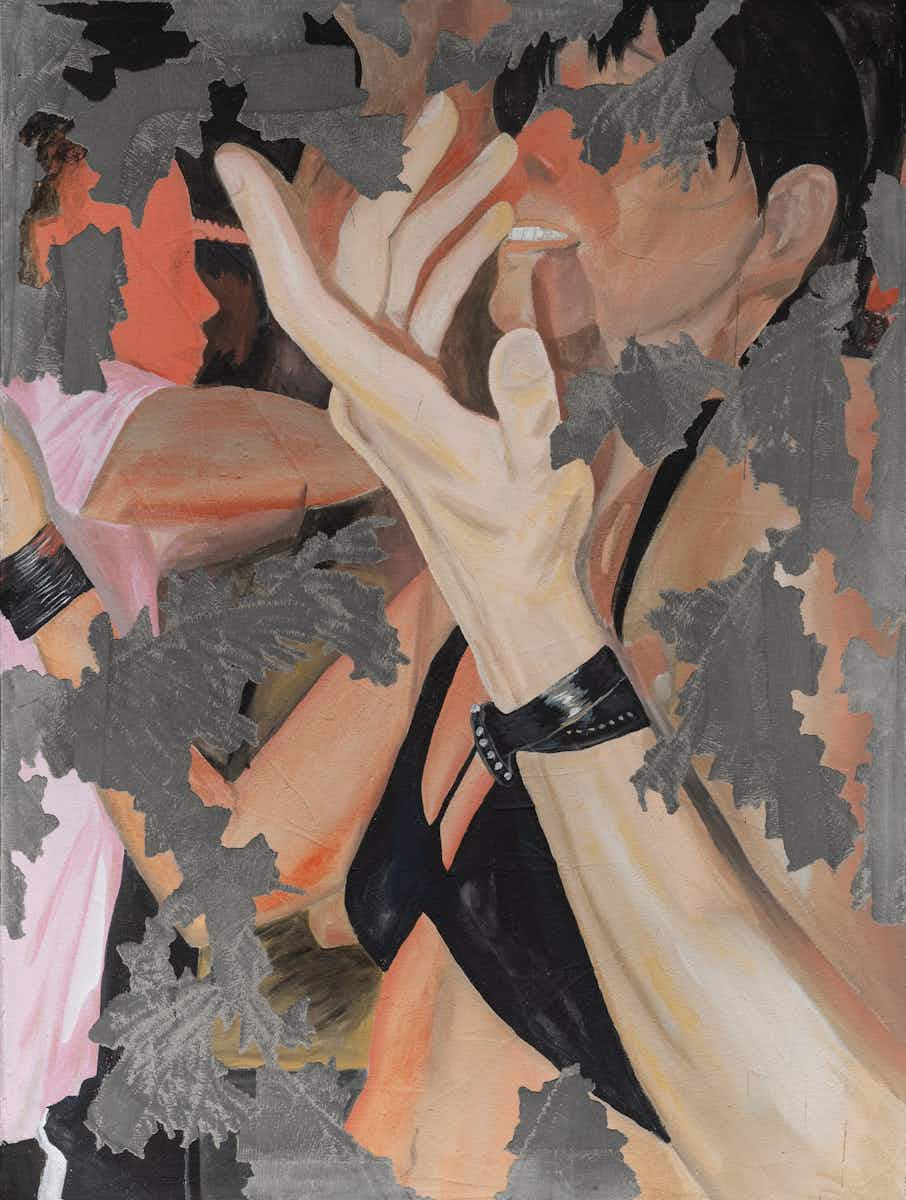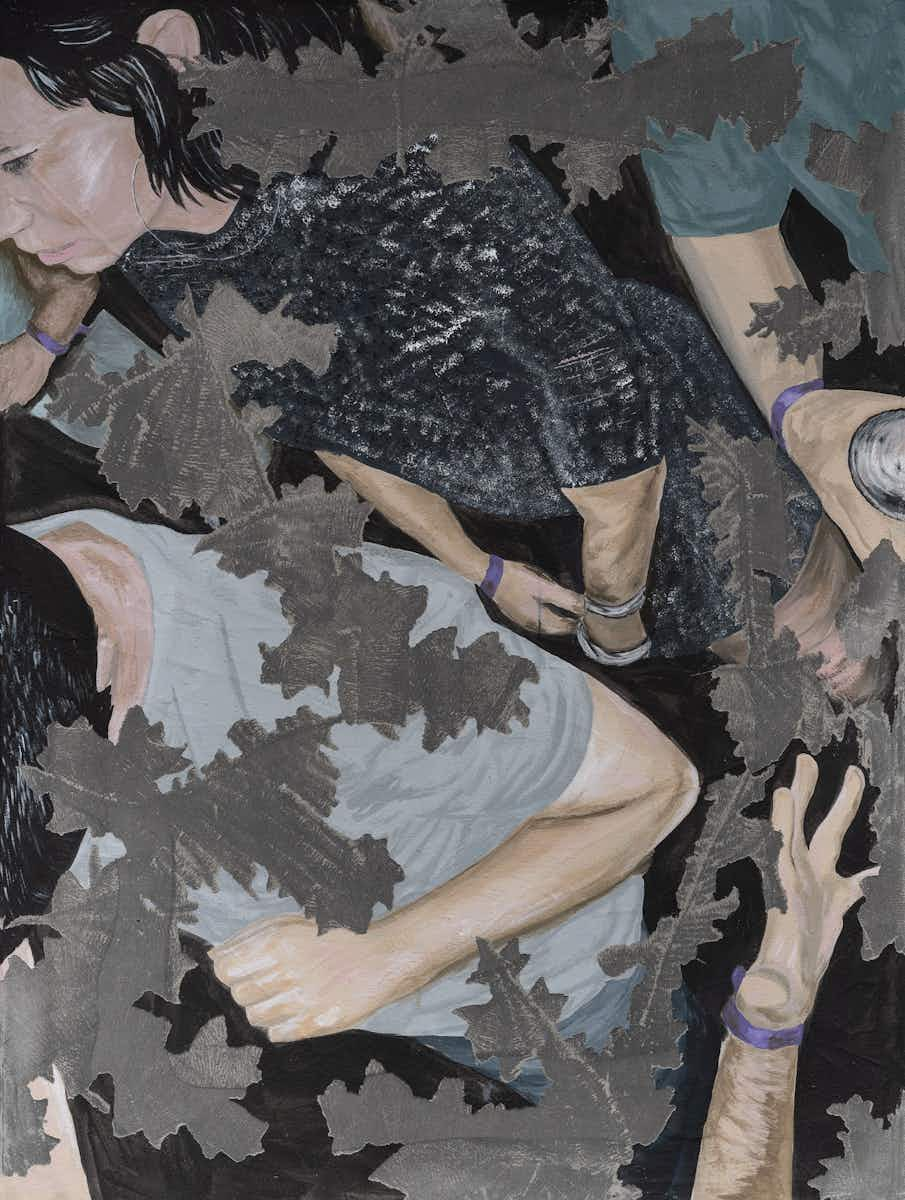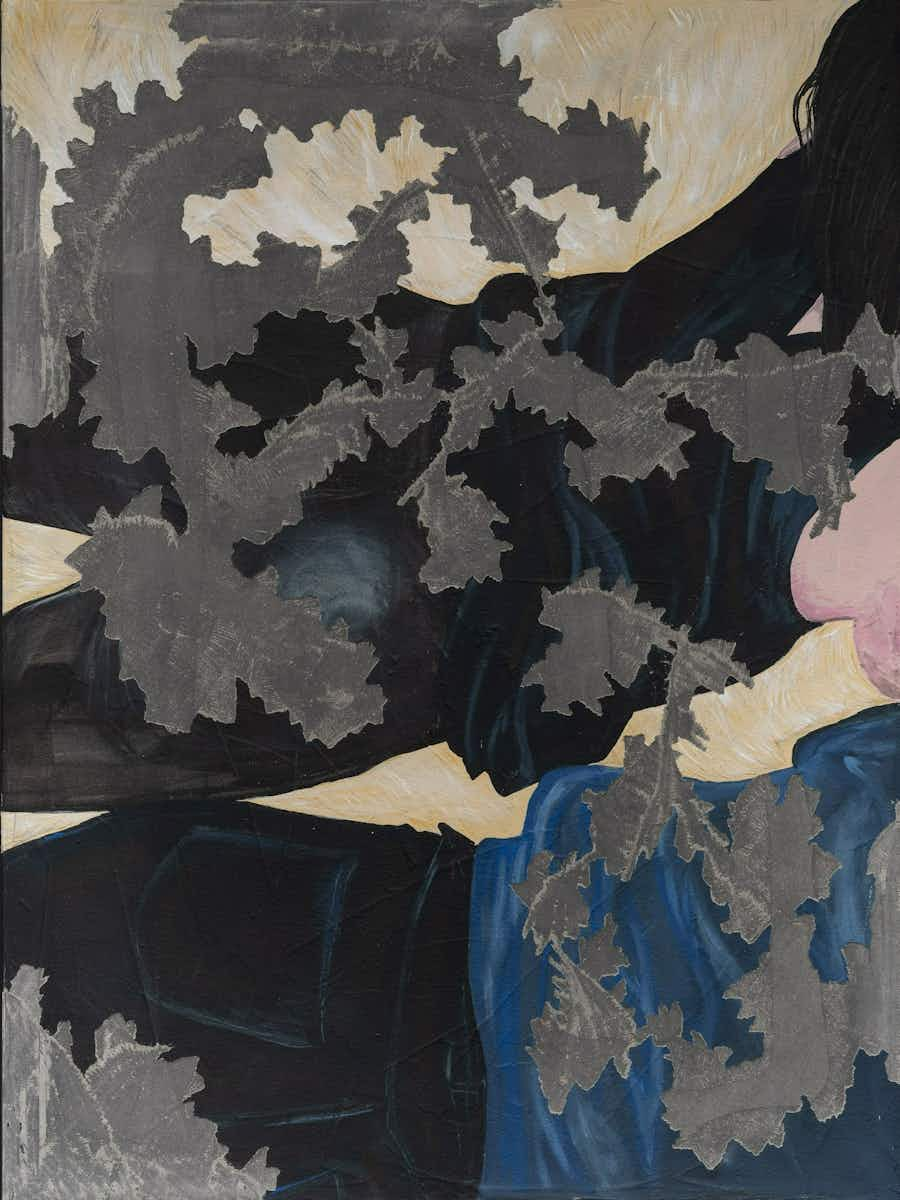 Produced over the past year, Night Time is Echakhch's response to the collective loss of nightlife and longing for interpersonal contact that we all experienced during the pandemic. ​"I think, like many people, I started to really miss those moments of humanisation," she explains, ​"and I started to reflect on all of those special times spent with friends." During this period, Echakhch encountered the archive of Swiss documentary photographer Sim Ouch, who has been photographing nightlife in the nearby city of Lausanne over the past two decades. ​"The archive has over 30,000 photos," she says, ​"it's very friendly, happy work, there is no posture of authority there. I started to look at Sim's work and think: this is what I've been missing!"
Echakhch's decision to paint these interpretations of Ouch's intimate images – some of which depict her own friends at various parties over the years – has resulted in her most figurative work to date. But she wants to make one thing clear, a driving statement in this stylistic departure and the creation of this series: ​"partying is always a form of resistance!"

Latifa Echakhch: Night Time is on exhibition at Pace Gallery from 26th March until 4th May