Linder Sterling: ​

"

Each generation has to look out for itself"
The natural-born rebel discusses making art to shock, performing seances in school toilets and her part in the Tate's new Women in Revolt exhibition.

Linder Sterling's never been one to apologise. She's only one of punk's foremost artists, after all.

After graduating from Manchester Polytechnic in 1977, the natural-born rebel shocked the oldies with her frank depictions of sex and porn in erotic collages – namely the naked woman who appeared on the Buzzcocks' 1977 debut single Orgasm Addict. Sterling dressed herself in meat 30 years before Lady Gaga did the same thing at the Grammys, was the frontwoman of Manchester post-punk group Ludus and reclaimed the use of hardcore porn for the sake of modern art.
This week, Linder, 69, became one of the 100-plus artists showing in Tate Britain's latest major exhibition, Women in Revolt! Art and Activism in the UK 1970 – 1990. Bringing together works by radical British artists such as Cosey Fanni Tutti, Gina Birch from The Raincoats and The Neo Naturists, who spearheaded a new and nude wave of feminism during this era, the exhibition is a historical, confrontational commentary on women's rights.

It's also depressingly telling of women's history. A survey carried out at a Bermondsey box-making factory in the ​'70s, Women & Work, shined a light on the gruelling schedules of working-class women, from ​"making husband's breakfast and lunch at 7am" to ​"sit down, rest" at 9pm. Then there was the first women's liberation march held in London in March 1971, documented by photographer Chandan Fraser. It was attended by 4,000 women, men and children, who marched for reproductive rights and equal pay.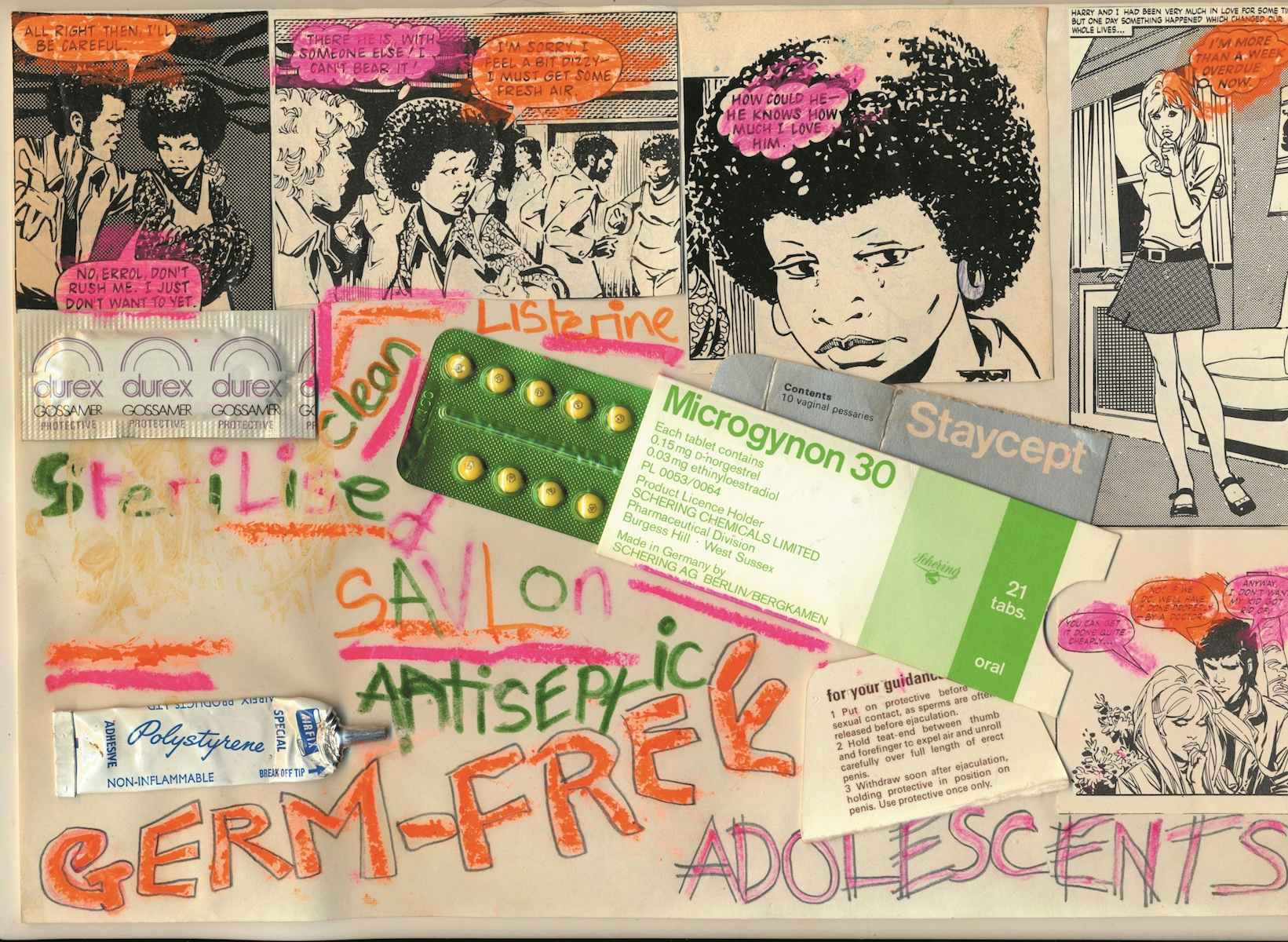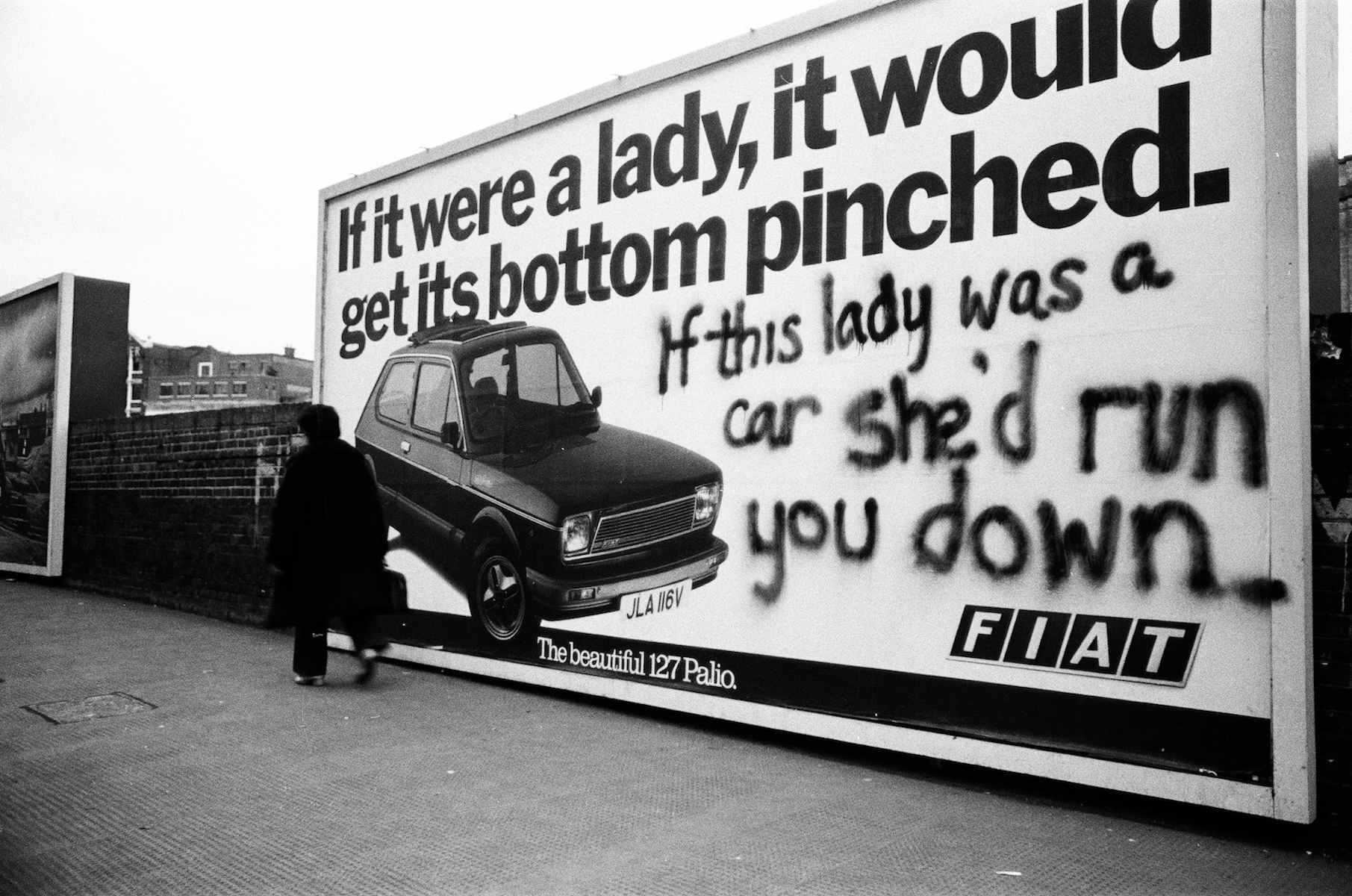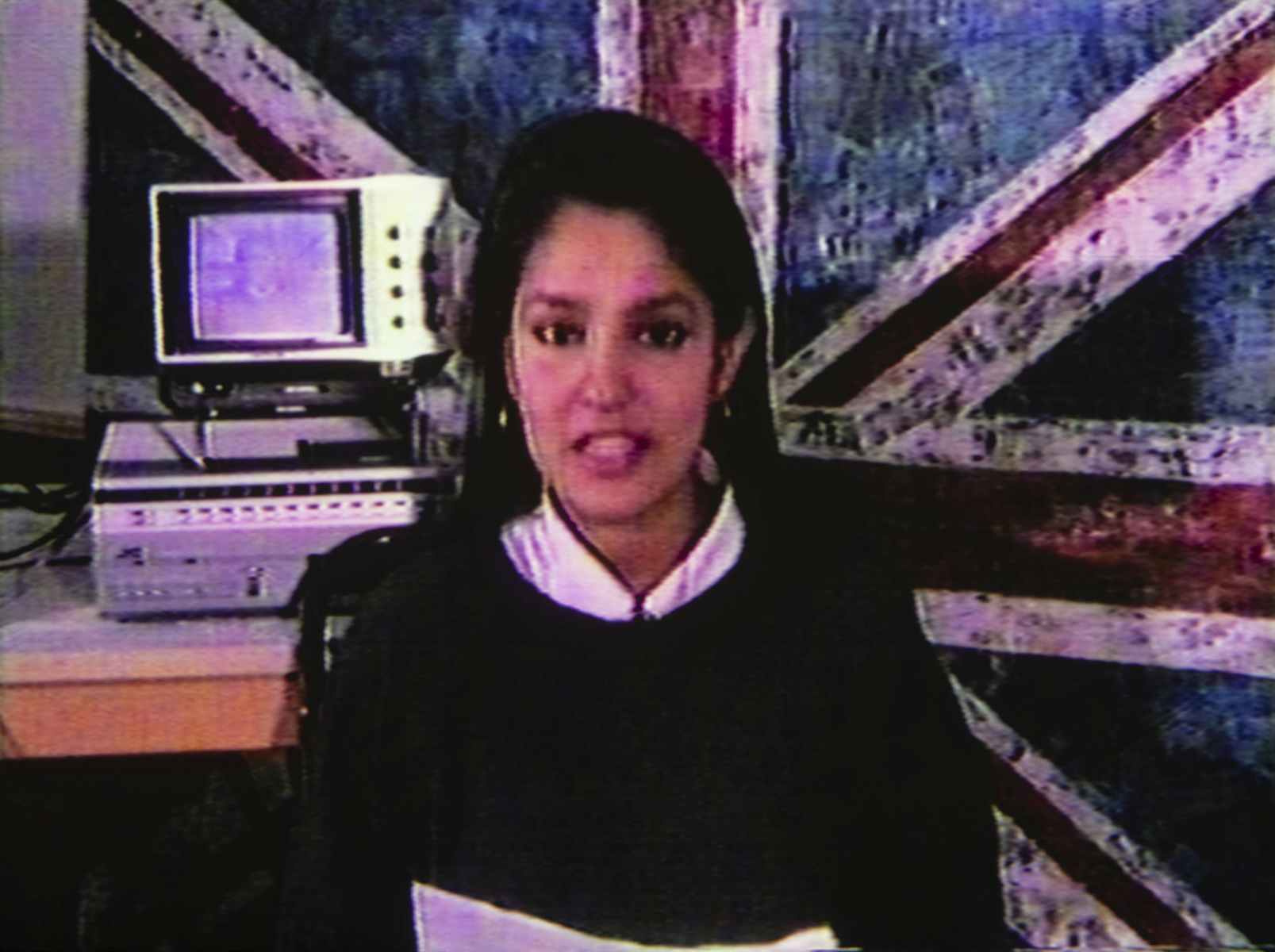 In Roshini Kempadoo's My Daughter's Mind, the artist combines documentary photography – shot between 1984 and 1985 – of South East Asian women old and young living in the West Midlands, accompanied by the subject's innermost thoughts on the future. It's a beautifully tender portrayal of cultural expectations and the confusing act of balancing a dual identity. In one photograph of a young teenage girl, Kempadoo explains what it was like when her parents often took the family back to India: ​"There is a duality about you, which I think becomes a part of growing up. It is coming to terms with this that enables you to form your new identity."
Then, in another room at the Tate, there are brilliantly provocative works made by punk artists. This is where Linder's work sits, alongside the defiant lyrics of Marian Elliott-Said, aka Poly Styrene, the X‑Ray Spex leader whose lyrics for anarchic 1977 track Oh Bondage, Up Yours! opens the room. Arguably, it's the most confrontational spot in the whole exhibition: nudity, anarchy and a gung-ho spirit light up the room, culminating in Linder's cover artwork for the Buzzcocks' single: a glistening, naked female torso with lips covering its nipples and an ironing board in place of a head.
There's also a twisted version of domesticity in Untitled from the same year: a woman in lingerie, perhaps taken from a ​'70s catalogue, wears a bodysuit while standing in the middle of a bedroom, a hoover covering her head and a large camera pointing at her body. Here, Linder's wit is presented in all its shining, collaged glory: a man looks lovingly into a woman's eyes… as she shoves a fork into them.
Today, Linder is sitting at a table in Modern Art, the bright and airy gallery space in east London's Bethnal Green that has, since 2000, represented the artist.
Wearing purple camo trousers, a T‑shirt with ​"SIGN" written across it, and her dark hair loose and long, almost reaching her hips, Linder – for all her wicked defiance over the years – is unexpectedly gentle, even when discussing her practices and long-standing revolt against tradition.
"I suppose [my work] was always an oppositional stance," she says.
You can say that again. Below, we catch up with Linder Sterling about her world-class career.
Hello, Linder. What's your earliest memory of sticking it to the man?
I cut up my dress with a pair of scissors one day. I was around six.
What did your mum have to say?
She was horrified!
Were you ever told off in school?
I was suspended two times.
What was that for?
I was putting on seances in the girls' cloakrooms.
And how did that come about…?
Waddingtons, the game company, suddenly started selling ouija boards, so I asked for one for my birthday. We only had two channels on the telly then, so me and my friends would do seances all the time.
What was the second suspension for?
When I was 16, ​"the beauty issue" of Cosmopolitan came out, which had a centrefold of Germaine Greer's husband [Paul du Feu] in it. It was quite a coy centrefold. I took it into school, the headmistress heard about it and confiscated it.
Brilliant. One of your most infamous moments was when you wore a dress made out of meat…
Fifth of November, 1982. I was [performing] in The Haçienda wearing a meat dress and a dildo!

Did Lady Gaga ever thank you for the, er, inspiration?
No!
It was a bit of a copy and paste job, wasn't it?
I think it's a bit disappointing when stars don't acknowledge the references. You're starving the fans! It's like this myth of the stars being these ultimate creative beings.
Besides, she didn't even have a dildo on her!
Well, exactly!
So what did all that meat smell like?
Quite feral and menstrual. I remember having a bottle of Dioressence and spraying clouds over myself. And at the time, I was vegetarian…

Now that is hardcore.
I didn't want to go and buy steak à la Gaga. I just wanted all the bits that were left over, the bits even a restaurant couldn't use – chicken heads, things like that – so nothing was needlessly killed just to make it.

You're showing at the Tate's huge Women in Revolt retrospective alongside fellow female trailblazing artists such as Cosey Fanni Tutti and Helen Chadwick. How are you feeling?
I'm absolutely delighted! And also curious as to how wide the remit will be. It has now gone back to 1970 and forward to 1990. It was actually a smaller period before, so now it has really expanded, with 135 artists.

Where do you think that came from, that desire to make people sit up and listen?
Well, at 16 I discovered second-wave feminism, so my vocabulary really grew. Suddenly, I was looking up words like clitoris in the dictionary.

Was it always your intention to piss off the institution with your work? It is undeniably naughty, with Playboy cut-outs, porn scenes, blowjobs, War Orgasm…
I suppose it was always an oppositional stance. I like the idea of using a photo montage as a form of protest, but also humour and wit. It's like a one-liner: how can you deliver a one liner that has some wit? The gravitas is there, but it's almost using something that is so light, it's quite fey.

Where did you get that sense of humour?
Growing up in Liverpool, which is a port, you have an exchange of goods, and an exchange of ideas. It's a very quick-witted city. You have to have your wits about you.

Britain's not in the best nick right now, is it?
Something you realise as you get older is how naive you have been. You [used to] have hope that somehow life will get better over time, that the world will become more compassionate and care for those that need care.

Well, that's a jolly thought!
[Laughs] It's quite depressing. I know people older than me, in their late seventies and eighties who are saying, ​"it's just a depressing time to die". Even those on the far-left are saying: ​"I don't even recognise the far-left anymore!"
Still, we can learn a lot from your lifelong oppositional stance, Linder.
Each generation has to look out for itself and work things out for themselves. Hopefully there's a 16-year-old in Wigan that is way ahead of me, who is opposing, they don't even have a phone, and they're doing something so radical that we don't even know about yet.
Cheers, Linder.
Thank you very much!
Oh, actually, before you leave, what do you think our readers should remember?
Hmm… Take all your clothes off, look in the mirror and say ​'I love you'.

Get up close and personal with some of Linder Sterling's archive work, showing as part of Tate Britain's current exhibition Women in Revolt!

More like this