Love Island is hot people Christmas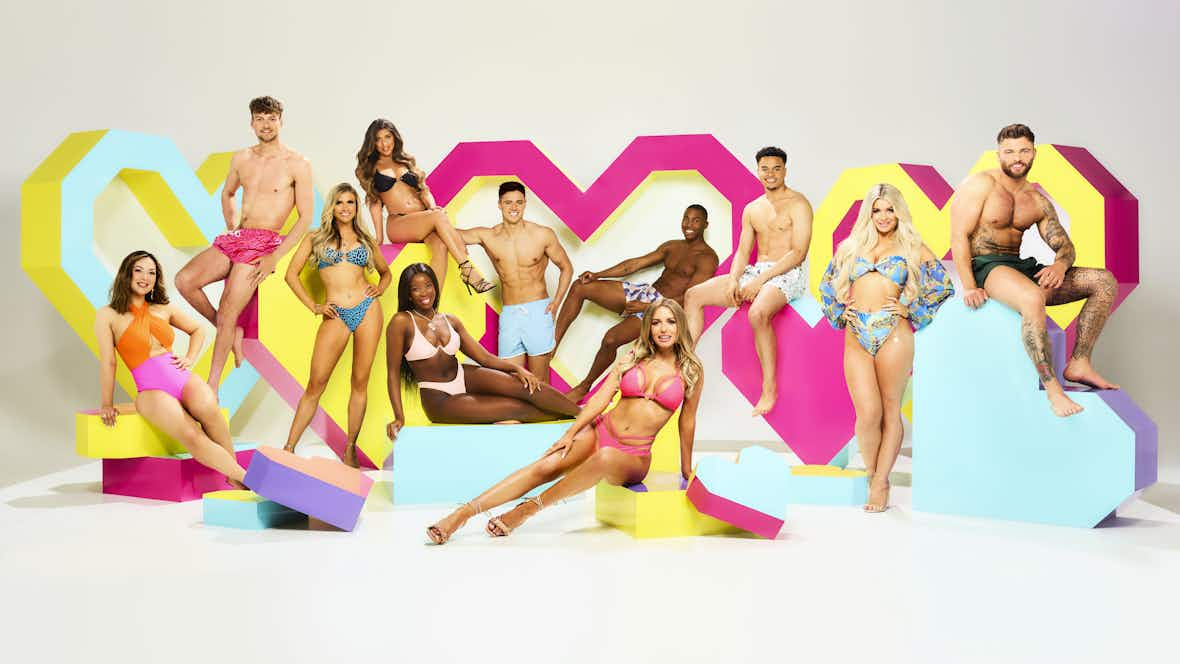 ...And unlike actual Christmas, the government can't cancel it this year. Praise be to the return of the UK's favourite dating reality TV show (sorry, Too Hot To Handle).
A year devoid of social situations means gossip and drama have been at an all-time low. I miss the loud and exaggerated ​"And that's when I said…" followed by a chorus of ​"Hmmm!", as someone dishes dirt that has you clapping and slapping tables like the pastor's message is genuinely hitting that Sunday. I miss meeting up with friends and hearing the low, menacing ​"Now, between you and me…", as if anyone around would be invested in the gossip. It's OK to admit that chaos and mess is fun and slightly exhilarating.

This year, Love Island will be giving us more caucasian chaos at a time when we need it the most. I don't think my heart is ready for a brunette woman in click-clack heels to be charging across the villa, drink in hand, to pull an unassuming blonde babe in a sequin ISAWITFIRST dress for a ​"chat". The scene will be, of course, audibly accompanied by some sort of girl boss rock song – you know the type.

Speaking of blonde babes, the past year has been incredibly difficult for hot people. If there was ever a time to be an ally to us, it is now: perceive us, observe us and stand with us as we re-enter society post-pandemic. And if there is one thing that Love Island does well, it's giving TfL a run for its money when it comes to sourcing hot people. It's basically hot people Christmas; a significant cultural event, a time for us to uplift and shade those in the community.
I know that the internet is having its yearly ​"Diversity in Love Island" debate, as we once again position representation as the sole marker of progress and liberation, even when it's a show that is known for mess and toxicity. But… OK? I'm aware hotness comes in all shapes and sizes, but the bland and seasonless hotness Love Island provides year on year is fine. There is something about not seeing my whole self – just the hot side – represented on the show that makes it that much more enjoyable.
The only thing more fun than simply observing hot people is watching them in chaotic relationships. In the real world, returning to the jungle of dating after being in a long-term, serious relationship is hell. How do you go from building a life with someone to replying ​"fine" to variations of ​"Hey! How are you?" on a dating app every day? I've always wished we could zoom past that and go straight to the serious bits, so, for me, Love Island is how dating should be. I'm calling for the abolition of lengthy talking stages, an end to dates being seen as a ​"treat" or something you ​"earn" instead of standard procedure. I say we all do first dates abroad. Let's get to know each other under some southern European sun and then, eight weeks later, decide if we want to spend the rest of our lives together. We love Love Island because it's the intense and fiery dating experience we all want. Sometimes it's beautiful fireworks and other times it's a dumpster fire. Either way, it's always entertaining.
Outside of the show and its neon pink goodness, Love Island is nothing without Black Twitter. Every year, thousands of Black Twitter users have to book appointments with their local chiropractor after carrying the entire season of Love Island on their tired backs. The rush to react to hilarious moments on the show with memes, gifs and videos are all essential parts of the viewing experience.

Yes, news outlets and gossip pages try to collate these moments for content later, but it's never the same as watching it happen live. Black excellence is Simone Biles, it's Serena Williams, it's Beyoncé. But it's also the brave Black people who use up their remaining Apple Cloud storage space to save reaction videos to drop at just the right time during Love Island. Those are the real heroes we sing the national anthem Talkin' Da Hardest for.
When I finally hear the oontz-oontz Love Island music, as whatever presenter is struggling to fill the role of the one and only Caroline Flack struts into a dreamy Diplo-esque music video villa, I might just faint with joy. ITV is doing more to heal the nation after a dreary year than the government ever could.

More like this